Trends
#TrendAlert Chubby Tubby: Curl up on curvaceous seaters that are nothing short of covetable
NOV 4, 2020
| By Sonia Dutt and Sakshi Rai
Find comfort in the curvy silhouettes of playful and plump furniture that promise to envelop you in a warm hug… Style and Trend Prediction by Sonia Dutt 
Foreground Crafted by Canadian designer Philippe Malouin for Established & Sons, the Mollo armchair is made entirely in polyurethane foam without any hard internal structure. An outcome of experimentation, the rounded seater impresses with its form, which is both simple and seamless. Website: www.establishedandsons.com
Background Digital illustration by Subodh Shaw
Curl up on voluptuous seaters that engulf you in a sea of unparalleled bliss and contentment
The lobby and Le Club at Paris Gare de l'Est, part of the OKKO chain of hotels, are fashioned to maximise interaction and socialising with a fluid layout, light partitions and, most importantly, convivial furniture in creamy hues. Designed by Studiopepe as a contemporary take on dining cars seen in trains, this space is ideal for enjoying meals, hosting meetings or simply lounging about.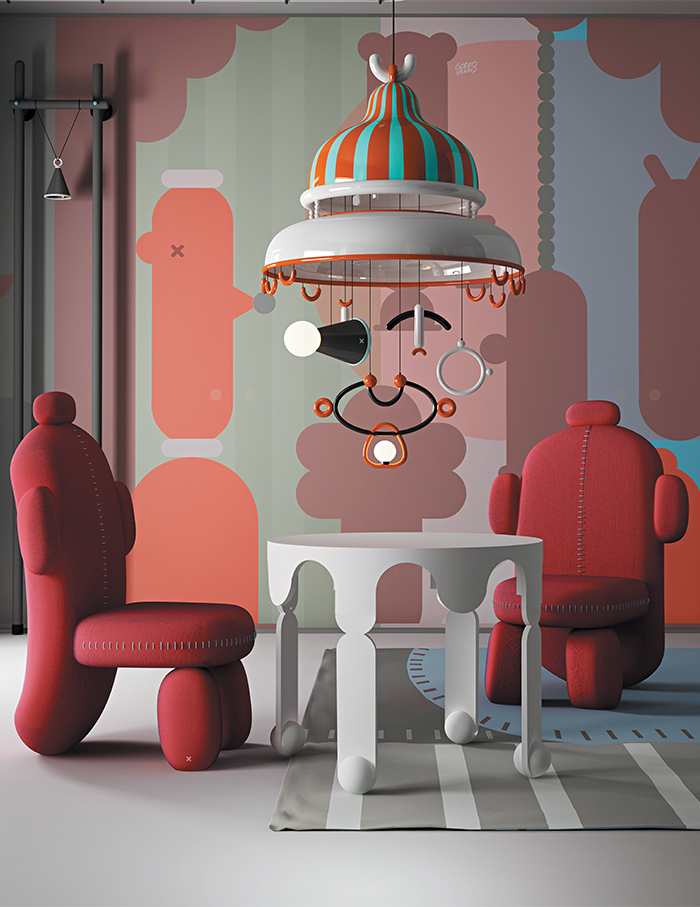 The quirky Figoro boutique hotel in Moscow, modelled by Russian designer Grigory Gorkovenko, houses a cornucopia of custom-crafted, whimsical furnishings including the Spirits fabric wallpaper and curiously moulded Monstra chairs. The metal and ceramic Funny Worker lamp, which resembles a clown's head, and the wooden Mezon table create a fantastical composition. Website: www.gorko-venko.com
Bring home stout accents that entrance with their sculptural built and bodacious volumes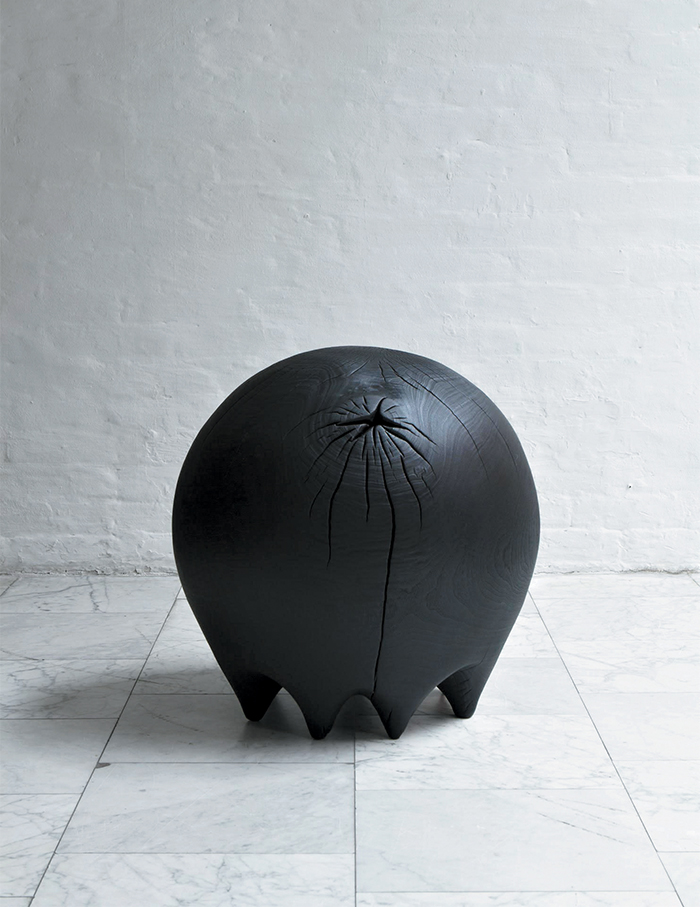 The Gropius and Low Chair by Noom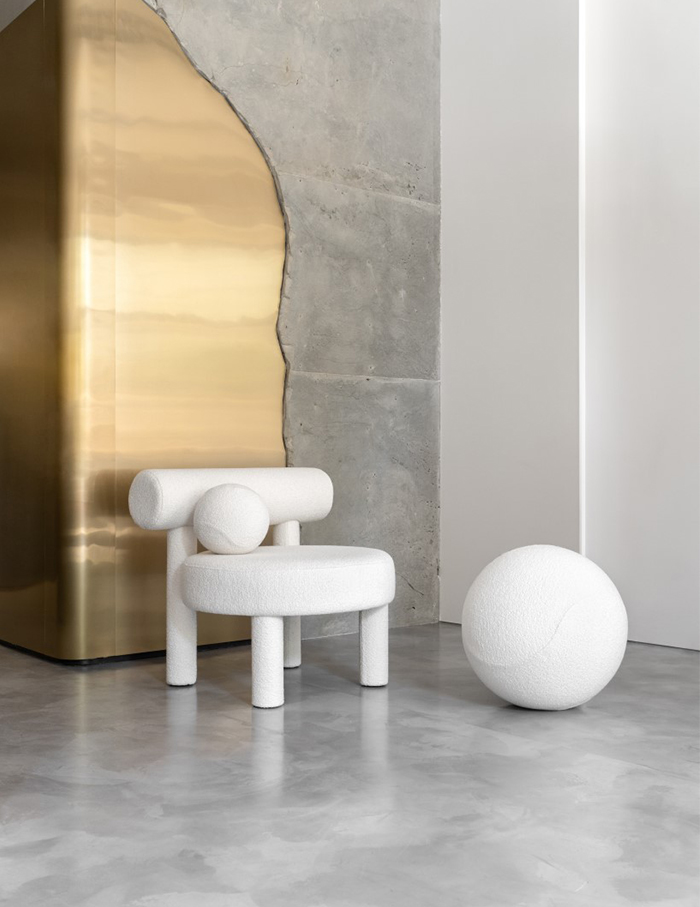 We love NOOM furniture's tribute to the great thinkers who formed the modernist principles and brought them to life! Among the pieces that are named after famous modernist artists and architects, the 'Gropius Chair' by designer Kateryna Sokolova fits this trend perfectly. Its round pillow and ottoman shape is "gathered" from balls and cylinders, making them appealing to interact with.
Tom Dixon's FAT Collection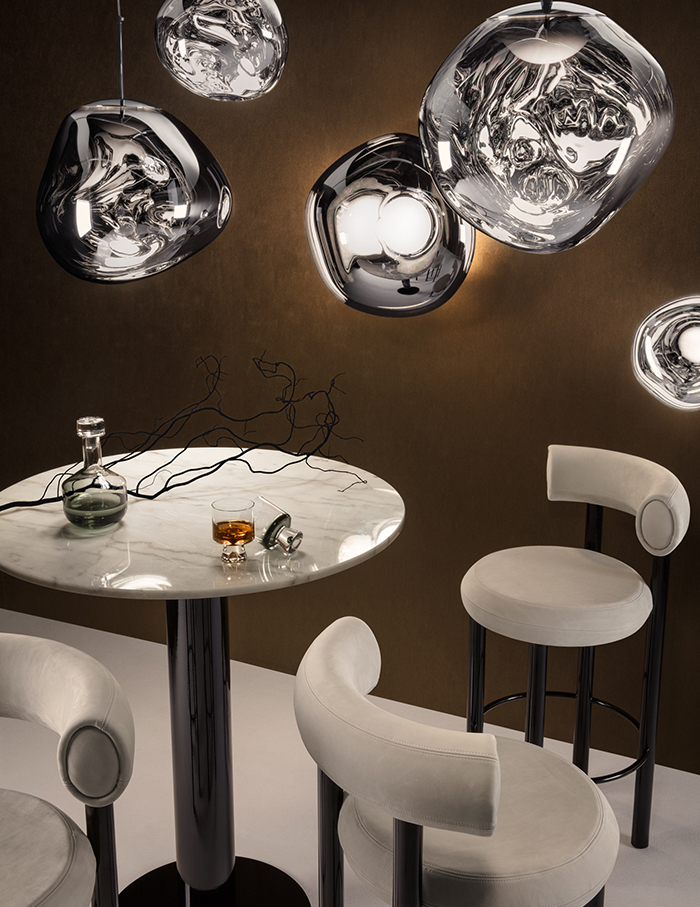 The Britisher's FAT series of seaters is designed to hug the body and create the comfiest of positions. The simplicity of the chair's components is a testament to form following function, one that maintains a humourous silhouette and a reductionist aesthetic. Website:
www.tomdixon.net
Sister by Studio Ashby Polar Arm Chair
We're crushing on this bespoke, roomy and rounded armchair by Studio Ashby, which is fully upholstered in a cream hued fluffy fabric. The Polar chair was inspired by the colour, softness and generous size of the namesake Arctic animal and creates a cosy nook or habitat in itself, within a room.