Homes
TNM Apartment by Intrinsic Designs evokes a spirit of European art and classic minimalism that renders textural experiences!
JUL 26, 2021
| By Saloni Rege
Unfolding like a timeless classic, the four-bedroom TNM Apartment embraces an interplay of light and shadow, textures and colours, gravity and emptiness whilst striking a perfect balance. Crafted by Shivraj Patel and Shruti Malani of Intrinsic Designs, the abode is a testament to all things earthy and European!
Tucked within one of the most elite societies in Ahmedabad, the 1,800 sq ft home has now been converted into a three-bedroom apartment, with the fourth one doubling up as a private lounge for the main bedroom.
"The homeowners are a young couple in their mid 30s with individual businesses, accompanied by their parents. All of them seek a simple lifestyle with clutter-free spaces, which is why we've thoughtfully designed the layout and paired it with bespoke elements," shares Malani, chief architect of Intrinsic Designs.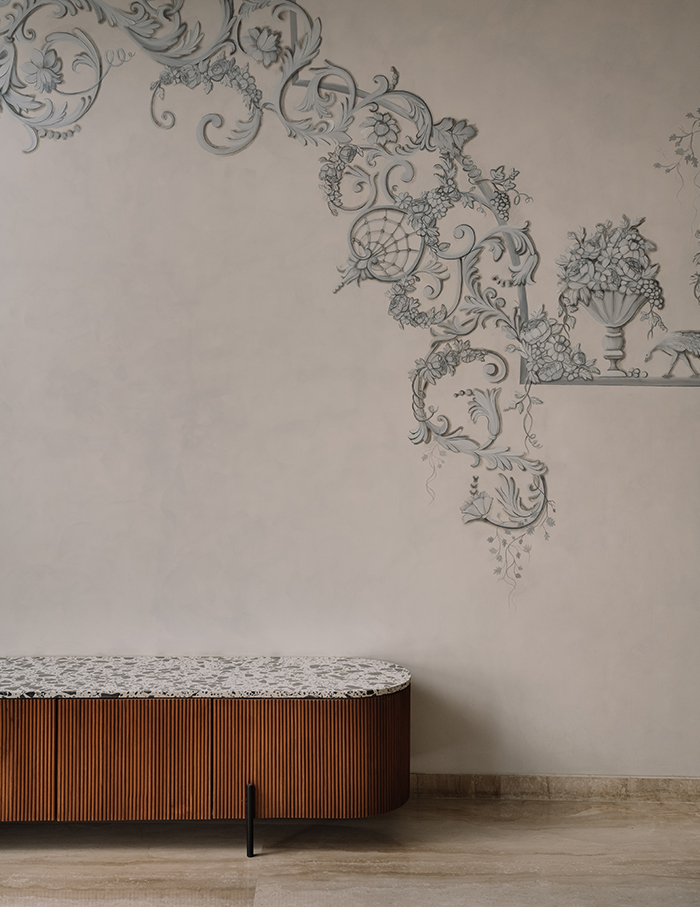 With the inhabitants having a penchant for European art, especially Trompe L'oeil art—the house has been curated with traces of the same, rendering a layer of ultimate grace. Upon entering, a foyer invites into the spacious living area that's washed with optimum daylight, filtering through the west-facing windows.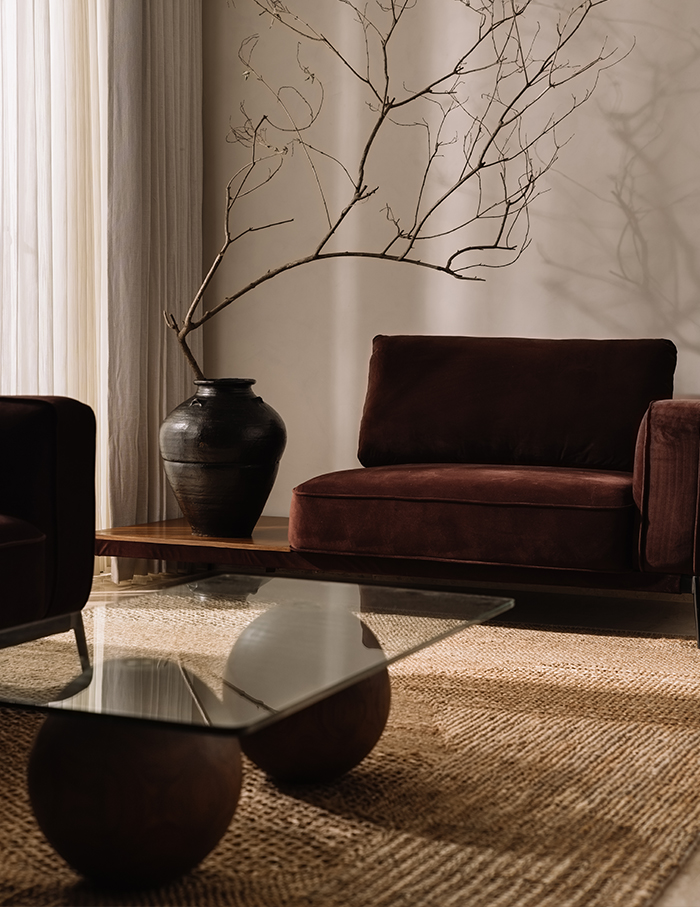 Exuding a neutral palette, the living room awakens a series of thoughtful corners around the house. A deep burgundy sofa is in stark contrast with the muted tones and adds gravity to the otherwise ethereal space. A custom designed coffee table uses a pair of polished wooden spheres, centered delicately like cosmic objects under clear glass.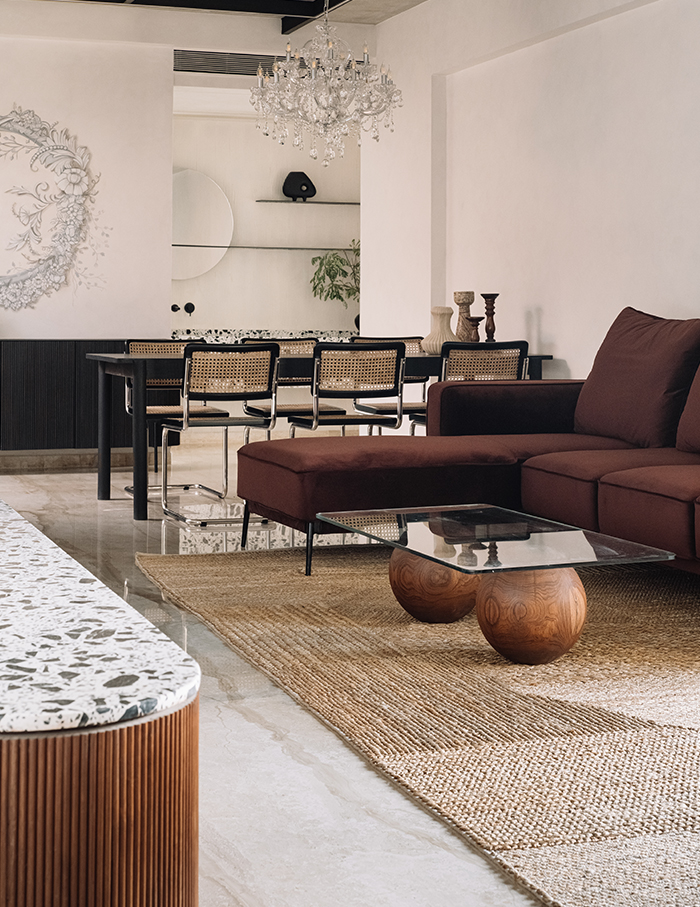 The living room boasts handpicked and bespoke elements that include a sculptural black pot from which a dried tree branch emerges; a reminder of transient and stark beauty. Decor pieces converse with a textural play and are set against a rich, natural Dyna marble floor.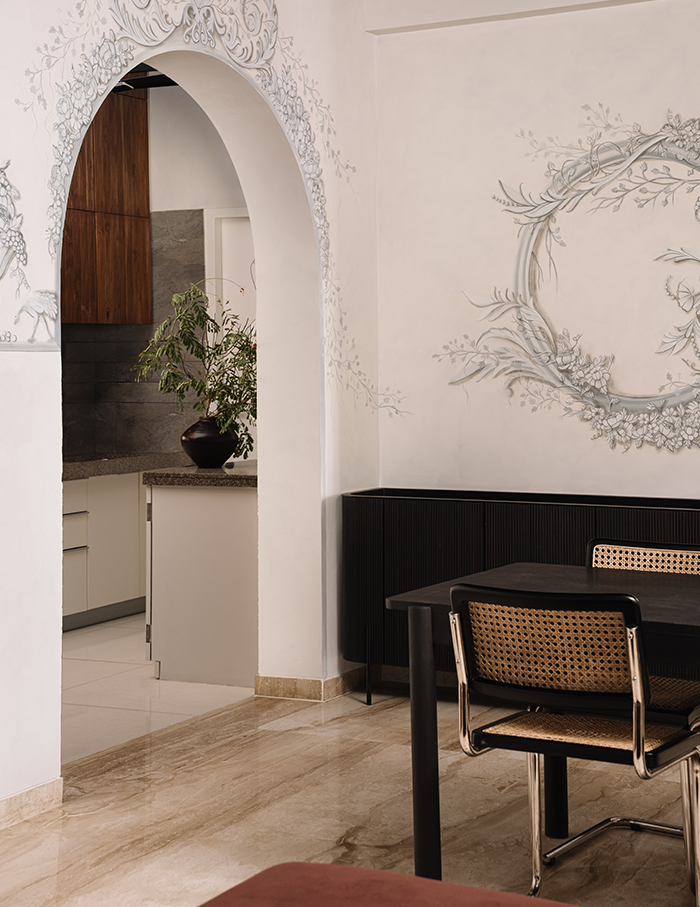 As the light changes throughout the day, elegant shadows of tree branches are cast across the pristine white walls. The delicate essence of the tree foliage is carried forward through a stunning Trompe L'oeil painting panel on the TV unit wall, imparting a three-dimensional appeal of woven foliage, nature and exquisite frames.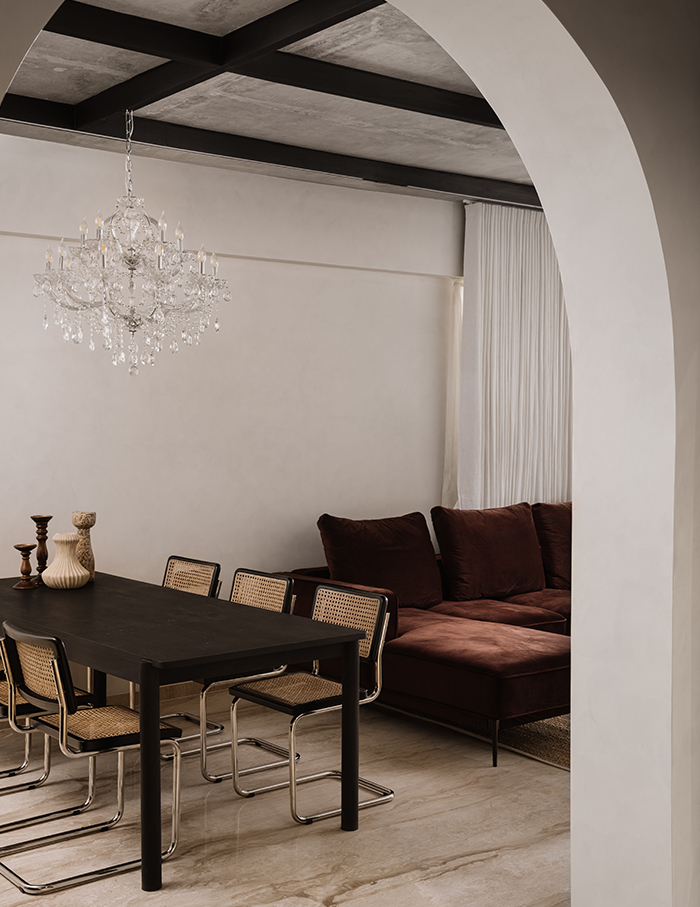 Continuing the similar theme to the dining area, the 16 ft long TV unit transforms into a sleek wooden feature capped with a terrazzo style marble top, creating a sense of linearity. Echoing a contrast palette, the dining area showcases black polished veneer credenza, a bold dining table and the iconic bent metal Cesca chairs with a woven cane back to add a rustic tinge. Furthermore, the kitchen is dressed in neutral undertones and embellished with finely painted leaves and an arched entrance.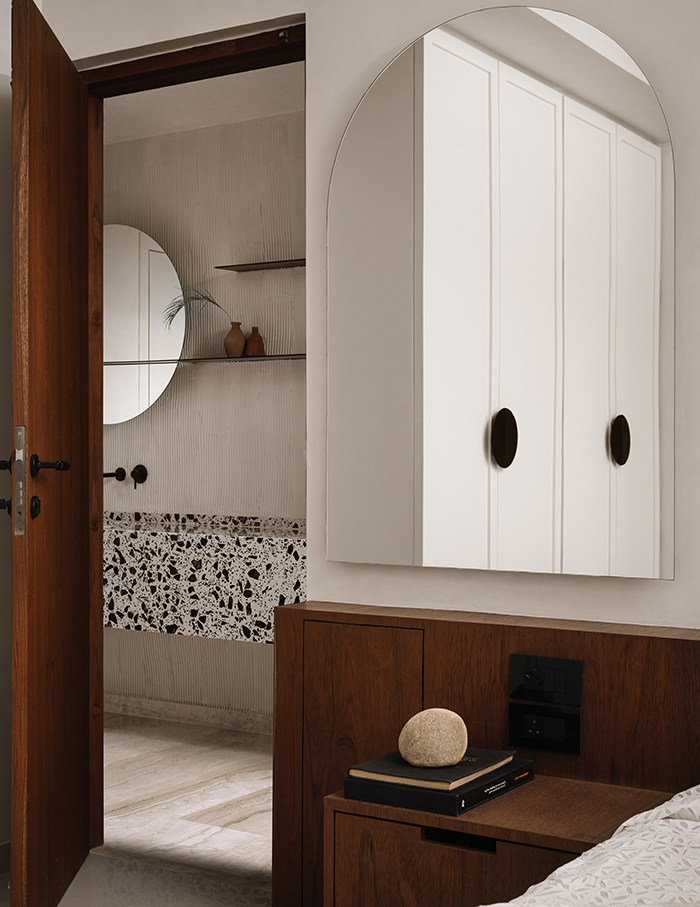 "A minimalist vibe prevails throughout the space in its truest sense. We've designed the house ingeniously with functional elements that play a part instead of accentuating with just show decor. Additionally, the theme revolves around modern classical, resonating with the inhabitants," shares Patel, chief architect of Intrinsic Designs.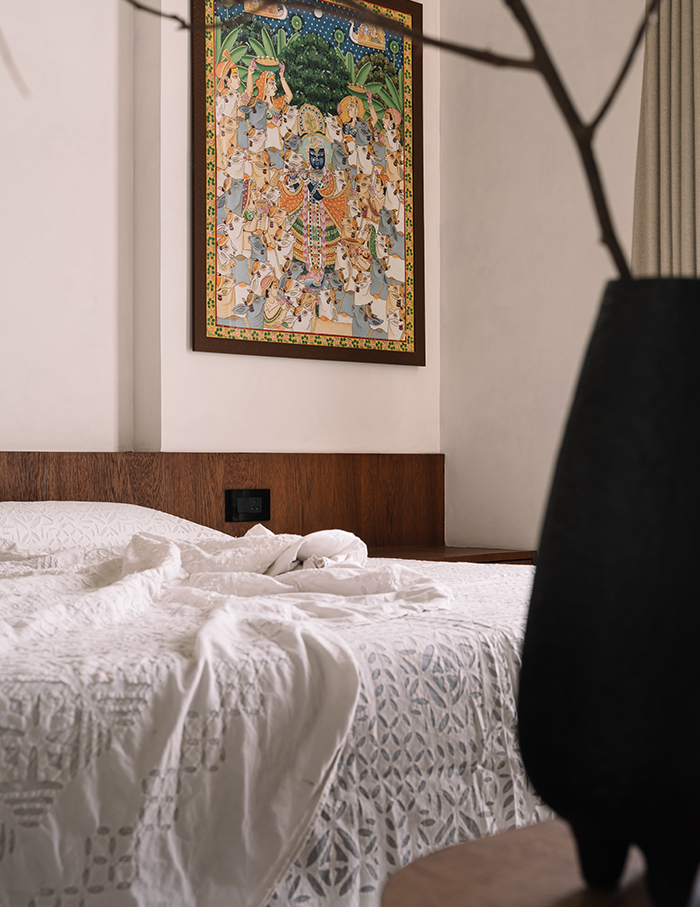 Functioning on the same lines, the bedrooms are a haven of solace, simplicity and contentment! An ode to silence, the parents' bedroom is decked up in mild whites and tempered textures. A clean veneer-finished headboard settles in harmony with the chalk white walls, above which an exquisite Pichwai painting adorns the wall.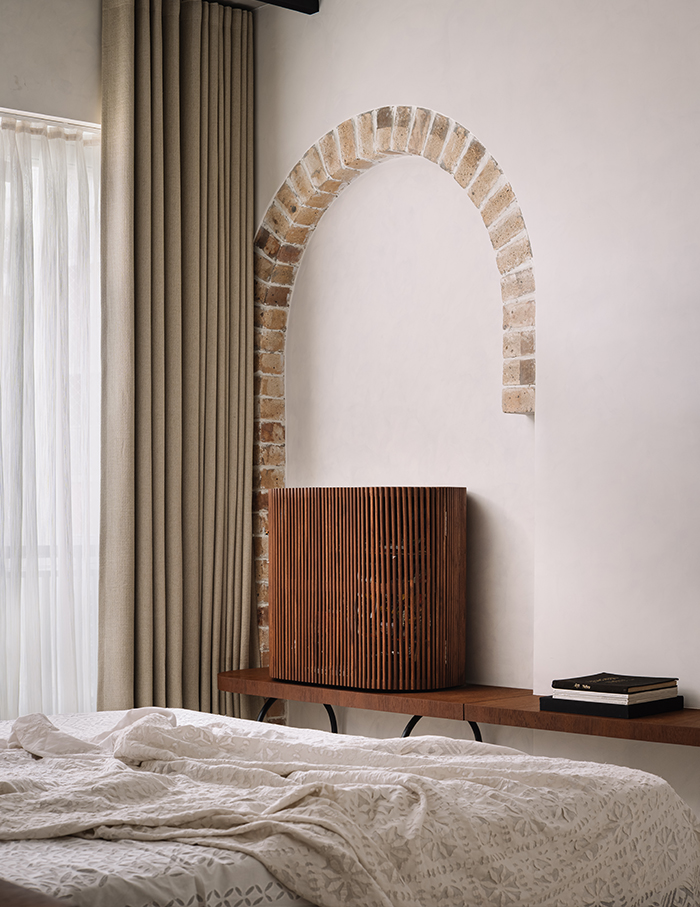 On the opposite wall, a custom designed, unique temple unit settles as a fresh take on traditional temples and appears to rest on a compact wooden ledge—that doubles up as a moveable bench for seating and praying. Here too, a glimpse of a semicircular arch is echoed through a firebrick arch in the corner, adding an element of play and surprise to the room.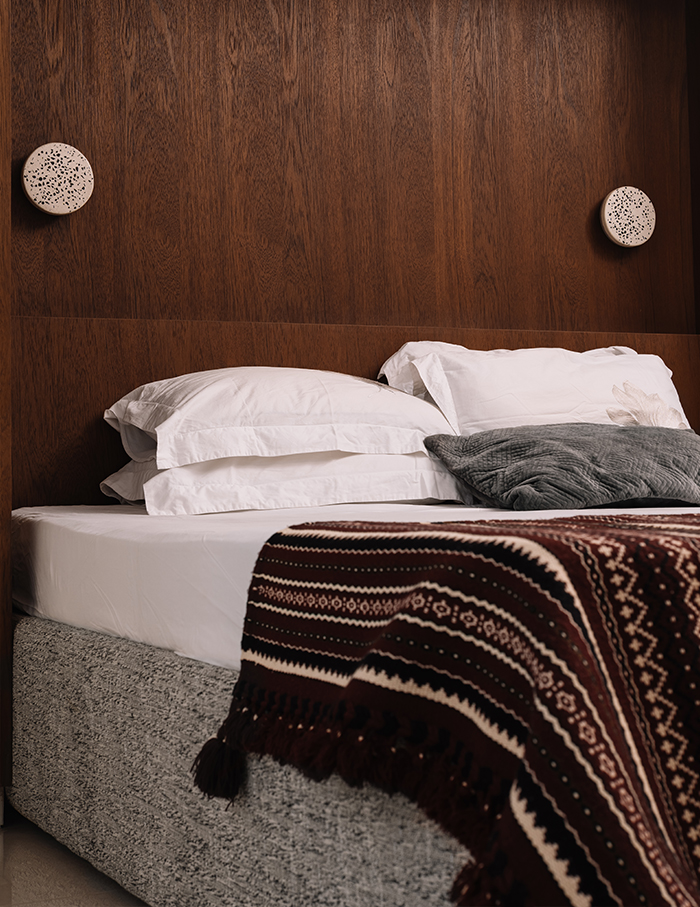 A comforting allure fills the guest bedroom that's punctuated with a high natural polished veneer headboard and hints of terrazzo lighting elements within a beige palette. Witnessed here is a plush rocking chair set against a series of botanical drawings, perfect for a cosy afternoon!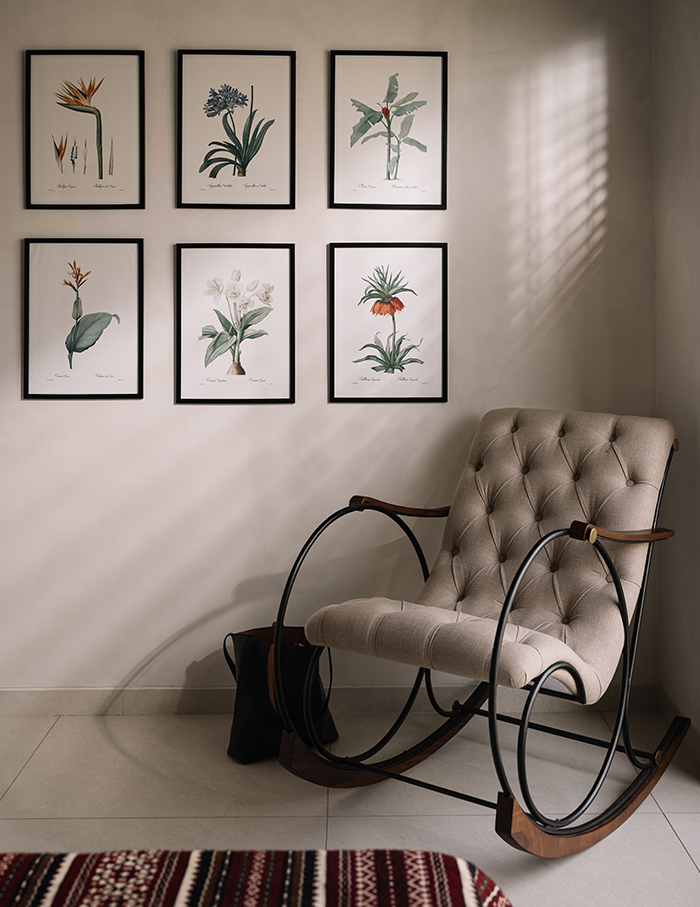 Unravelling through experiences and textures, the main en suite bedroom is accessed through a private lounge. The main bedroom space narrates an ageless, minimal and earthy design language. Natural wooden boards have been used to re-floor the area and embed it in warmth and seamless transition.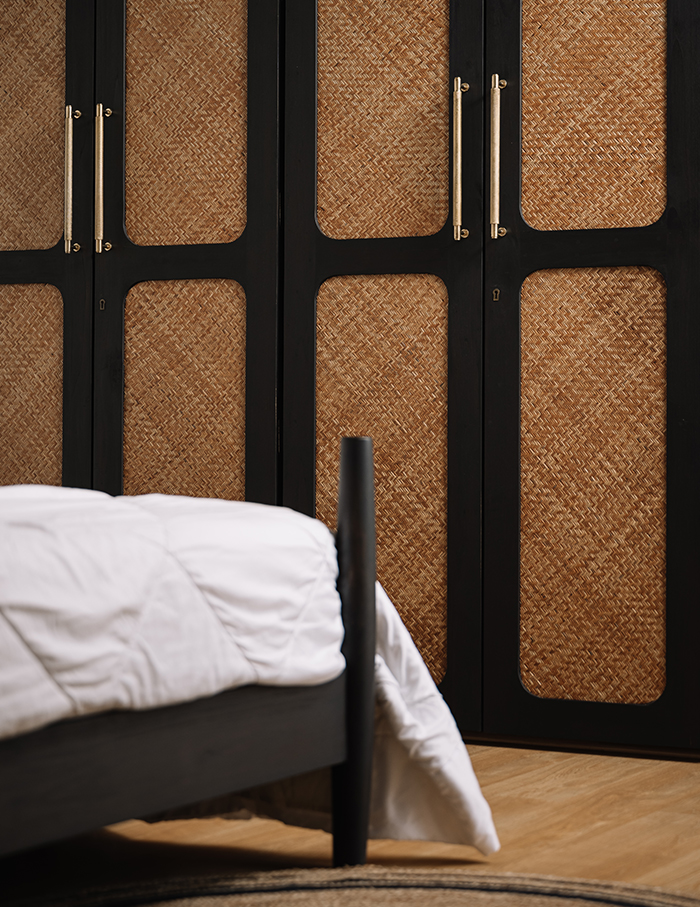 A result of onsite experimentation, a dynamic trowel-finish texture in plaster has been developed to cover the walls of the entire room, including the lounge area. Shadows here converse with woven cane shutters, or gleam gently on textured walls.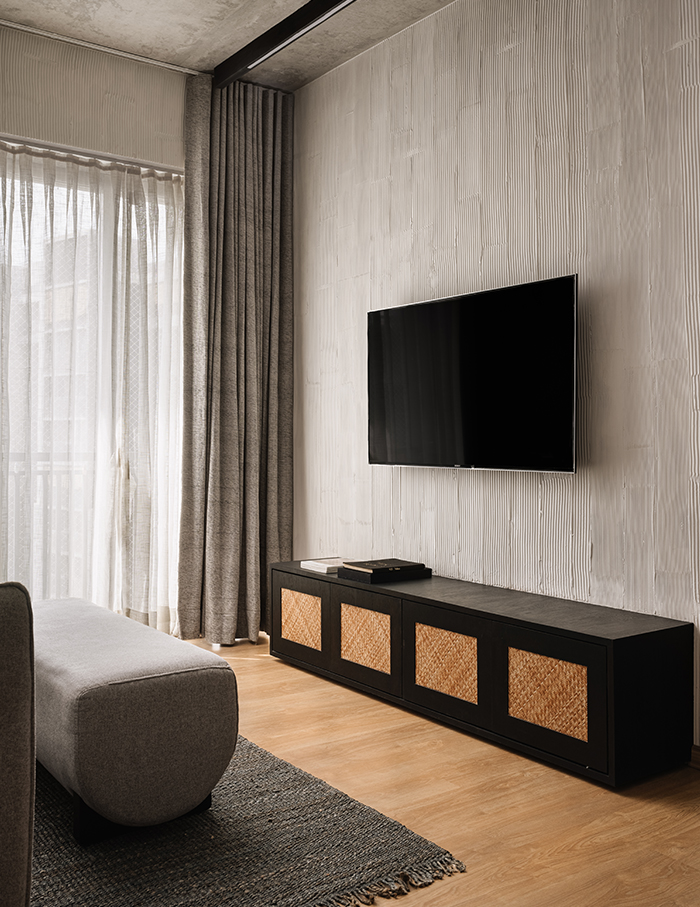 In keeping with clients' requests, a simple wooden workspace with a Cesca chair bedecks the room in a minimal charm as an utilitarian design statement. Similar to the living areas, blind arches and niches add depth to personal spaces, breathing life into them.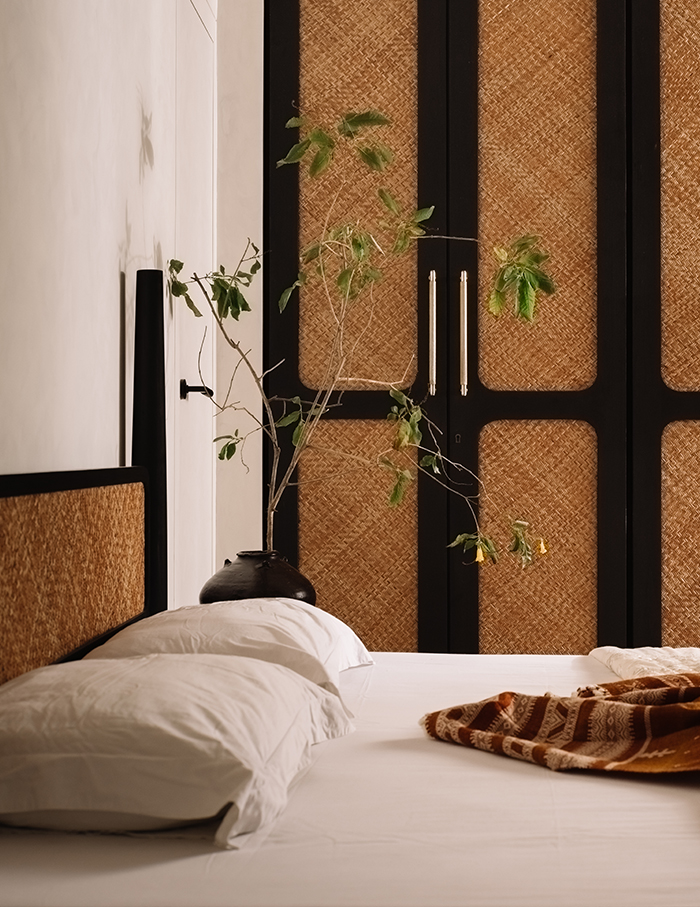 "Along with approachable luxury elements, the abode revolves around customised, bespoke decor that we've tailor-made for the project. But, the features that we enjoy the most are the wall paint and textures! Painted in a simple Asian Paints Royale, the wall is spruced up with a washing technique, creating a cloudy effect throughout the house," reveal the architects.
The material palette comprises teak wood furniture stained in walnut, linseed oil and black finishes, rattan wardrobes and chairs, natural marble, laminated wood, exposed concrete ceiling and rugs in natural hemp among others.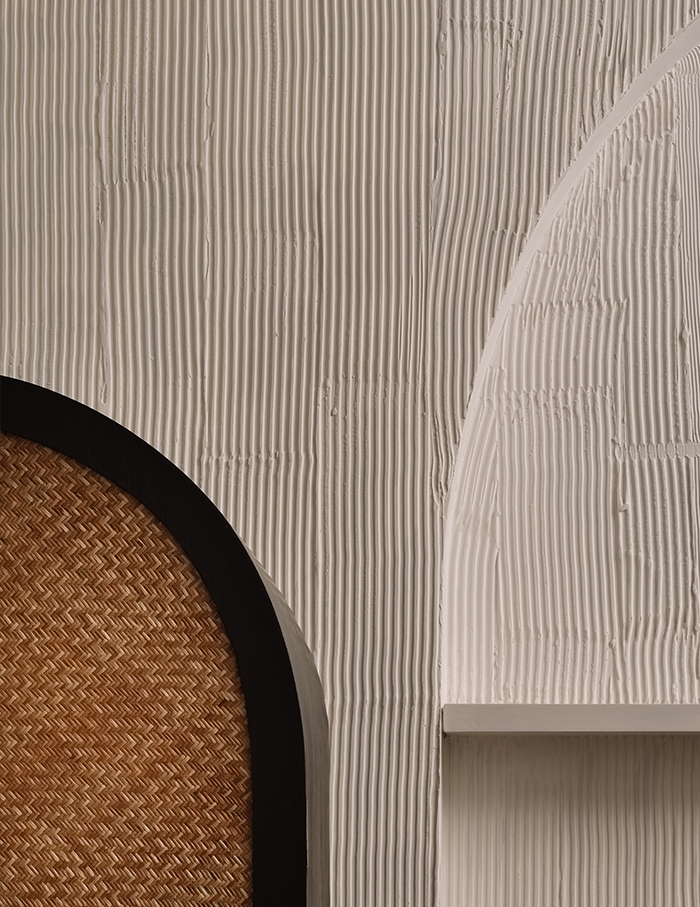 Speaking of their favourite part of the house, the designers say, "It has to be the Trompe L'oeil art! It has been interesting as well as challenging to execute. The colour mix of the painting justifies the space, and despite extensively covering the wall; the art does not overpower with its existence."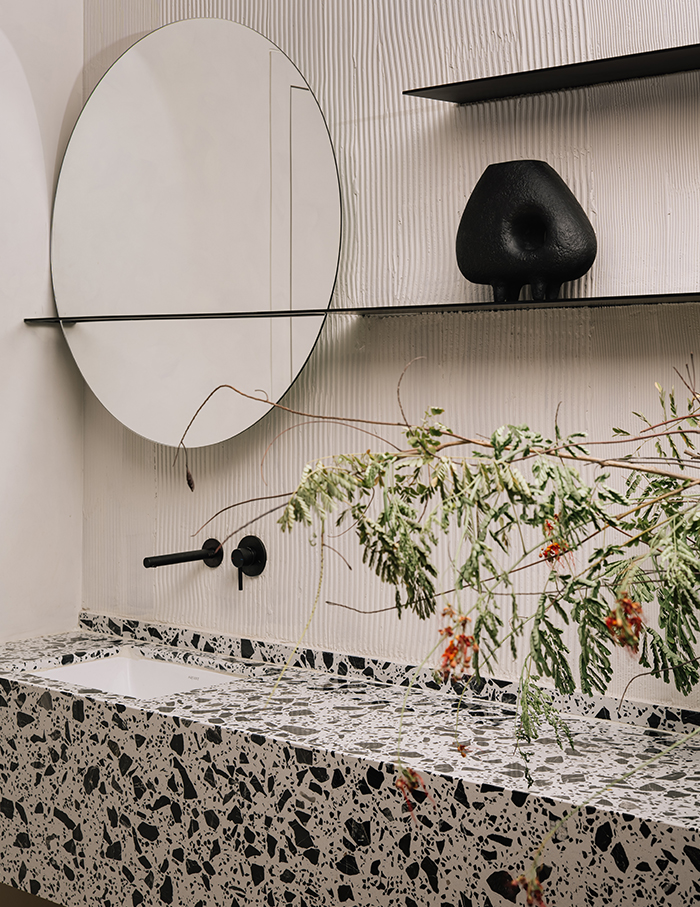 European prints and patterns bind the family spaces of the abode in a unified, cohesive unit thereby emanating a wondrous artistic value amidst the subtle, earthy demeanour of the capaciously minimal apartment.
Scroll below to see more images of this elegant house…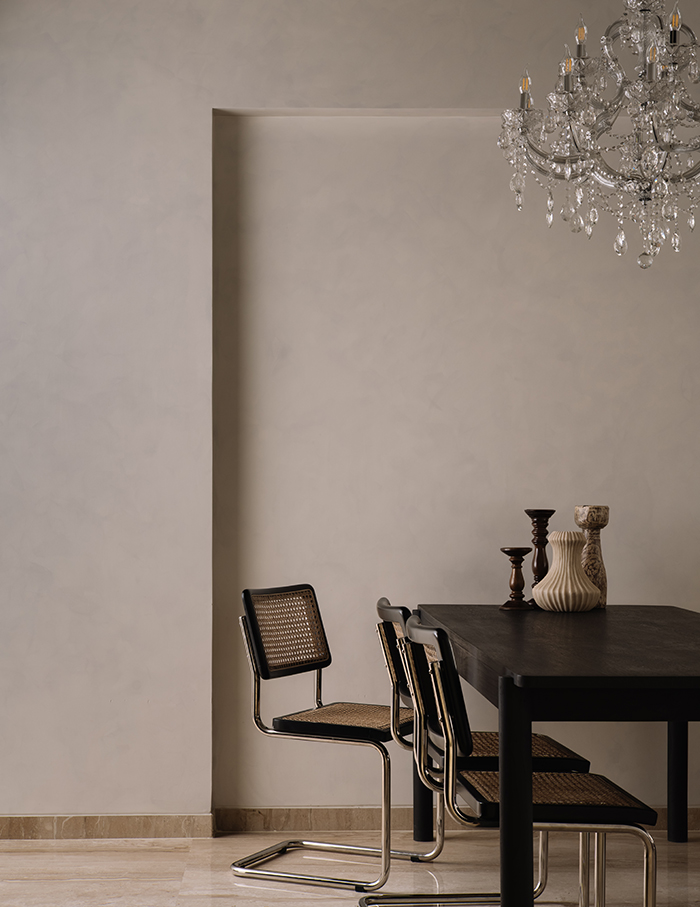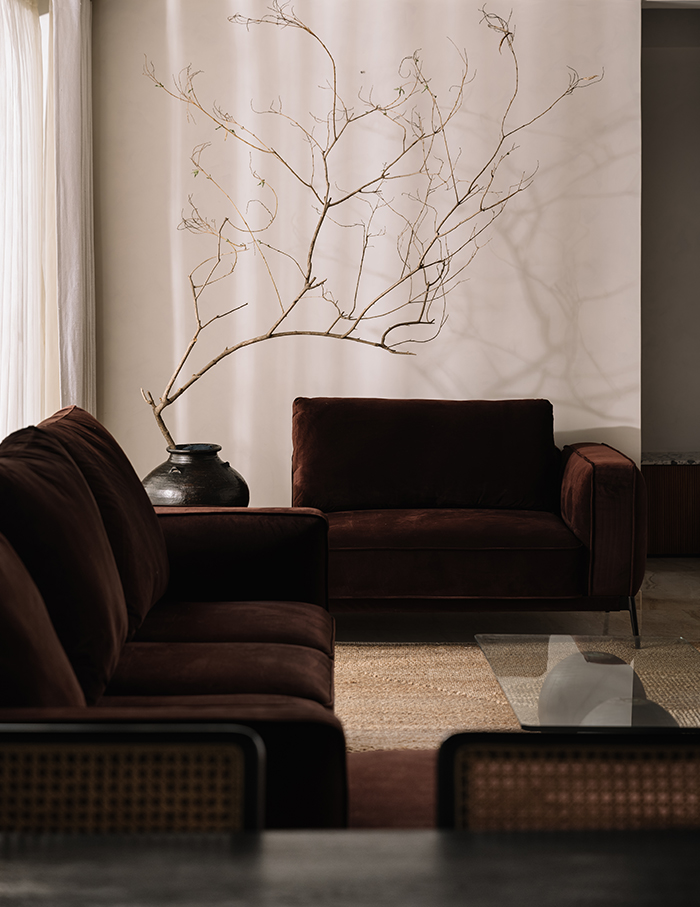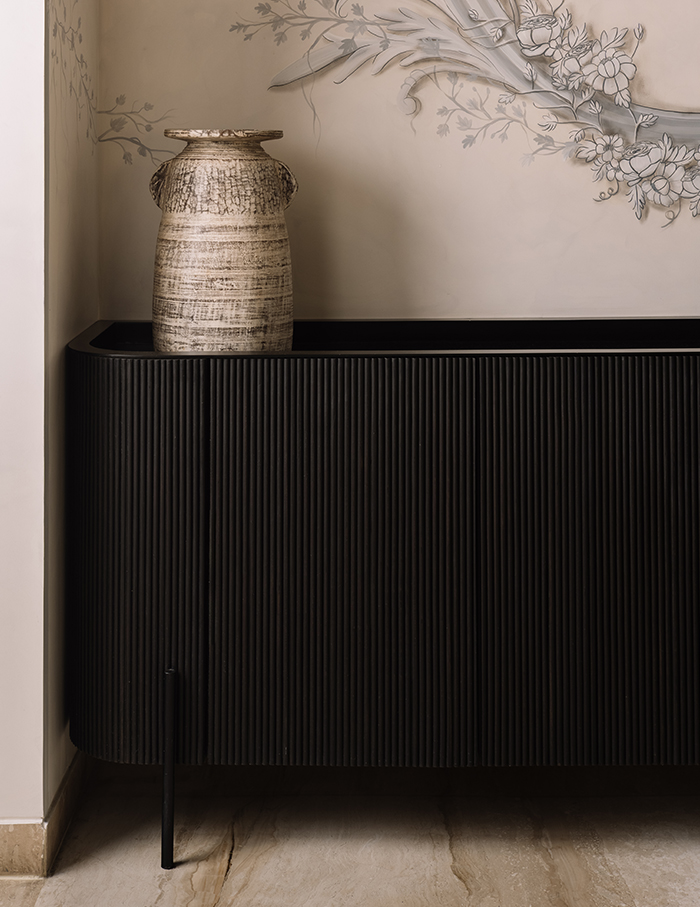 With inputs from Niharika Joshi. If you couldn't stop crushing on this classic residence, then we bet you'll enjoy exploring this Scandinavian Mysa Home by Quirk Studio!