Homes
Function meets flamboyance of yellows at this home close to Mumbai by Jeet Soneji of Jetsons
JUL 1, 2022
| By Pratishtha Rana
Function comes on the heels of flamboyance at this home just a little outside of Mumbai, near Thane. A frame-worthy construction takes an interesting shape in form of what's dubbed the Tiny Yellow House. 
Helmed by Jeet Soneji, Founder and Principal Architect, Jetsons, the 340 sq ft compact den treads a palette of vivid yellows and whites.
The Curious Brief
"The transformation of the space from a cramped one-bedroom apartment to a spacious one-bedroom house was meticulously planned," Jeet muses, A first investment for the owners, a young working couple, the brief was to make the house look as less small as possible with splashes of warm colours like sunny yellow!
Astutely planned, Jeet informs, "We demolished the kitchen wall that separated the living room from the kitchen to link the two spaces, make the living room appear larger, and create  a more open layout."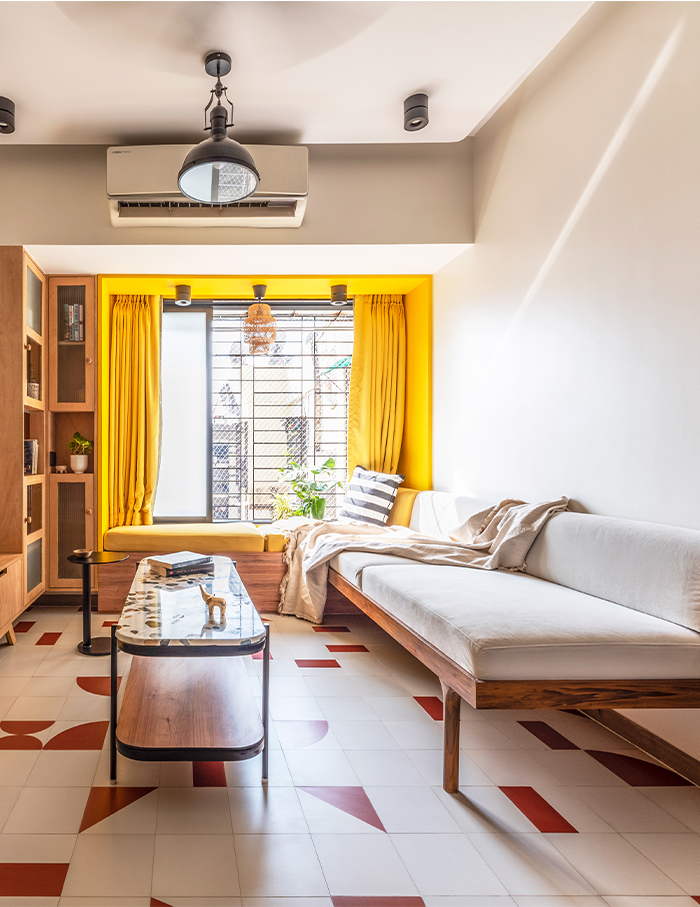 Tour every turn of the home
The entrance introduces a striking work of jaali with the door. Creating a tiled border for the main entrance, custom screen-printed Portuguese tiles are piled on the side of the doorway. As one saunters in, the floor seems carpeted with a square screen-printed tile in five different designs. A fluted glass screen stands poised dividing the living room and kitchen.
Maximising on storage with wit, the TV unit folds into vertical storage units and folds against the window wall with a storage unit. The living room sofa set comes in two colours: a grey day with a tiny backrest and a teak wood leg.  The same grey seat gradually transforms into a brilliant yellow cushioned and curtained otla seating.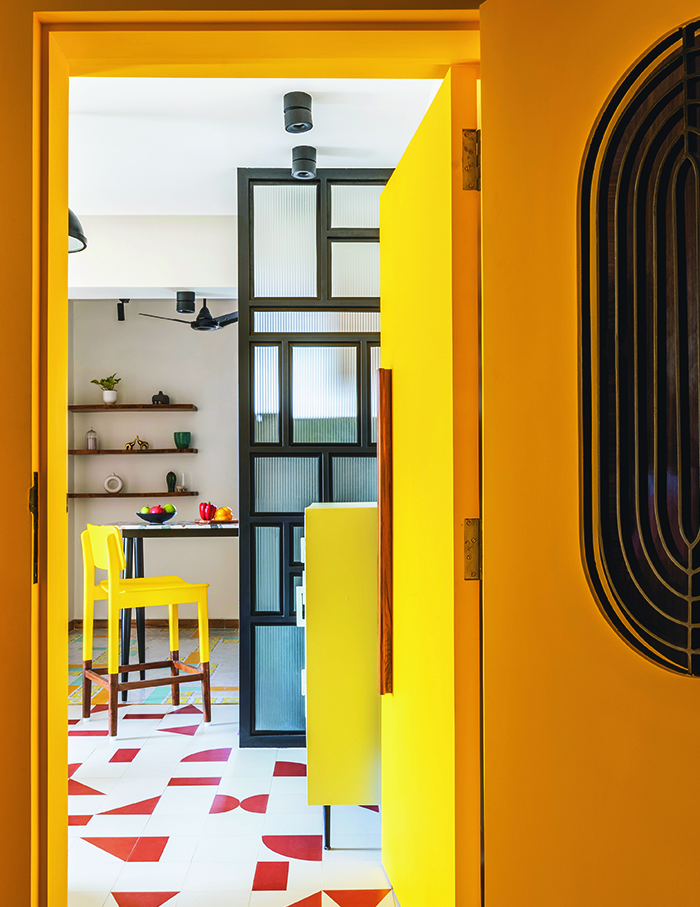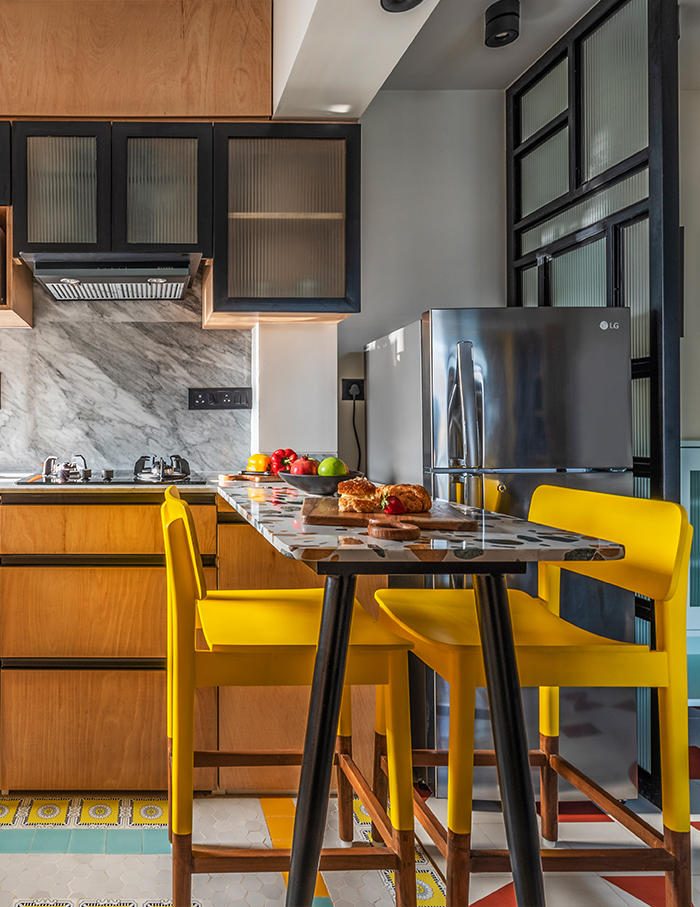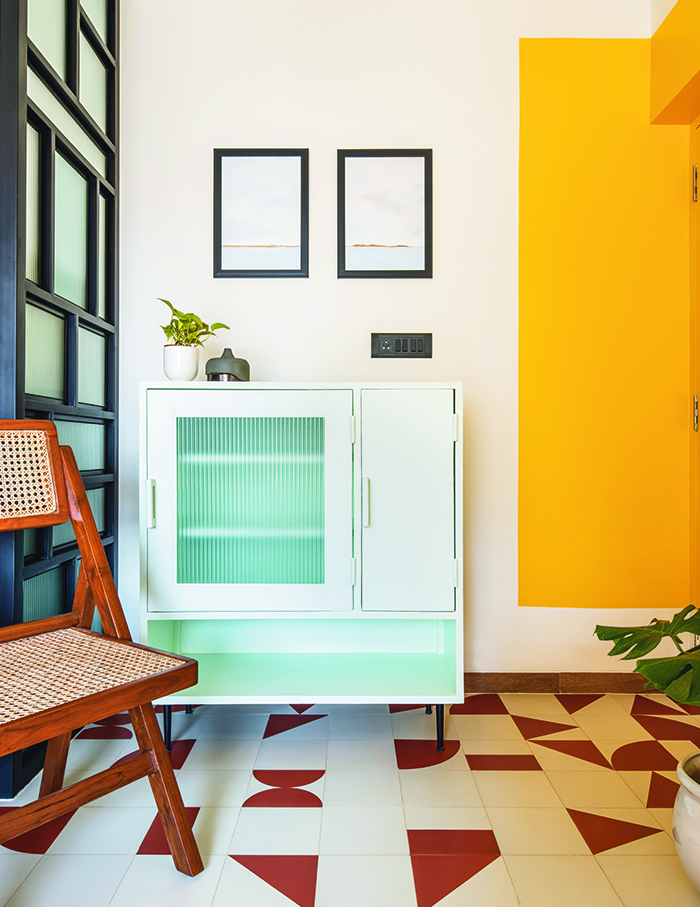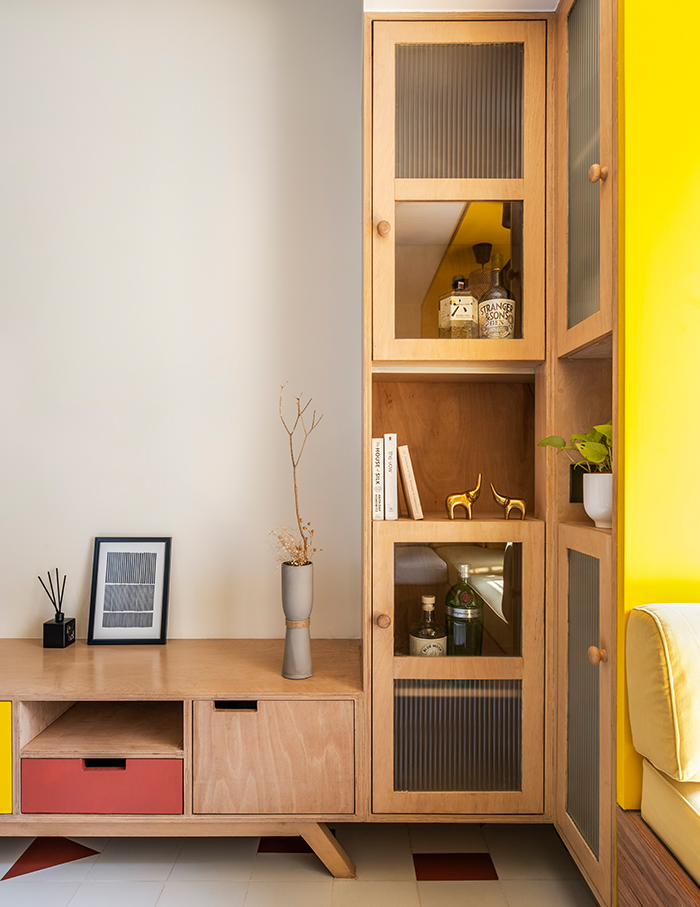 A multi-coloured chip terrazzo table top with matte black metal legs separates the kitchen and the living area. A tall breakfast ledge stands with two bar chairs, half painted yellow and wood.
Moving past the kitchen, with a terrazzo floored bathroom on the way, closer to the bedroom the flooring changes from mixed patterned flooring in the kitchen to chevron-patterned wooden tile flooring.
Jeet reveals on how the space was made to look bigger, "To make it feel larger, the upper part of the room and all of the walls, including cabinet doors for closets, are kept white." Paired with Otla seating is a small reading nook by the window near the closet.
Ideas to bookmark — colours and materials 
A playground of gorgeous and meticulously planned colours, textures and patterns, every turn of this house exemplifies a robust character, not confining to the limitations of the compact space. Yellow meets whites and gorgeous splashes of wood tones with hints of greys and beige occasionally.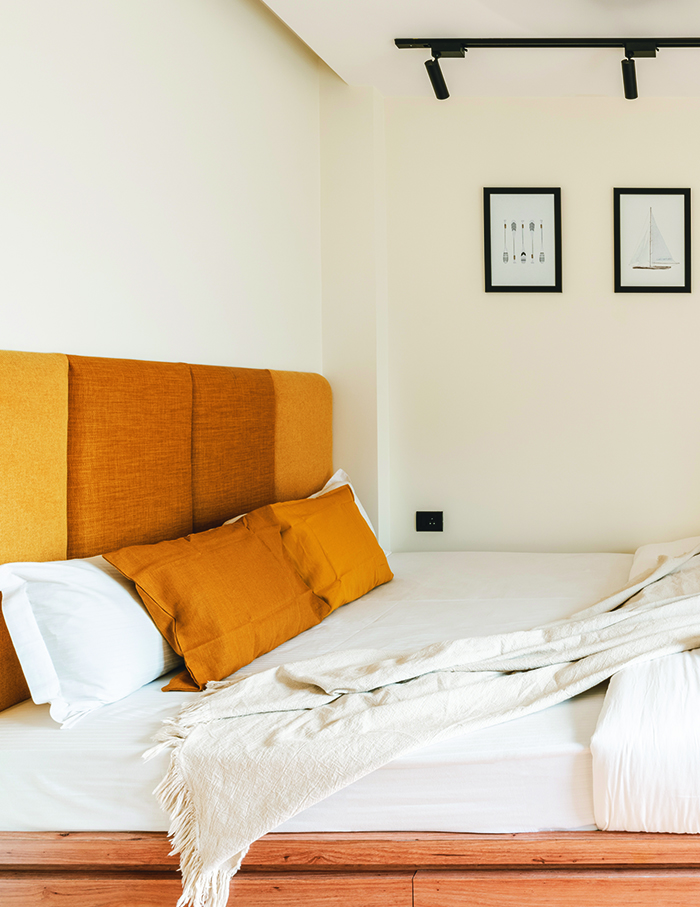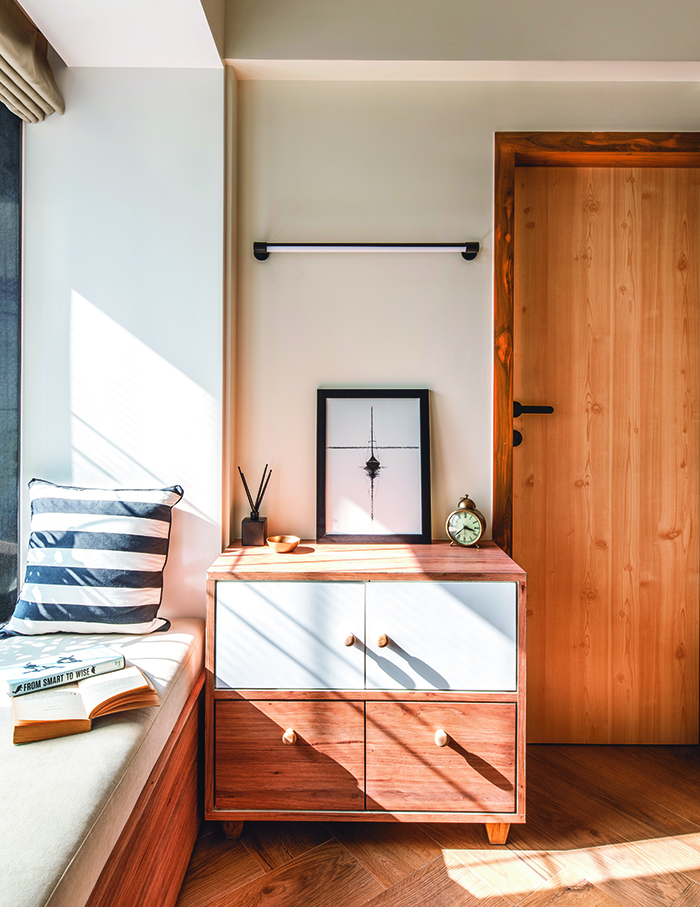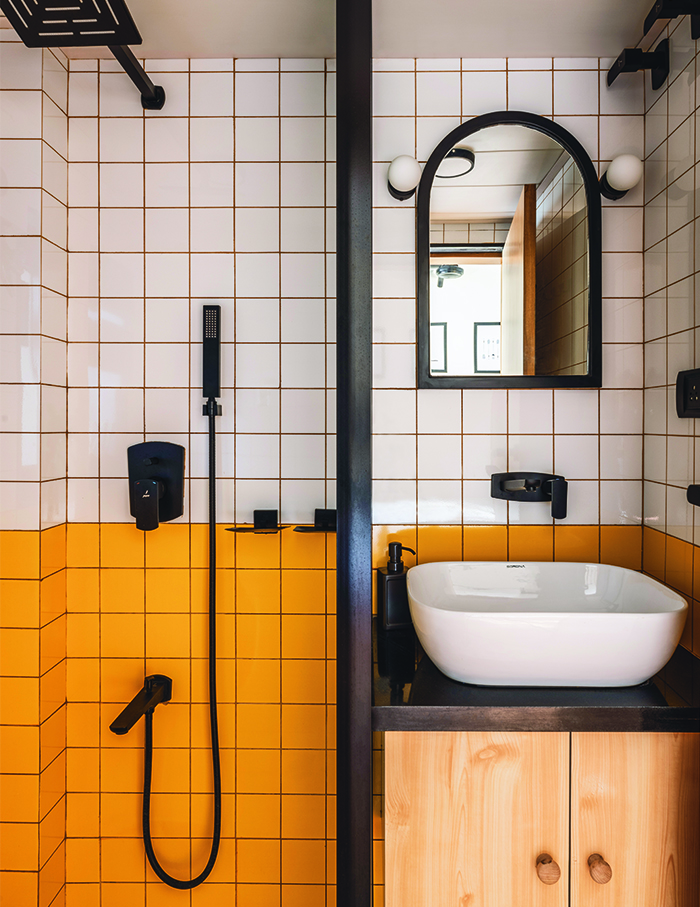 What Jeet Soneji fell in love with at this home…
For Jeet and the Jetsons team, imbuing integral detailing in all of the spaces they create is crucial, while staying true to the homeowner's briefs. At the Tiny Yellow House, what Jeet enjoyed the most? He tells us, "The terracotta and white coloured flooring pattern that carpets the living area, making it more open in some spots and closed in others, was one of the nicest things that we loved when constructing the entire space."