Trends
Summer breeze: pastel shades and organic nuances
FEB 25, 2020
| By ELLE Decoration network
Throw open your doors to a warm breeze as the heady scent of burgeoning flora wafts indoors, bringing in pastel hues, floral imagery and delicate textures in all their natural glory…
Gorgeous greens
Grace Cyan fabric by Michael Smith and Passiflora Dew fabric from Boeme are suspended from the ceiling, along with the Lucille hanging flower cocoon from Llot Llov. A vintage sofa upholstered in Bohemian Tapestry Teal from Mulberry Home takes centre stage next to the Rosa footstool from Imogen Heath. On the left of the sofa, Alfredo Häberli's April tables for Nikari from Viaduct hold a watering can and vase from House Doctor. A screen covered in Lady Roxana Wall paper from Rubelli is placed on the far right, while the Shake cabinet by Sebastian Cox from Benchmark stands in the back.
Solitary reaper
Styling by Hannah Bort; Photographs by Jonas Ingerstedt; Text by Aneesha Bhadri
Natural light streams in through the window, where the Pounded vase from BoConcept is placed on the sill. Baskets from Balineum and Tine K Home, holding Farrow & Ball wallpaper rolls, sit below it, while a small broom from Objects of Use is propped against the wall. Patricia Urquiola's Crinoline armchair for B&B Italia lies on the Hortensia rug by Michaela Schleypen from Front Rugs. The fabrics Faria Flowers Water Garden from Liberty London, Designers Guild's Jade Temple ecru and Rubelli's Dorian Gray hang behind, along with Tina Frey's ceramic planter named Hanging Square and glass ones by Eleanor Bolton.
Fresh foliage
Pols Potten Wheat Straw Sphere vase rests on the Starsky table by David Lopez Quincoces for Living Divani. The Tuvalu bed and mattress from Oka hold an assortment of linens such as the bedsheet and duvet cover from Larusi,Rem pink pillowcase and Nap patterned pillow cover by Society Limonta from Harrods, along with an Anthropologie cushion.
Flowering glory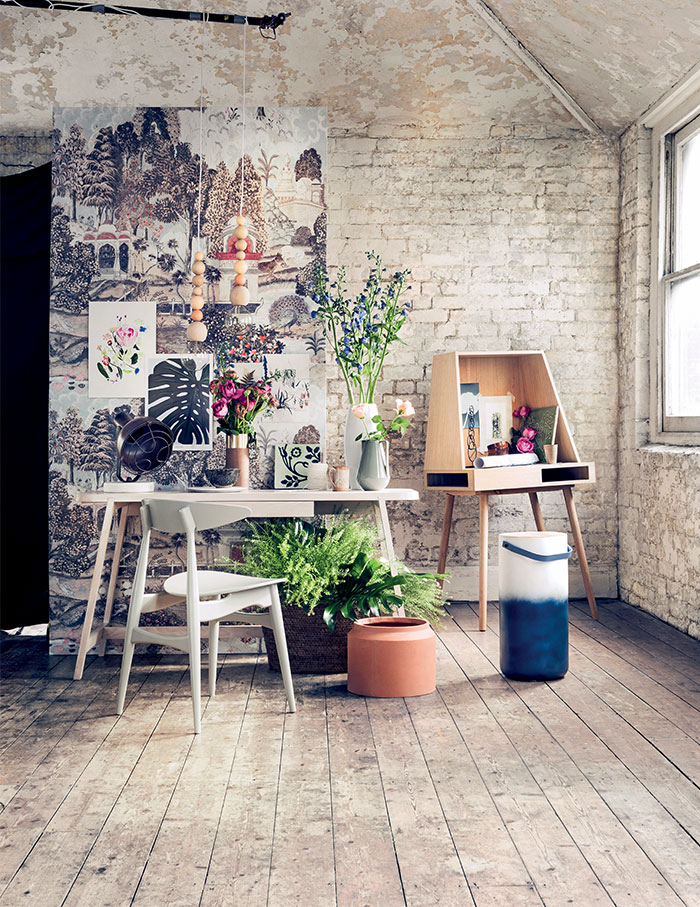 Styling by Hannah Bort; Photographs by Jonas Ingerstedt; Text by Aneesha Bhadri
Situated under Ball pendant lights by Applicata from Dowse Design is Desk Three from Another Country, which is paired with the CH33 chair by Hans Jwegner from Carl Hansen & Søn—a bright and airy workspace that brings the outdoors in. Beside it are the Vilfred desk from Bolia, Potluck stool by Lola Lely from The New Craftsmen, a basket from Balineum and Ferm Living's Ochre pot. Accessories seen are Rh0110 table lamp from House Doctor, a soup bowl and tea mug from Nom Living, True Colours vase by Lex Pott for &Tradition from Haus London, Emery et Cie Rosiers No.24 tile, Crispy II vase from BoConcept and Ferm Living's Neu pitcher. Artworks on the wall include Alicia Galer's Floral Bouquet print and Flowering Cacti print, with the Veggie no.2 print from Vontrueba.