Design
This veneer showroom planned by Marigold Interiors uses wood in exceptional ways
AUG 9, 2020
| By Krisha Godani
Interior Hub, a 2,500 sq ft veneer showroom in Ahmedabad, stands out for its exceptional features and unique product showcase. Designed by Marigold Interiors, the outlet offers an inspirational setting that references "a book full of diverse and exciting ideas," says principal designer Kshma Parmar. 
The store opens up to a custom built reception desk, which uses leftover scraps from the wooden strips employed to create the minimal, bespoke screen that serves as a backdrop. Also seen near the display area are a set of elegant seating tables, finished with veneer that further enhance the frame.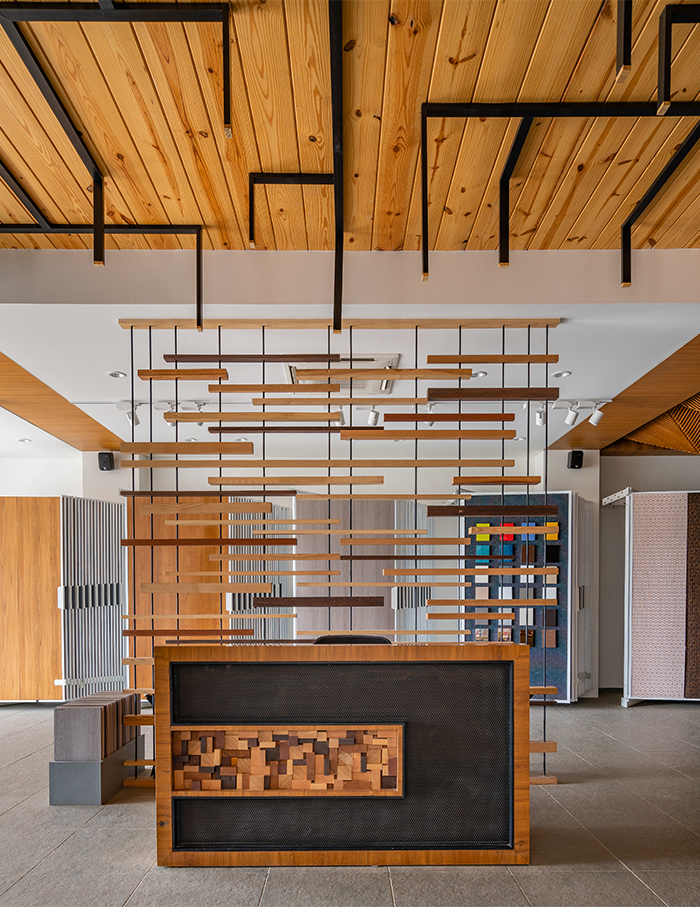 Adding a sense of awe and volume to the space, upside-down pyramids made using sleek teak strips are mounted on the ceiling. What may appear to be a monotonal space is in reality laced with carefully curated timber from a number of different families and with varying hues and textures. These complement the Kota stone flooring and metal detailing seen throughout the showroom, making it look as radiant as ever. 
This showroom proves to be an ideal example of a display gallery where the products, as well as the composition help, showcase the utility and characteristics of the material. The result is two-fold—one of awe and the other that appeases one's creativity, giving visitors an in-depth understanding of the material and its varied applications.
Scroll below to see more pictures of this unique store by Marigold Interiors…