Homes
This NYC apartment on Billionaires' Row by Drake/Anderson is a treasure trove of exquisite creations
OCT 1, 2020
| By Sakshi Rai
Sure to be a significant mention in New York City's dazzling skyline is the premium Billionaires' Row. This luxurious piece of real estate, comprising soaring residential skyscrapers, is situated along the southern end of Central Park. Among the numerous covetable homes is this lavish apartment—styled by Jamie Drake and Caleb Anderson, principals and founders of design practice Drake/Anderson.
Reputed for their signature style of infusing contemporary drama effortlessly into spaces, the creative duo uses bold artworks and an interplay of textures to craft this bespoke residence. This 4,200 sq ft apartment is the primary residence for the homeowners. And its prime location made it extra special. 
One of the first views that bowls visitors over is the foyer. Its walls are clad in Shagreen embossed leather panels, a rich texture that makes a great first impression. This grid-like, lightly padded surface immediately hints at the tasteful and luxuriously styled interiors that are to follow. Large windows bathe the space with ample daylight, and illuminate a variety of artwork, a sculptural boulder console and a channeled bench.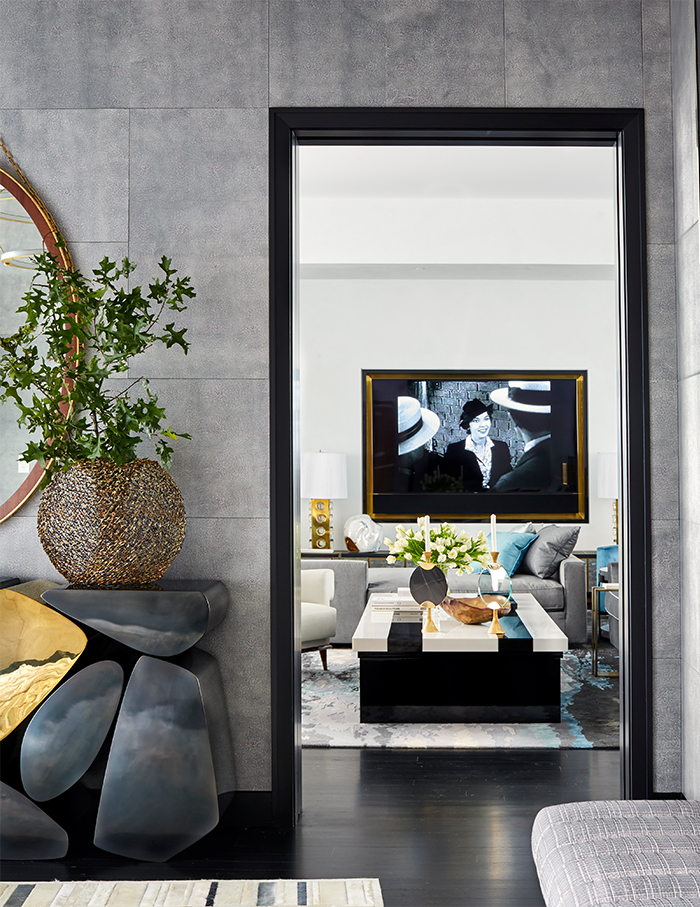 Straight ahead, symmetrically aligned doorways lead to the vast living and dining area. A duo of L-shaped sofa sets bifurcate this main lounge into two zones—one facing and the other looking away from the floor-to-ceiling windows that offer spectacular views of Central Park and Midtown East. "We especially enjoyed designing the living-cum-dining space. To utilise the abundant area, we positioned capacious sofas that turn in multiple directions and facilitate easy dialogue," shares Anderson.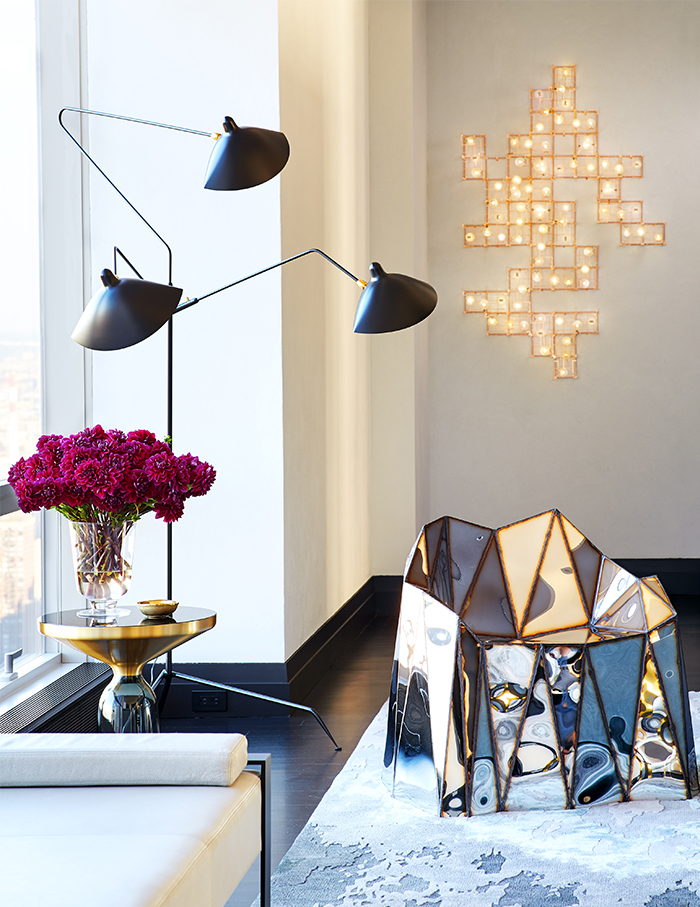 Additional seating in the living room includes a pair of Italian futurist armchairs, a daybed near the window and a welded, polished steel chair. "We tried to keep most of the hues within the classy black, white and grey palette as desired by the client and seen in the foyer. But using the occasional pop of blue in the furnishings let us reference outdoor elements including the sky as well," says Drake.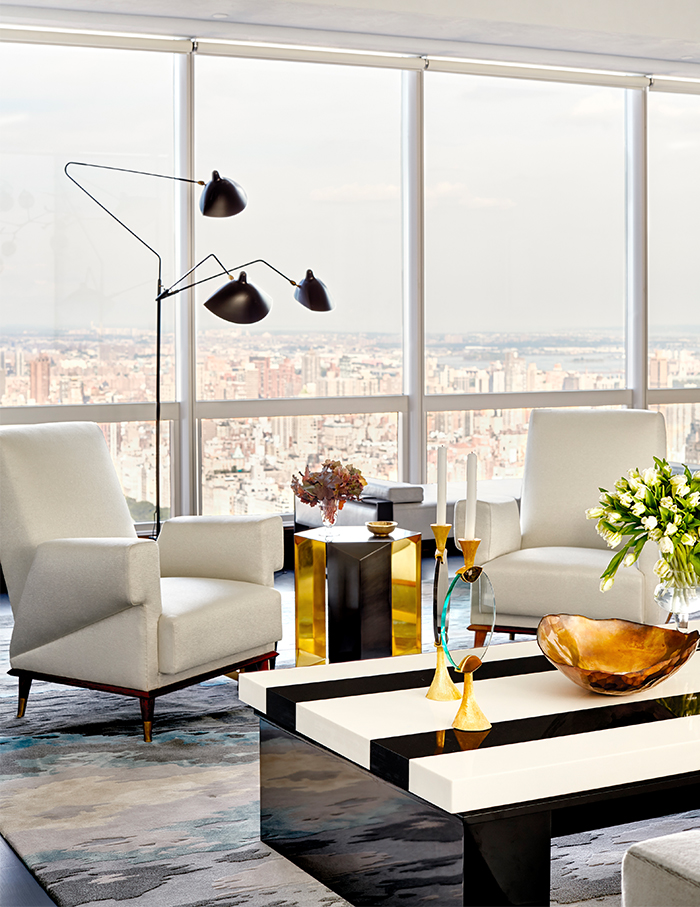 A dining setting occupies the southern end of this section and features a long, marble table surrounded by horsehair covered chairs. We love how a bespoke Lindsey Adelman glass chandelier with asteroid-shaped components further adds to the chic style. Offering a variety of meal and work platforms, the kitchen too has a round table, flanked with wall shelves and storage units.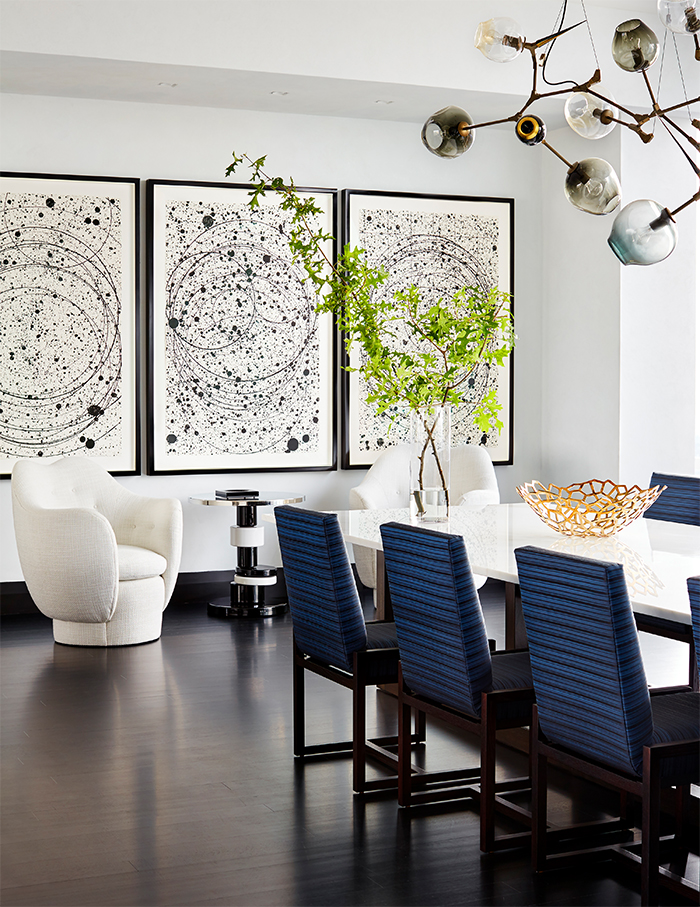 The bedrooms of this abode are designed in stark contrast to each other. While the master suite is kept more decadent with graphite wall plasters, the two guest bedrooms on the opposite end employ a lighter, more subdued grey palette, achieved by using iridescent glazed paint—truly making them one of a kind.
Scroll below to see more images of this striking residence by Drake/Anderson…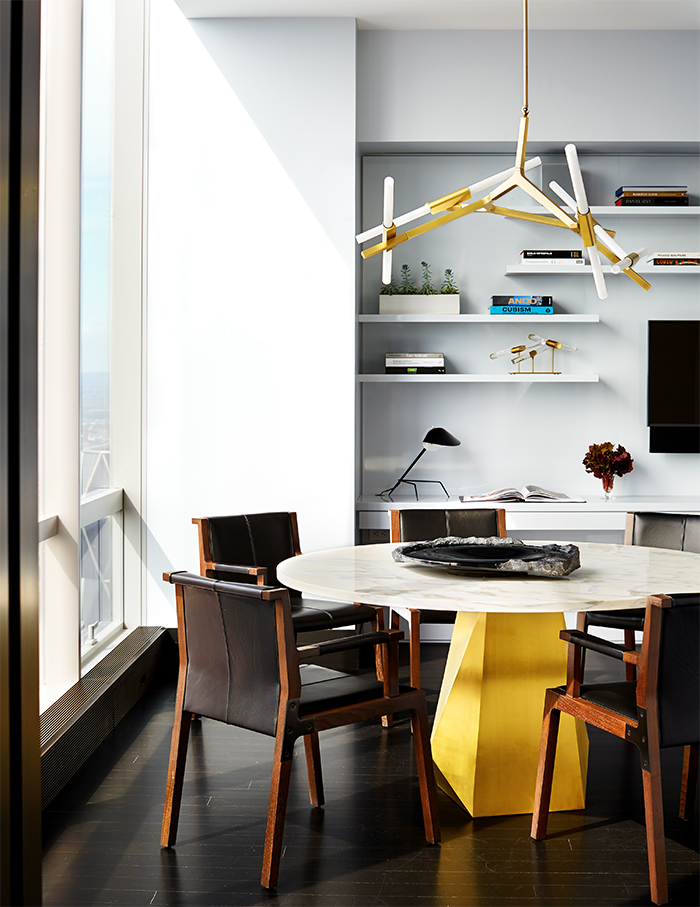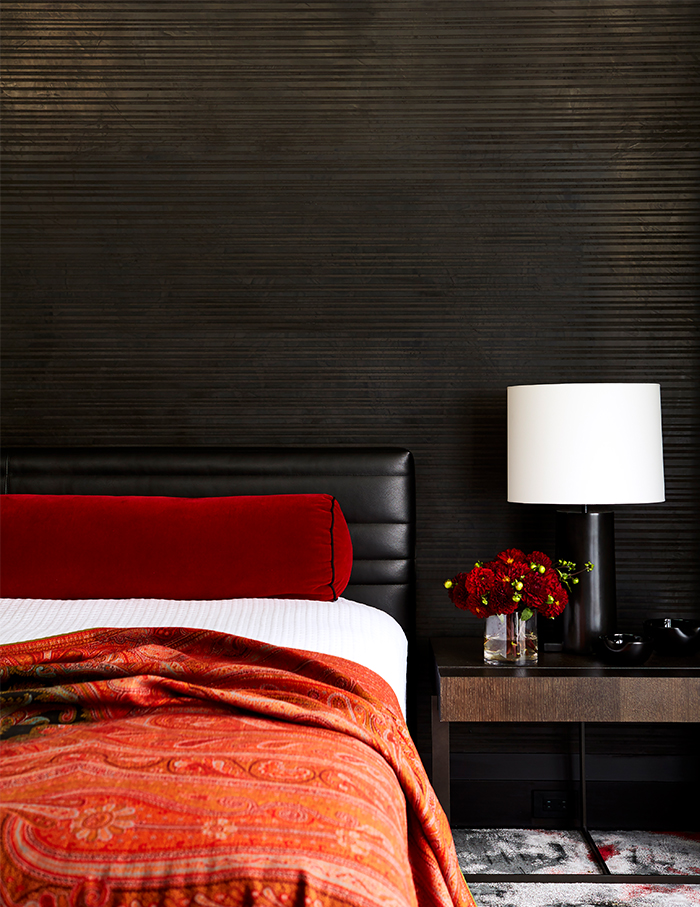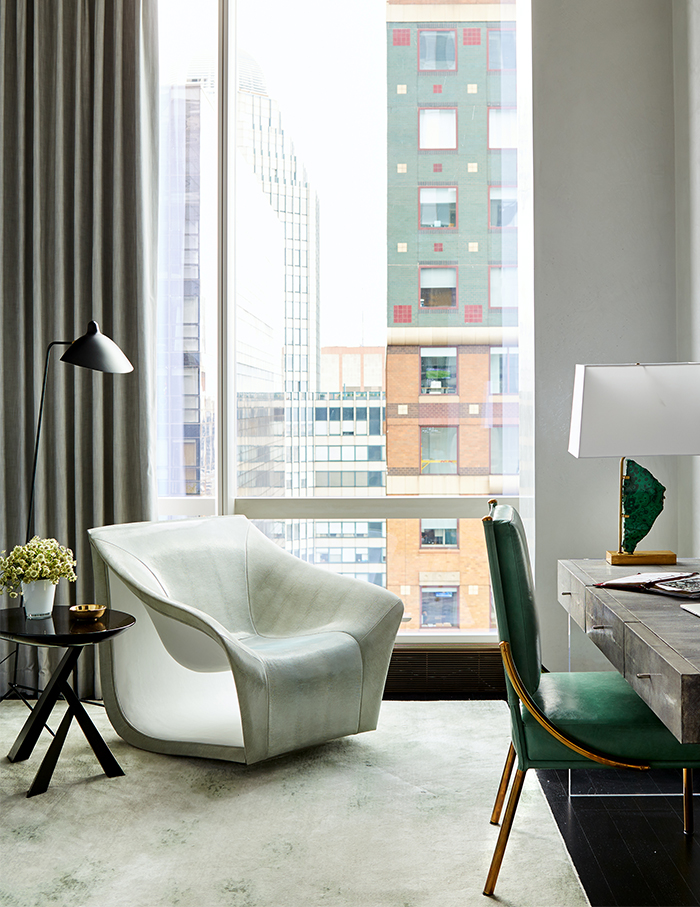 Our Aug-Sept issue is out now! Click here to read and download for free