Homes
This Miami beachfront mansion by Robert Rionda Interiors juxtaposes antiquity with modernity
OCT 18, 2020
| By Aneesha Bhadri
Spread over a sprawling 14,500 sq ft waterfront property in Miami Beach and furnished with antiques, classical touches and contemporary elements, this villa embodies the best of both worlds. "The clients, a young family, wanted an old-world look with a grand but relaxed European feel as well as modern day comforts," says Robert Rionda, who moved from a law career to establish this eponymous design practice in 2005.
An entry foyer with floor-to-ceiling glass doors and windows looks out into a courtyard and the bay beyond. To the right, a double-heighted hallway opens to an expansive living room, dining area and kitchen. An entertainment room and three terraces facing the oceanic waterfront complete the lower level. The family quarters including a master suite and three ensuite bedrooms lie upstairs.
"The living room is my favourite space for its eclectic assortment of pieces spanning centuries and styles. I have always been fascinated by the history and stories behind antiques. This project gave me the opportunity to further explore and incorporate some of my favourite historical styles. I always enjoy the search and this project was all about that," enthuses Rionda.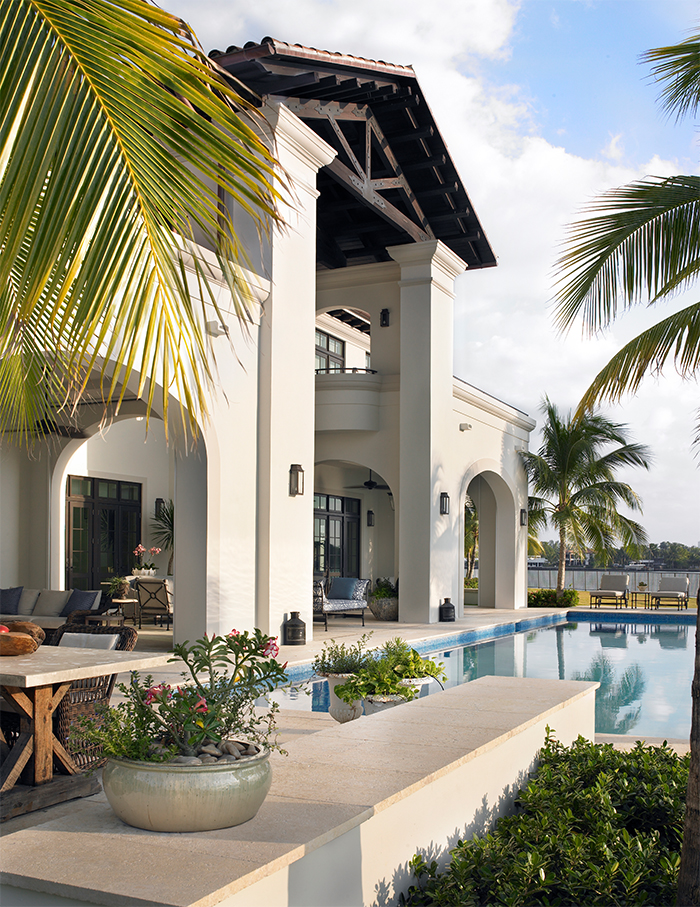 There are two secondary buildings connected to the main house. One contains an automobile museum for the husband's collection of cars, while above it is his study and a guest suite.  The other building comprises a state-of-art gym and spa terrace. The museum doubles up as a ballroom for parties, while the gym—with its old industrial vibe owing to a double-heighted wall of reclaimed Belgian bricks—is mainly the domain of the wife, a former Olympian.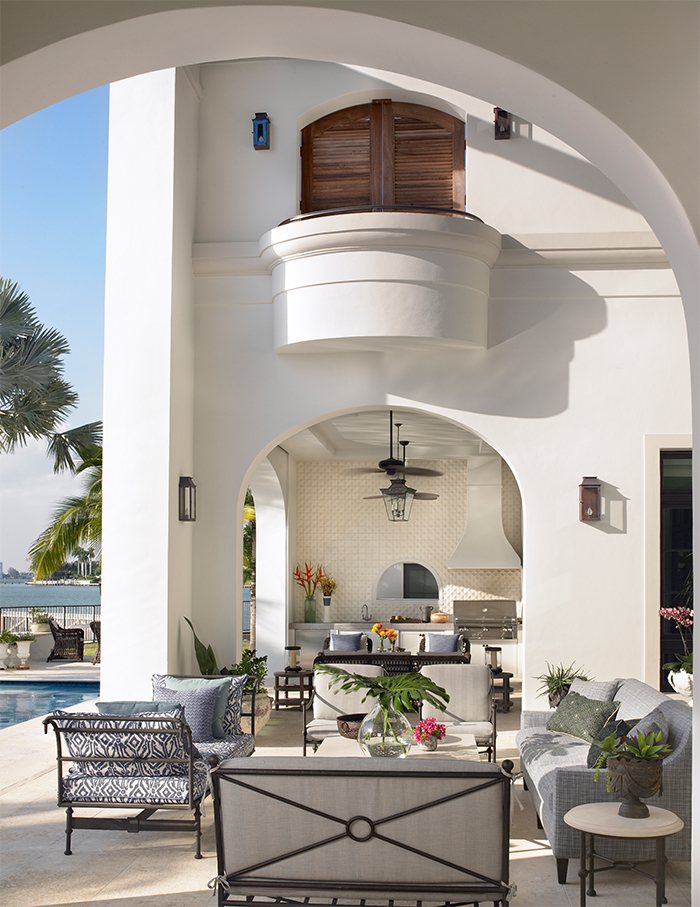 "The mandate was to use strictly traditional pieces but I didn't want it to look like a period house. So, we combined furnishings from many eras and origins to arrive at a fresher, eclectic take on tradition, suitable for a young family," explains the interior designer. Many of the finishes were reclaimed materials sourced from Europe, while aged surfaces and patina help convey the old-world charm.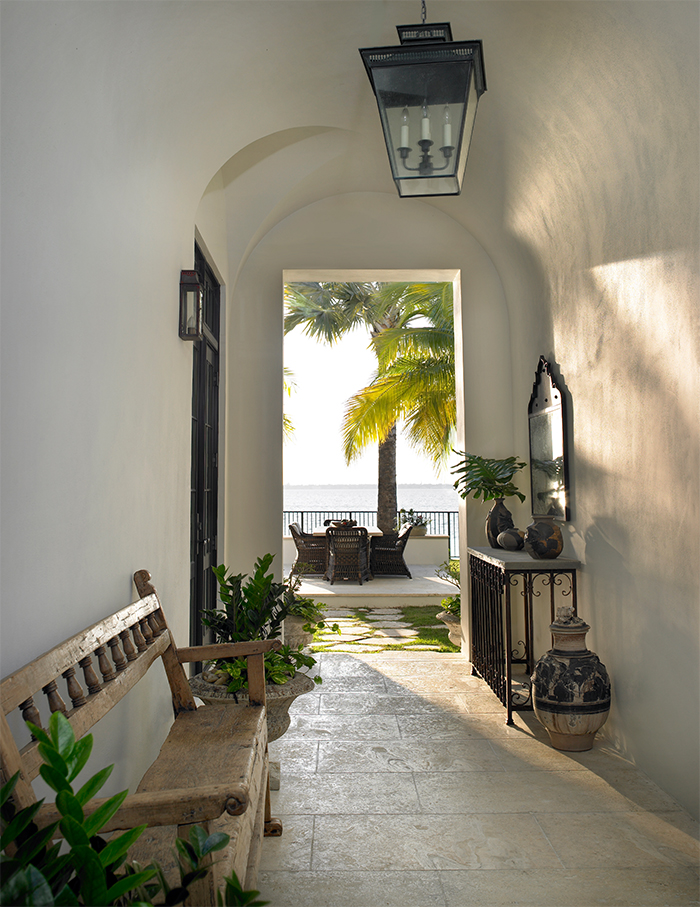 The homeowners wanted the villa to evoke a sense of calm and Rionda didn't want strong colours to detract from the details of the antiques. A soft and neutral palette of whites, beiges, taupes, greys and soothing blues, with a few strong pops thus emerged. The husband's study is the only place that diverges from this colour scheme with its darker masculine look.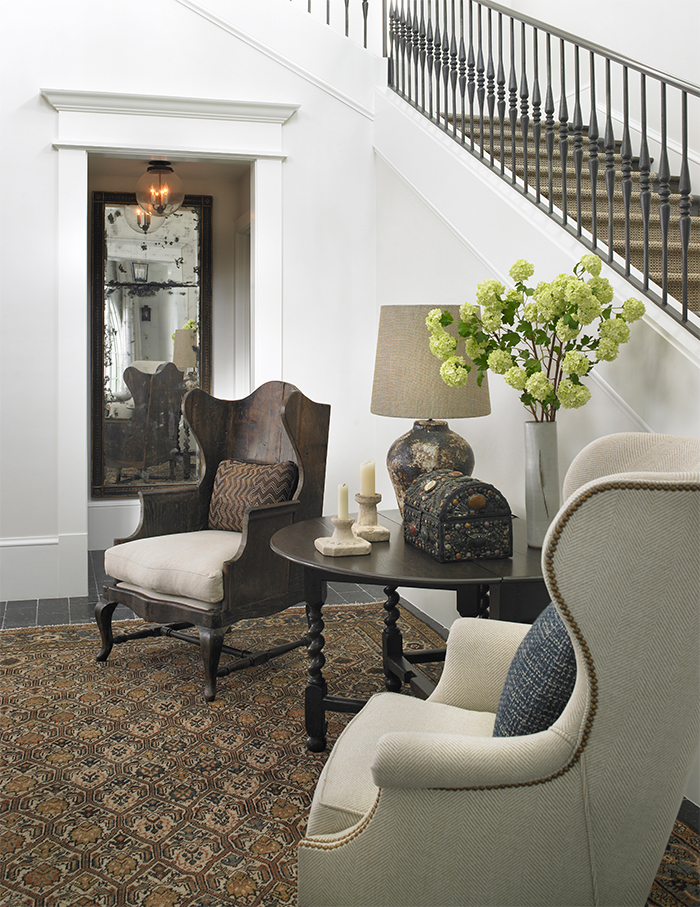 When asked about his approach to work, Rionda says he strives for timeless and comfortable design. "Even in contemporary projects, I try to stay away from trends unless I think they will survive the test of time and feel fresh in the years to come. Here, I suppose the inverse came into play—we wanted to make sure that such a traditional home filled with antiques would still feel fresh, young and comfortable," he affirms.
Scroll below for more images of this Miami beachfront property…