Homes
This Garden City home by Cadence Architects is an assortment of architectural effects
OCT 15, 2020
| By Vedika Nair
While there's a long list of reasons to love Bengaluru, we're crushing on the city for a completely different reason this time! It is because of the Badari home, a project by Smaran Mallesh, Narendra Pirgal, Vikram Rajashekar, Madhumitha Ramesh and Nirali Ashra of Cadence Architects. Why, you ask? For its facade, curated interiors and clever spatial planning.
Sprawled over 2,400 sq ft, the tight-knit structure comes with a fascinating facade. It is actually conceptualised as an assortment of different elements that come together to form a whole, making it the most captivating design element of this home.
Plus, to create spaces that are intimate and social, the designers employed a number of architectural effects that added delight to otherwise mundane areas.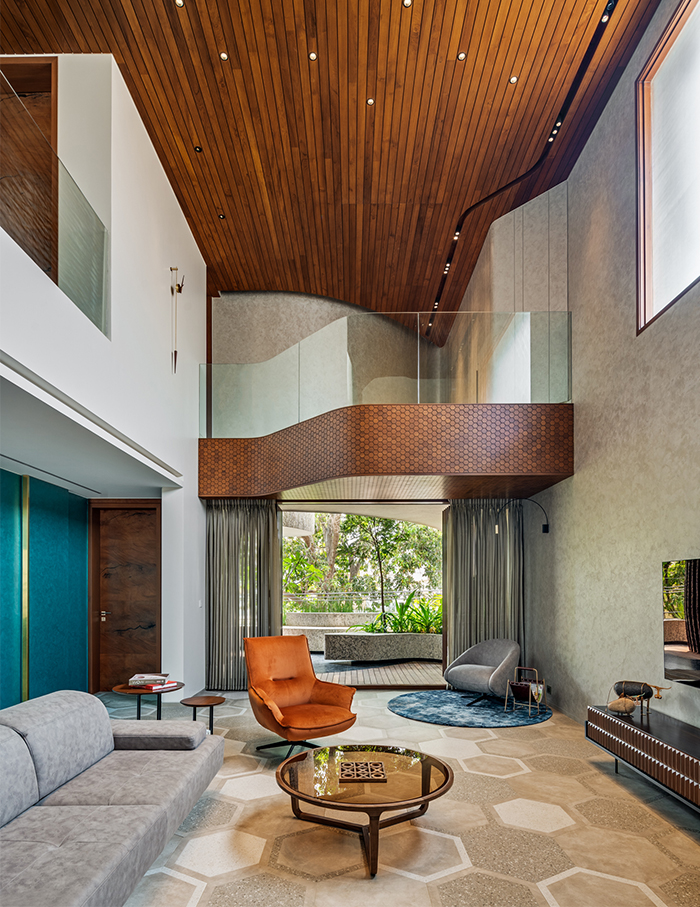 The double-heighted space forms the soul of the abode by connecting the living, dining, kitchen and prayer rooms with the exterior deck, creating a cohesive whole. An internal balcony and bridge breathe life into the space, while a fluidity is created between intimate and social areas. "We rendered the space with an eclectic material palette, with colours and textures that seeks warmth and delight," shares Madhumitha Ramesh, one of the partners.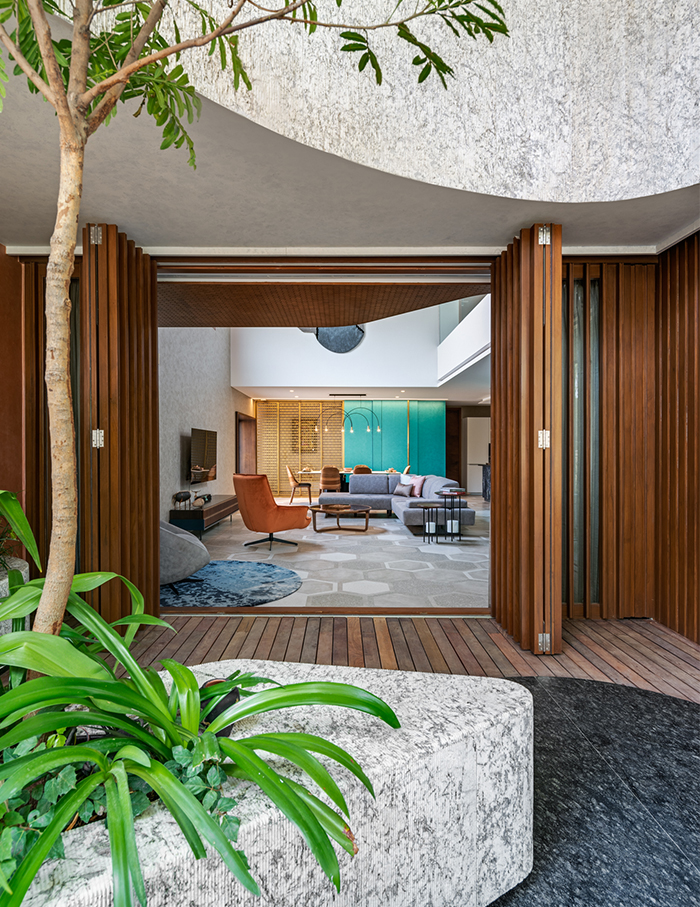 The master bedroom is sculpted to create a figural void and is materially draped in rough marble. An ephemeral marble screen, structurally suspended from the ceiling, is bound by an earthy terracotta frame with a gap occupied by a garden. The slatted window screen further adds a syncopated rhythm to this formal organisation. "The green deck with its figural gap negotiates the connection between the inside and outside of this home," adds Smaran Mallesh.
The use of wooden elements is seen throughout adding a sense of warmth and comfort to every room. We love the home's terrace that creates a haven, away from the street's bustle. Perfect for some downtime, the home theatre and guest bedroom open into a clear space with a hot tub and alfresco deck, while the slatted roof and green wall provide ample privacy from the surroundings.
Scroll below for more images of the Badari Residence by Cadence Architects…