Homes
This expansive Bengaluru home by Channa Daswatte is rooted in Sri Lankan architecture and makes the most of the surrounding greenery, natural light and open spaces
NOV 14, 2020
| By Mrudul Pathak Kundu and Nadezna Siganporia
As you approach this sprawling, verdant property, it's evident what owners Veena and Bimal Desai wanted from their Bengaluru home. "We used to live in the city, under the glare of tubelights. I yearned to be surrounded by trees in the forest…not concrete structures. We wanted light, air and water inside and out," says Bimal, an entrepreneur and ardent nature lover.
Starting from scratch, he had 482 trees planted and left a natural pit to fill with rainwater, forming a seasonal water feature. When it came to designing this home, Bimal instinctively knew Sri Lankan architect Channa Daswatte was the one for the job.
"After seeing Geoffrey Bawa's work, I was clear about the style I wanted," muses Bimal. "Channa's sensibilities matched mine. I like simplicity in architecture; the drama should be brought in with furniture." Channa, who was closely associated with Geoffrey, stayed with the couple for three days to understand their requirements.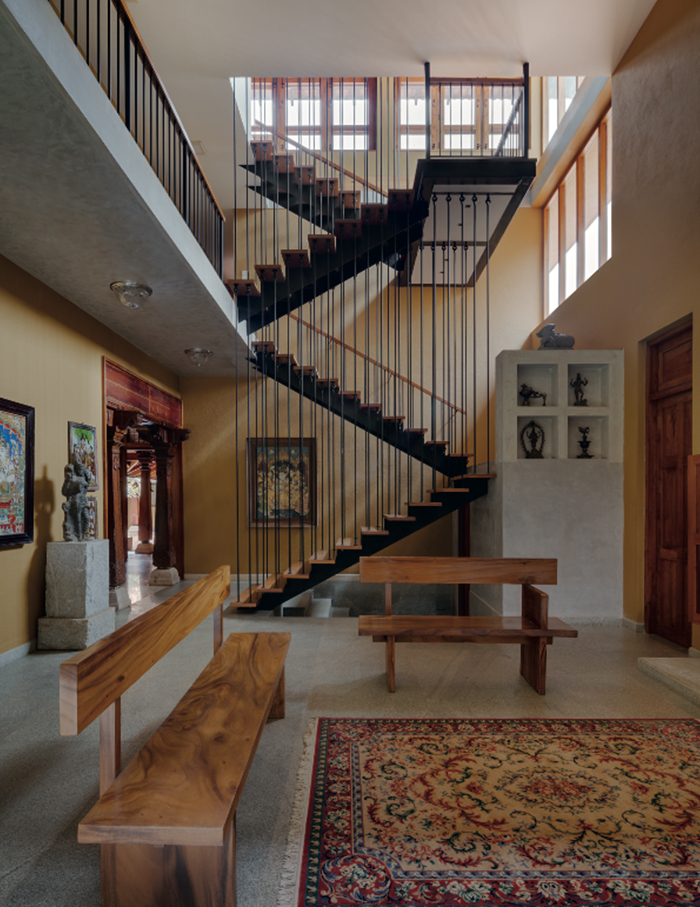 Large French doors and courtyards are important features, along with abundant natural light and garden. He also brought rainwater into the puja room—a roof cutout covered with mosquito mesh filters the rain down onto a small palm tree planted within the space.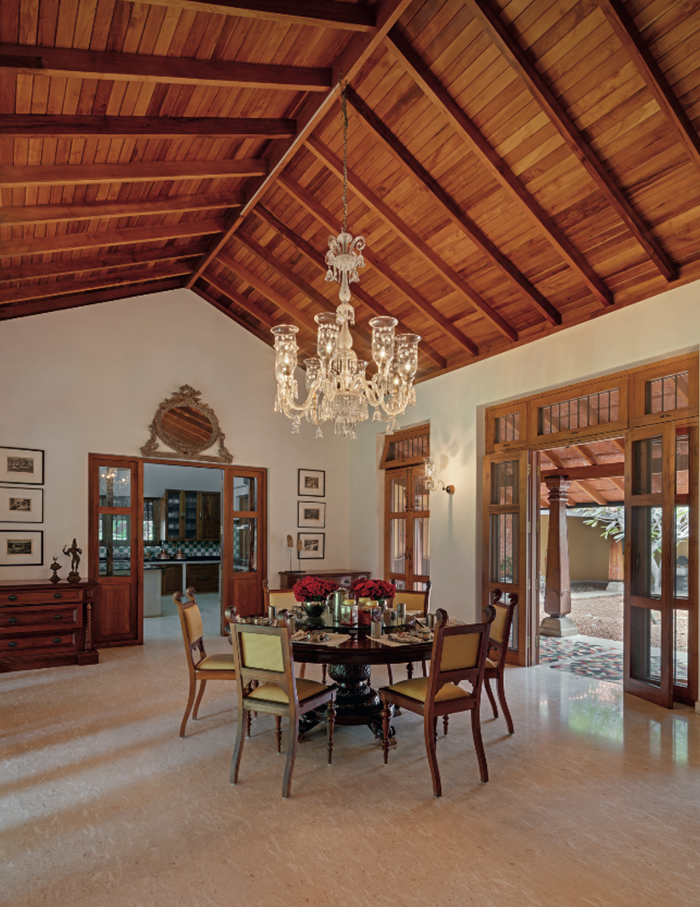 Two decades in the making Only a few pieces of furniture were bought during the construction phase. "I had been planning this place for a long time in my mind," explains Bimal. "I've been collecting ornate objects from old havelis and the likes of Chor Bazaar for over 20 years. I needed these to seamlessly merge with the pared-back architecture."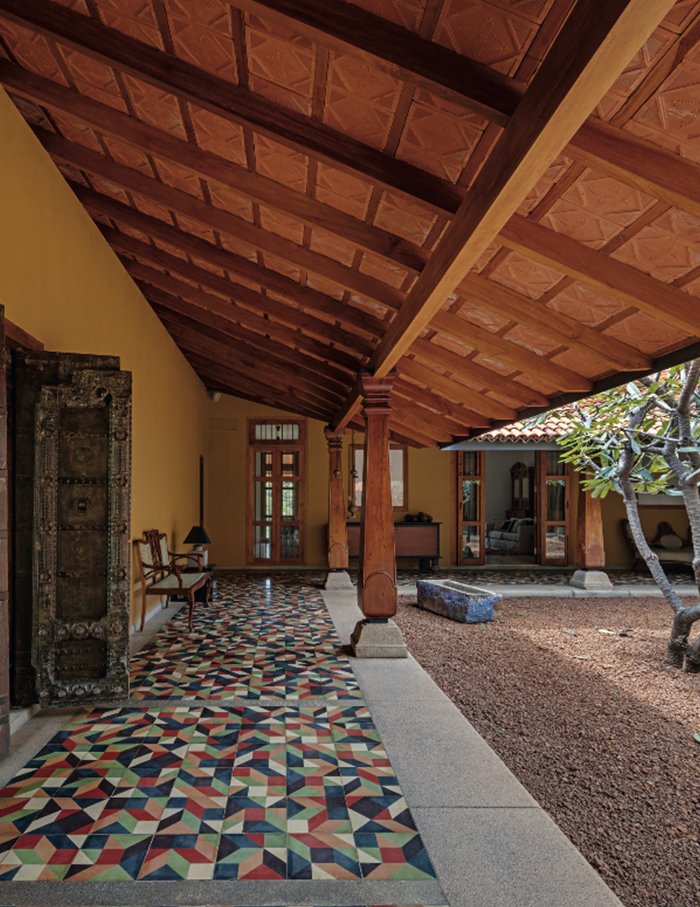 This provided the foundation for a wonderful collaborative relationship with Daswatte; he would conceptualise an area and Bimal would suggest mementoes from his collection that would fit well in them.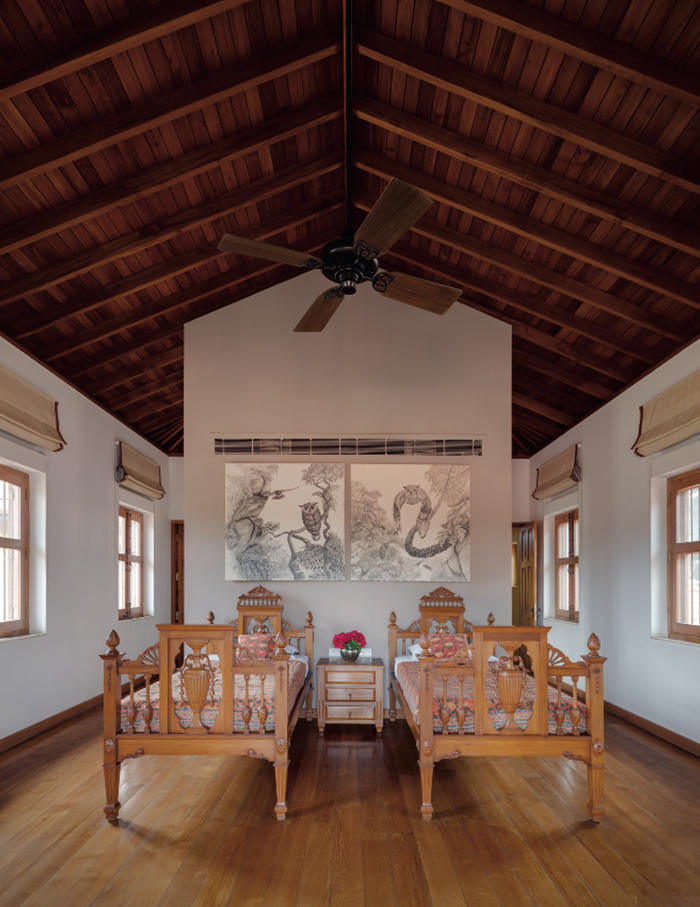 All in the details The home took over four years to complete. Today, it is filled with delightful details. "For five months, work stopped on the inner courtyard until I found the right pillars from an old home in Mysuru…another three months went by while I waited for the perfect tiles for the verandah," explains Bimal.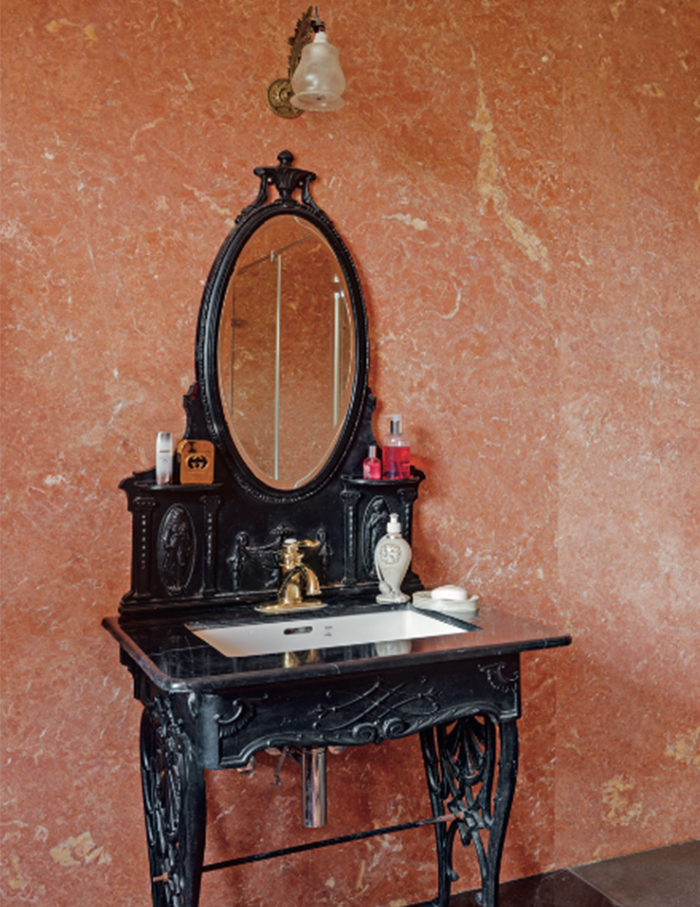 Everywhere you look, there's a tale to tell—the entrance pillars were bought 22 years ago in Tamil Nadu, the pen and ink artworks in the lounge and bedroom are by the renowned Sri Lankan artist Laki Senanayake, while bathroom fixtures have been carefully chosen and imported.
Eventually, Bimal and Veena got their ideal escape that's bursting with special spaces. While evenings are spent relaxing and listening to music in the puja room, they take their morning tea in the pavilion, looking out onto their slice of nature.