Homes
This eclectic, colour filled home by architect Amritha Karnakar of AKAD is a bold outburst of creativity
JUL 5, 2020
| By Sakshi Rai
Fresh and vibrant hued rooms, each carefully chosen to complement the personality of its occupant, are seen in this four bedroom apartment in Mumbai. It has been conceptualised for a family of five by Amritha Karnakar of AKAD with cheery interiors and a festive essence.
"The brief was that it exude a young, fun and energetic vibe. Each member wanted something different for their personal spaces. To achieve these colour coded and customised spaces, we studied and interacted extensively with each family member, making this an extremely inclusive and personalised project," shares architect Karnakar.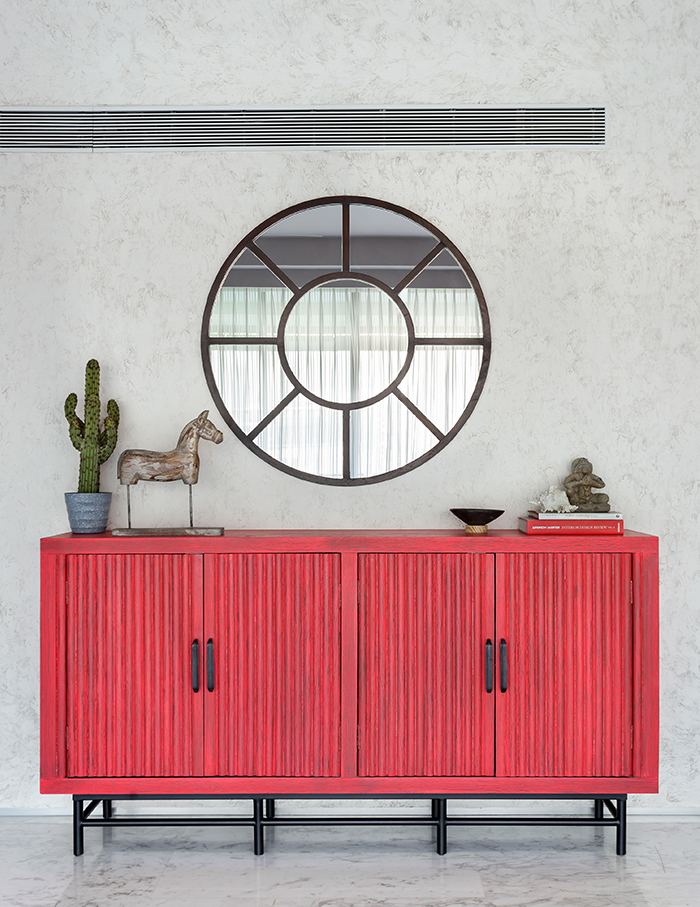 The grey hued living room acts as a neutral zone and a balanced, converging point. It is spruced with marble flooring, raw concrete finished furniture such as the cuboidal coffee table and floor lamps. Nearby is a balcony that features a sophisticated tan leather sofa set and hanging plants on one end and a vintage Coca-Cola ice box surrounded by metal dancing swans on the other.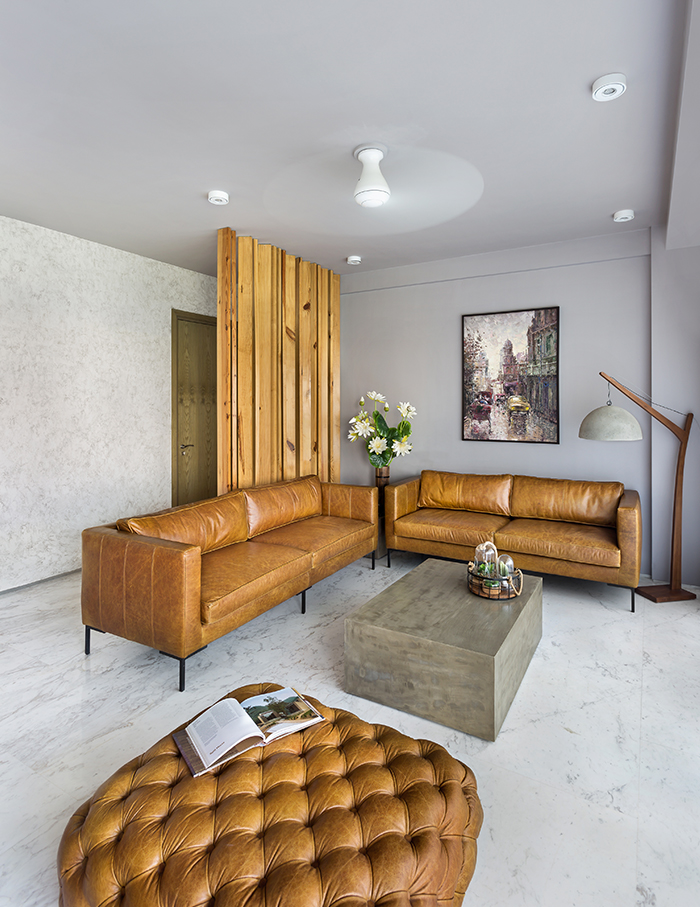 The dining area houses an elegant wooden table underneath a grand circular driftwood chandelier. A vibrant red console contrasts against the mellow grey backdrop and the playful wall artwork by Claymen.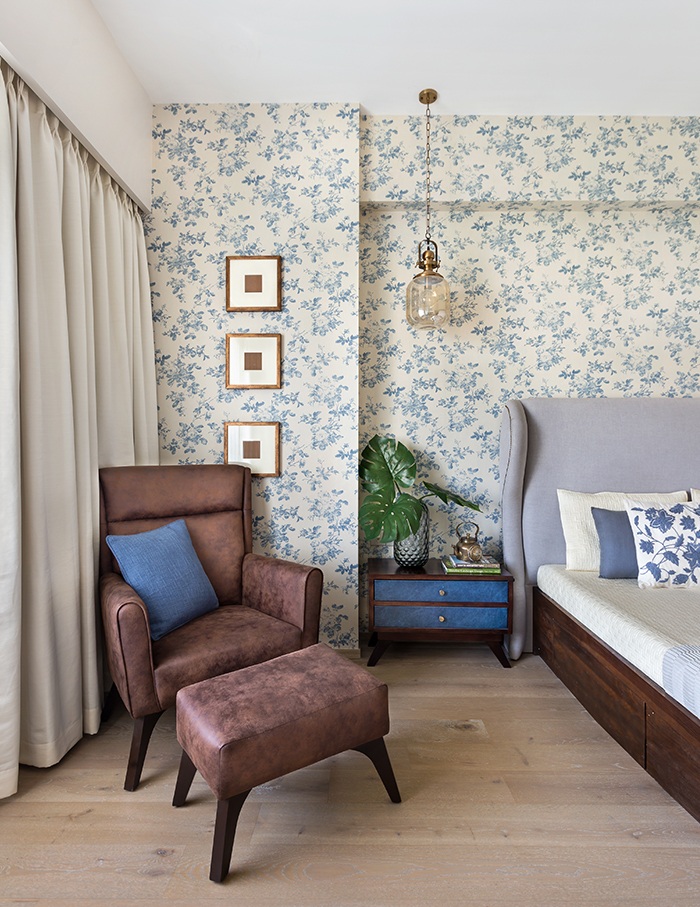 Throughout the house, old and discarded pieces have been refashioned to add to the underlying quirkiness. Aged benches are repurposed as cupboards on the balcony, while the son's bedroom features used container boxes and a specialised airplane shaped, storage unit moulded using wire mesh.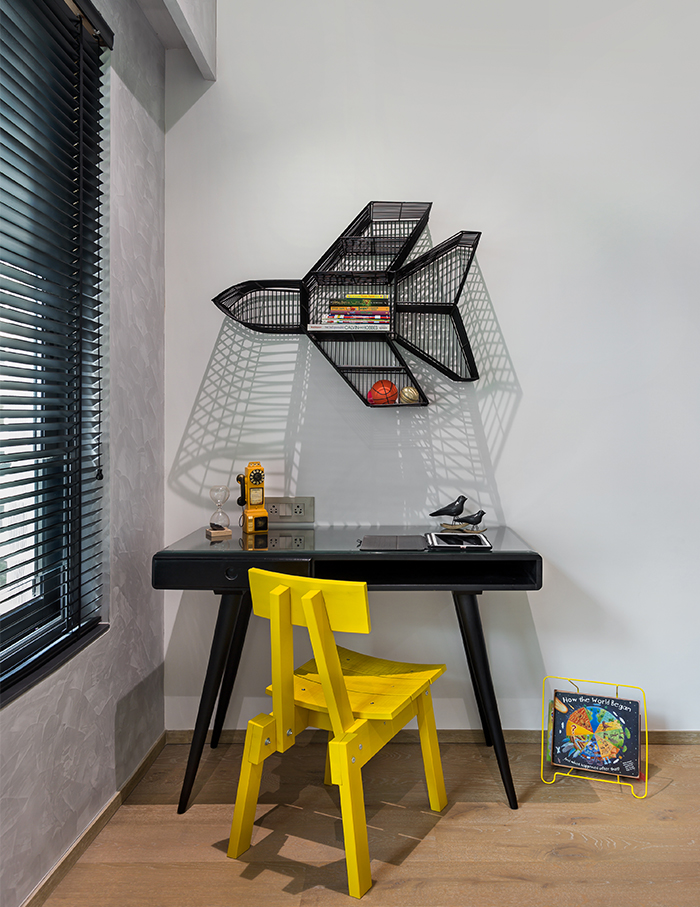 The design for the master bedroom is a classic mix of vintage and modern decor. A dark wooden bed, flanked by blue leather side tables and pendant blown glass lamps on either side, offset the floral backdrop. Attached to the room, is a walk-in wardrobe and glass partitioned bathroom that makes the area seem larger.
For the youngest daughter, the walls are painted in a soothing, onion pink hue and the entire area adapts to a whimsical, airy theme. White cloud shaped storage units covered with star shaped decals, a bunk bed, house shaped cupboards and a light taking the form of a drifting balloon are some elements that constitute this dreamy, wondrous space.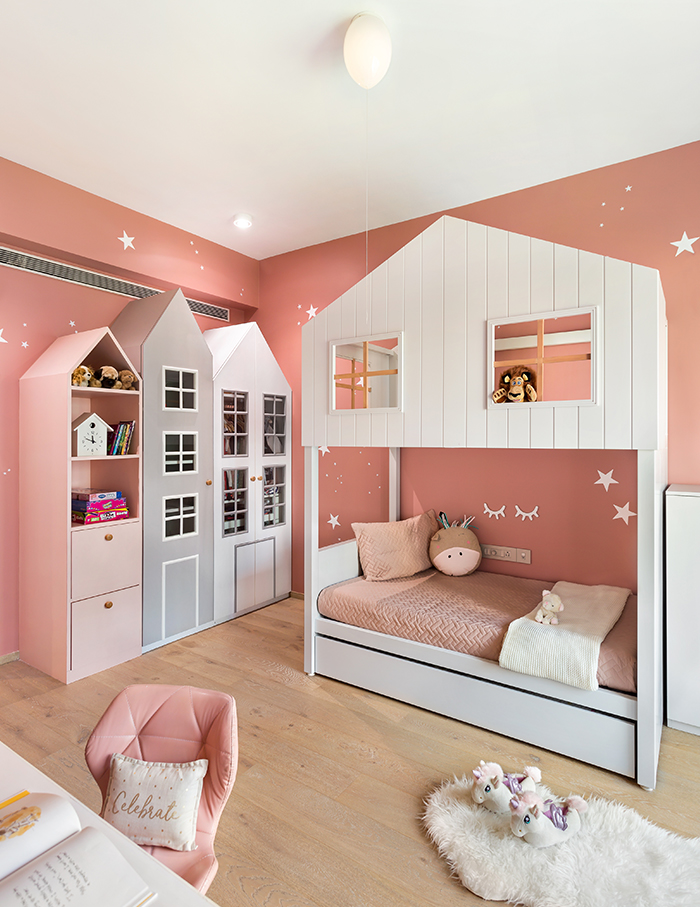 On the other hand, the elder daughter's room has a calm, summery ambience. With walls bathed in sea foam blue, a large industrial mirror, a white botanical printed suitcase shaped as a side table, a caged hanging light with a planter in it, numerous indoor greens and yellow furnishings, it makes for a productive and positive oasis.
Meanwhile, the son's room took shape from his long-lasting love for the fictional superhero, Batman. Black, grey and yellow were obvious choices for the palette and can be seen across the texture walls that are dominantly grey, black furniture and yellow accents and details in the side table, study chair and cupboards.