Design
This contemporary workspace in Mumbai by reD is a minimalistic masterpiece layered with diverse reliefs and textures
NOV 23, 2020
| By Sakshi Rai
Crafted as an epitome of class and elegance, this 5,000 sq ft corporate office of a successful private equity firm is located in Worli's Ceejay House, one of the city's prime business districts. It is designed by Rajiv Parekh, Ekta Parekh, Apoorva Shroff and Maithili Raut of Mumbai based practice reD Architects. Having previously worked with the clients on similar projects, the team was well-acquainted with the firm's desired visual and aesthetic style.
From the reception, the layout branches out to provide access to the public areas including the boardrooms, smaller meeting areas, VIP lounge, cafeteria and restrooms. 
This deliberate unfolding of spaces was planned in such a manner so as to avoid disturbing the main workstations—thereby maximising efficiency and productivity.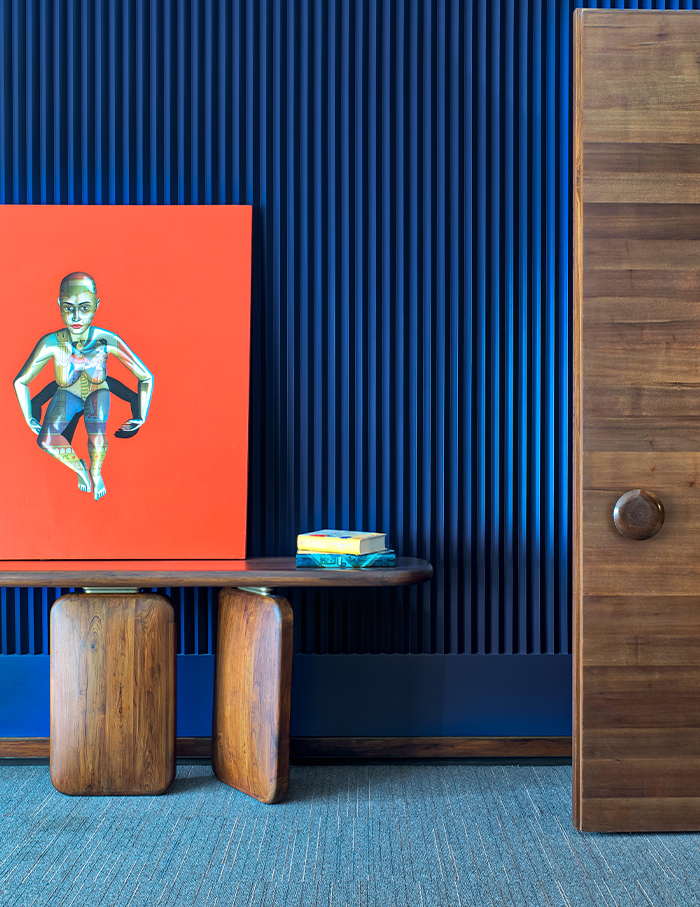 The creatives made sure the interiors resonated an air of confidence and stability, in accordance with the company. Conceptualised as wholesome and comfortable units, numerous curves and rounded corners were brought in to add softness. These weren't restrained to details and played a significant role in larger surfaces. Take, for example, the seamless blurring of the point where walls meet ceilings and the intersection of window frames.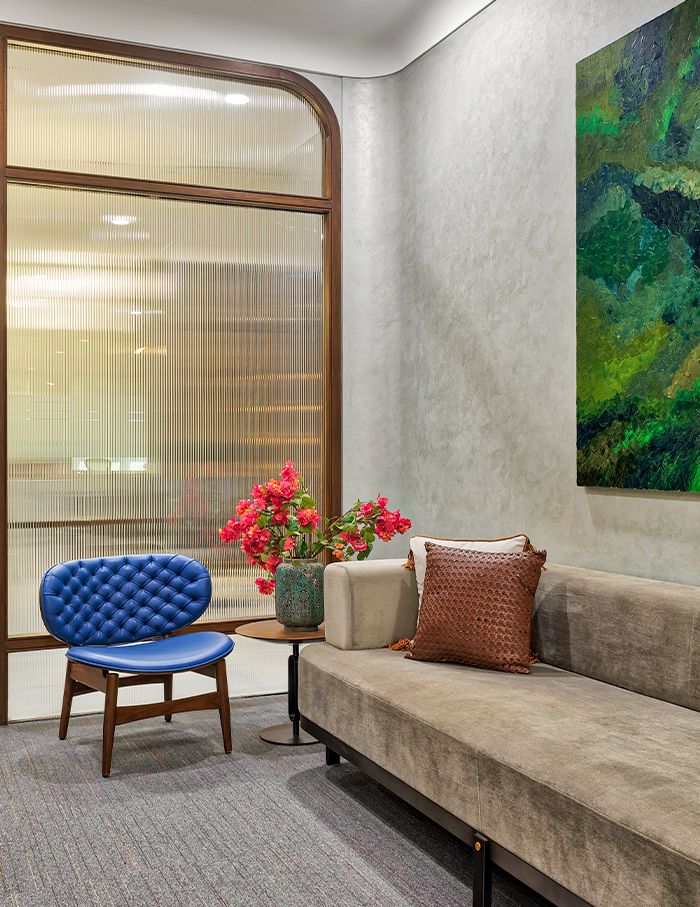 "In the smaller lounge area, curved surfaces coupled with warm wood textures created a cosy cocoon and intimate ambience within the overall, larger space. This setting was fashioned to facilitate power-packed discussions in a relaxed, formal environment," explains Apoorva, one of the partners.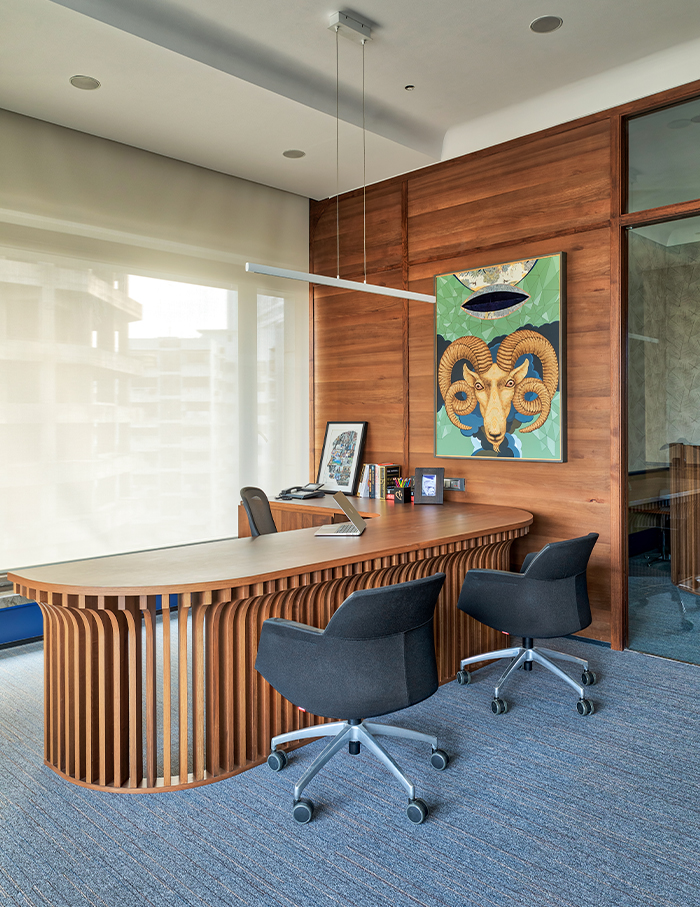 Another space, one that the team enjoyed designing the most, is enveloped in wood. The veneer begins at the skirting and continues onto the ceiling with inbuilt, carved niches to hold trophies and books. The joineries are concealed behind strategically positioned decorative mouldings. A plush, royal blue carpet further enhances the comfy vibe, while a verdant patch of green right outside is refreshing to gaze at.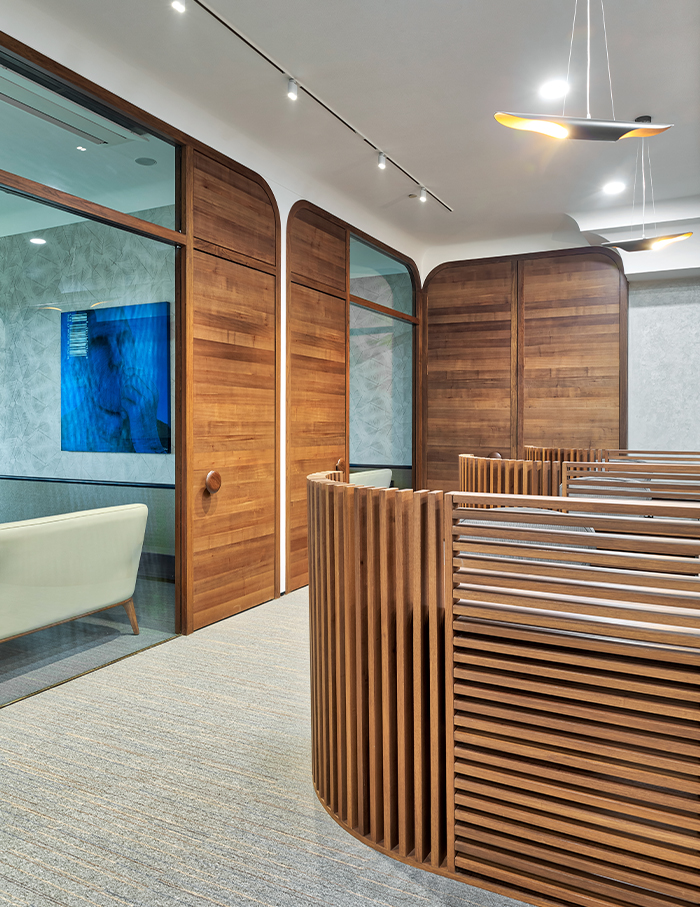 No project by reD Architects is complete without adding plants to the decor. "We feel that not only does natural flora help purify the air we breathe and aid in ventilation, it also amps up the positivity quotient of any indoor space. We strive to come up with bespoke arrangements and configuration options that are best suited for each individual space," shares Shroff.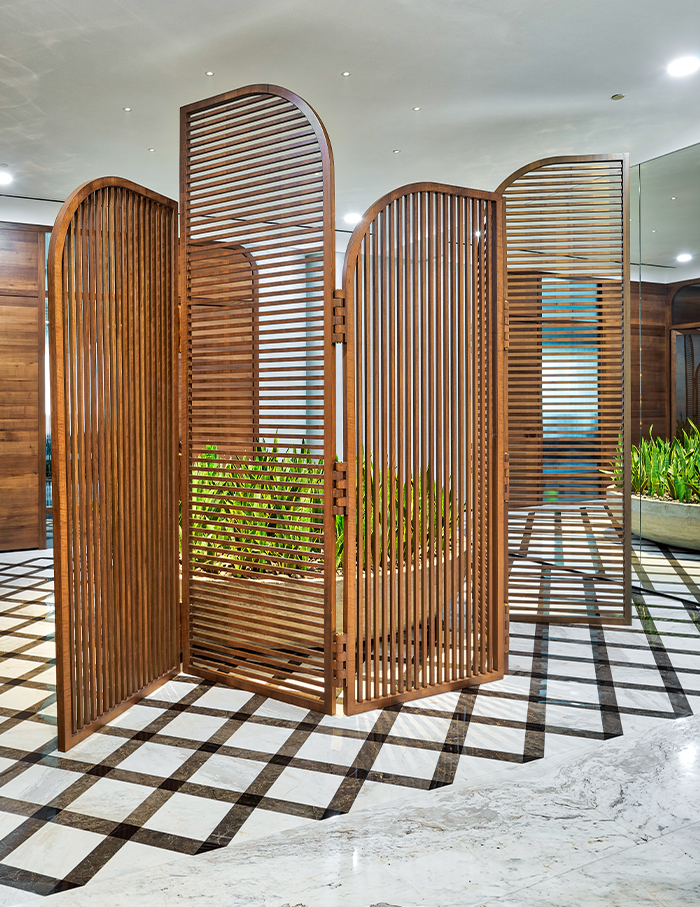 The employed material palette is restrained yet diverse enough to paint a picture of supreme luxury. Examples include slatted and solid timber surfaces across the office, inlaid marble flooring in the reception area and even the use of diverse, sound-absorbing carpets in other zones. Clad in these sophisticated and muted hues, the office appears bright and airy while also letting artefacts and accessories bring in the occasional vibrancy.