Homes
This chic cove in Moscow, modelled by Yulia Golavskaya, unfolds as a multidimensional canvas of slender forms and soft hues
NOV 18, 2020
| By Sakshi Rai
Russian interior designer Yulia Golavskaya and her namesake practice conceptualised this light, breezy and peaceful residence in Moscow as an extension of its inhabitants' creative sensibilities. The tastefully decorated home for an artistic couple draws from their artworks, while still leaving ample room for them to explore and enhance the setting over time.
The project is a true rendition of Golavskaya's effortless style, visual ability and imagination. "I don't follow any trends in my work. Inspiration for this home, like most others, came from the personalities of the clients as well as from the pieces that part-owner and ceramicist Maria Kolosovskaya creates. I like fashioning simple, natural interiors that seem to come about themselves, without my work being visible," she explains.
The wholesome aesthetic of the space is also a result of a trusting relationship between the designer and the clients. With similar styles, clear and well expressed-communication, and a free rein, Golavskaya was able to bring to life interiors that were minimal yet decadent.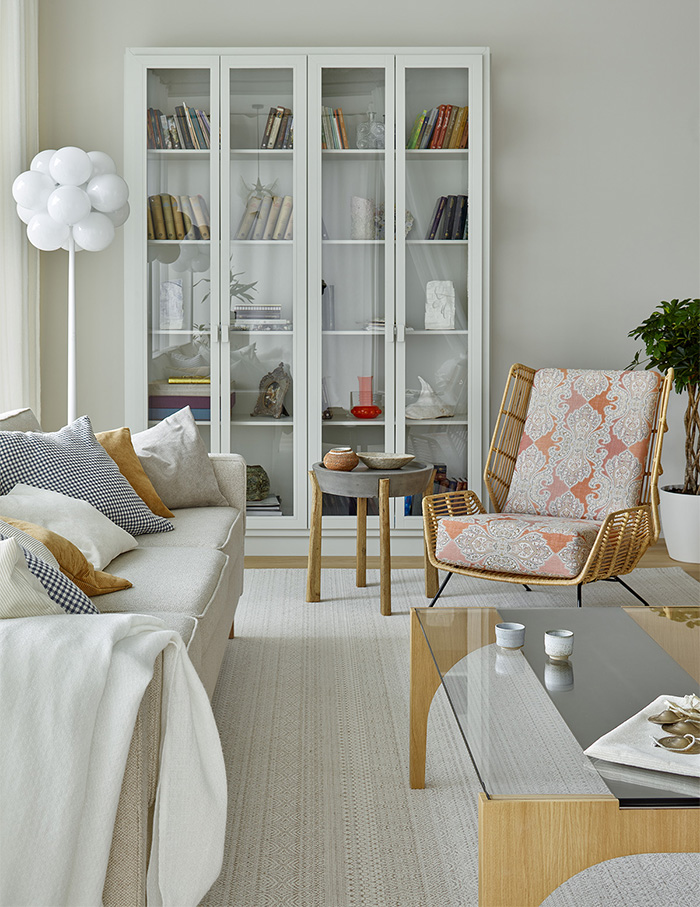 This can be seen in the sophisticated material palette that includes oak and marble floors as well as countertops. The former medium makes an appearance across the furniture as well in the dining and coffee tables, chairs, beds and the sofa. To balance these dark hues, Belgian carpets with delicate patterns adorn the floors.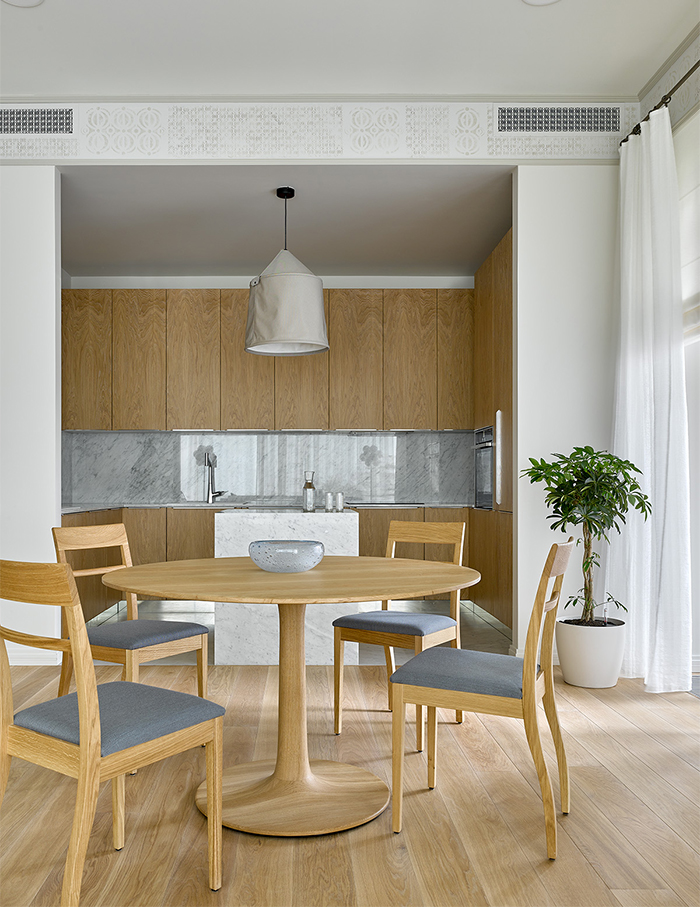 Similarly, curtains in soft shades matching the walls, and painted off-white friezes with rhythmic ornaments or floral patterns by Moscow based artist Natalia Turygina add a sense of serenity to the space. An interplay of ornate, textural and oxidised metal tiles can be seen across different surfaces in the bathroom.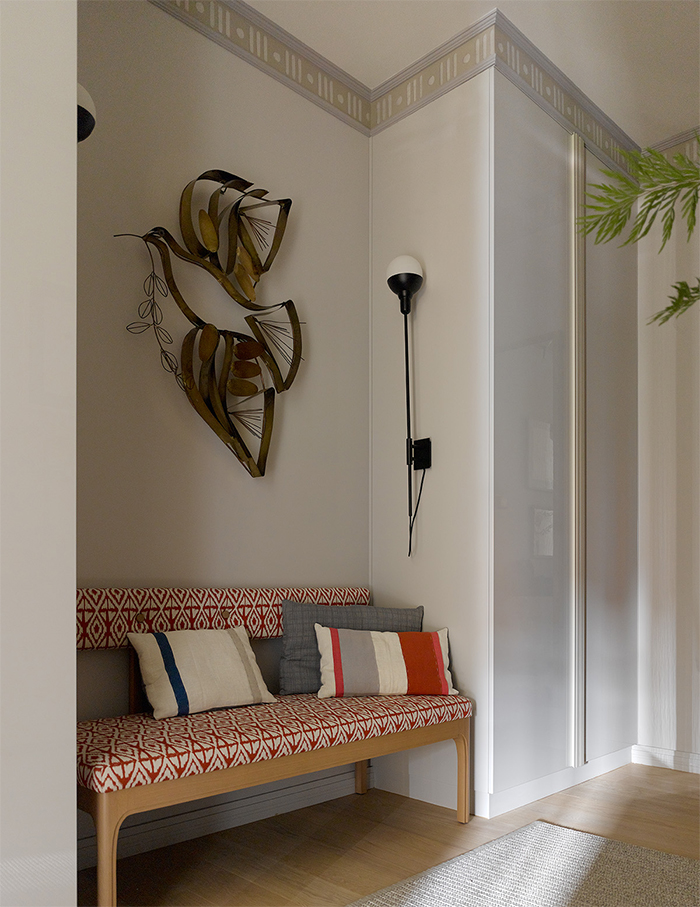 The Dove of Peace by Curtis Jere, a wall mounted sculpture, ushers visitors into the abode. A compact bench is tucked into the same niche, fashioning a cosy seating area. A tall wardrobe for street clothes and a small storage room flanks this zone. Further inside, we catch sight of an exquisite composition of birch trees that combines painting and embroidery techniques by Russian artist Anna Samoylova, exclusively crafted for this residence.
A large, open space with panoramic windows lies ahead. It houses the living, dining and kitchen areas as well as a spectacular artwork by Russian creative Victoria Kosheleva. A pale green-hued guest room with twin beds follows next, which can be transformed into a nursery when the need arises. This tranquil area, Yulia's favourite, houses a painting by Anastasia Kovalenkova, photographs above the table by Ilya Batrakov, and a bespoke mirror and circular painting by the homeowner.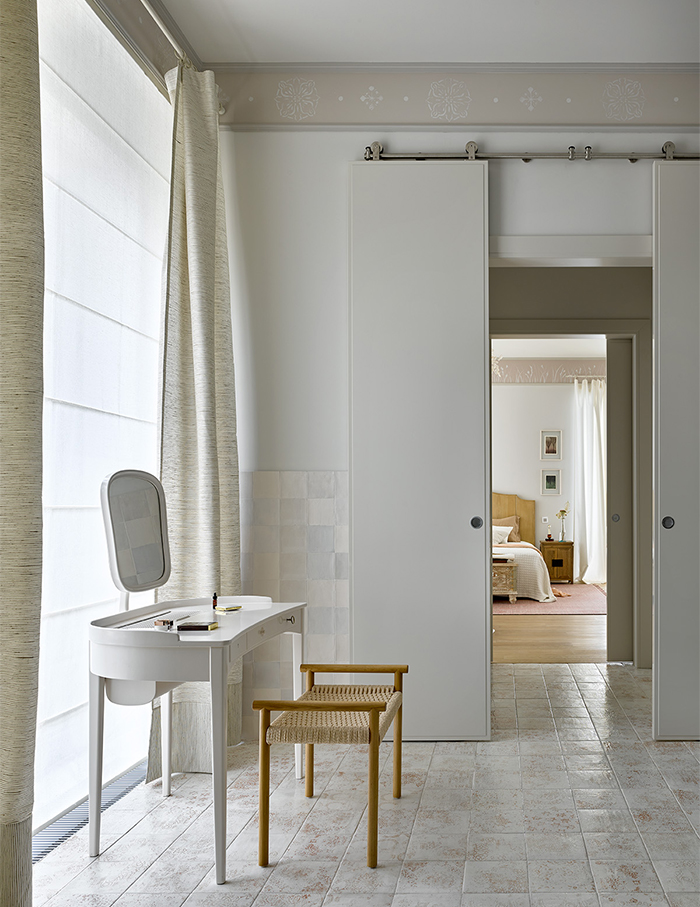 Beyond this setting, a long corridor featuring masks on the wall and a solid side table leads to a study on the left, with light blue walls and a green sofa. The master bedroom is located at the very end of this passage to offer adequate privacy. Inside, one end is converted into a work corner with a wooden desk, while the other accommodates sliding doors that open to the walk-in closet and, thereafter, the ensuite bathroom.
Scroll below to see more images of this pristine Moscow home by Yulia Golavskaya…