Homes
These uniquely situated, ingenious designed treehouses in India and Costa Rica epitomise sustainable luxury
APR 27, 2020
| By Vedika Nair
Give in to childhood dreams and ascend to another level of sustainable luxury that's aspirational yet attainable with these machans.
Treehouse by Tahiliani Homes
Few homes exude such harmony with nature as this one does. Nestled in Delhi's Vasant Kunj neighbourhood and designed by Tahiliani Homes—helmed by Tarun Tahiliani, Jahan Tahiliani and Bindu Vadera—this glassed treehouse stands out as a beacon of art mixing nostalgia and modern design sensibilities.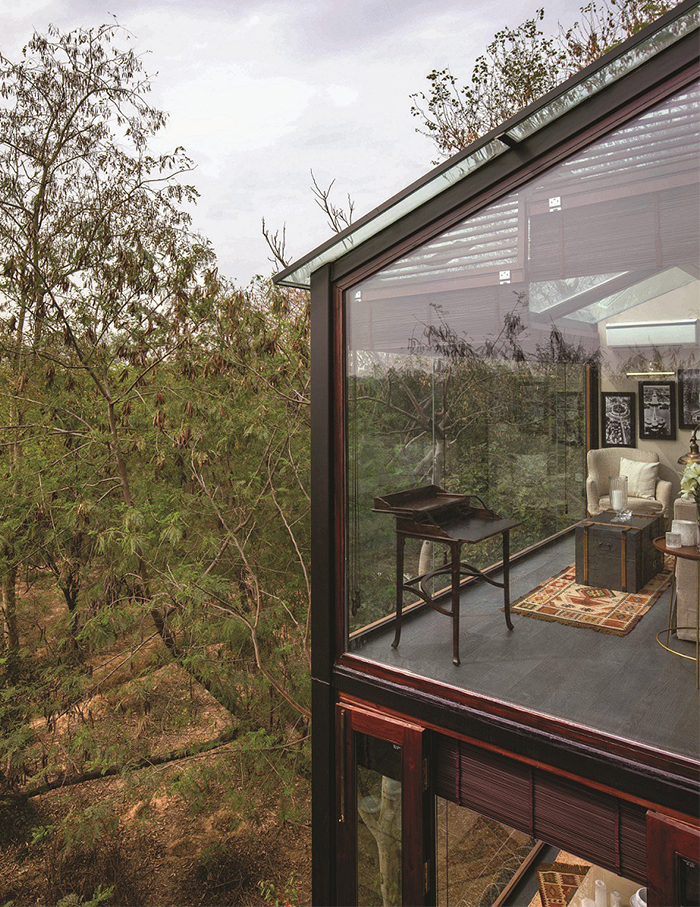 It takes cues from the Farnsworth House built by Mies Van Der Rohe in the outskirts of Chicago in 1949. The entrance opens to a carefully planned space with biscotti shaded walls and floors, cutting edge furniture and furnishings, and a stunning fireplace. A flight of stairs leads to an open wooden deck with not just panoramic views of the surroundings but also showcases a tree shooting through the centre, around which this home has been built.
An English style bar and pantry is serviced with the help of a foldable dining table. The upper level of the treehouse includes a part glass floor, while the first floor is dominated by glass walls, floor and ceilings. Tahiliani Homes employed ample local materials and solar energy to minimise dependency on resources.
Treehouse by Olson Kundig Architects
Inspired by the dense jungles of western Costa Rica is this treehouse by Tom Kundig, principal and founder of Seattle based Olson Kundig Architects. Built entirely from harvested teak, it connects with the jungle at the forest floor, the middle level is nestled within trees and the top rises above the verdant canopy with views of the nearby Playa Hermosa beach.
Constructed for homeowners, who are surfers as well as environmentalists, this project reflects their commitment to sustainable land management in the country. "The project has an intentionally small footprint and is quite tall, allowing us to maintain a light influence on the site, while engaging with the natural landscape in different ways," says Kundig. Designed as an open air surfer hut, one can access vegetation from the main floor while also understanding the larger weather and surf patterns from the top.
Each floor opens to natural elements with a double screen operable wooden shutter system, which brings in ample light and ventilation as well as providing privacy and security. "The house is intended to breathe and respond to the climate as much as possible," adds Kundig. The home also features a photovoltaic array and rainwater collection system to decrease its footprint.