Lifestyle
These fun and luxury restaurants from around the country will have you coming back for more!
MAR 26, 2020
| By Vedika Nair
Looking for interesting restaurants to go to, which appeal to all senses, especially design! We've create a list of eateries to spend your days socialising at, when all is well and good again!
L'Opera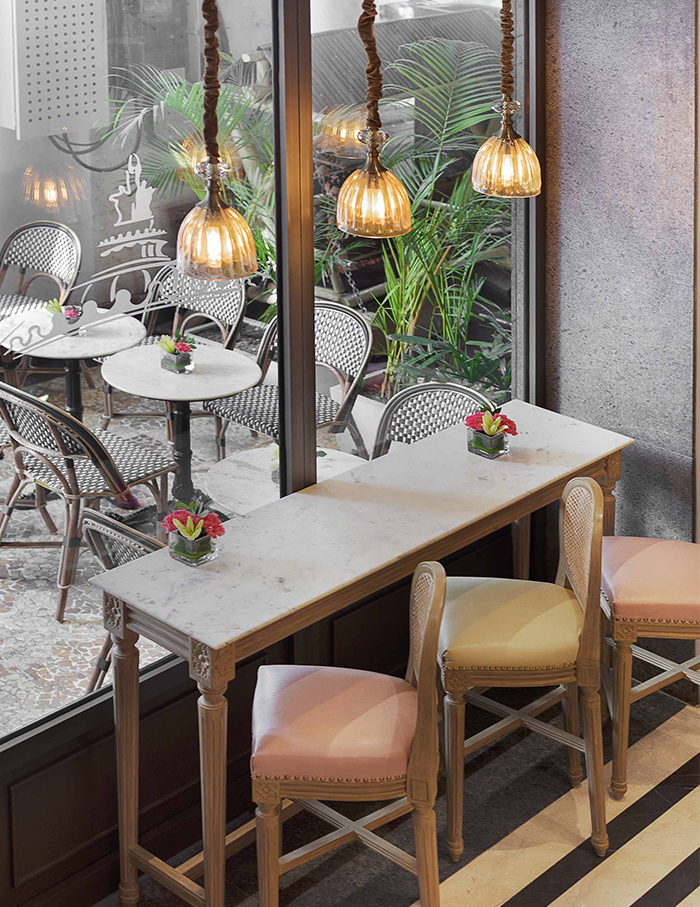 The brainchild of young Frenchmen, Laurent Samandari–L'Opera is known for its authentic Viennese breads, cakes, pastries, savouries and confectionary items. Tracing its origin to the Kitchen at the French Embassy, the brand is now one of India'sPatisserie, Boulangerie and Salon de Thé (Tea Room). Crafted by New Delhi based award winning design firm, Group DCA, this space features European architectural elements as befits its Parisian theme. With a pastel palette, opulent lighting and decadent desserts, L'Opera is on our list of must-visit tea rooms.
Brick N'Bean Cafe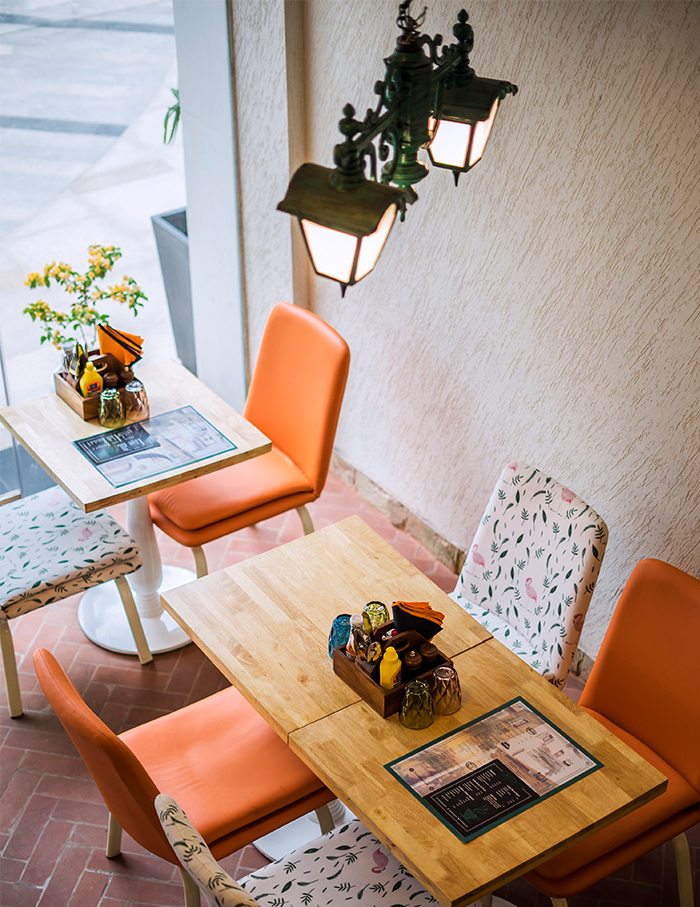 Mirroring the aesthetic of a chic eatery hidden away in the streets of Europe, Rishabh Sarpal crafted Brick N'Bean cafe with a pastel palette and minimal, playful elements. Traditional wood and brick flooring, with textured white paint for the walls make for the perfect backdrop in this idyllic cafe. A mix of quirky light details that show a blend of old and new world fixtures is juxtaposed against plenty of art. The cafe has been meticulously divided into two zones—the ground floor and mezzanine. The upper level serves as a relaxing and cushy lounge, which makes it an ideal place to unwind.
Arbour 28
Mumbai's F&B Scene gets a new addition with Arbour 28. Mirroring a fun, casual and summer vibe, the interiors of this outpost take cues from the garden of love. With warm lightning, and a blend of pastel and vibrant colours, the space is further characterised by specks of gold around the bar. Chic and modern, this eatery not only offers a fun ambience but also a well curated menu featuring global cuisine and artisanal cocktails. A casual restaurant or diner that seamlessly transforms into a bar or your favourite bistro, Arbour 28 is all this and more.
Pablo – The Art Cafe Lounge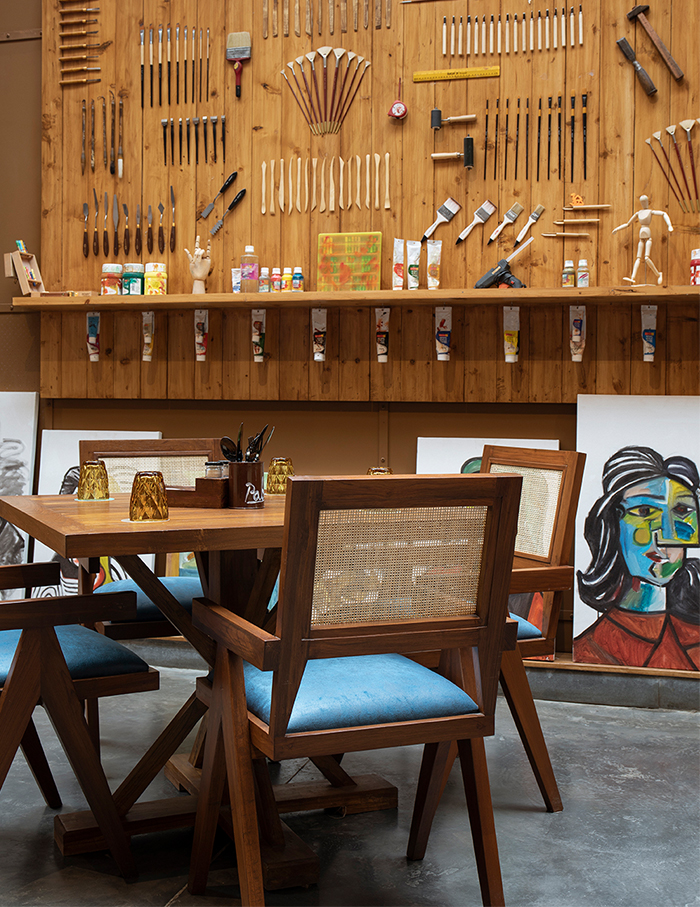 Nestled in Navi Mumbai is an art lounge, as the name suggests, inspired by Pablo Picasso and his life works. Designed by Samruddhi Chaphale of Sam's Drafting Board, with eccentric interiors, this space is divided into two levels with a mezzanine that makes for a lavish VIP lounge and a stage area for music. Featuring an abstract bar, artsy tables, statues, installations, bold colours and artworks this cafe is a breath of fresh air. The colour scheme is inspired by the many works of Pablo Picasso. Art lovers, this is the perfect spot for you!
Ummarao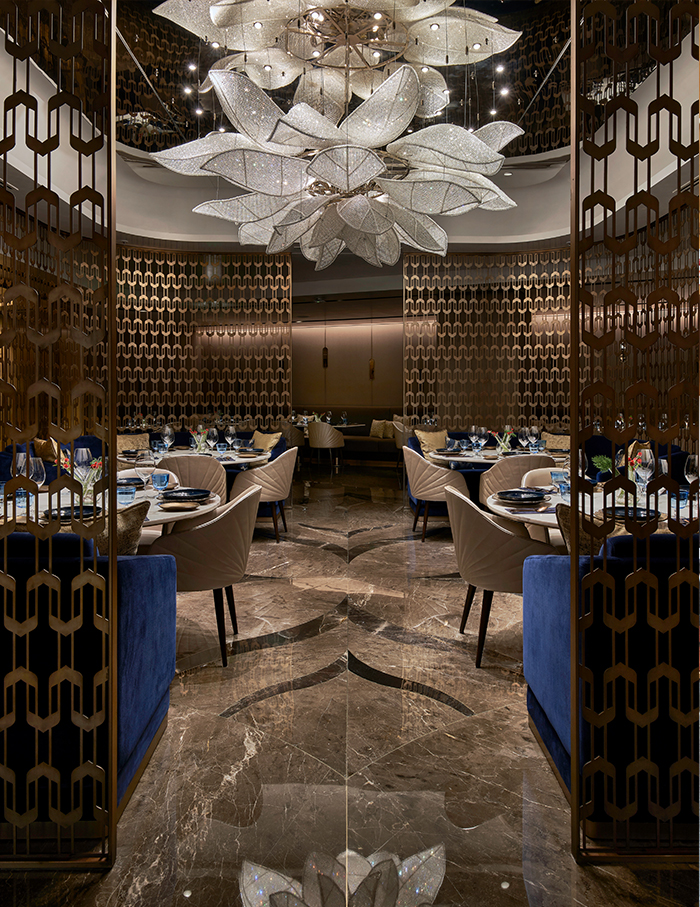 Savour the taste of Indian cuisine at the restaurant Ummrao in Courtyard by Marriott replete with lavish interiors characterised by a bold palette and gold motifs . Their unlimited set course and regular menu offer a variety of delectable dishes in vegetarian as well as non vegetarian options.
Diablo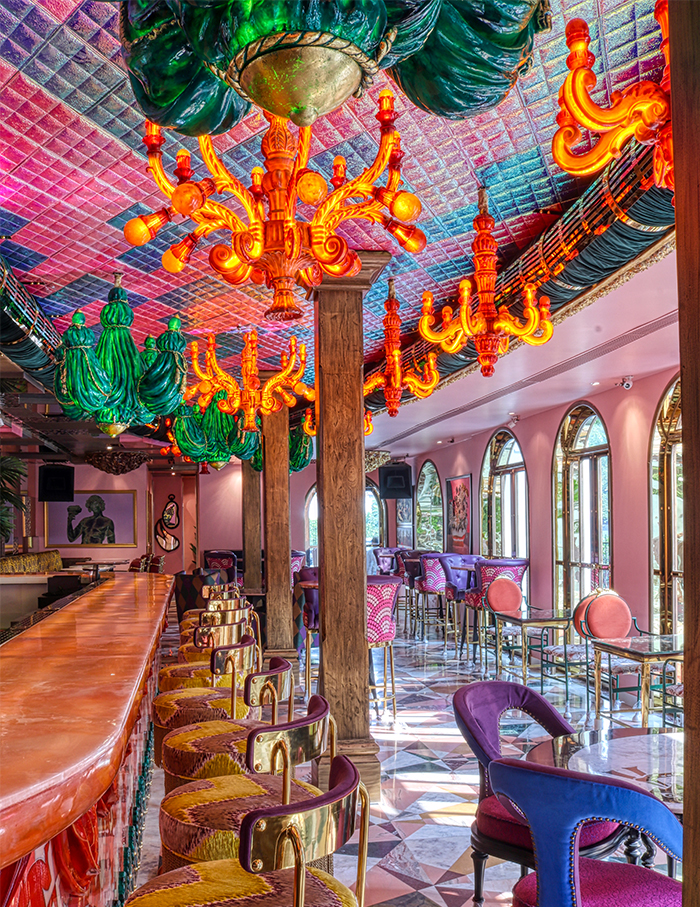 Situated in the heart of heritage area of Mehrauli, Diablo is a contemporary take on gothic design with Middle Eastern cuisine offerings. This bar and eatery is a first of its kind where authenticity meets modern elements and the interiors evoke a paradoxical allure with opposing notions such as new and old, beauty and bestiality, dark and light. The highlight of this outpost is a giant gargoyle at the entrance with lush green outdoors, followed by moorish interiors. A weekend meal at this gothic eatery sounds like a cool plan!
Masala Republic
Hyderabad's Himayanagar region gets a new restaurant with Masala Republic. This chic eatery is designed to celebrate the vibrance and liveliness of the youth. Conceptualised by Dhruva Kalra of RMDK, Masala Republic is the perfect balance of elegance, comfort and contemporary elements. Featuring a muted palette and bright motifs, this outpost is spread over two levels and offers a lip-smacking me nu, which makes for a lively setting and some fun downtime!