Design
The New Art of Recycling
APR 1, 2020
| By Kristin Hohenadel
Today's best designers are conscious creators who know it's no longer good enough to make beautiful things. Instead, they insist that great design respects the environment without sacrificing elevated aesthetics. These 10 projects from leading and up-and-coming designers highlight the clever use of recycled and upcycled materials, demonstrating some of the ways that it is possible to build a more sustainable future where creating beautiful objects and spaces doesn't jeopardize the health of the planet or its inhabitants.
Design is inherently a wasteful process, requiring the use of materials and resources to experiment and manufacture. But creativity also thrives on constraints, and informed, aware and committed designers are perfectly poised to shape the future by finding resourceful solutions that enhance living standards while protecting the planet that gives us all life. Every responsible designer today is making ethical choices and exploring alternatives to traditional processes and methods that have left the Earth facing an existential climate emergency, a depletion of natural resources and grappling with a shameful amount of man-made waste. It is only natural, then, that designers turn first to recycling and upcycling, borrowing from science and technology to help create new products and materials from the excesses and cast-off sofa consumerist society that stretch the boundaries of ingenuity and allow us to redefine our definition of beauty and luxury while developing exciting new objects, furniture and decorative materials.
Philippe Starck for Kartell
The first chair created by artificial intelligence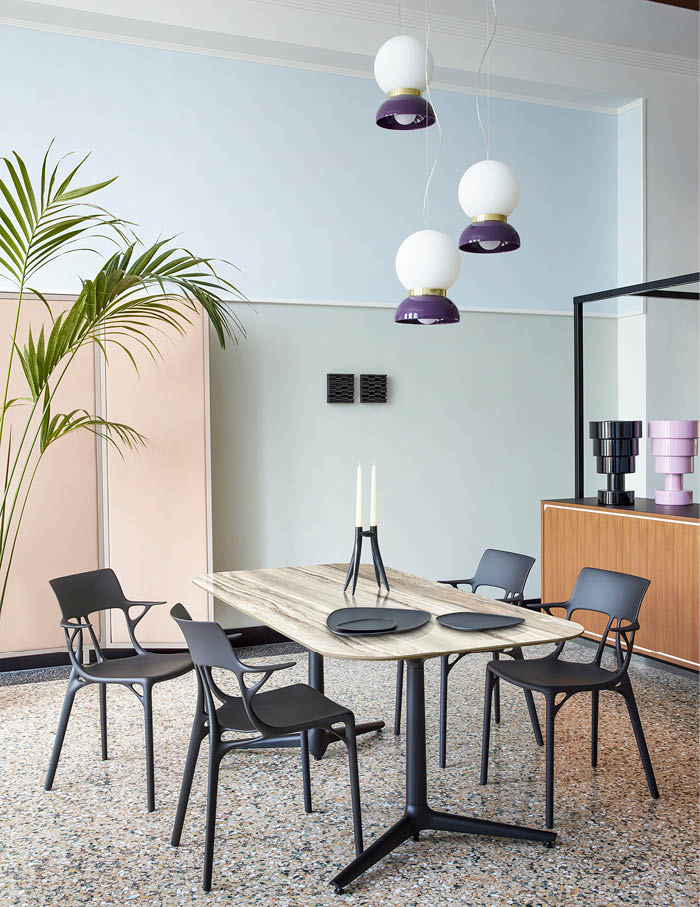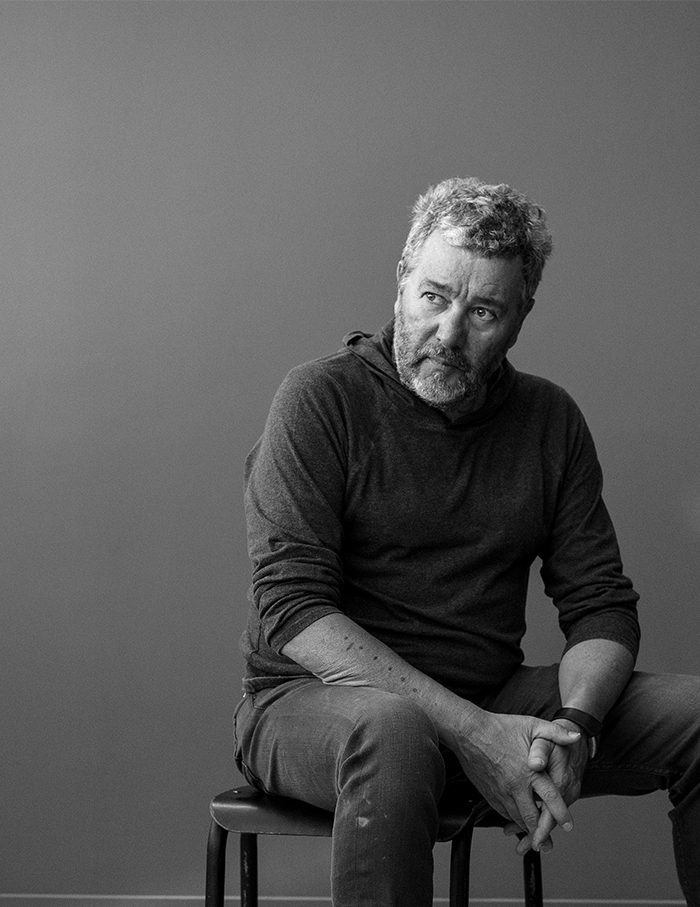 The AI chair was developed using an algorithm created by American 3D engineering and entertainment software firm Autodesk using human input from manufacturer Kartell and designer Philippe Starck, who branded this meeting of human and artificial minds as "Natural Intelligence." Made from 100 percent Recycled Thermoplastic Technopolymer, a new eco material, the design brief was to create "a comfortable seat that has the structural strength and solidity requirements to ensure certification and respect aesthetic standards of simplicity and clean lines." Starck explains, "Kartell, Autodesk and I asked artificial intelligence a question: 'Artificial Intelligence, do you know how we can rest our bodies using the least amount of material?' Artificial Intelligence, without culture, without memories, without influence, responded only with intelligence, its 'artificial' intelligence. AI is the first chair designed outside our brain, out of our habits and how we are used to thinking. And thus, a new world opens up to us. Unlimited."
www.kartell.com
,
www.starck.com
Marcin Rusak
Lamps and tables made from discarded flowers, petals and stems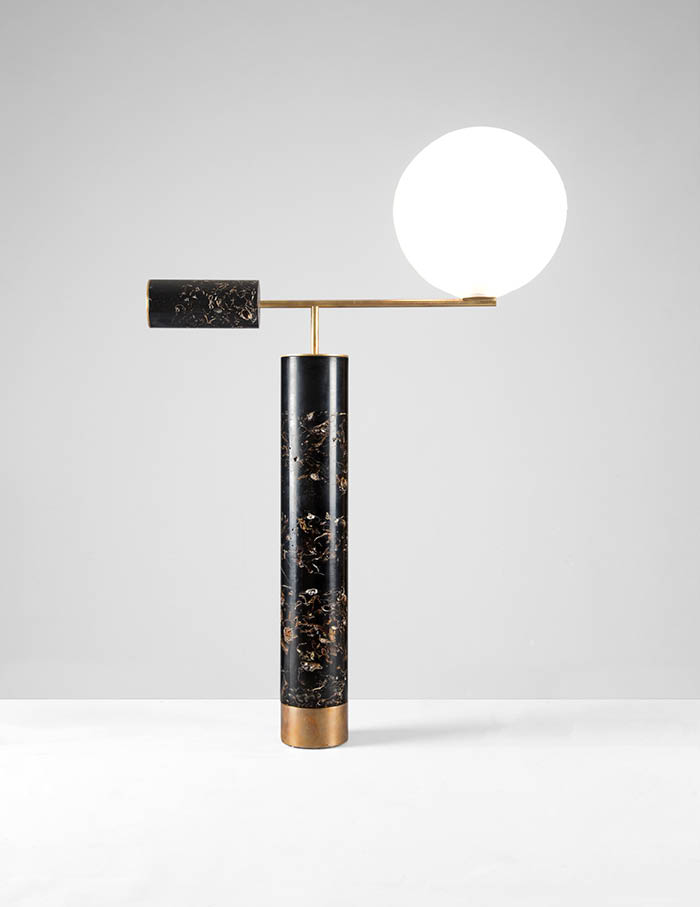 London based, Polish born designer Marcin Rusak entered the world just as his family's 100-year-old flower business was winding down. But the poetic lamps, tables and decorative objects in his Flora Collection are built on that personal history, with Rusak preserving the fragile and ephemeral beauty of discarded flowers, petals and stems from florists by suspending them in resin. Once dry, the flower-encrusted resin can be cut into varying shapes to revealthe flora encased within it. Rusak spent two years developing a technique to incorporate real flora into physical decorative objects, collaborating with a scientist to create his own bio resins. "From my family flower business to traditional works of art and craft that rely heavily on floral motifs, such as a carved wooden wardrobe that I grew up with, we, the human race, seem to have an enduring obsession with flowers," Rusak says. "This interest was sparked further by a trip to the London flower market and witnessing the huge amount of discarded flowers lying around. I started collecting and processing them—as a reference to how often we use nature as inspiration in creating decoration but how rarely we actually use nature itself as decoration."
www.marcinrusak.com
Vanessa Yuan + Joris Vanbriel of ecoBirdy
Turning unwanted toys into playful furniture for kids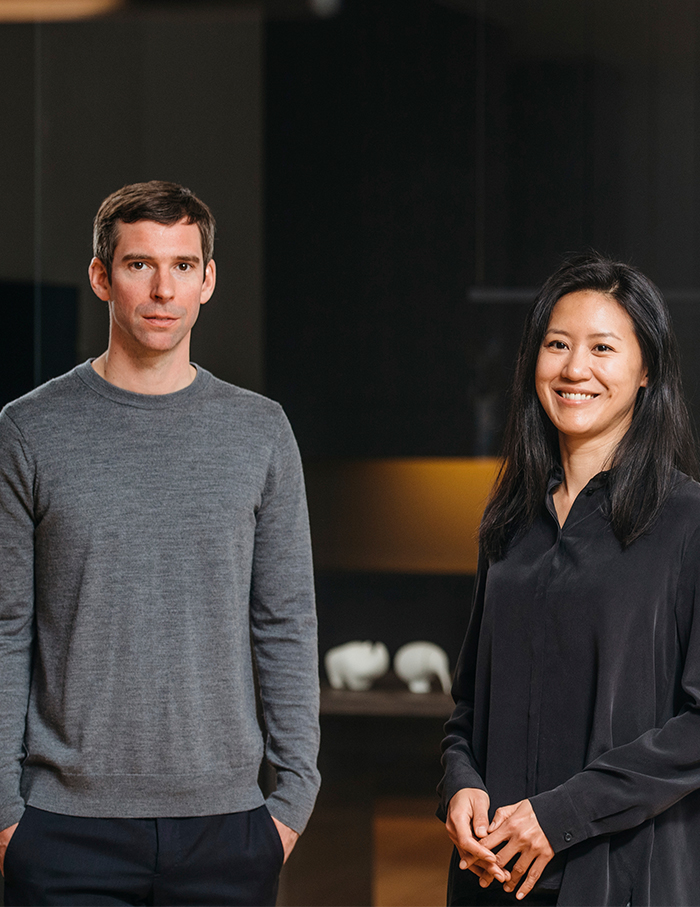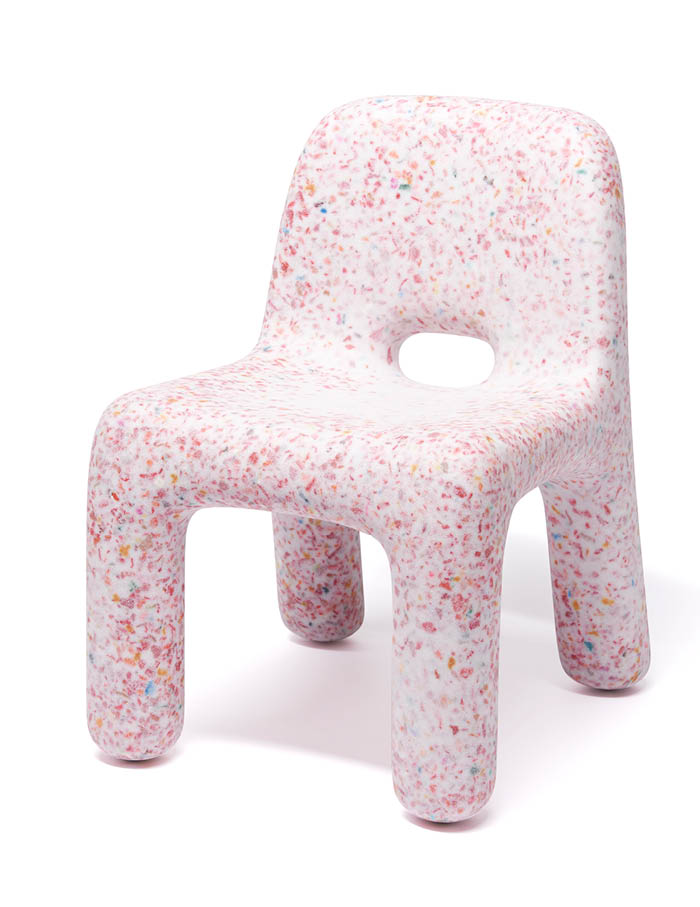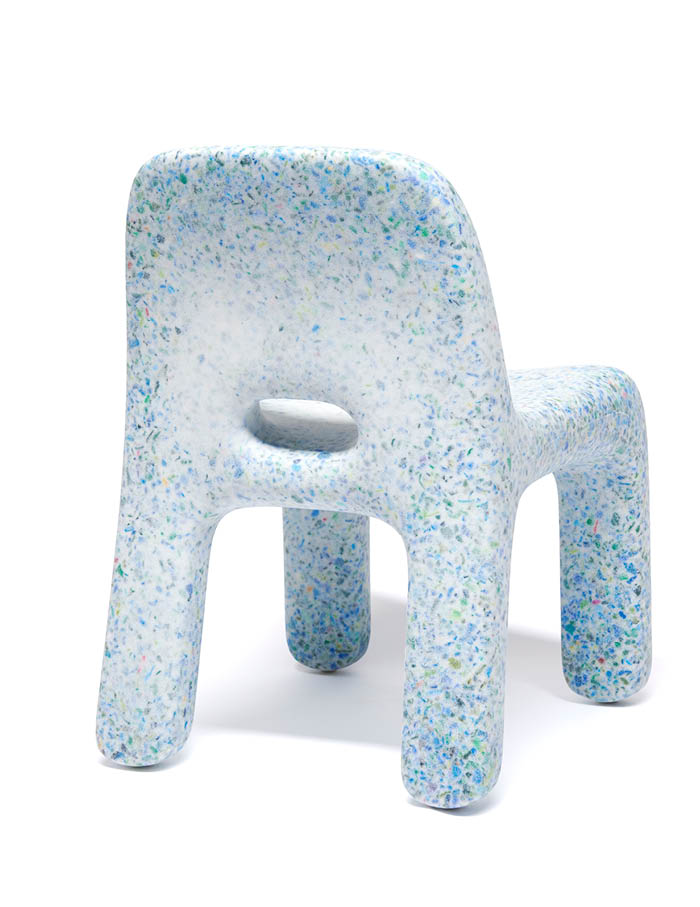 Antwerp based designers Vanessa Yuan and Joris Vanbriel of ecoBirdy transform recycled toys into fun and sustainable kids furniture. "Recycled plastic products are usually recognized as greyish, dullish and not very attractive," the designers say. "Our aim was to change this, and make something colorful out of the colorful plastic waste." The award-winning "Charlie" chair is made from ecothylene, a material developed by ecoBirdy that creates a terrazzo-like appearance by featuring visible speckles of recycled toys. "This is done on purpose to remind the user of the importance of making the most of our precious and limited resources," the designers say. Patented state-of-the-art technology allows post-consumer plastic waste to be transformed into high grade raw material that doesn't require additional pigments or new plastics. The speckled pattern is never exactly repeated, making each product unique. And because the recycled plastic used to produce ecothylene is 100 percent recyclable, it can be recycled again.
www.ecobirdy.com
Arielle Assouline-Lichten of Slash Objects
Luxe decor made from rubber tires combined with marble, brass and concrete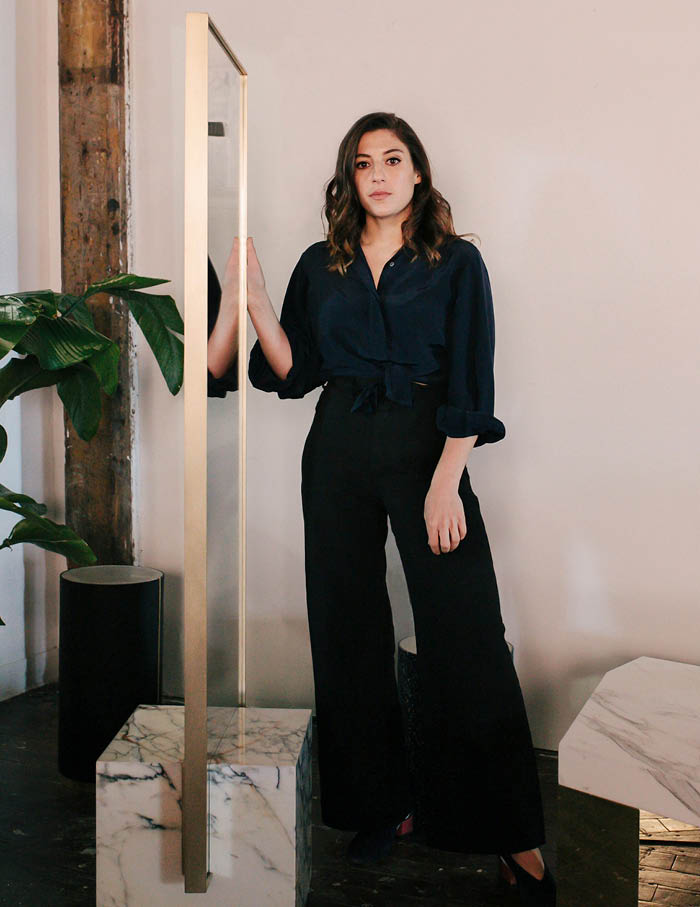 Luxe objects made from rubber tires combined with marble, brass and concrete
Founded by Harvard-educated architect and designer Arielle Assouline-Lichten, an alum of architecture firms Big, Kengo Kuma & Associates and Snøhetta, New York based Slash Objects is a self described "exploration of material and juxtaposition." An industrial rubber composite material made from post-consumer recycled tires is at the heart of the collection, elevated by pairing it with handcrafted brass, marble, concrete and Italian wool. The resulting chic, polished, sculptural tableware, furniture and home accessories are made in the USA and assembled in NYC.
www.slashobjects.com
Christian Werner for Cinna With Really+Kvadrat
Furniture made from recycled textile waste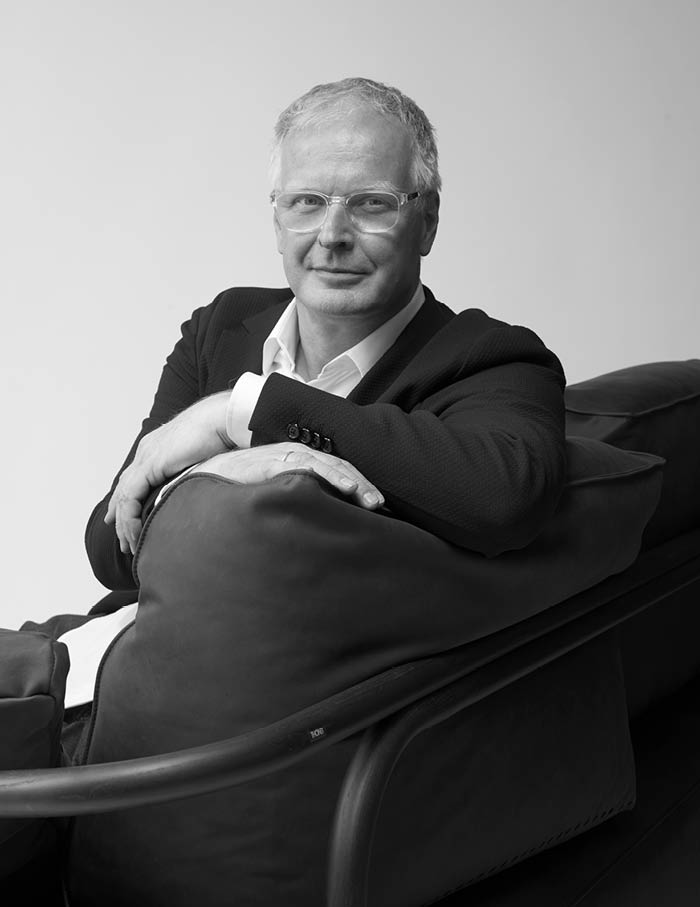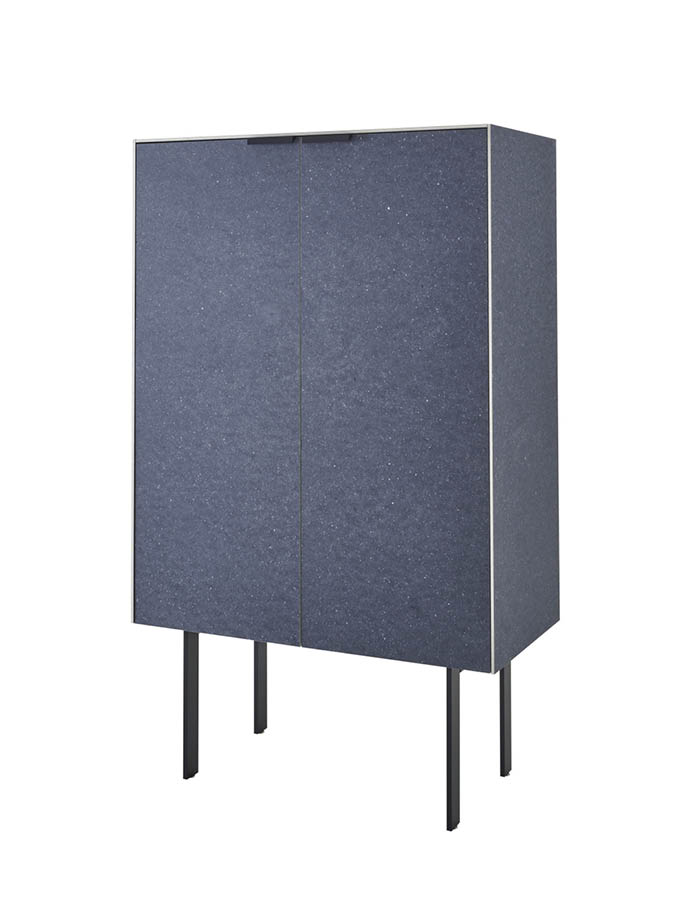 German designer Christian Werner's Everywhere furniture pieces for Cinna have been rendered using an innovative engineered solid textile board made from end-of-life upcycled textiles by Really, a Danish company founded by Klaus Samsøe, Wickie Meier Engström and Ole Smedegaard and partly owned by Kvadrat, the leading global producer of design textiles. The solid textile board is made on site in Denmark from end-of-life cotton and wool from the fashion and textile industries as well as household and industrial laundries. Milled textile fibers are mixed with a special binder that doesn't degenerate through reuse. The core of the boards is made with end-of-life white cotton sourced from local laundries; naturally derived colors are added as an outer layer, including blue cotton from end-of-life denim. The manufacturing process does not involve the use of dye, water or toxic chemicals. The ultimate goal is not only to recycle waste but to put in place systems that allow the newly created material to be upcycled in order to help build a circular economy.
www.christian-werner.com
,
www.reallycph.dk
,
www.cinna.fr
,
www.kvadrat.dk
Jasna Sokolovic + Noel O'Connell of Dear Human
Acoustic decorative wall tiles made from 100 percent recycled local waste paper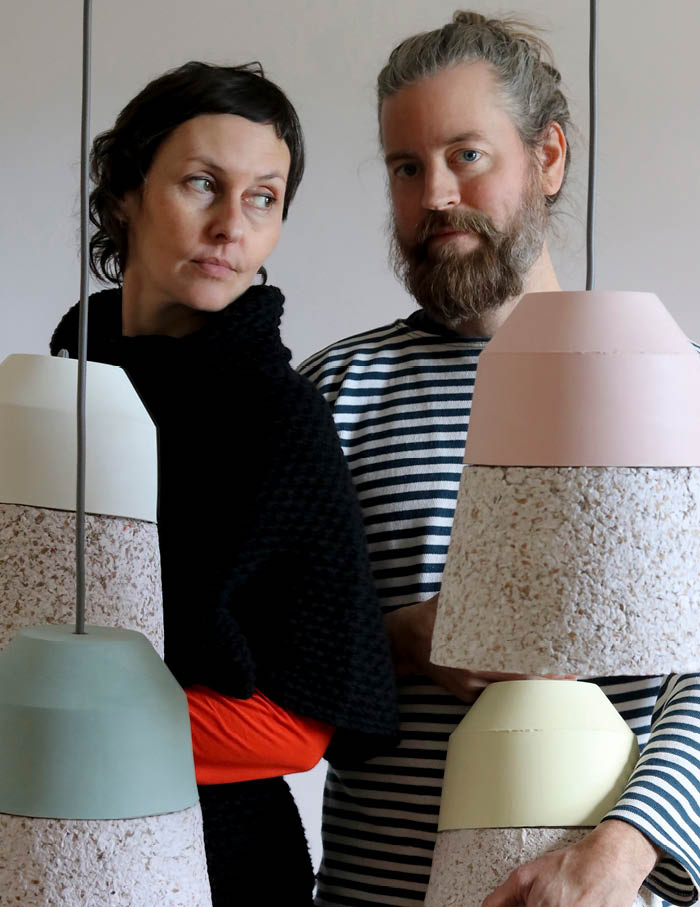 Montreal-based studio Dear Human is a partnership between Yugoslaviandesigner Jasna Sokolovic and American designer Noel O'Connell, who call themselves "a design duo who believes that sustainable and beautiful are a winning mix." Creating what they call "innovative and original products for sustainable urban interiors," their Paper Tile acoustic wall tiles were developed as a reaction to how much paper waste was being produced by local industries. They experimented using artisanal processes—shredding, pulping and molding post-consumer waste paper into tiles—creating a new material from 100% post-consumer recycled paper collected from cooperating local businesses. The designers say that in addition to offering sound dampening, the tilesare "as hard as boards, light as cork, and can be printed or painted like paper," and come in a large library or patterns and colors.
www.papertile.ca
Oki Sato of Nendo for Fritz Hansen
A chair made from recycled household plastic waste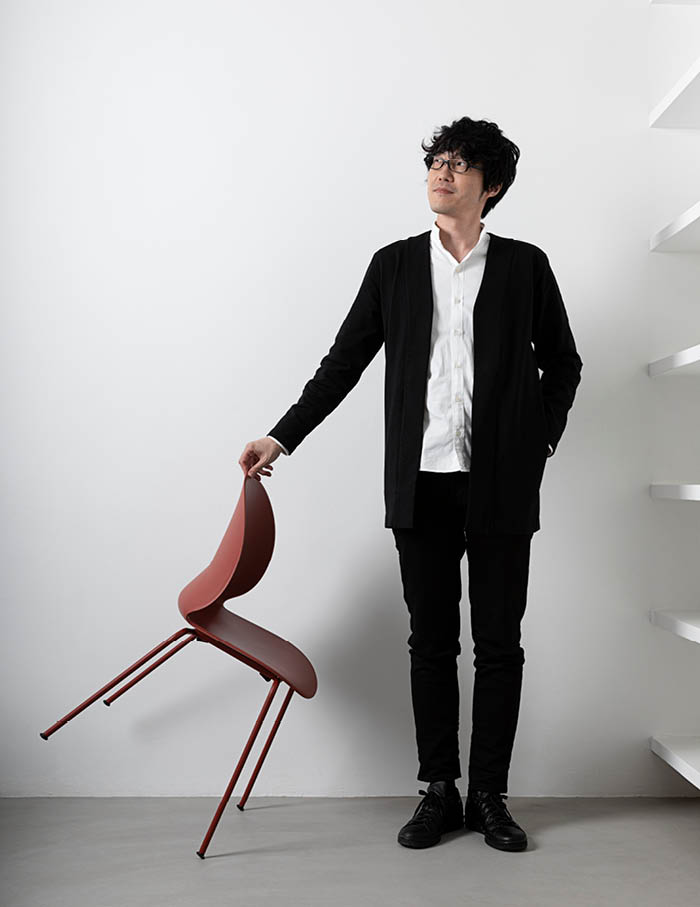 Oki Sato of Japanese studio Nendo designed the N02TM Recycle chair from household plastic waste for Danish furniture brand Fritz Hansen. The stackable chair has a chromed steel base and a shell that comes in seven colors, inspired by a crease of paper on the designer's work table. Made from circular polypropylene plastic using household plastic waste that is collected, processed and upcycled in central Europe, it ultimately can be recycled again one day if desired.
www.nendo.jp
,
www.fritzhansen.com
Bethan Gray + Nature Squared
Pearlescent furniture made from waste feathers and seashells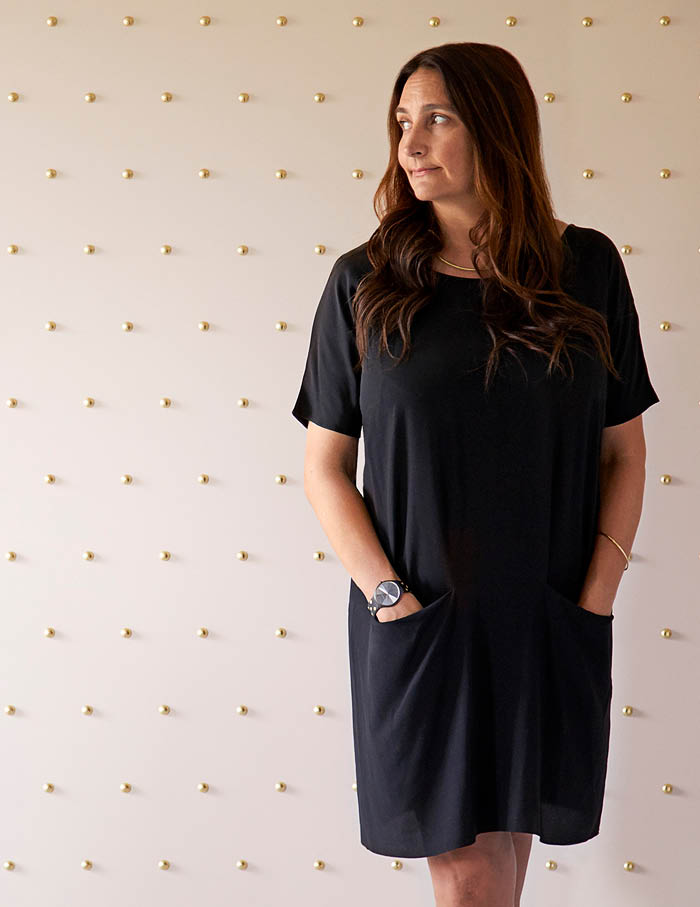 For its first designer collaboration, Swiss-based company Nature Squared, which has been creating luxury products from sustainable materials for 18 years, teamed up with four-time Elle Decoration British Design Awards winner Bethan Gray to create a collection of stunning pearlescent furniture and accessories made from waste feathers and seashells. Her Exploring Eden collection includes jade and pheasant feather lounge chairs; capiz shell shelving; and pearl shell drum tables. The collaboration built on Nature Square's catalogue, such as the Elements Collection featuring consoles, coffee tables and framed mirrors made from organic materials such as hatchet shells collected from fishermen; or eggshells, a by-product of farming and baking, that have been used historically as small decorative inlays but here are applied in abstract patterns over large surfaces.
www.bethangray.com
,
www.naturesquared.com
Charlotte Julliard + NOMA
Celebrating the nobility of recycled materials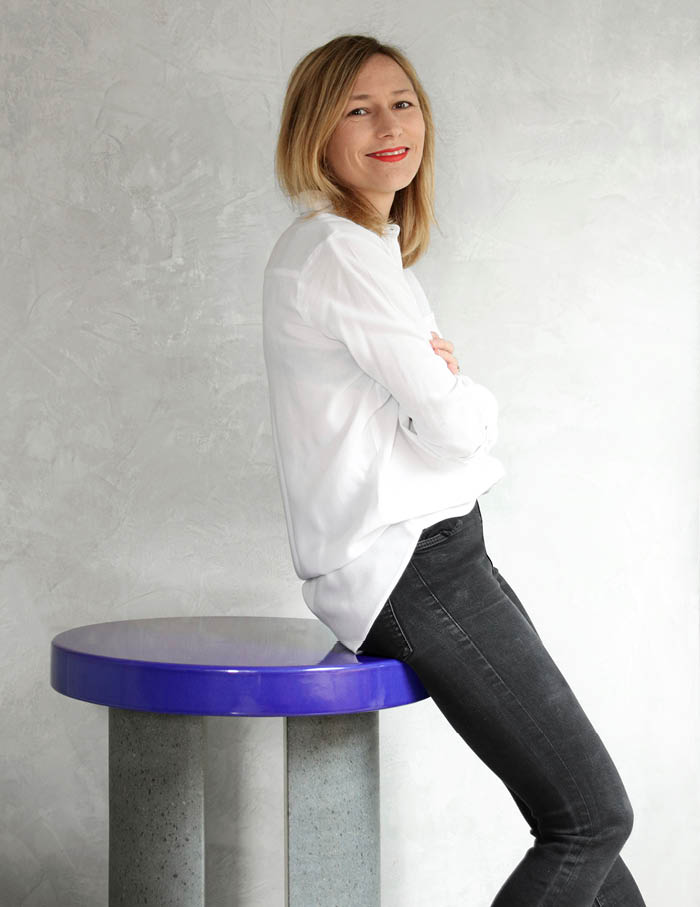 The name of sustainable French furniture brand NOMA is a composite of the words "noble" and "materials." Co-founders Guillaume Galloy and Bruce Ribay are dedicated to creating high quality everyday objects and furniture with a reduced environmental impact that celebrate the beauty and virtuousness of recycled materials. With an emphasis on transparency, the company publishes stats on the percentage breakdowns of recycled materials used in its products. In a recent collaboration, NOMA commissioned young French designer Charlotte Julliard to create "Art 82,1%," a chair that highlights the aesthetics of recycled plastics; "Laime 79,6%," a chair made from recycled metal and upholstered with untinted French wool; and "Ghan 92,8%," a coffee table that mixes recycled plastic, oak and bronze.
www.charlottejuillard.com
,
www.noma-editions.com
Andrea Trimarchi + Simone Farresin of Formafantasma + Dzek
Glossy tiles hand glazed with volcanic ash from Mount Etna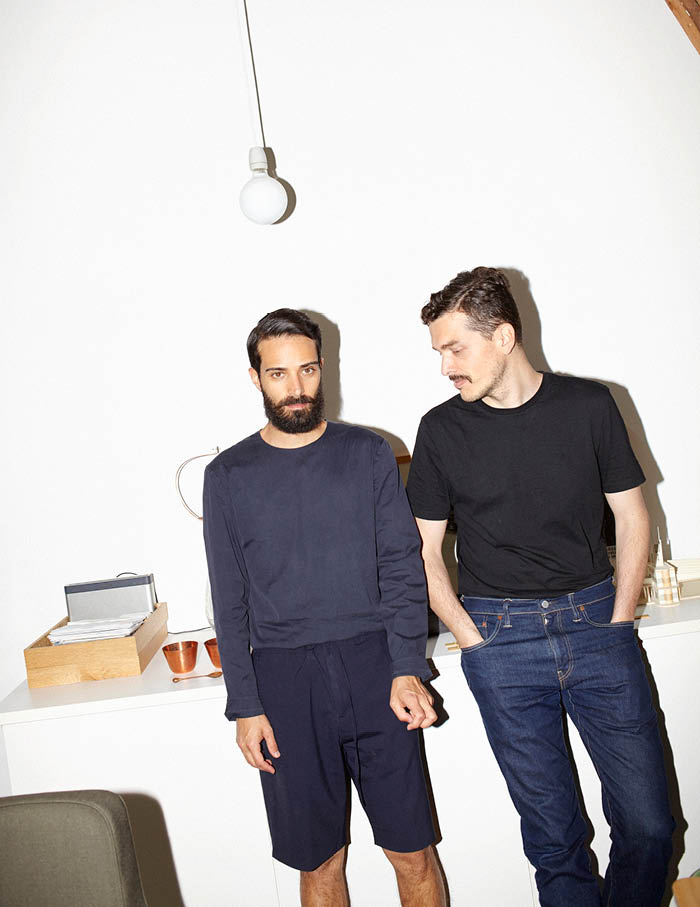 Amsterdam based studio Formafantasma—run by Italian designers Andrea Trimarchi and Simone Farresin— collaborated with London-based fabricator Dzek on ExCinere, a collection of volcanic-ash-glazed tiles. Trimarchi grew up in Sicily and he and Farresin have been exploring the relationship between man and nature and the use of volcanic ash since 2010, inspired by observing the impact of mass tourism on the culture and landscape of Sicily and Mount Etna. Their work is part of a long history of using volcanic matter in architecture, from the Bronze age Jardines of Pantelleria to the Roman concrete used to build the Pantheon. The designers point out that while the naturally occurring abundant volcanic ash might appear inert, its high metal oxide makes it unpredictable as a source material. It took three years of experimentation with the material "exploding, imploding, cracking and caving" before they were able to perfect the recipe to make tiles in four earth-colored, glossy tones meant to evoke the natural landscape from which their source material is derived. Made in Italy, with glazes applied by hand resulting in subtle variations in color and texture, the tiles can be used across sections such as kitchens, bathrooms and even as architectural facade cladding.
www.formafantasma.com, www.dzekdzekdzek.com