Homes
The elevated House Around The Skylight by Amoeba Design is an ode to the Wabi-sabi philosophy keeping intact the feeling of home
JUN 30, 2021
| By Jayasmita Ray
House Around The Skylight, sprawled across 1,081 sq ft in the heart of Pune by Amoeba Design is inherently luxurious and exudes warmth in a serene atmosphere. The design firm is inspired by the concept of Wabi-sabi, an intuitive way of living by celebrating the beauty of a naturally imperfect world and aims to manifest this approach in all of their projects.
In response to the present lifestyle and aspirations of the owners, the house has been transformed by Pashmin Shah and Satyajeet Patwardhan of Amoeba Design and it conceptualises a peaceful and spacious environment with an open plan in the living room.
Amidst greenery on the eastern side, the balcony opens into the living room to make it more spacious with beautiful tree coverage as one walks out. Enclosed with a tall window and a double-height skylight at the top of the parapet wall, the living room welcomes filtered eastern light through the foliage and adds elegance to the space.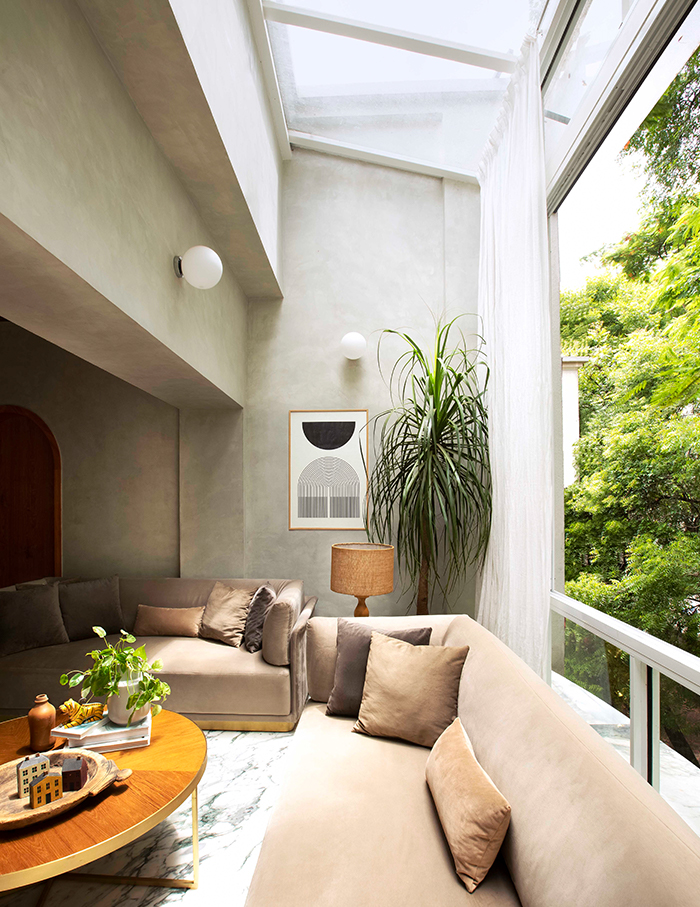 Minimised walls and an expanded roof ensures a clutter-free and spacious home styled by a coherent visual language to complement the lifestyle of the family. A balanced material palette of marble, wood, polished brass against the backdrop of cement finished walls keeps the tactile quality and feeling of home.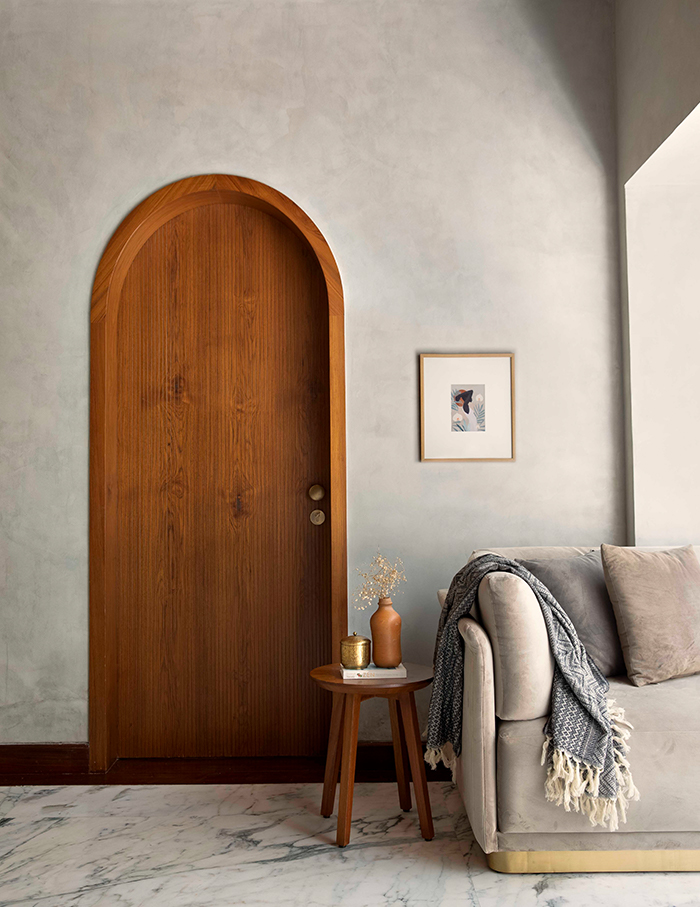 Wardrobes concealed as walls throughout the house provide ample storage space. Marble used as a primary flooring material creates a sense of expanse. Enhanced by the gloss of the polished brass, wooden ceilings and arched doors lend required warmth to the space showcasing meticulous craftsmanship.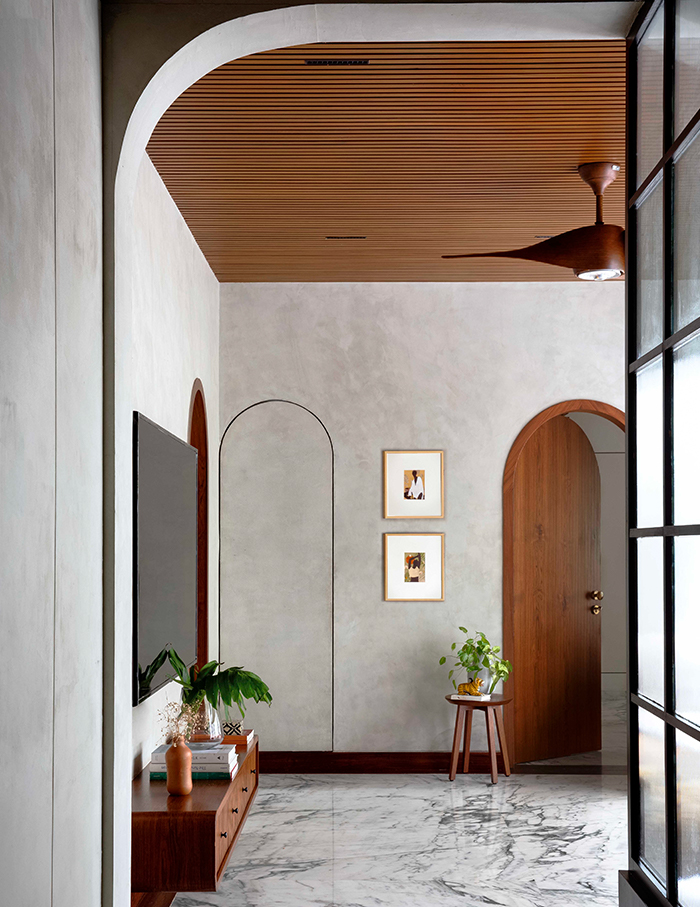 "The highlight of the space is the living room and the quality of light that has changed drastically later. The filtered daylight that comes within transforms the entire aesthetics of the space," share the designers.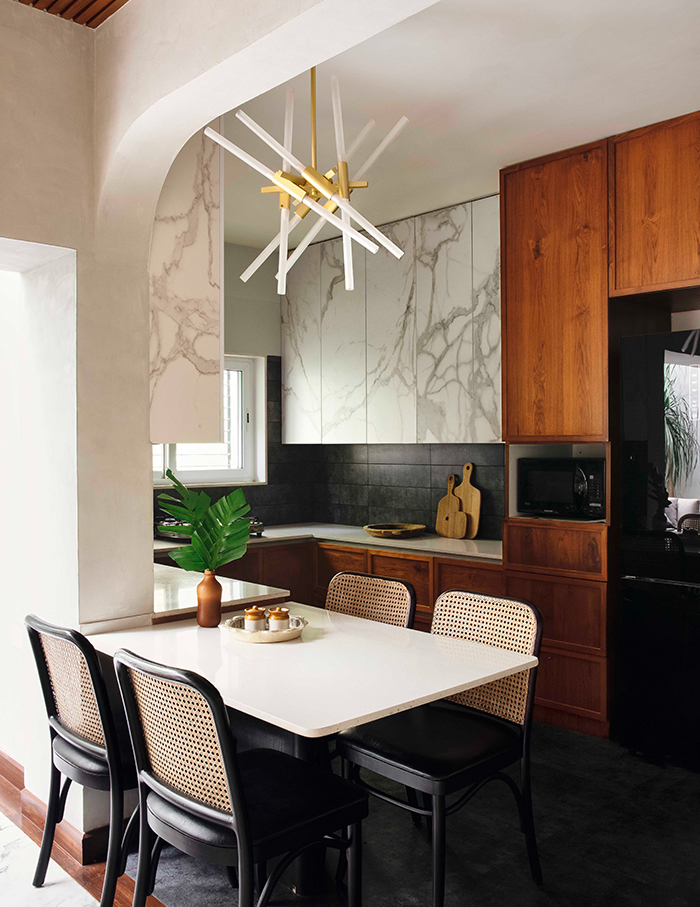 Rich in texture, the living room is a crafted environment that speaks of a journey through time and space. Monochromatic décor gives a simplistic yet luxe vibe enriched by warm wooden accents.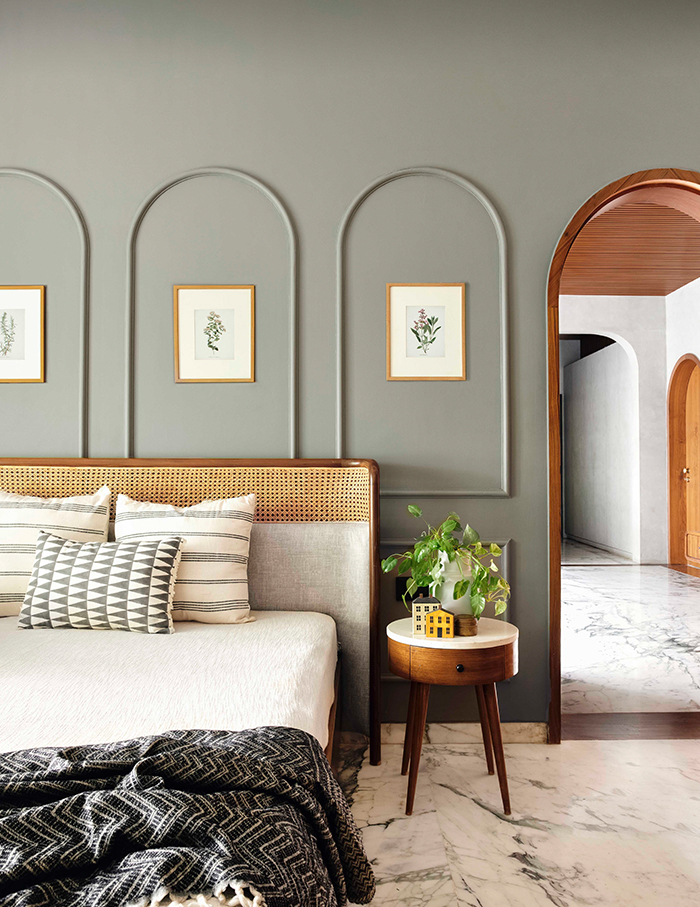 Light grey micro-cement finish unifies the space and at the same time adds imperfection which balances out with the marble floor and the gloss of brass. Clad entirely in customised furniture, the master bedroom and bathroom behind a fluted glass door has marble, black and gold as the palette.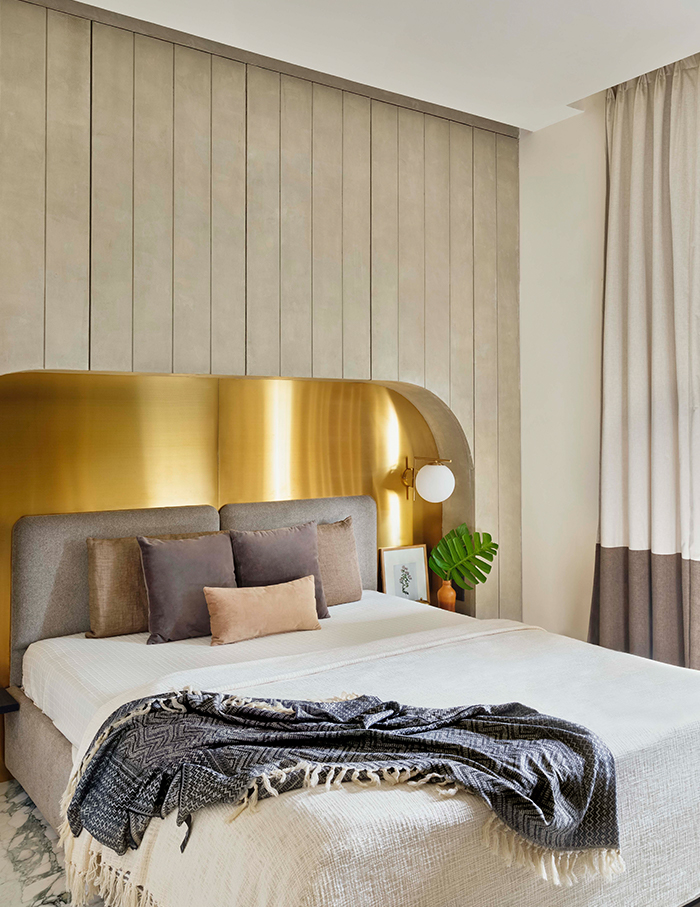 Conceived around desires and aspirations without exhibition incognizant of the verdant surrounding, the House Around The Skylight displays how positive impact can be created with thoughtfully crafted homes.
Scroll to see more images from House around the skylight…