Lifestyle
The cosy and rustic Cafe Ivy by Aditi Sharma Design Studio in Mussoorie makes us wish we were there!
AUG 10, 2020
| By Aneesha Bhadri
Perched on a slope in the small cantonment town of Landour in Mussoorie, Cafe Ivy resembles a cosy bird house, albeit with delicious coffee and books abound. Located near a church that dates back to 1839, the space comprises a basement in a small government parking lot that faces a spectacular view of the Himalayas.
"We got the site in a dilapidated state. It's an unplanned structure with crooked beams and three huge columns placed right in the centre of the small hall. There was no scope of structurally correcting it. The space had to be approached in a way that these elements became part of the design. So, instead of concealing the flaws of the uneven construction and dirty, smoky walls, we celebrated them," says Aditi Sharma, who reinvented the cafe.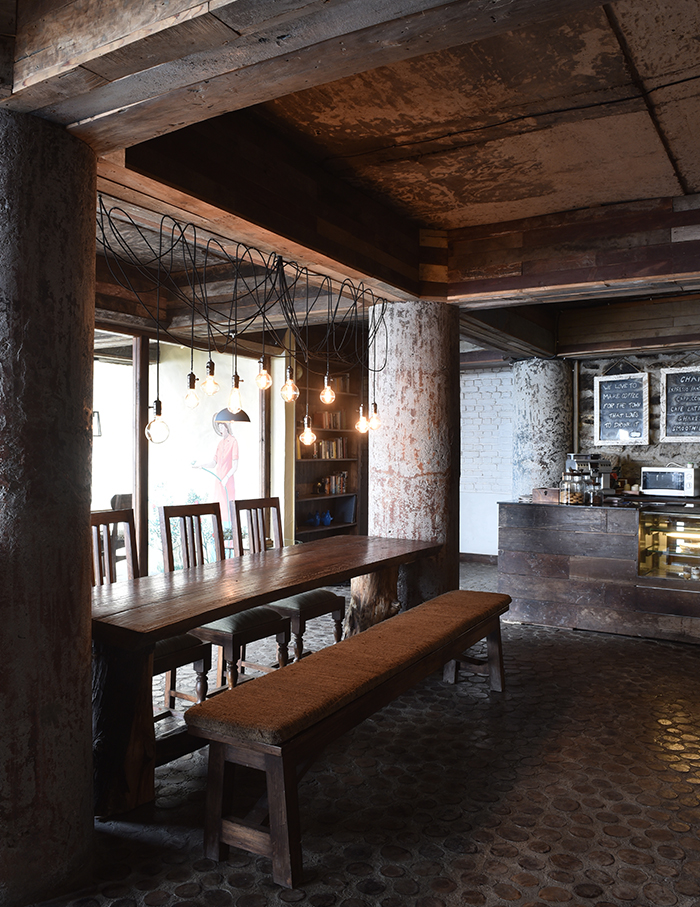 Sharma and her team highlighted all such old and odd elements of the structure to elevate the cafe's rustic ambience. Reimagined with a modern twist, the venue houses a small library area, comfortable seating arrangements using cushy sofas, wooden chairs and benches, and small stools. It is a chic casual and versatile space that can even hold music gigs in the winter. A wide balcony with glass doors and a cosy fireplace add quintessential warmth and charm.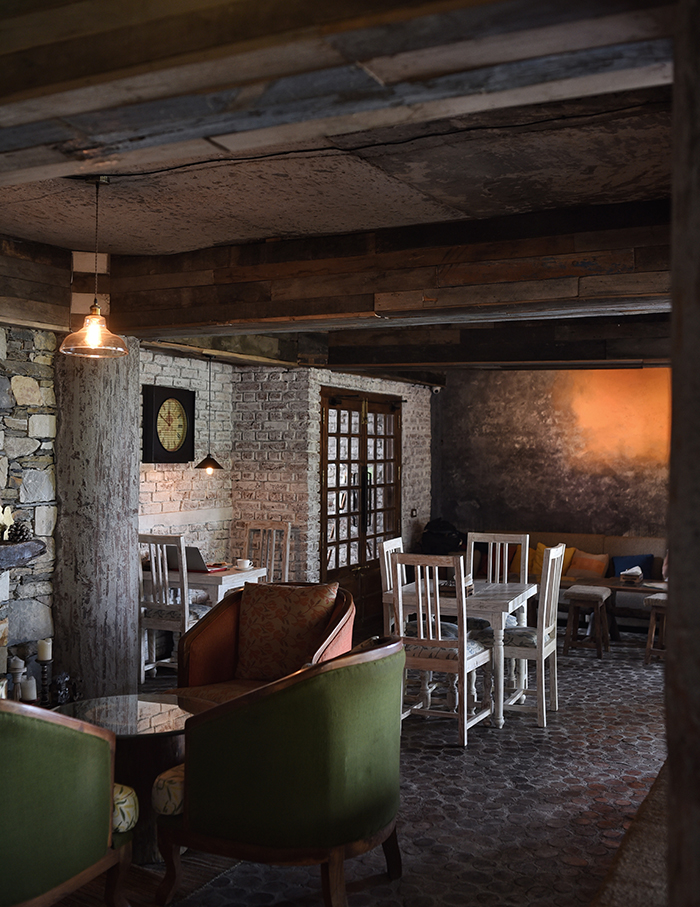 Various materials—all natural and indigenous—play a key role in offering a charming alpine experience. Waste wood that was once used for scaffolding has been repurposed as flooring. Beams are clad with wood reclaimed from old homes. The fireplace has been built using local stone, while the walls and ceiling have been left bare. Some with black smoke marks from winter fires have been retained, all of which adds to the quaint appeal of the eatery.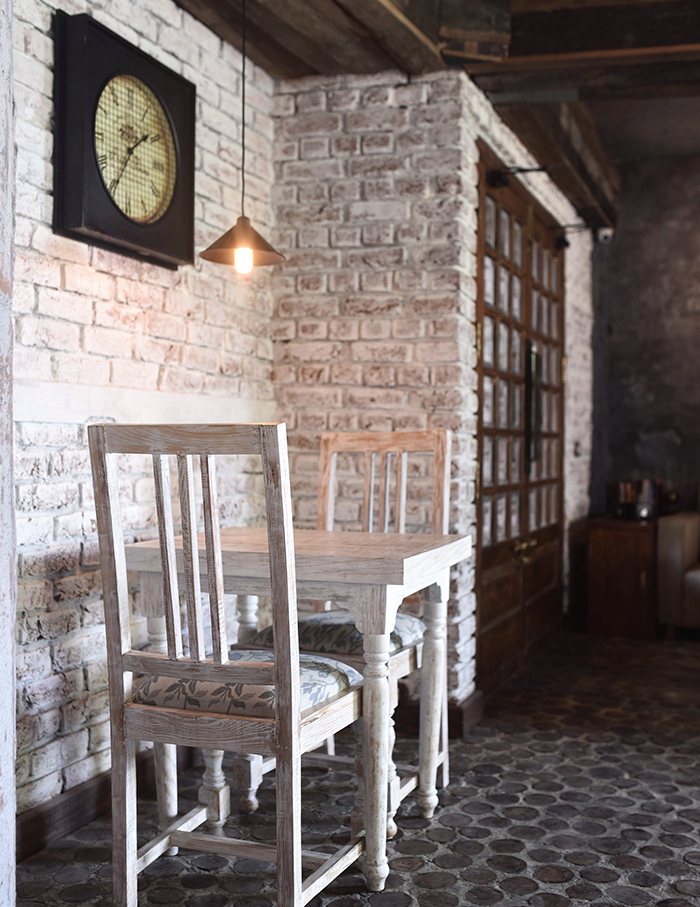 "A very special weather phenomenon called the winter line is visible from Cafe Ivy. The sun drops behind the false horizon and a grey and mauve strip with a bright line of orange and yellow appears—this phenomenon can be enjoyed in winter from the balcony overlooking the cliff. We wanted to interpret the same on one of the clean, big walls next to the entrance. Taking inspiration from American artist Mark Rothko, we created our version of the winter line," smiles Sharma.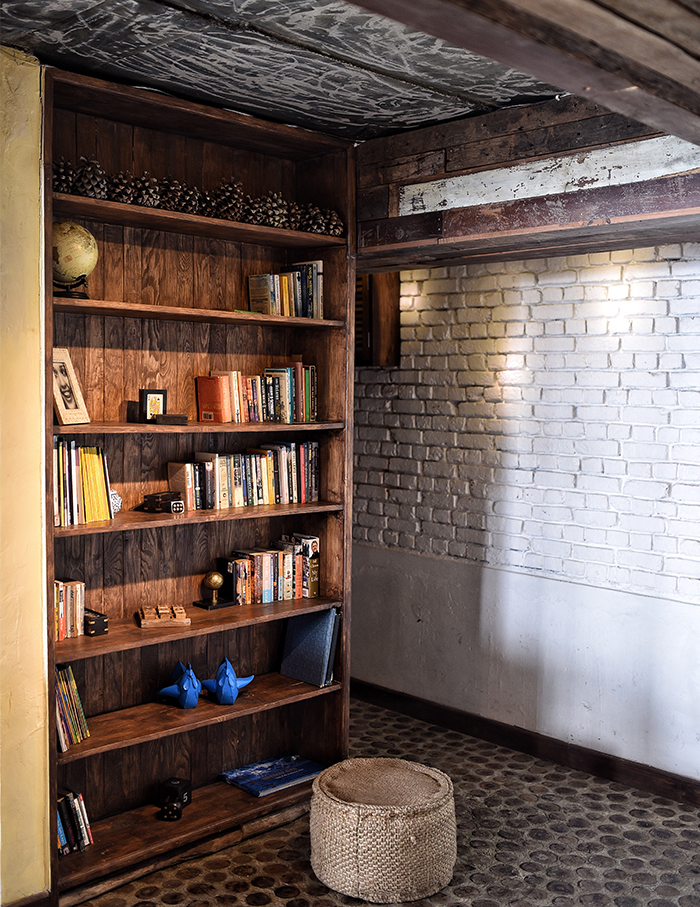 The objective was to make the space functional with a cosy atmosphere that highlights the joys of a slow, mountain life. Designed for locals as well as tourists with a capacity of about 25 people, Cafe Ivy is the perfect hideout in the mountains to enjoy the simple pleasures in life—coffee, books, relaxed conversations or quiet contemplation, and breathtaking views of the rolling hills and changing skies.
Scroll below for more images of Cafe Ivy by Aditi Sharma Design Studio…