Homes
Temple Town brings together traditional crafts and tropical accents to design a contemporary home in Thrissur
MAY 23, 2023
| By Diya Shah
Unified by traditional wood furniture and tropical accents is a home that lies at the intersection of timeless and modern. Blending classical styles with contemporary demeanour was key for Meera Pyarelal, the founder and interior designer of Temple Town, to envision this family home for five in Thrissur, Kerala. The home is not dictated by a prevalent style or trend, but a reflection of the designer's ethos, which, as Meera puts it, "Is the ability to stick to our design ethos of sustainable design irrespective of the style of interiors."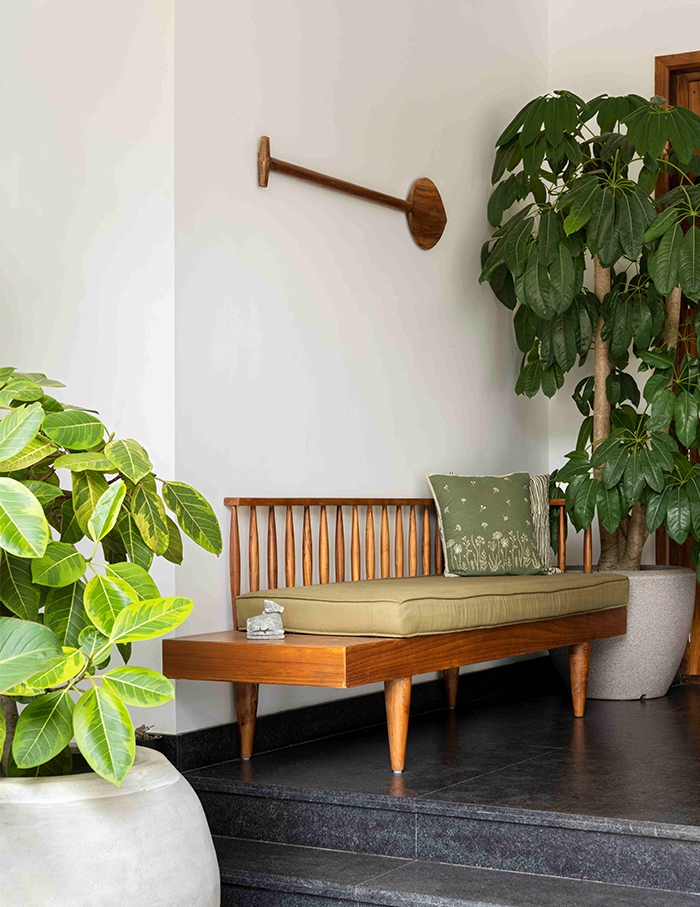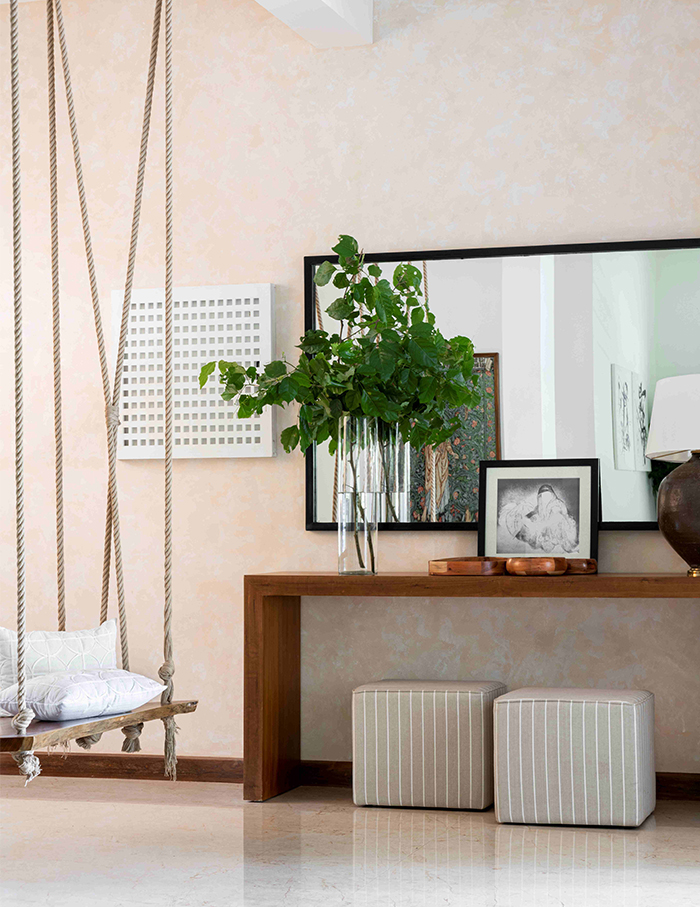 Dichotomies of the old and new
This space occupies 4,500 sq ft and comprises four bedrooms, a living room, a dining room, two kitchens and a family room with open terraces that hint at a dichotomy between old world charm and day-to-day practicalities. The foyer hosts a live edge swing made of locally sourced wood that adds a rustic touch to the setting.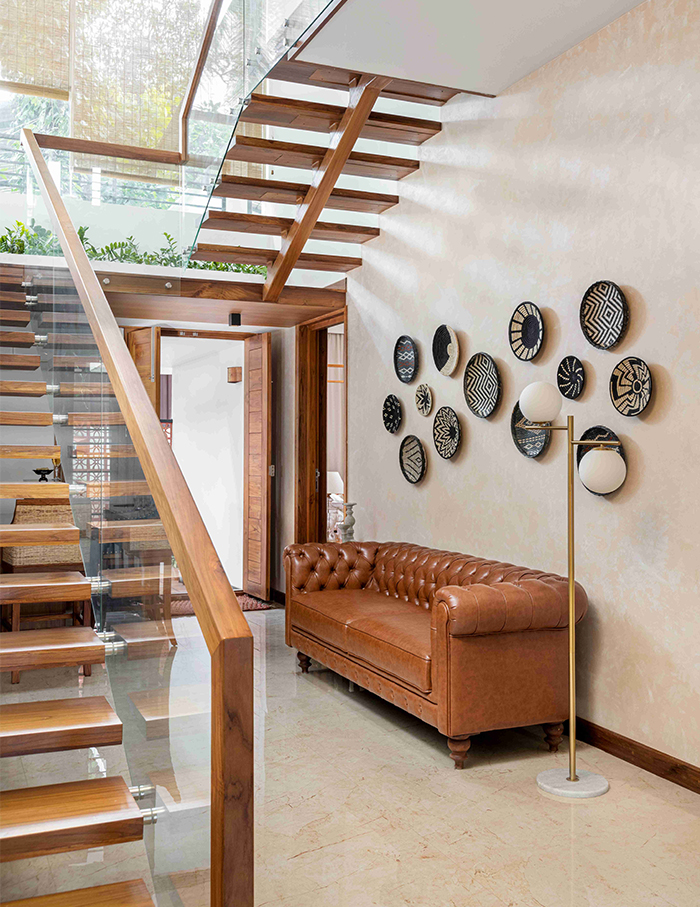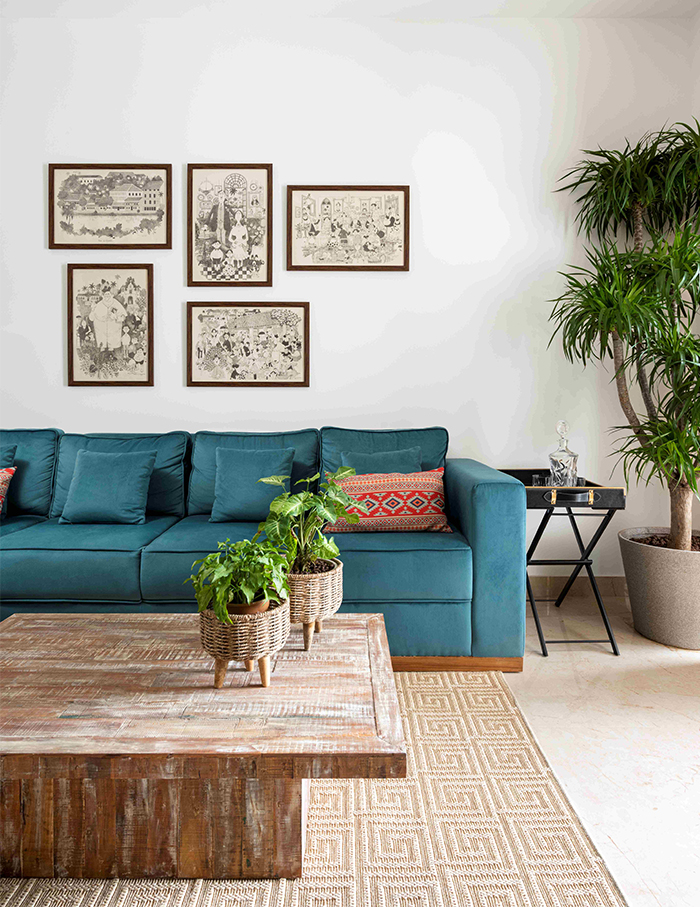 The morning sun streams into through the glass windows at the top of the stairs and reflects off the beige walls of the foyer. The light spills over to the living room, unobstructed by a door, spreading an air of cheerfulness and warmth across the home. In the living room, the decor transitions to millwork walls that are reminiscent of Western classical traditions. The more experimental wood and metal coffee table adds a sense of modernity to the space.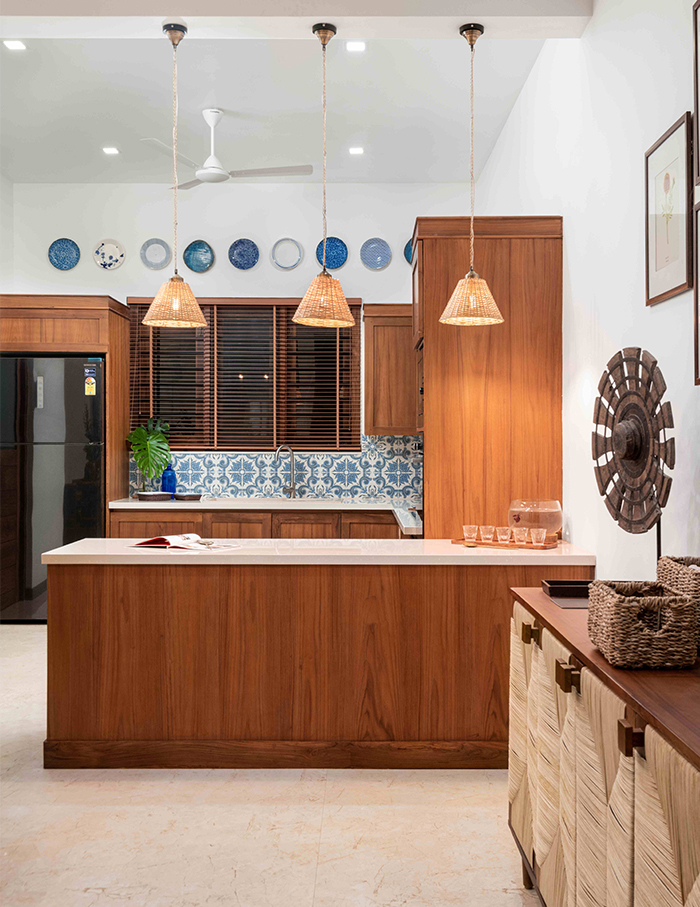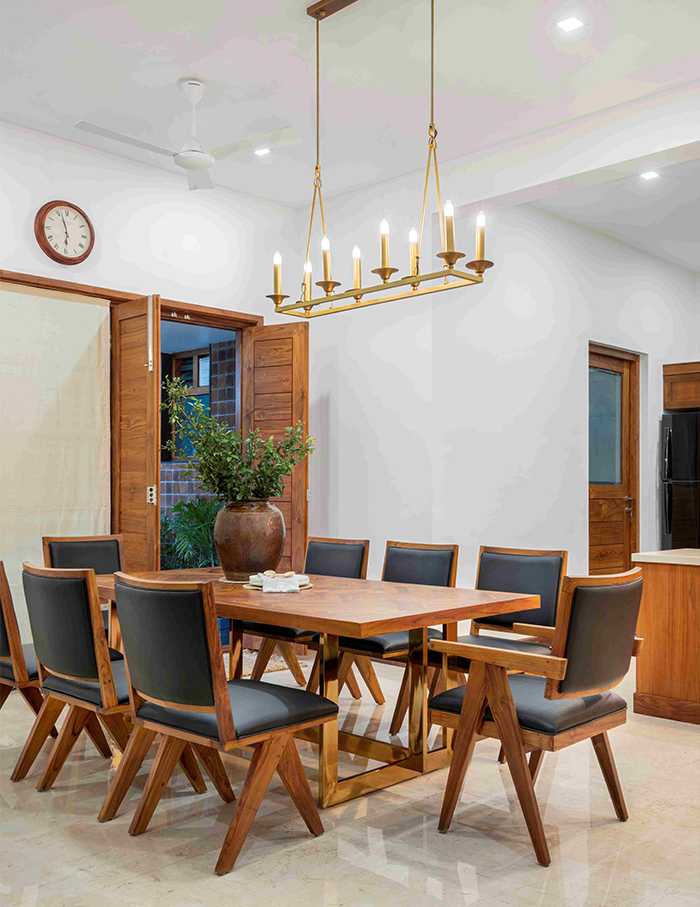 However, the kitchen and dining is where the stakes have been raised. "​​The dining room is cool and classic with an eight-seater dining table with a wooden top and brass base. A bespoke cane buffet table on the side with a line of botanicals that add low key luxe. The kitchen is streamlined, all wood, really functional and practical with no fussy details," says Meera.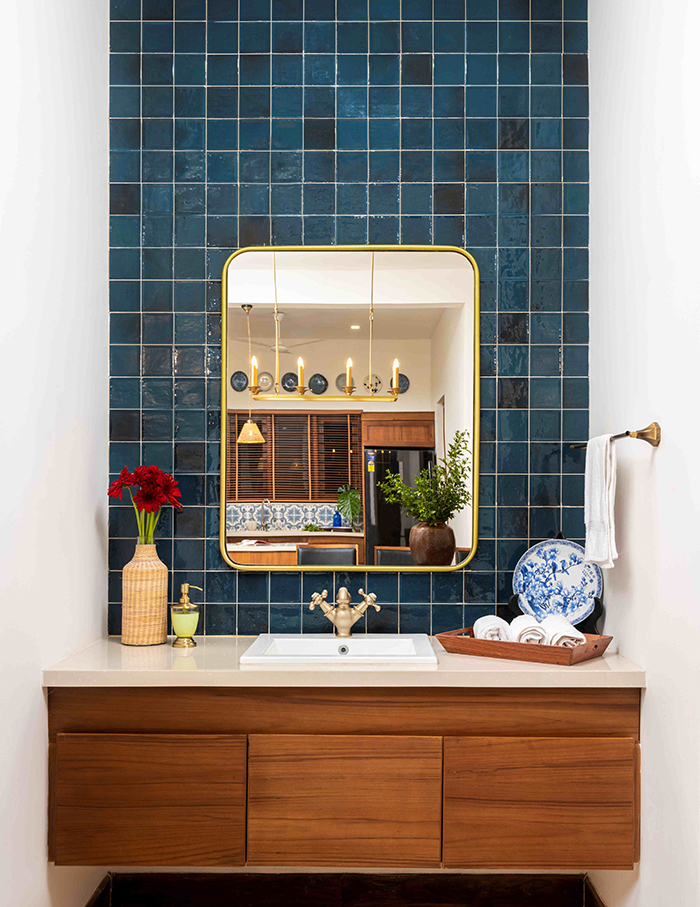 A stylish bar finds space underneath the staircase which has a mix of materials and textures that renders a tropical flourish to the nook. The bedrooms are located on the ground as well as the upper floor. One of these bedrooms has its moment with a dramatic accent chair in Frida Kahlo prints with artworks predominantly by Mario Fernandez. While the eldest daughter's room is elegantly decked in monochromes, the second daughter's bedroom is what Meera calls, "A tropical paradise!"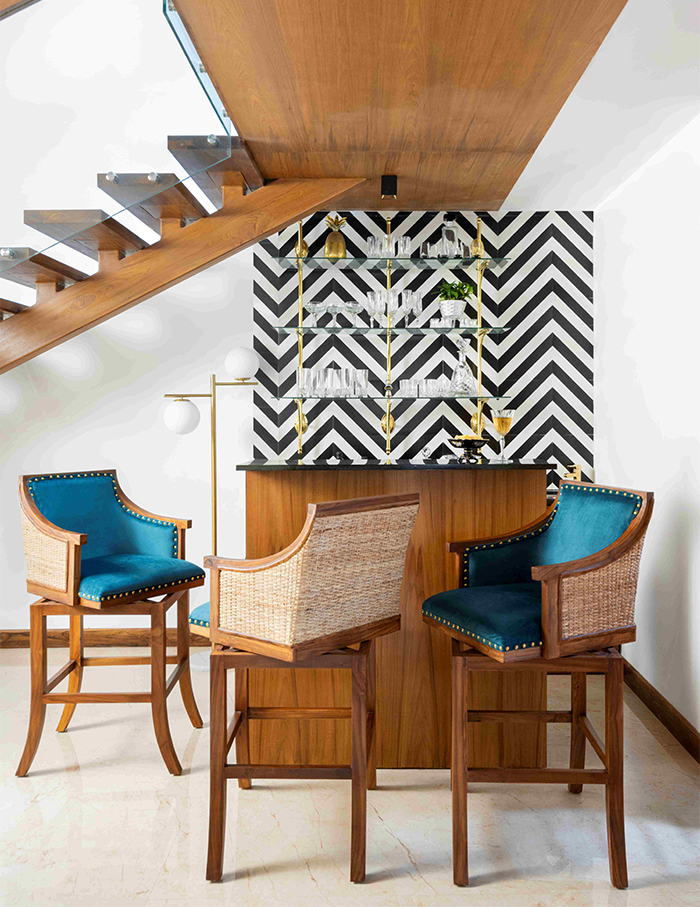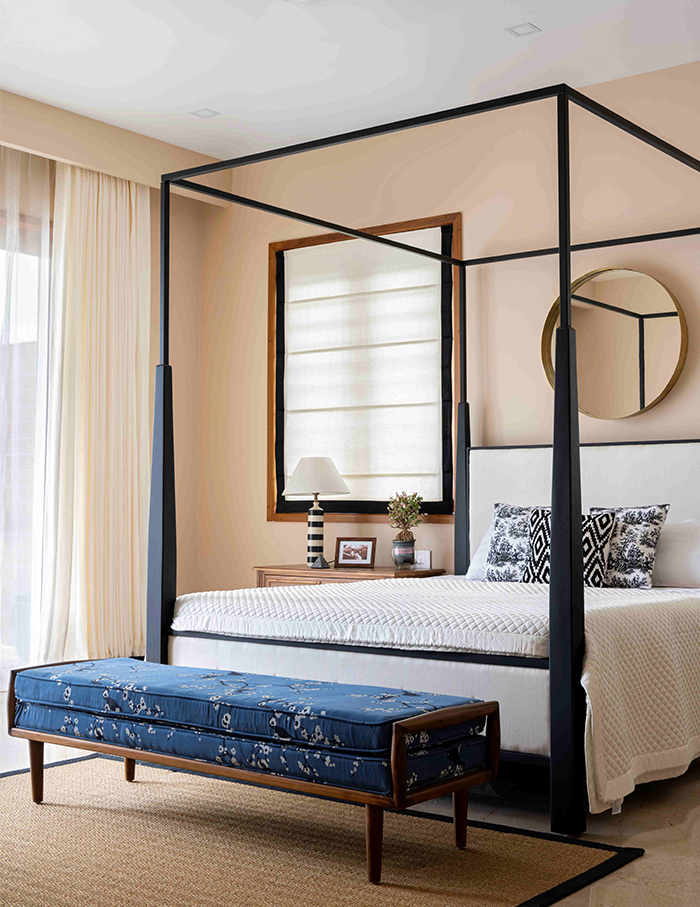 Furniture for the future
Temple Town aims to design and manufacture sophisticated pieces of sustainable wood furniture, echoes of which are evident across the home. Meera explains that wood is responsibly and locally sourced, and used by local craftsmen to create furniture. Keeping with the traditions of inheriting furniture within families in Kerala, these pieces can last three generations, resulting in a limited environmental impact.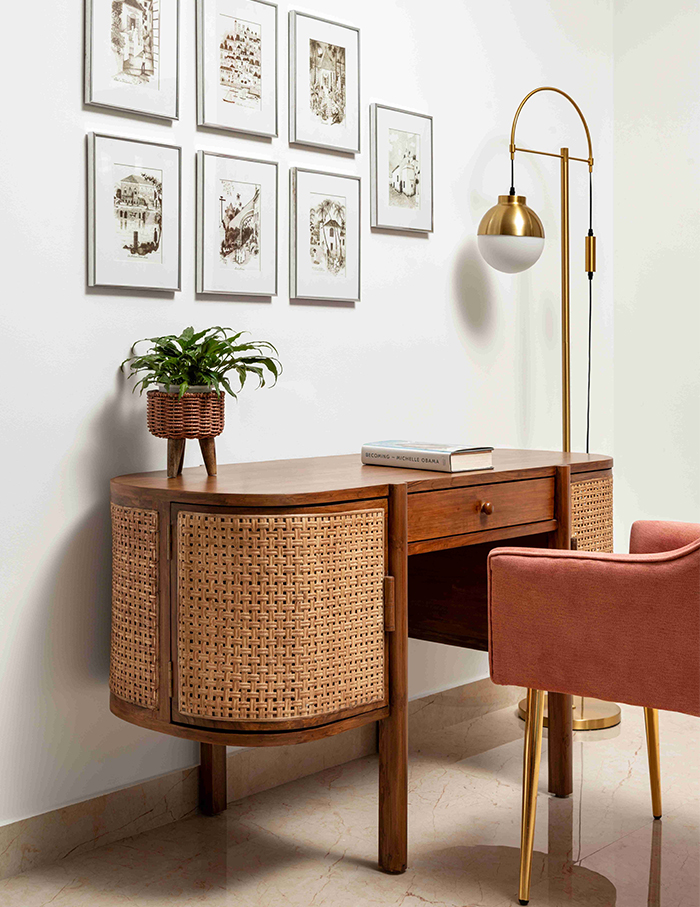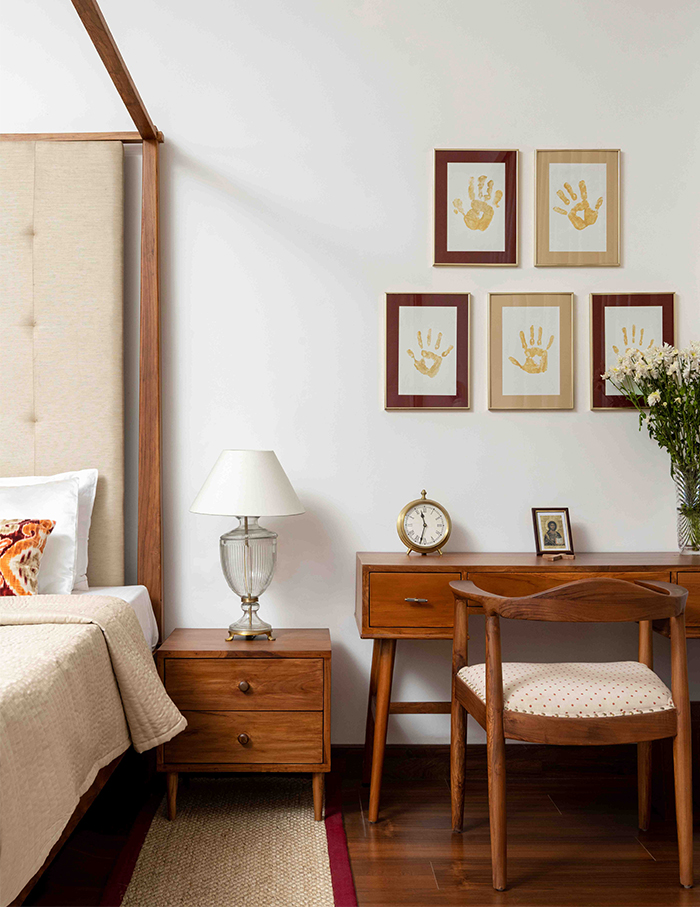 A Splash of Playfulness
While Meera uses wood to balance classicism and modernity, she does not overlook the play of light and colour and caters to her client's request for a comfortable, homely atmosphere. Sober, monochrome black, brown and beige surfaces that offer a sense of atemporality and luxury are regularly interrupted with splashes of colours that display a certain playfulness.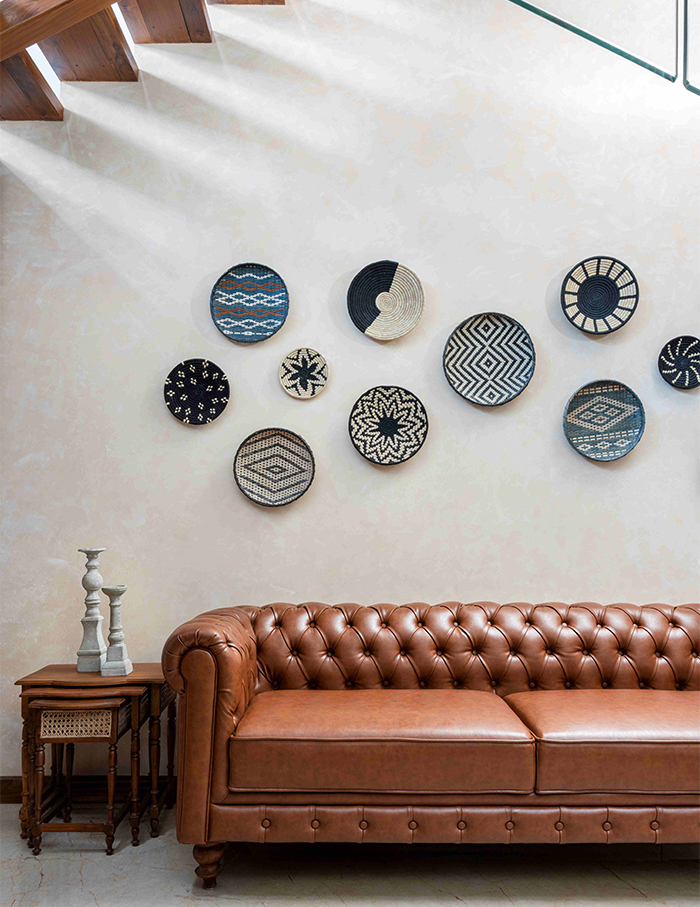 Designed using various styles, materials and textures, this is a living space that is both elegant and edgy while retaining the warmth of a family home. "We have experimented with different decor ideas from one room to the other, each having a distinct vibe of its own. Yet they flow into each other making sure you're always inspired when you walk into each room," concludes Meera.