Design
Take cues from these 11 elegant offices that make their employees say #ilovemyjob
NOV 11, 2020
| By Raashi Dev
In bustling cities, a new business venture is born every day. And each of these needs a fabulous office to go with it! So, we've scoured the country and rounded up a list of some of the most beautiful and thoughtfully designed workspaces that focus on evolving design, social distancing norms of 2020 and wooing employees back to them.
Barcode-themed office by The Arch Studio
This 750 sq ft experimental space (see scroll above) in Pune sets itself apart from the monotony of the corporate jungle by creating a striking visual statement. The design is a spin on the domination of technology in every aspect of our urban existence. It uses the barcode as the premise for its furniture, partitions and ceilings—a concept prepared with the intention of bringing the outdoors in without compromising on the privacy of employees. Stimulating a glass box with its transparency and multifunctionality, the workplace's colour scheme creates a minimalist oasis sticking to a pristine palette with accents of colour. Green chairs, planters and an accent wall clad in a bold wallpaper adds a dose of energy and contrast.
NovoCity Office by Seedle
Originally a warehouse in Thane, this workspace (see scroll above) was reinvented as an adaptive-reuse project, which refurbishes pre-existing buildings into commercial spaces. It opens up to a large courtyard that serves as its centre. This transforms the overall vibe of the office into a calming and peaceful atmosphere, helping employees find respite on long stressful working hours. The reception alone accommodates about 100 people comfortably, and overlooks the entry verandah, from where you can see the lush green landscape beyond and enjoy its serenity. In an attempt to subdue the grave atmosphere that most traditional meeting rooms sport, cove lights have been installed that fall on the light shade veneers creating a soothing ambience. 
NavBharat HQ by Purple Backyard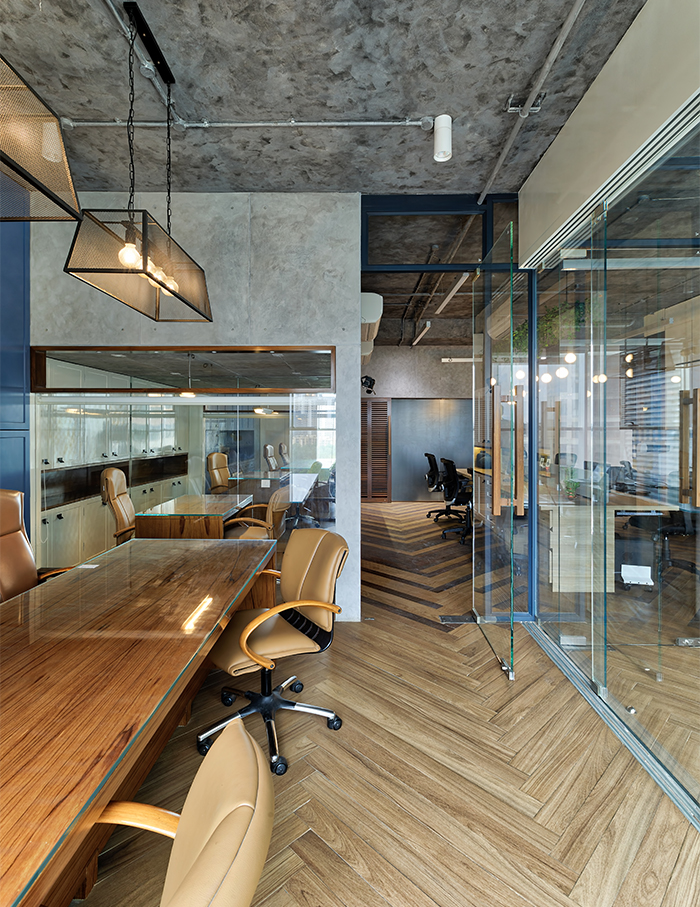 This 1,200 sq ft space is divided into an office area, and a triathlon studio named Master Mind Triathlon World. It is conceptualised with the intention of creating a soothing atmosphere that is both functional and practical yet eccentric. The studio recreates elements from the very same French villages that host the world's best known triathlon, the Paris-Roubaix. Design inspirations is drawn from a number of elements, including the charming locales the race passes through.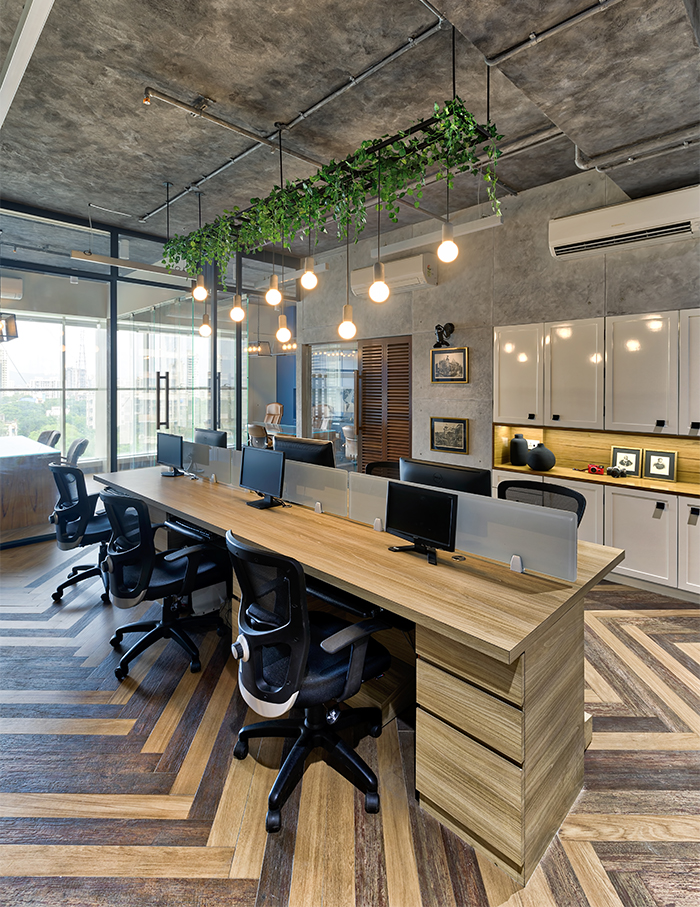 The office is a unique fusion of modern and contemporary that blends into the transitional style, both spaces separated by a peekaboo glass wall. In order to tie them together, the core aesthetic is kept minimal by leaving the original structure untouched and ceilings bare. The studio sports a whitewash, while the office has a contrasting grey hue, creating a yin yang feel. Meanwhile, the one-of-a-kind Caesar tiles customised into a herringbone pattern uses deep blues contrasts with splashes of green to lend a bold look. 
Office Absolutus by Ashleys Architecture and Interiors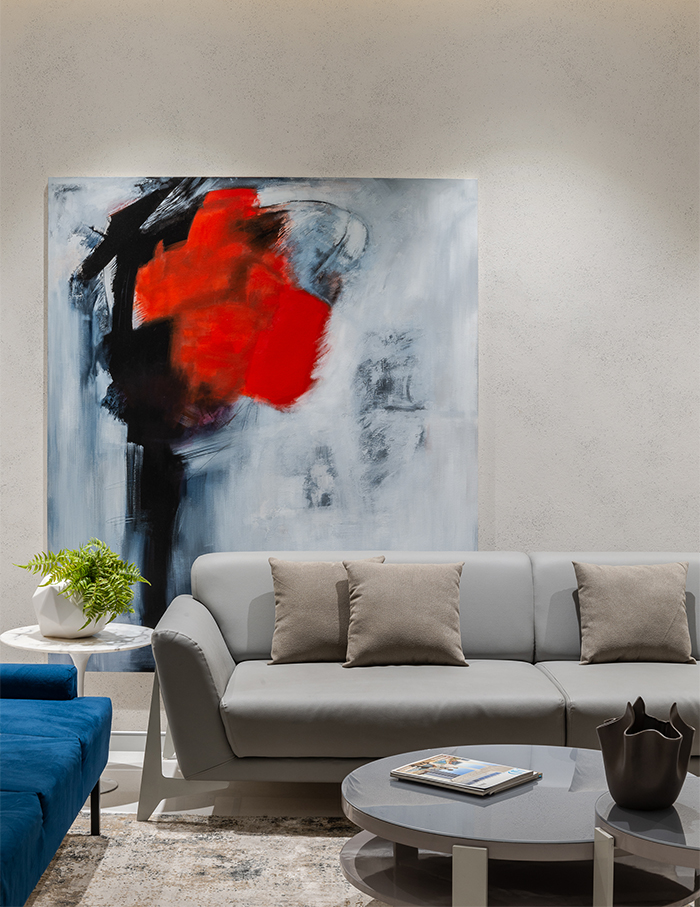 Redefining the concept of sophistication in workroom interiors, this office brings luxury out of the constraints of homes and into workspaces. The space designed for industrialist and former minister Harshvardhan Patil is a visionary expression of subtle luxury. Though young at its core, the interiors bring out a certain mature elegance, exemplifying the client's lifestyle and panache, subtly interlacing it into the design vocabulary.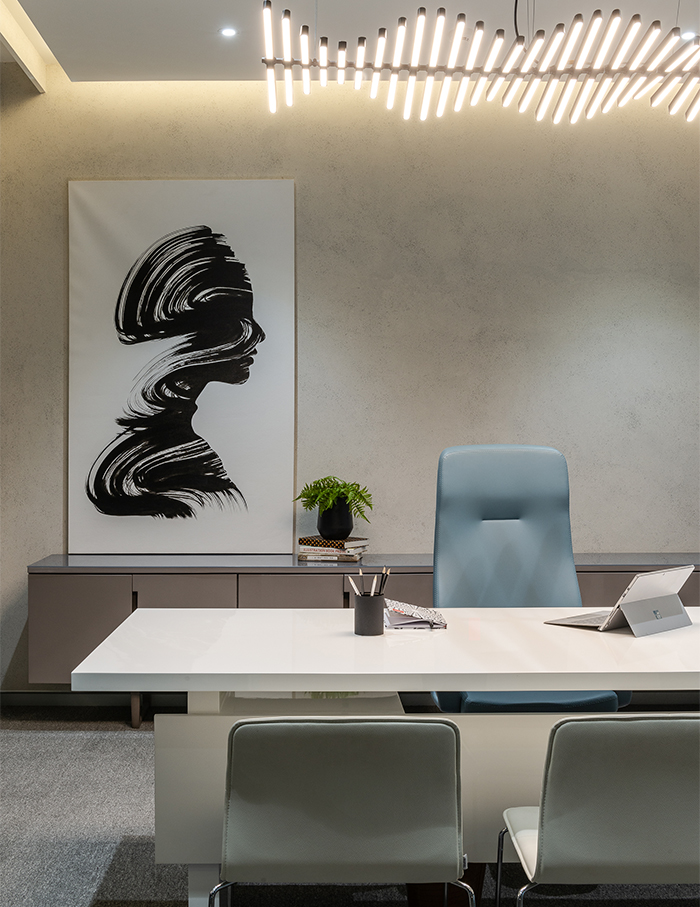 The work zones have been strategically constructed to execute a perfect synergy between contemporary design and Vaastu requirements. Interestingly, the plan delivers fluidity between spaces and encourages an unobstructed circulation. The layout produces a functional network with the reception at its epicentre, while the workstations and private lounge are tucked away behind it, and managerial cabins at the periphery.
Mumbai office by SSK Associates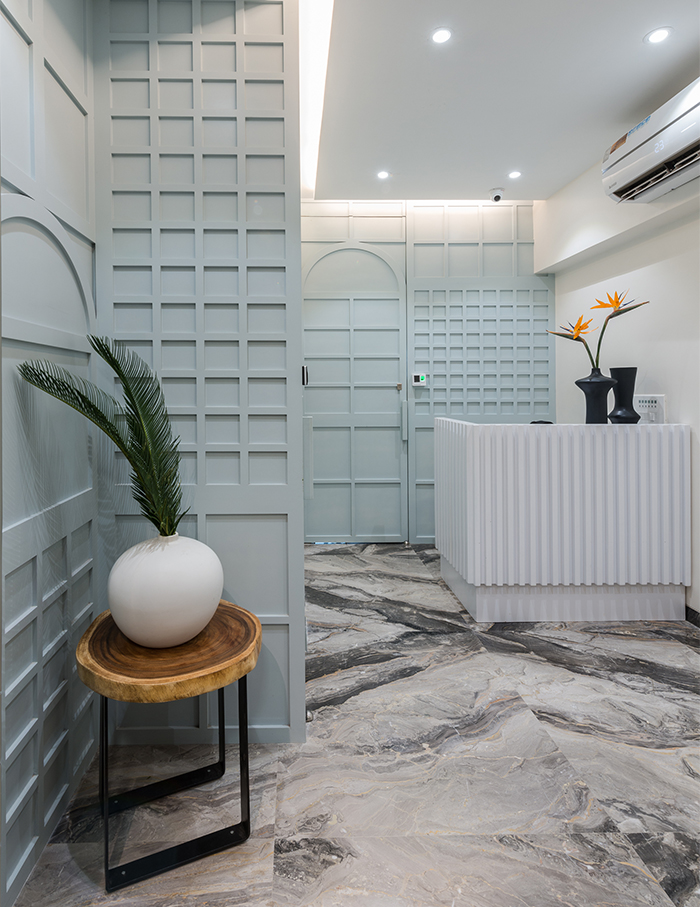 This 700 sq ft space in Mumbai's Opera House experiments with minimalism, using varied materials such as traditional wood and Alaska marbles with beautiful grey lines. It breaks the spatial constraints by including a functional and optimal layout with soundproof walls that serve as partitions between cabins.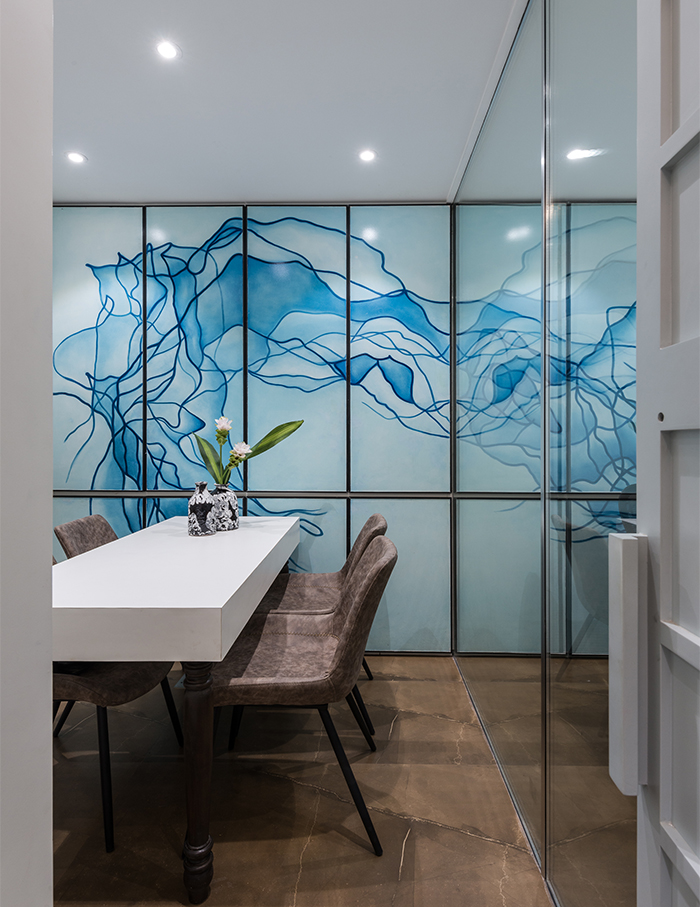 This small details allows the maximum spread of light, enhancing the space while using roller blinds hidden in the ceiling to create privacy. The use of a pastel palette gives the office a peppy and fresh look while maintaining its minimalist core. The entire office space is accessories with pieces from Defurn.
Toppr HQ by Purple Backyard
Another project by this practice is this HQ for an e-learning app, where the design focuses on sustainability and the judicious use of materials. But just because the space embraces climate positive philosophy and function doesn't mean it skims on aesthetics. Overall, Toppr sports an industrial vibe with exposed service-ducts and pipes running along the ceiling. It draws from Brutalism but is softened through the use of upholstery and planters. A sun-path is installed for daylight saving and glass partitions are placed to maximise natural light (and also double up as writing surfaces). The traditional reception is replaced by a meet-and-greet area. We love how the cafeteria is structured as an informal and casual section. Wood, concrete and granite are used as are hanging lights and planters here. Plus, it opens up to a 3,000 sq ft deck speckled with more shrubbery, making it the perfect place for employees to unwind. 
Home Office by Sanjyt Syngh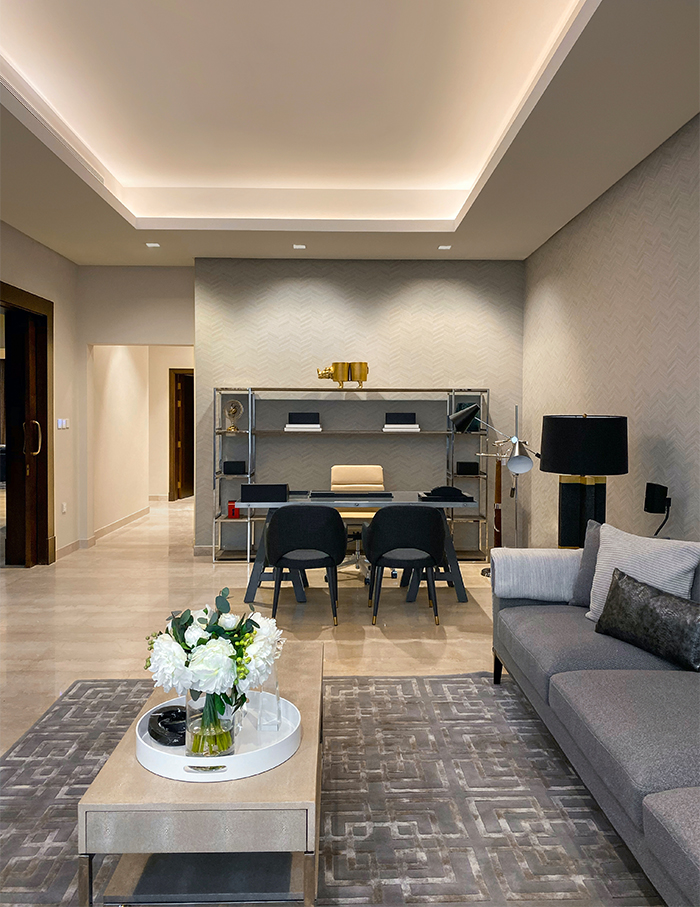 Delhi-based interior designer and stylist Sanjyt Syngh is famous for his bold and eccentric ideas! His plans for a stylish and sophisticated home office in Dubai during this pandemic have been to fashion a simple yet efficient space ensuring optimal workflow. So, a designated office area within the premises is created by placing a desk and chairs in a quiet part of the house.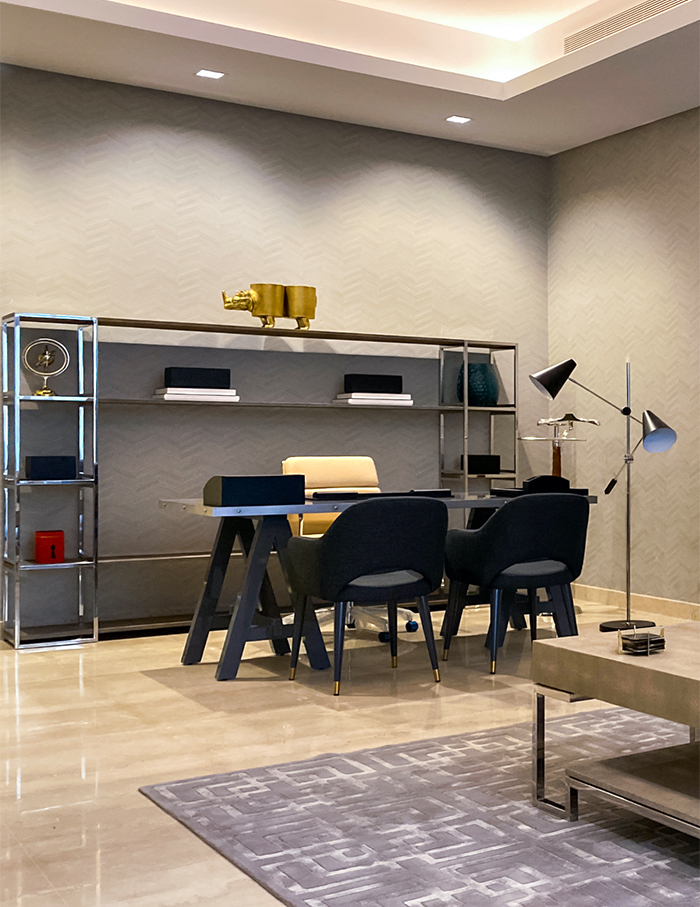 Syngh limits the colour palette to neutrals but juxtaposed with luxurious furniture and carefully selected accents. His strategic use of natural light and a mix of lighting fixtures lends an illusion of this section being bigger. There is, however, no compromise on the overall decor—the subdued design and hues of the desk, chair and storage units perfectly match the neutral grey shades, giving the space a cohesive look.
Kandinskioisys by Compartment S4
The workplace is an abstract interpretation of a painting by Wassily Kandinsky, designed to literally experience the space as a painting. It includes all the parameters essential to a functional design. Indeed, the lines, colours, shapes, composition, balance, imbalance, intersections and divisions are all decoded from one of Kandinsky's untitled paintings. These were then materialised to achieve offbeat aesthetics—one that's rooted in comfort and efficiency, and to maximise storage and minimise clutter.
Lucky Securities by Parthenon Architects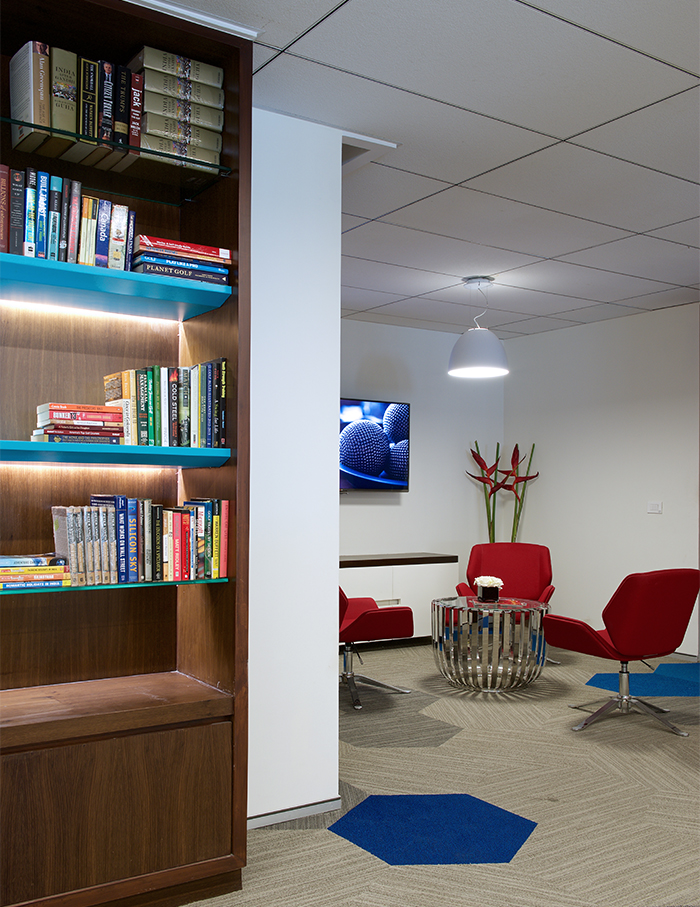 Designed by Zaki Shaikh and his team, this 7,500 sq ft office in Mumbai uses optical strategies to combat the shortage of natural light. The reception is fashioned to look like an integrated part of the space. It is framed with a backdrop made of statuario marble that serves as a focal point. Glass partitions give a clear view of the workstations, allowing visitors to enjoy the spectacular hexagonal carpet tiles that lie within. This reception area is inspired by the essence of nature—it adorns a rich green wall that connects the area to the outdoors. The cabins have been kept all-glass to integrate them into the main office and amplify the spread of natural light, but at the same time offer privacy and confidentiality. 
Happy Monday by Valentin Blanchard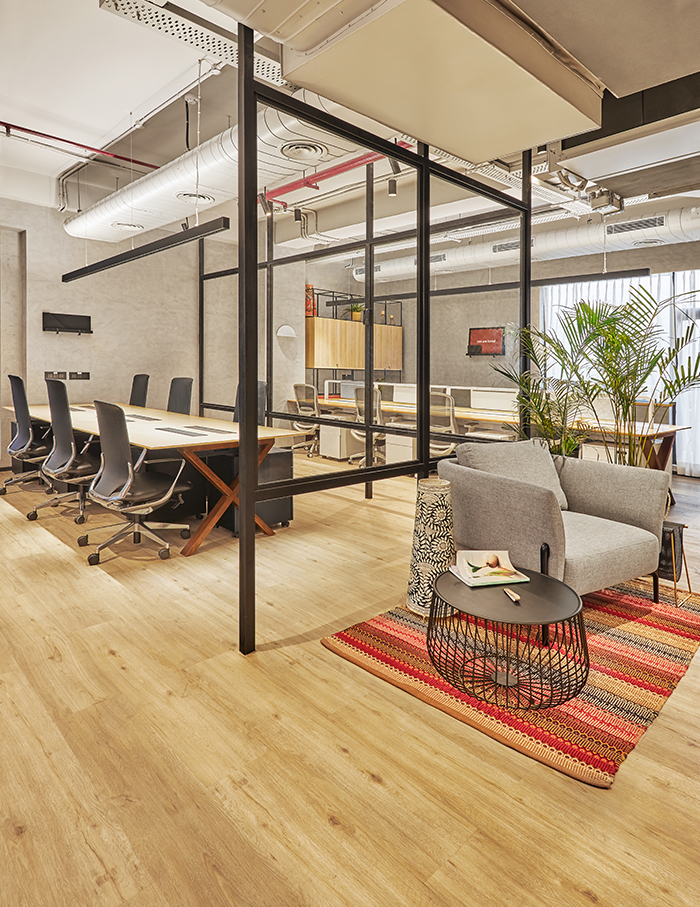 Every good design begins with a good story! Located in Gurugram, the Happy Monday office has been revamped by French designer Valentin Blanchard to suit the new social distancing norms. The client Tushar Mittal enlisted Blanchard's help to create a new typology for the office's design. So, several "pockets" were created, all interchangeable with one another—starting with a cosy lift lobby that's made almost entirely with wooden batten. Then comes a welcome pantry, three work zones closed up by several elevated glass panels that act as barriers as well as writable surfaces, five cabins, a private meeting room, a phone booth and a collaborative/creative zone along the bright facade.
Fino Payments Bank by ANA Designs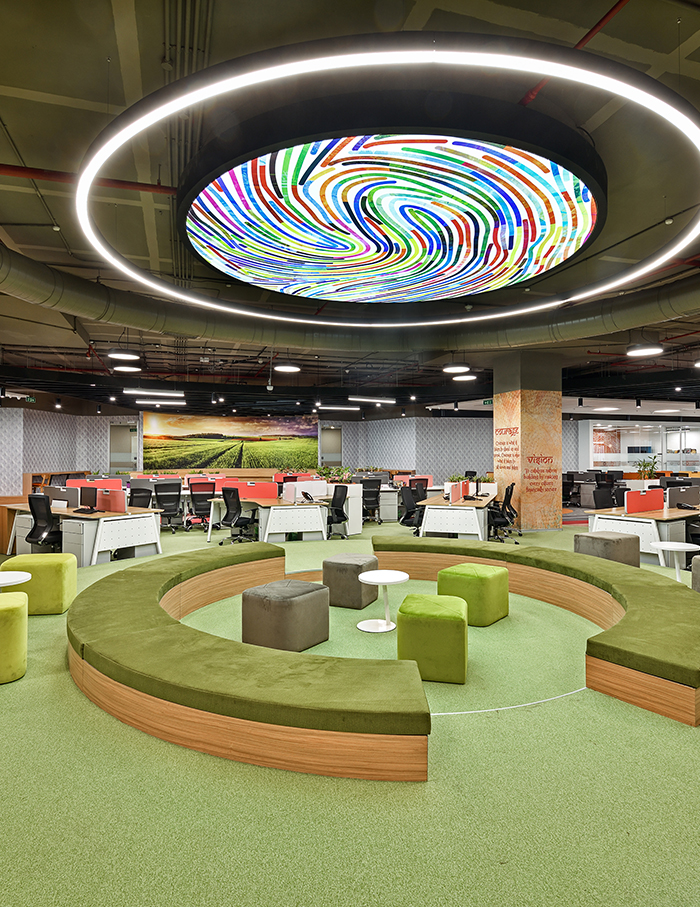 Located in Mumbai, this state-of-the-art headquarter is planned around a contemporary layout. Its vibrant aesthetic comes with a functional and open plan, which promotes workplace wellness as it is developed on the seven chakra philosophy of Trust, Reliability, Creativity, Communication, Wisdom, Frugality and Empathy. Each quality is represented through a different hue, which resonates with specific frequencies that enable wellbeing among employees. A glocal and futuristic approach is seen in the design with a blend of high-end tech and Indian-origin fabrics and artwork.