Homes
Take a tour of this elegant South Delhi home by Deepti Bansal and Joaquim C Rodrigues of Purple Studio
MAR 30, 2021
| By Sanjukta Ghosh
This lavish residence in South Delhi by Deepti Bansal and Joaquim C Rodrigues of Purple Studio is rife with themes of classic elegance and contemporary sophistication.
The 8,000 sq ft home is spread across two storeys. "It is a result of connecting two apartments on the same floor, giving us a canvas of four bedrooms," share Bansal and Rodrigues.
It renders an unequivocal charm of modernity and balances fine materials and myriad textures into spatial proportions. The creative duo says, "One of the key design requirements for this private residence was to offer functionality, convenience and comfort of a modern apartment."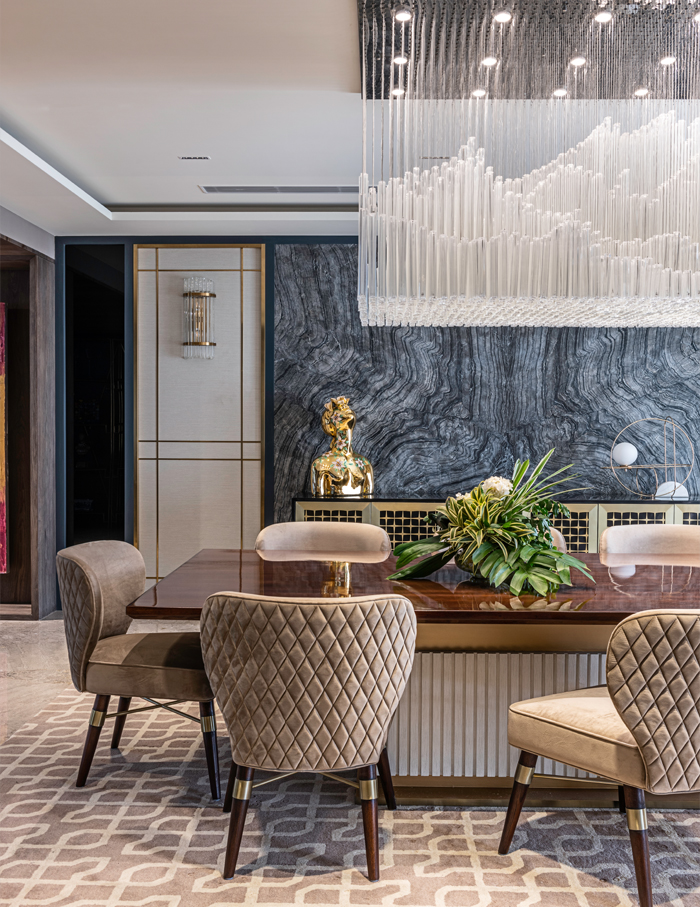 The naturally lit foyer is decorated with an artwork by the homeowner. From this point, a corridor on the right leads to the voluminous living area, which is warm and inviting. It features four distinct focal points—the formal living zone, grand piano alcove, dining area and the bar. Grabbing attention is a large artwork by the homeowner that's placed between the living and dining spaces.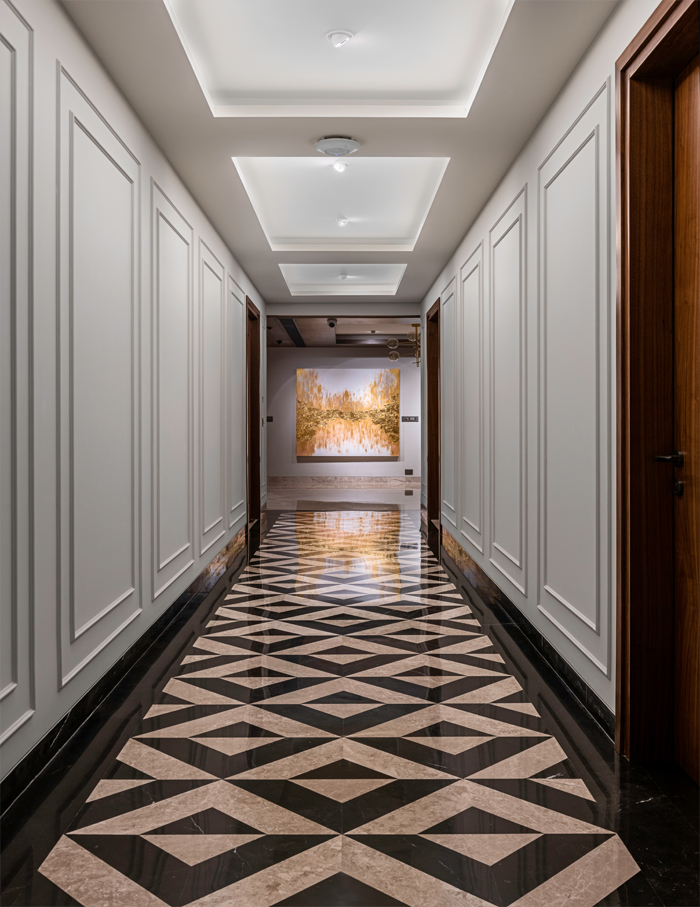 Undoubtedly a show-stealer, the living room uses white oak panelling, velvety curtains, an ensemble of sofas with textured fabrics and brass accents—all of which stand out against the beige marble flooring. Bansal says, "The house is designed with a neutral colour palette to complement the client's artworks. The base material palette of wood, rich fabrics and wallpapers is complemented by gold accents."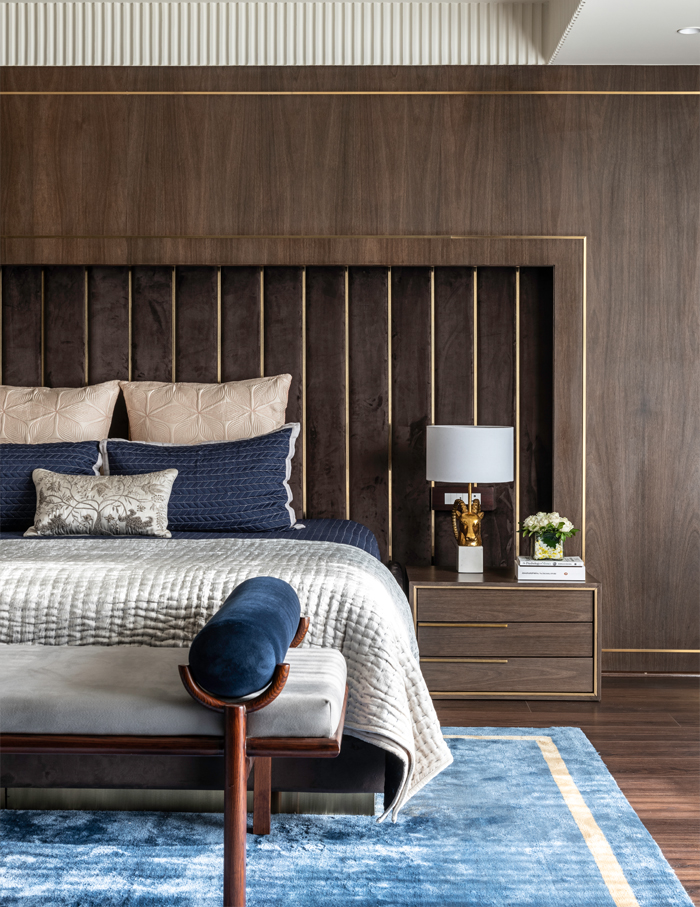 Each space is done up with intriguing elements. The guest room, for example, boasts a botanical theme. Meanwhile, a large informal entertainment area is giving an edgy look with a black and white houndstooth carpet.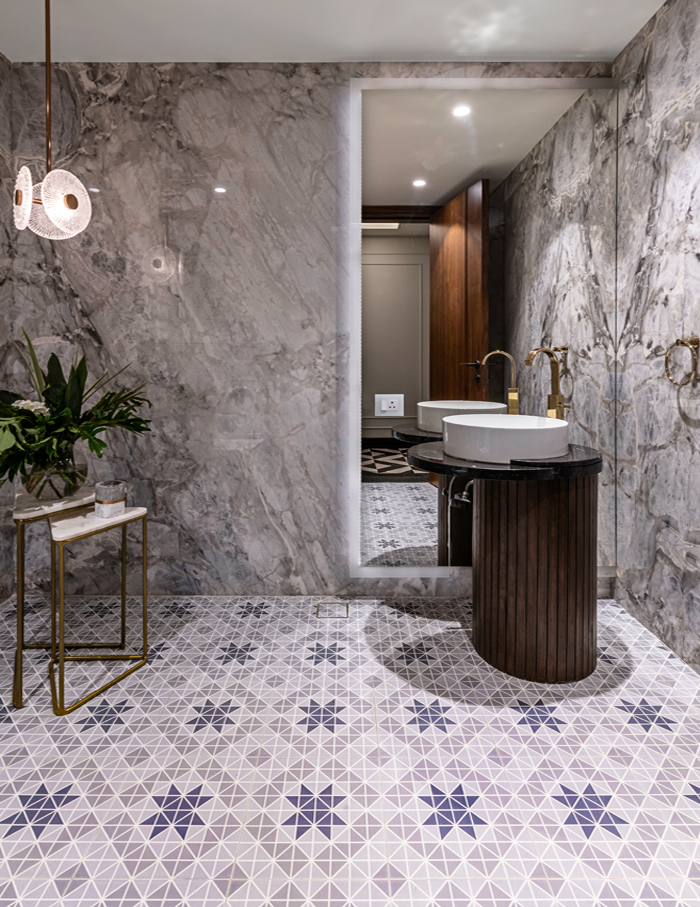 Adjacent to this family room is another guest room with a separate study. It is decorated with soft neutral colours, rich natural-finished wooden panelling and mirror-finished gold detailing.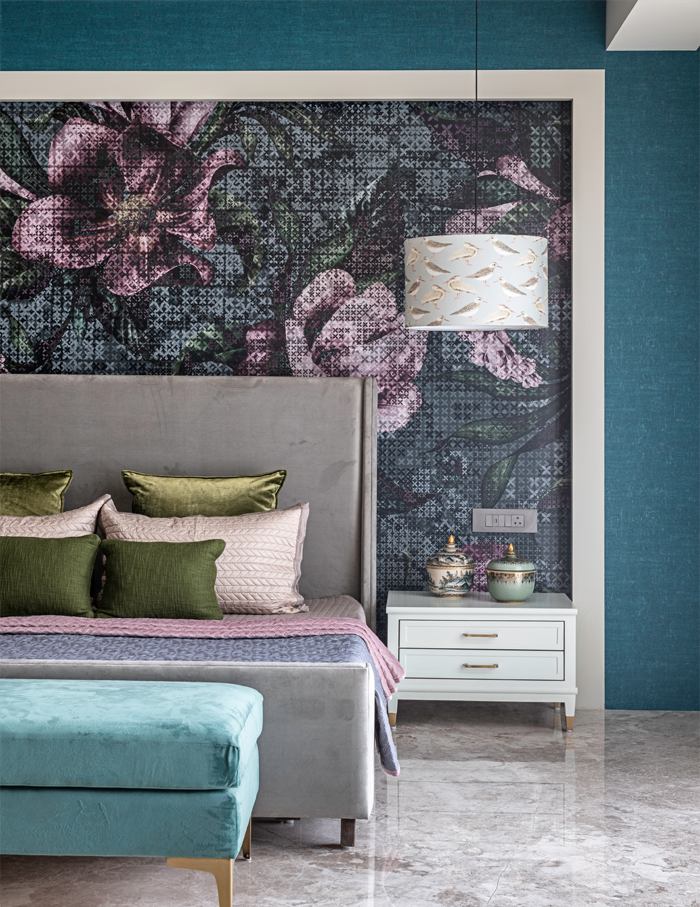 In the master suite, the bed and headboard are furnished with plush fabric panelling and accented with brushed gold strips. Poised neutral colours and natural-finished wooden panelling on the walls and ceiling give the space a distinct look of nuanced luxury.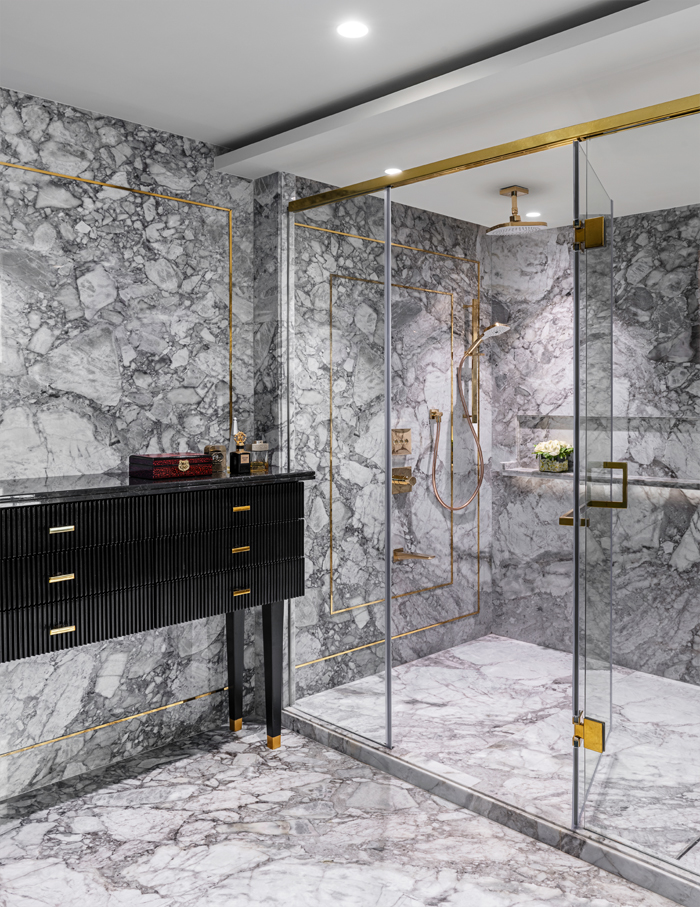 Past a walk-in wardrobe in the homeowner's room is the ensuite facility. It is donned in elegant statuario marble as well as fitted with black and gold vanities. "Our philosophy is to design solutions without compromising the integrity of materials. With this project too, we've met functional needs with playful experimentation," the pair says.