Homes
Surabhi Kankaria Shah and Arpit Jain present a craft-effused home in Vadodara
AUG 28, 2020
| By Sakshi Rai
When Vadodara based interior designers Surabhi Kankaria Shah and Arpit Jain first visited this penthouse in the city, it was all but a bare shell—a blank canvas bathed with plenty of fresh air and sunlight, uplifting spirits like no other. So, they ensured that daylight still streams inside the home they've designed, through numerous open windows, creating a calm and tranquil setting.
Nestled in a premium locale, this 5,000 sq ft residence adapts a contemporary theme with Indian elements—from bespoke artefacts to opulent chandeliers. Each piece contributes to the overall decor composition and adds to the ambience of each section of the home. "Our client is a builder himself. Designing a home for someone who is well versed with the utilisation of spaces and exposure of materials ensured that we raise the bar for this project," shares Shah.
The living room acts as a midpoint and bifurcates the streamlined property running along an east-west axis into two halves—so as to offer both connectivity and isolation. The entire home is connected by a 87 ft-long corridor with chevron patterned brass inlay atop white marbled floors and matching pendant lamps.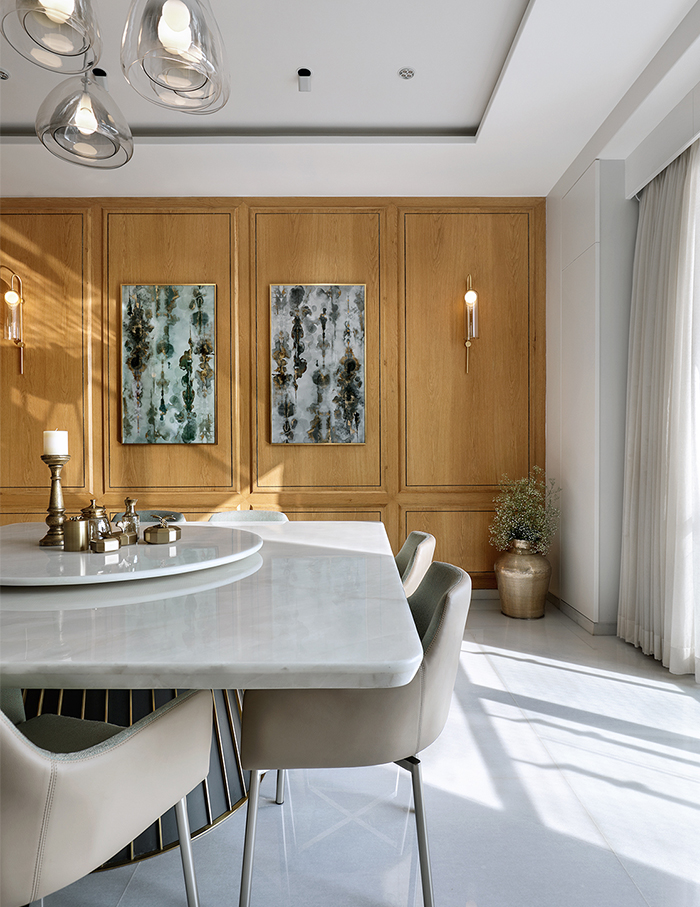 An Indian touch is synonymous with intricate detailings, exquisite textures, colours and materials—all of which make an appearance in this abode. Greeting us at the threshold is an oak veneered door with patina finished brass inlay plates and a customised cast patina finished brass door handle.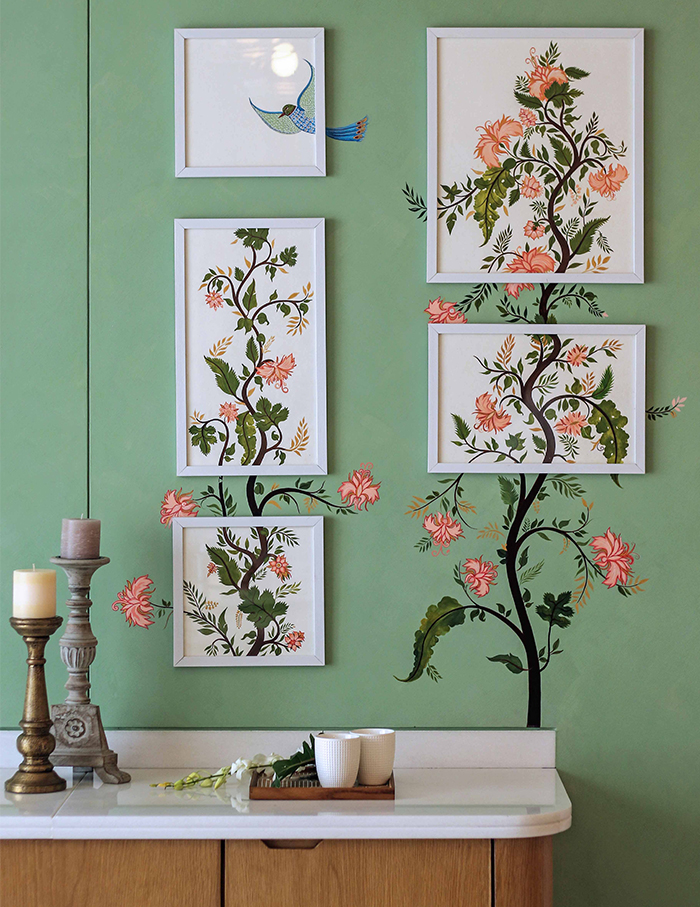 A foyer extends on either side of this gate. The outdoor foyer looks resplendent with a branched Venetian glass and brass chandelier emerging from a white, welded antique brass panelled ceiling. It also houses a bespoke brass console with an Austrian white marble counter.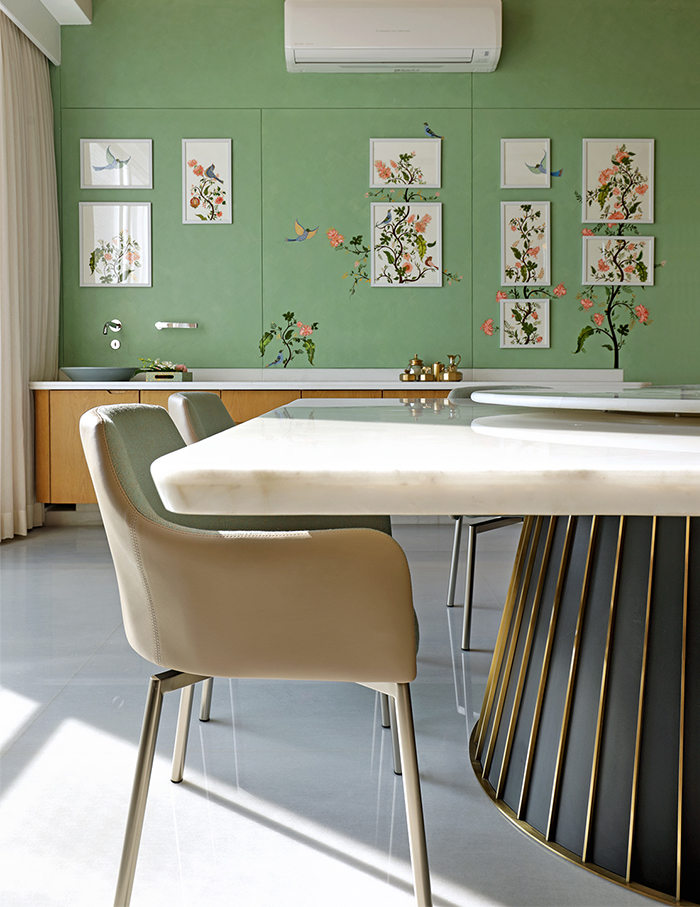 Inside, white marble walls with carvings flank a Mughal inspired brass sculpture in satin gold finish and lead to the living room. The regal, yet earthy space is spruced with antique wall mounted artworks depicting ancient Indian architecture. Also seen here are wooden and cane sofas upholstered with jute fabrics in deep hues.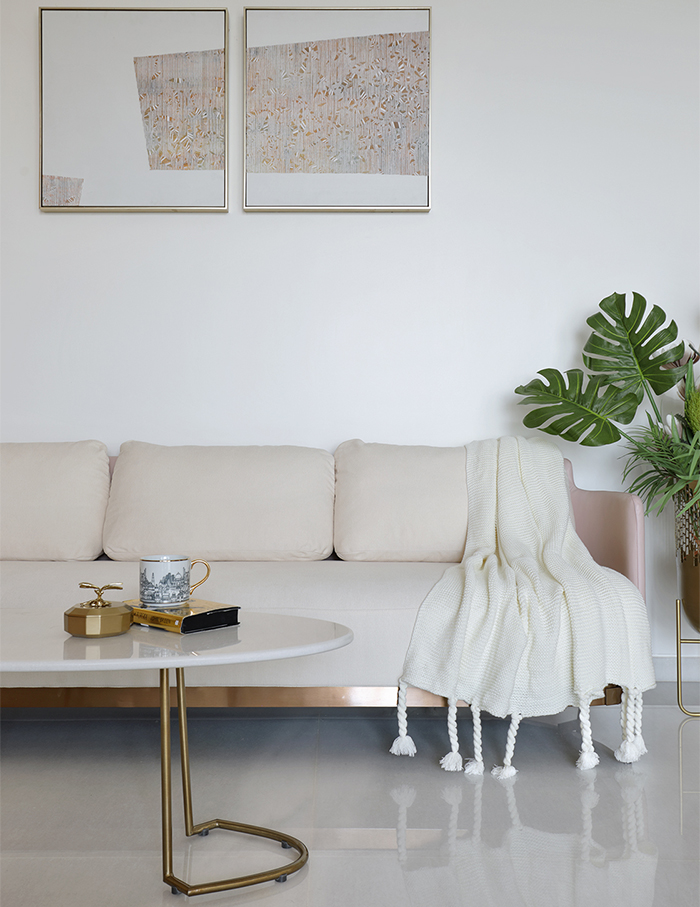 An oak veneered wall with moulded details separates the living and dining areas. The latter is clad in plush furnishings and panelled walls with patina finished brass patti inlay. Tropical prints line the mint green wall facing a pristine dining ensemble with a marble tabletop and eight seaters. We love the floor-to-ceiling glass windows that offer unobstructed views of the outdoors during mealtimes.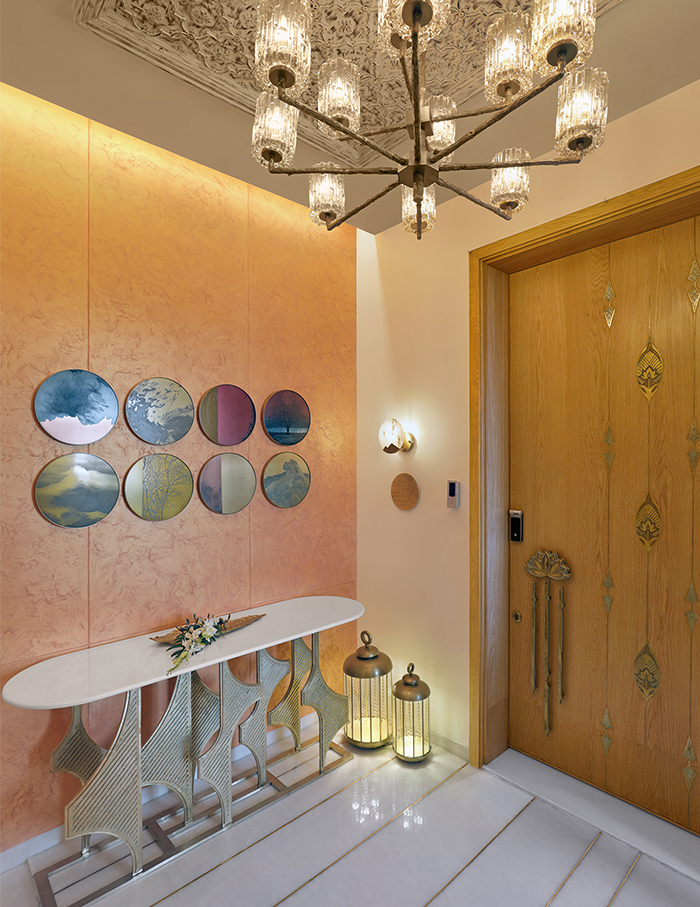 The creatives ensured that bulky appliances and equipment didn't disrupt the artistically curated home. This tact is evident in the Aran kitchen setup as well, where a quartz countertop and Siemens fittings conceal the microwave and dishwasher.
This residence also boasts of a grey and oak veneered home theatre, undoubtedly the entire family's favourite hub. A dramatic ceiling and wooden floors set the stage for many cosy movie screenings—a luxury we all miss given the current situation!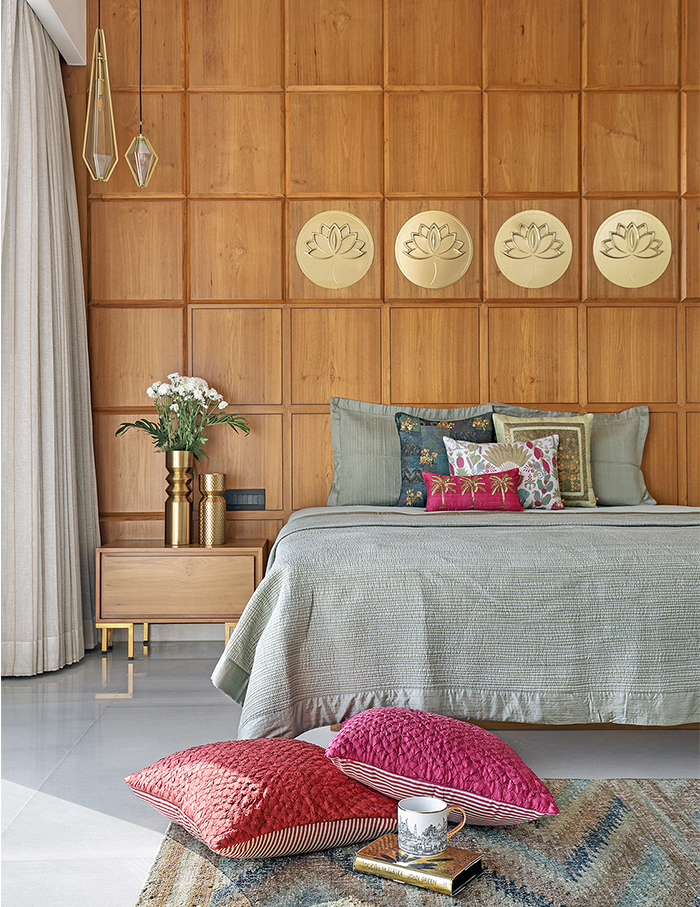 Each of the five bedrooms are a prominent and personalised expression of its occupants. The most spacious of the lot, the master suite, is conceptualised around the characteristics of a lotus. Hailed as a symbol of hope and strength, the motif is cast on brass sheets as well as the teak veneered headboard.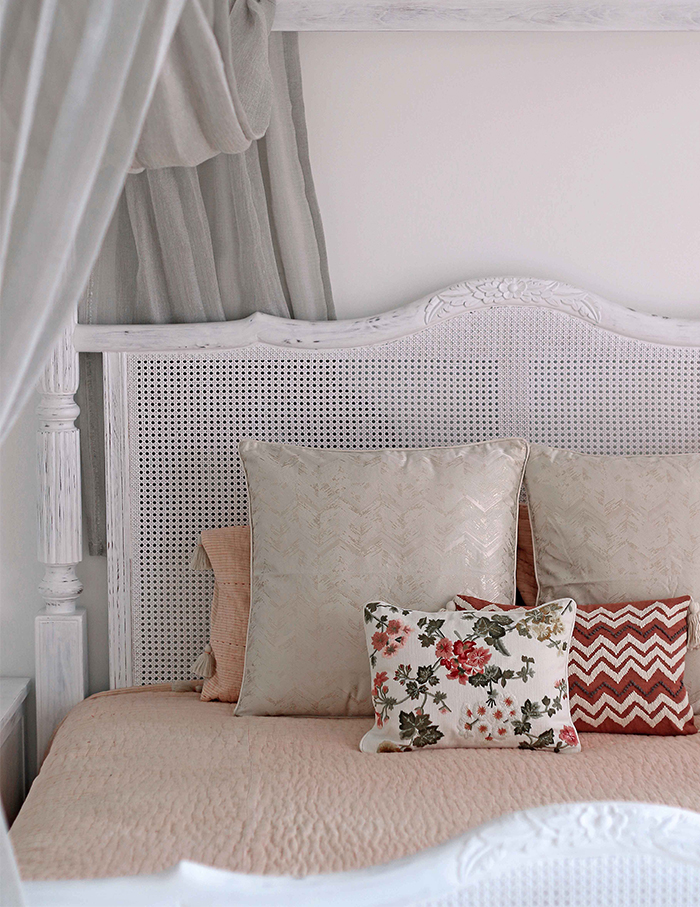 We love the bygone allure of the daughter's bedroom brought in by a bed, side tables and a chaise lounge—all crafted in cane and finished with an antique white polish. This space employs a soothing, summery vibe realised with sheer curtains and peach and white tones.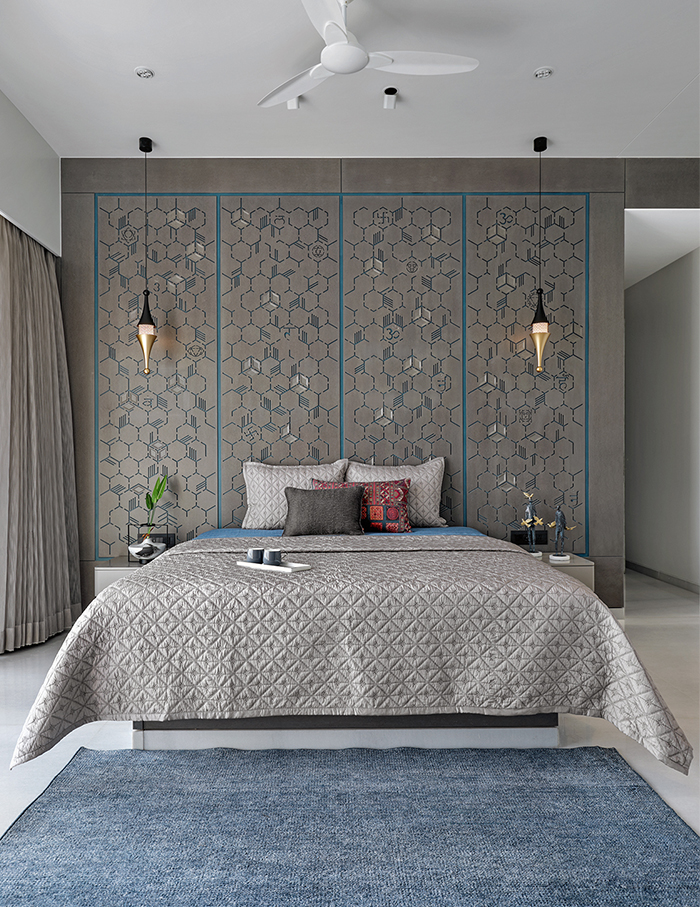 In contrast, the son's bedroom is bathed in more sombre shades of grey and blue. This nearly monotonal palette seen in the linens as well as the sleek cabinets hints at a style that is understated yet luxurious. The setting is further enhanced with a hexagonal cut-out pattern and Sanskrit symbols, inspired by the geometrical music theory, that adorn the main wall as well as an orange and beige armchair.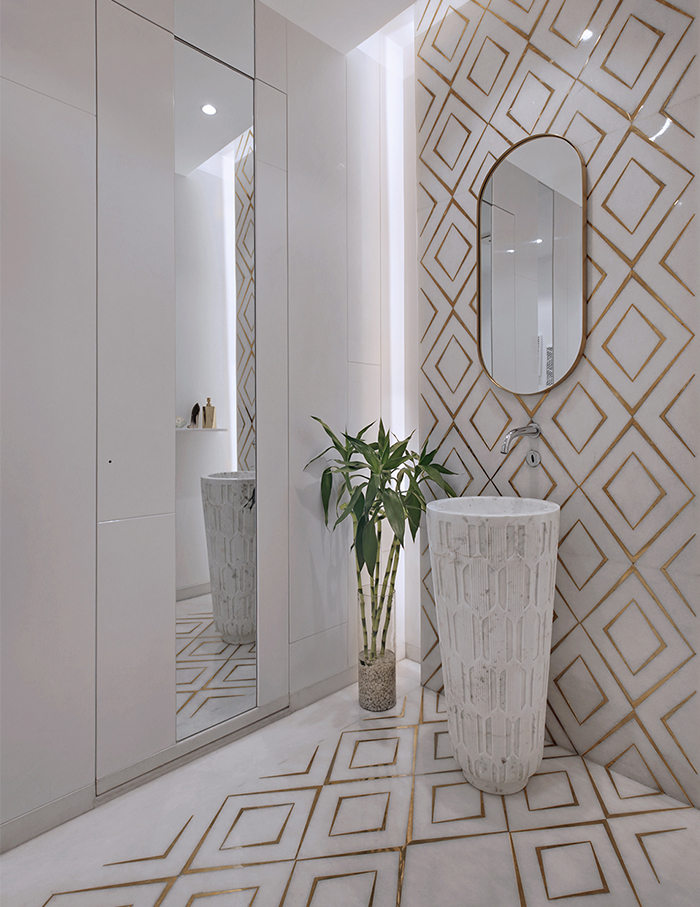 Design, detail and a medley of premium materials makes their way to the bathrooms as well. While the master washroom sees the use of Satvario Italian marble, a naturally water resistant, elegant stone sourced from Silvassa, the daughter's bathroom sees Portuguese patterned floor tiles.
Even more spectacular is the powder unit with a bespoke basin fashioned atop a stone pedestal and surrounded on all sides by white marble and diamond patterned brassy inlay. The son's washroom sticks to a classic canvas with black and white tessellated marble surfaces that form intriguing illusions.
Scroll below to see more images of this craft-effused Vadodara residence