Homes
Suffused with chic interiors, this New York home by Crystal Sinclair Designs is rife with an edgy aesthetic
JAN 2, 2021
| By Vedika Nair
What was once a home with empty spaces, beige walls and minimalist interiors is now a bold, edgy and dramatic two-storeyed abode courtesy of Crystal Sinclair Designs. Located in Rye, New York, this nearly 3,000 sq ft home features five bedrooms, four baths, a basement and a colonial-style front porch. 
"The clients loved my design eye and playful, bold aesthetic and wanted something similar for their home—a little bold edge while keeping the classic elements in place," shares Sinclair.
Binding chic interiors with its colonial bones, the home is a well-rounded space that is sophisticated and child-friendly at the same time.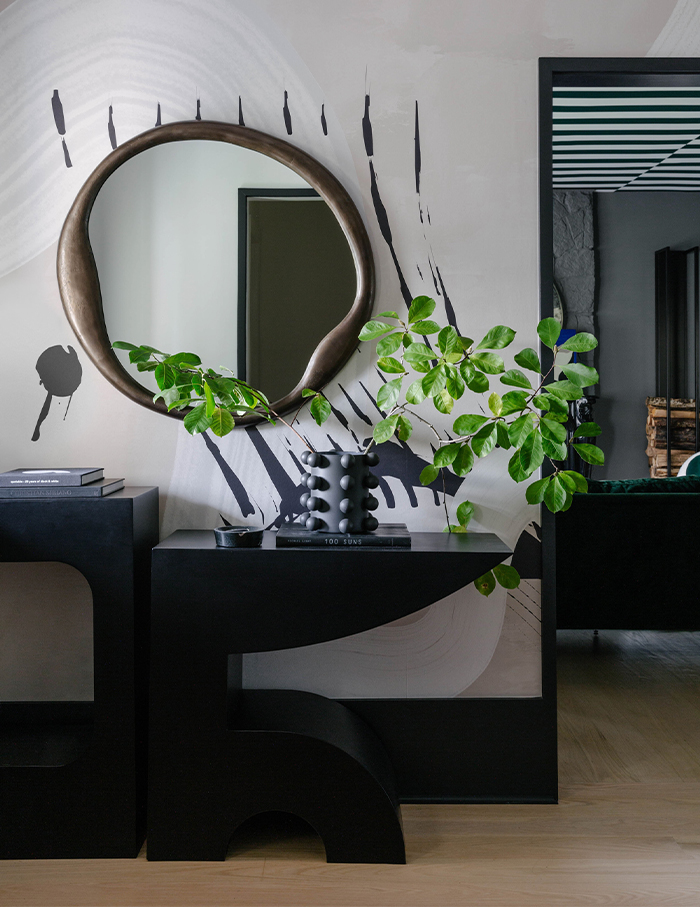 The abode's transformation included enlivening the empty living and dining spaces. Modern textures and elements were paired with bold furnishing and tones to achieve the home's aesthetic. Sinclair made sure attention was paid to every detail around the home to tie the space together.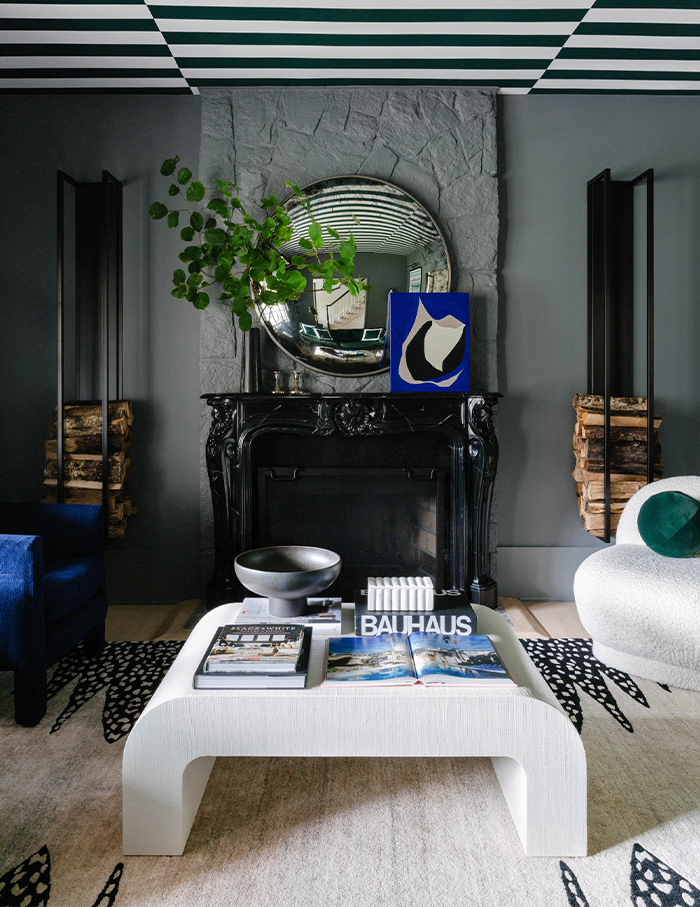 At the entrance, we're greeted by a strong geometric console paired with an organically round mirror and whimsical wallpaper. On the left, lies the living room where we're captivated by the striped ceiling and marble-like fireplace. Meanwhile, on the right, the living room opens up to the dining space that is covered in plaster fluted walls.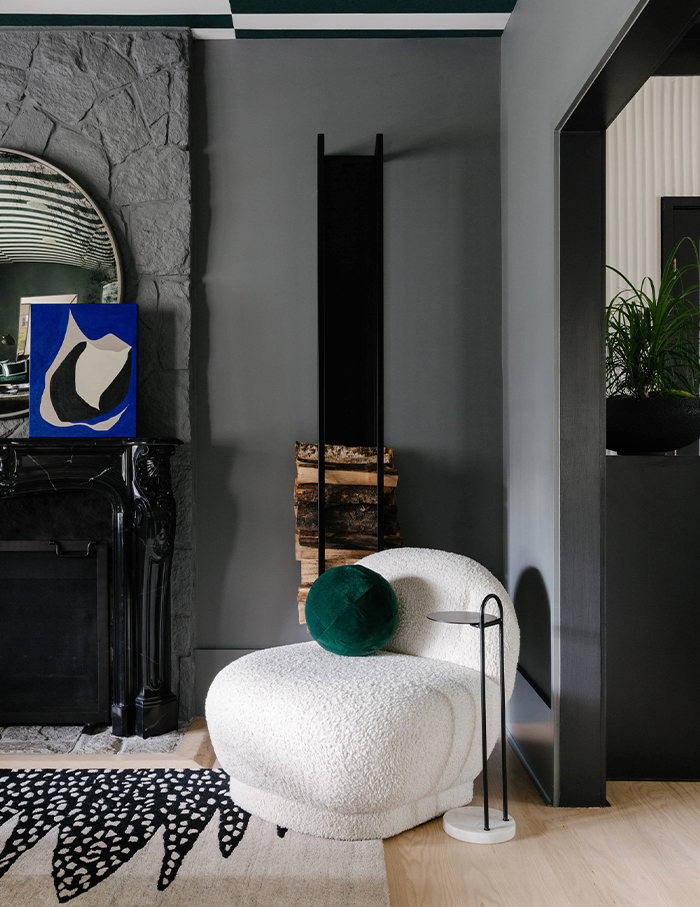 The home also features a custom banquette that is adorned with mirrored lights and is placed by an offset window. A doorway here leads us to the kitchen that is furnished with new modern black cabinets, honed granite tips and a black marble splash. In stark contrast, the all-white breakfast nook is perfectly cosy and is accented by a bright Linda Collette painting.
"I think my favourite room is the dining lounge," says Sinclair, adding, "The plastered walls and custom banquette really are stunning and more so in person. When the sconces are turned on, the lights casts beautiful shadows on the fluted walls creating such drama!"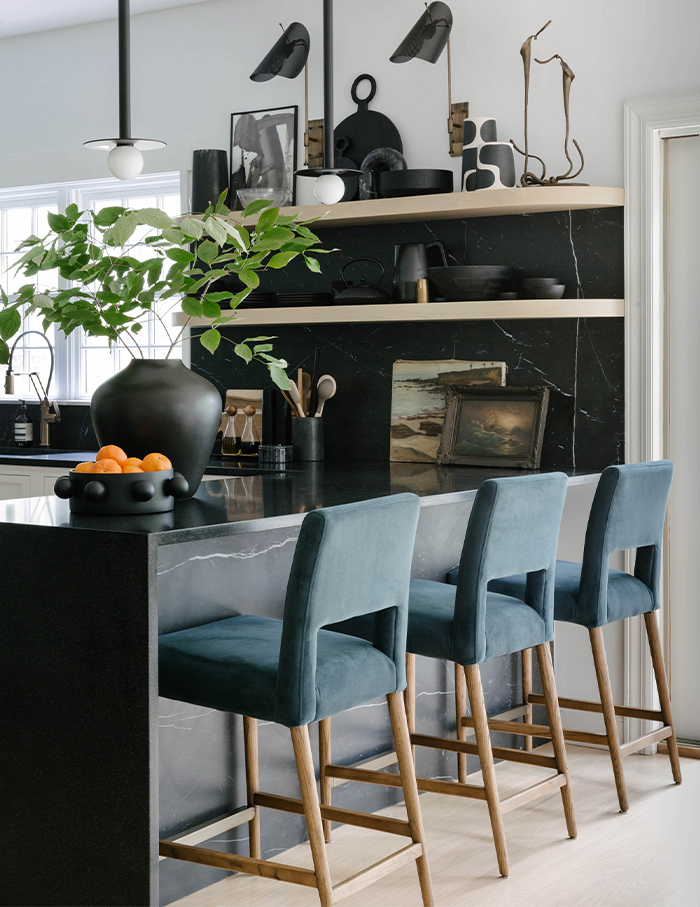 With a material palette fit for royalty, the home is cloaked in toned neutrals, with tons of black and white. A deep blue and blush pink palette was also created, adding fun and sophistication to the home. Velvet, marble, linen drapes, leather accents and more completely transform the home to be more modern and aesthetic.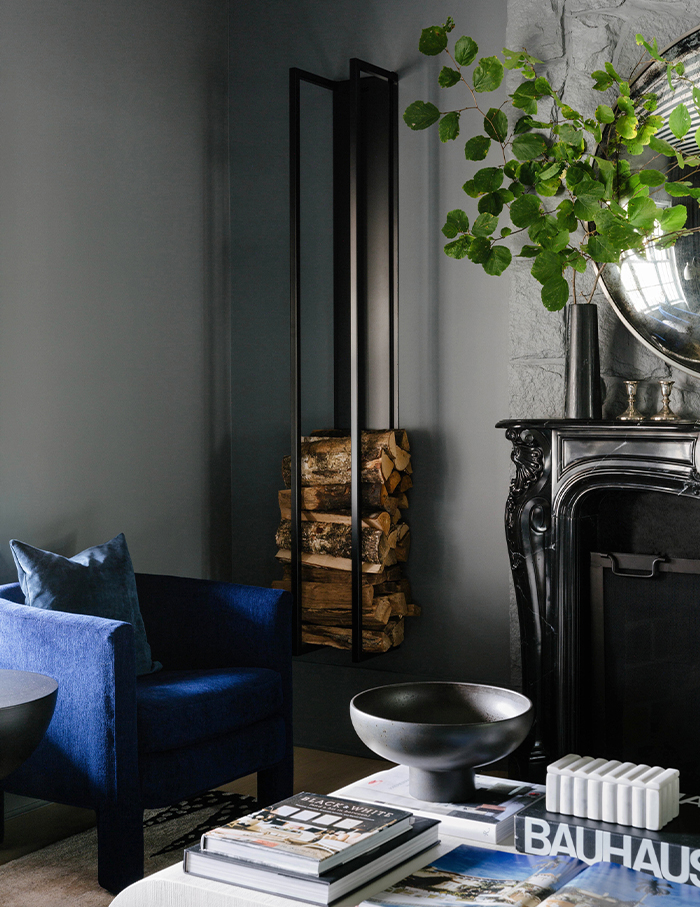 "No museum-like quality spaces—I designed a room that is inviting. I feel that there shouldn't be a theme to any room or rules about what pairs well together. A space should evoke an emotion, a feeling and should reflect those living in it. I like taking chances, being playful and going bold!" concludes Sinclair.
Scroll to see more images of this New York Home by Crystal Sinclair Designs…