Homes
Of stone walls and arches: Studio VDGA brings an English countryside refuge to Pune
JUL 31, 2023
| By Diya Shah
Imagine teleporting across continents and witnessing the unhurried and gently decorated world of an English countryside home — a bit of luxury, some repose and plenteous visually appealing corners being its prescribed traits. Such an idyllic reference goes on to become a reality at a home in Pune designed by Studio VDGA, which transports its dwellers and visiting guests to an inviting, bucolic English scape.
Crafted by Deepak Gugarii, Principal Architect and Rashi Sanson, Creative Head at the Pune-based firm known for delving into architectural, interior and landscape design, the 3,000 sq ft dwelling comes alive with a noticeable fusion where rustic minimalism meets a thoughtful luxurious living, adorned with beautiful arches, earthy stone walls and wooden wainscoting.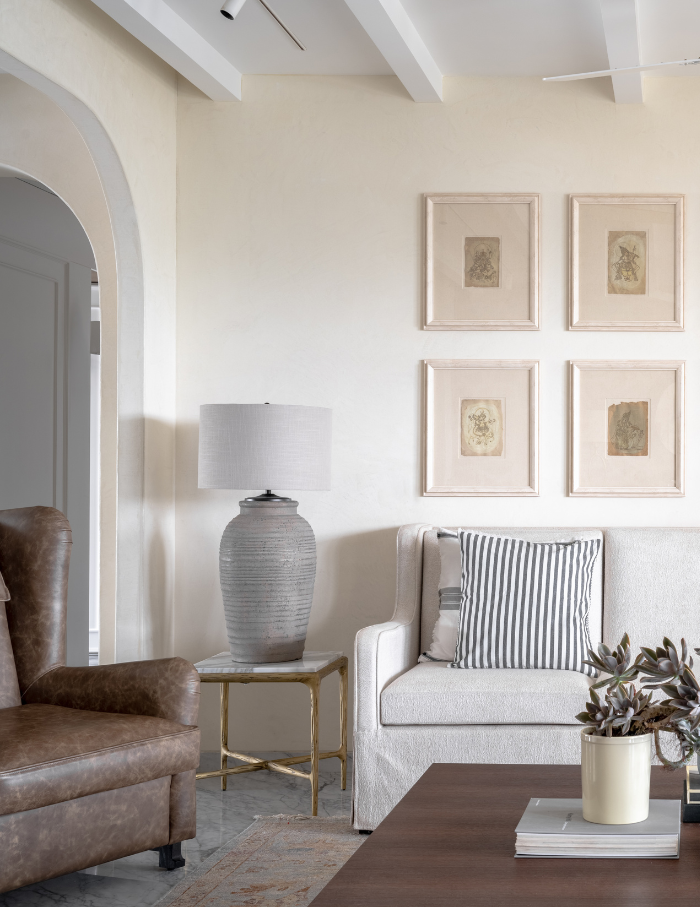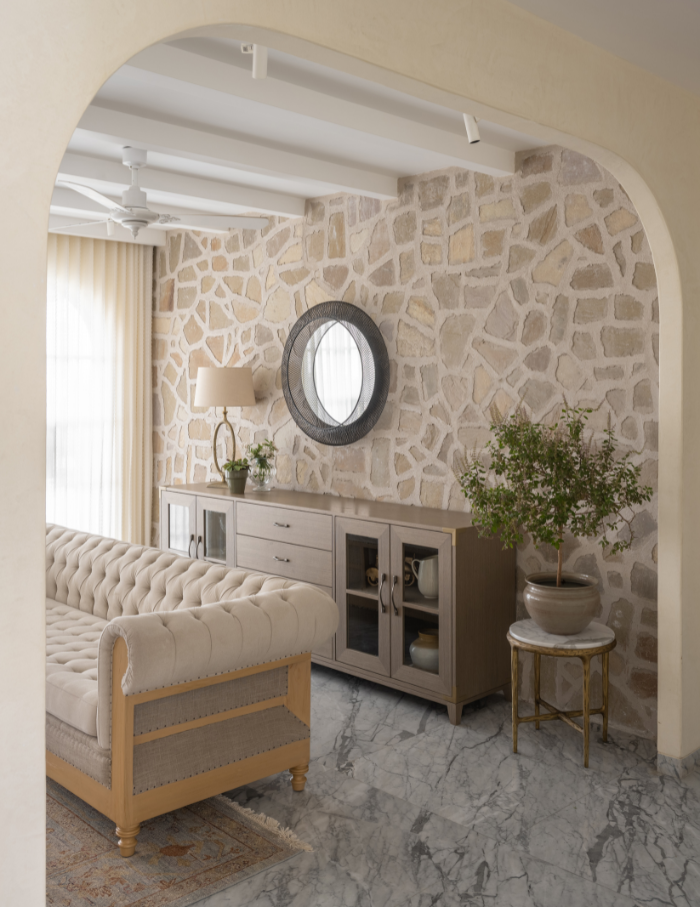 For occasions to come
Upon entry, a lobby guides to the guest room on one side. The passage continues into the apartment, separated on one side from the living room by a series of arched openings.
A classic, earthy tone prevails within the arches, characterised by the use of country stone and faded walls. Opulent but monochromatic furniture complements the overall ambience and a series of paintings depicting lord Vishnu's avatars adorn the faded walls.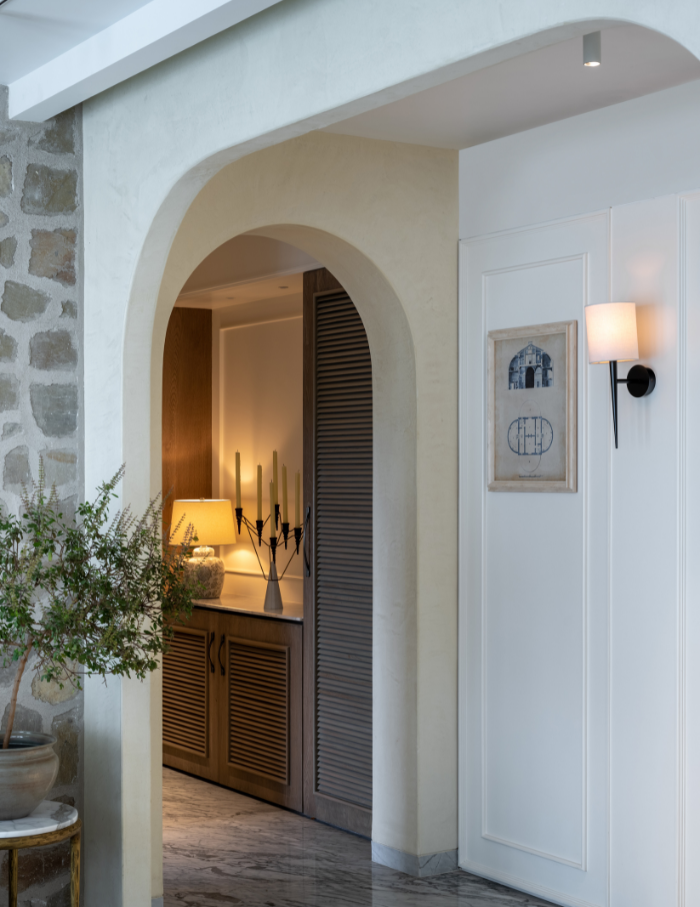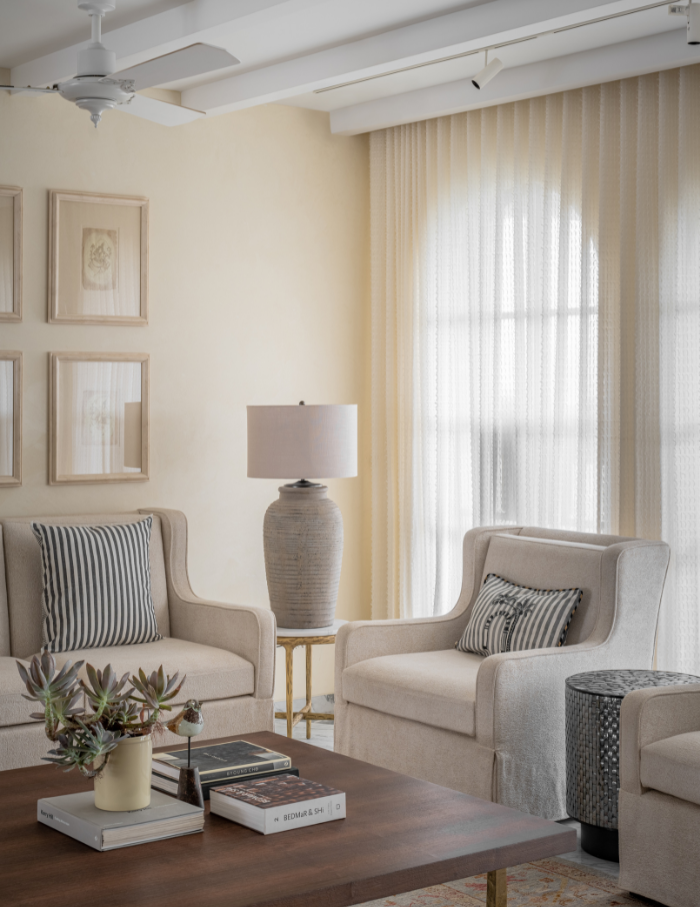 Across the passage, rays of light filter into the dining area through the sheer curtains and bathe the space distinguished by natural teak elements in a soft glow. Partitioned by a wooden storage unit, the adjacent kitchen emphasises on utility and is finished in a suave shade of blue.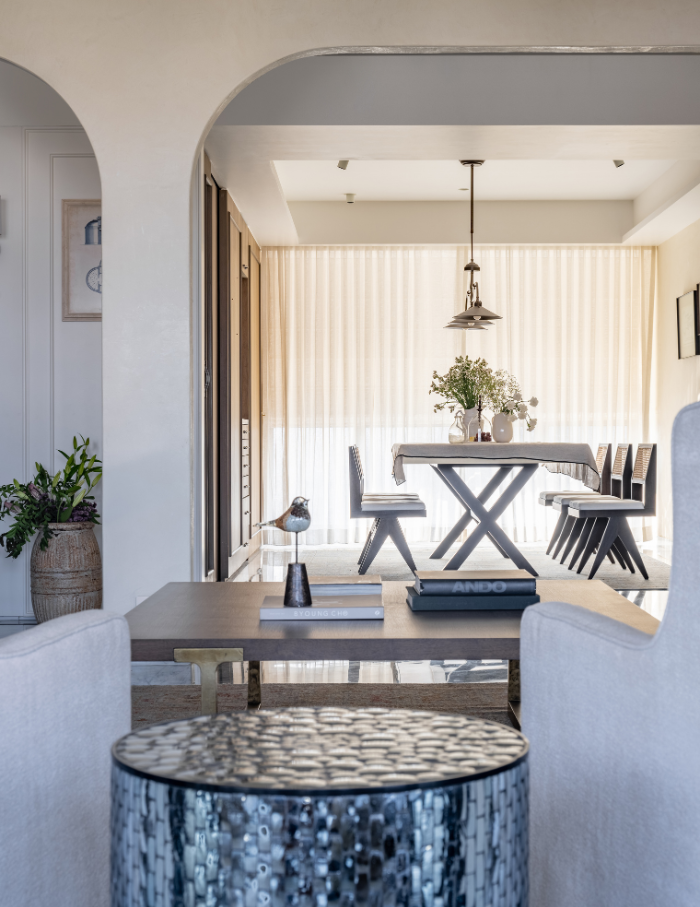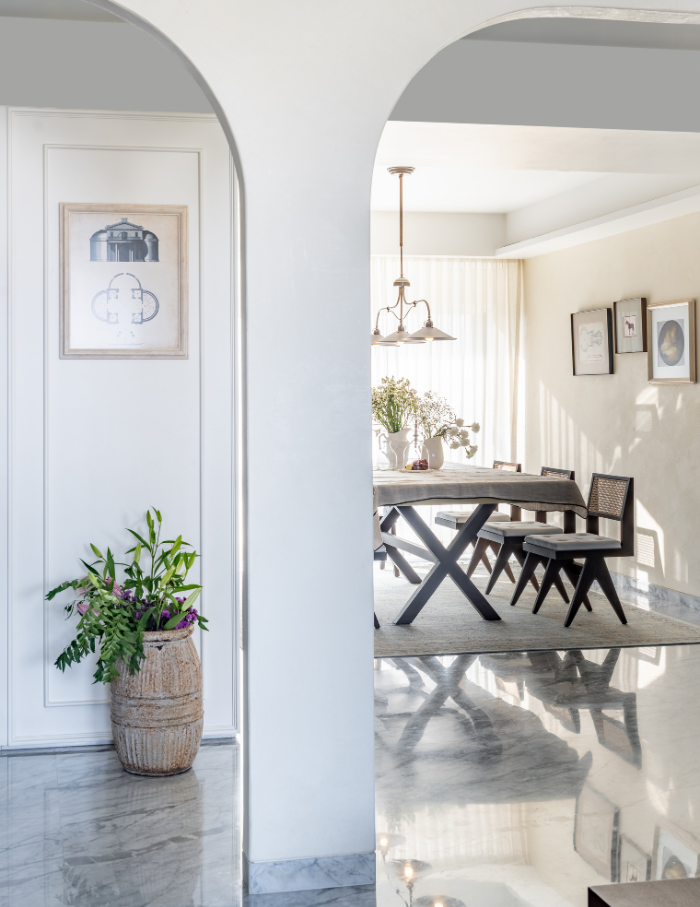 The living room opens into a large terrace envisioned for get-togethers. Furniture made of cane maintains the rustic theme. A built-in bar done in stone sits on one of the end walls. Planters dot the space, adding a splash of colour. "Since the homeowners host a lot of gatherings, the living area and terrace were designed to be the venue for evenings of cosy lounging. They are also our favourite places; the essence of our vision for the home is contained within them," reveal Deepak and Rashi.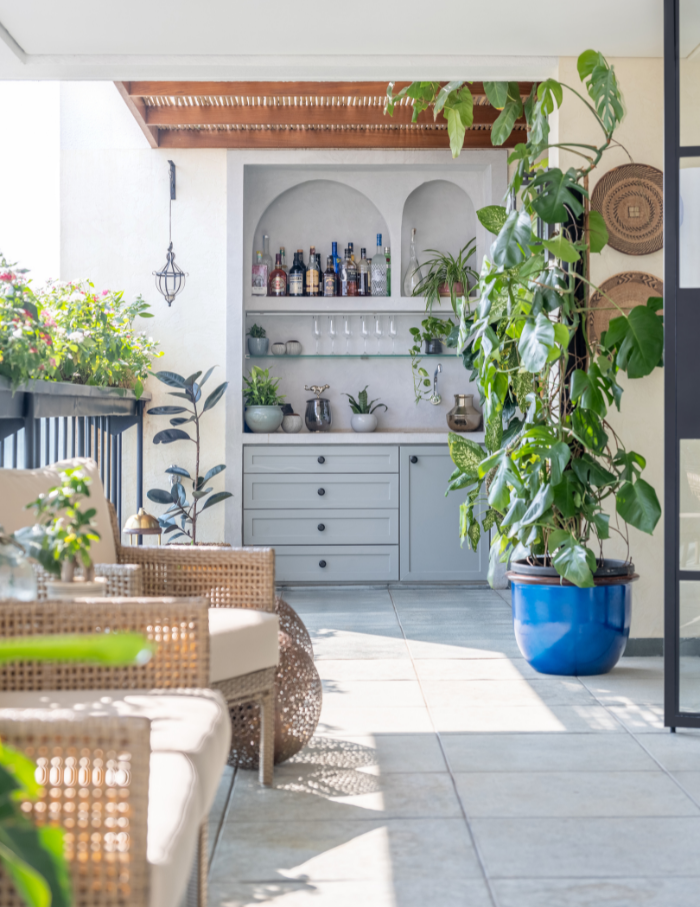 Echoes of the countryside
The passage continues onto the sons' bedroom on either side, characterised by soothing shades of grey and sleek furniture, and culminates in a powder-blue door leading into the primary bedroom. 
The primary room mirrors the theme of the home, with a rustic stone wall at the entrance that transitions into wooden wainscoting. The space is reminiscent of a cottage with wooden walls and floors studded with soft grey and white hues.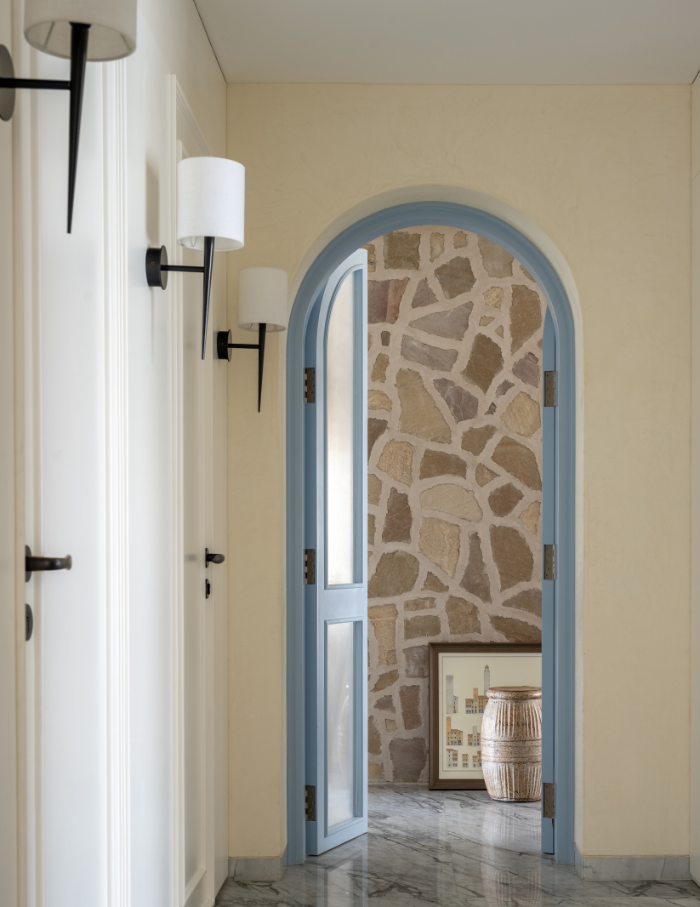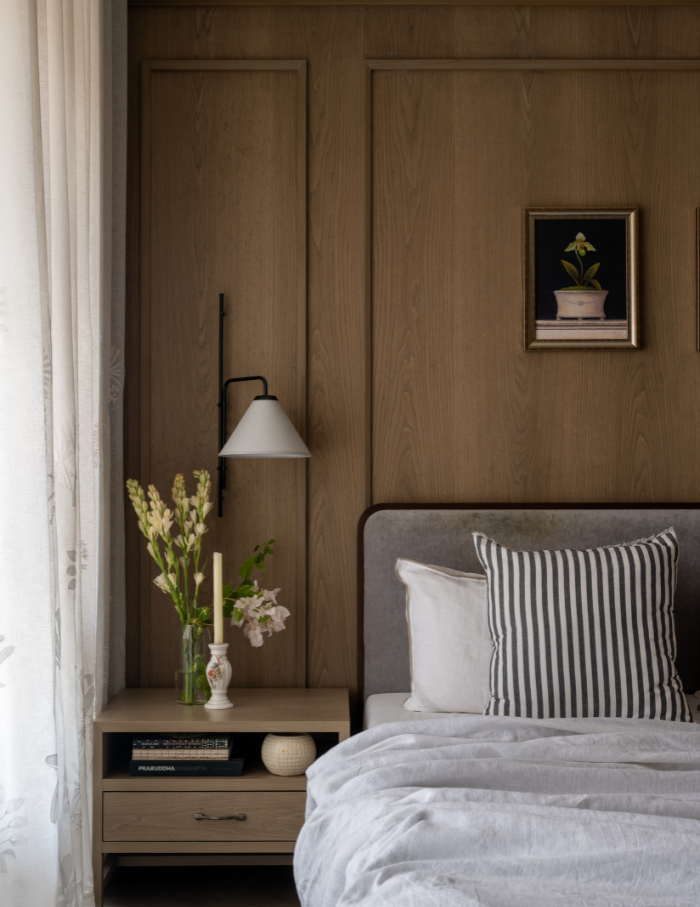 The home is a reflection of its inhabitants' dispositions and social lifestyles. "Our design philosophy lies in our versatility and ability to adapt to each contextual setting while keeping the essence of simplicity and timelessness intact. By keeping the material palette rustic yet not compromising on luxurious elements, we aimed to create subtle luxury with no obvious frills," Deepak and Rashi sign off.
You may also like: Pick your cottagecore clues and tour this seaside Mumbai home by Jazz it up Designs