Homes
Studio Saransh styles a home for all five senses with an organic confluence of materials
SEP 2, 2020
| By Sakshi Rai
This minimalist, two storeyed cove near Ahmedabad is an outcome of the mutual appreciation that both, the architectural practice Studio Saransh and the homeowners have for simple spaces and subtle tones. At 5,000 sq ft, it was built seven years ago as a four bedroom property. It has been stripped of all its finishes and remodelled from scratch as a three bedroom home.
Architects Kaveesha Shah and Malay Doshi set the tone for this project using a rich material palette. The primary focus in this home is the flooring. And for it, a combination of leather finished and mirror polished grey Kota stone is chosen. Laced with intricate patterns to curate different zones—herringbone in the living room, linear strips in the transitory spaces and wood inlay in the bedrooms—these flooring options add a visual and tactile narrative not just for the family but also their visitors.
Apart from natural stone, the house also features a significant amount of wood, all of which is reclaimed teak and procured from the city's traditional pols or housing clusters. The walls are finished with lime plaster, which acts as a natural coolant and reduces the temperature indoors. Meanwhile, solar panels on the terrace harness Ahmedabad's scorching sun to power this residence.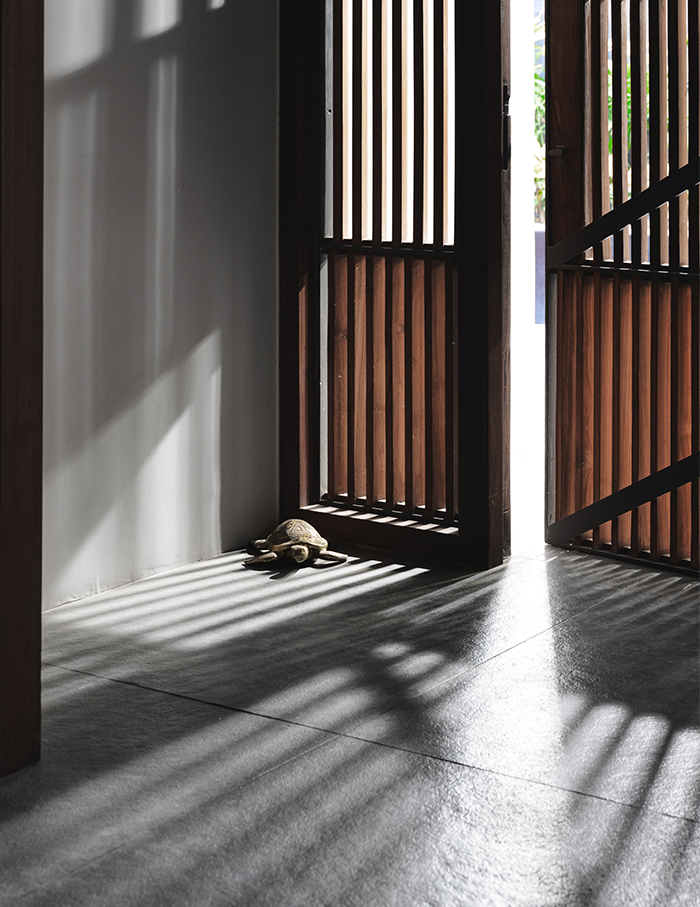 The designers emphasise the entire composition rather than any one particular wall or surface, which results in a fluent design vocabulary. "The muted shades add a level of surreality to interiors. Although most of the colour comes from the varying natural tones of wood, hints of blue visible in the soft furnishings are inspired from the city skies and complement the cool, grey Kota stone," shares Shah.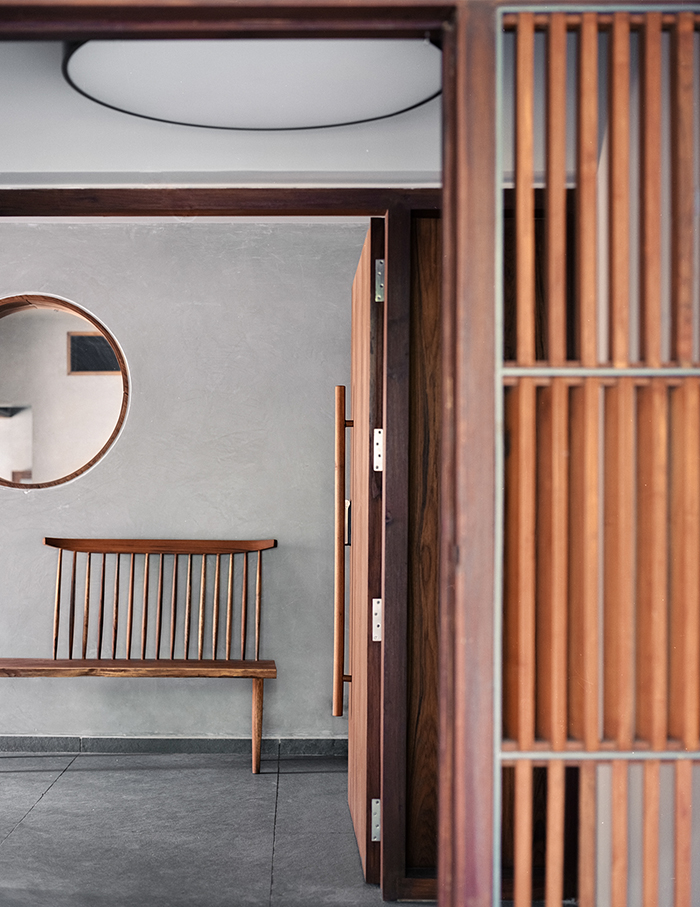 The home is accessed through a short wooden door that lies between towering boundary walls. It is clad in all black and bound by plants on either side. To its front, the designers have conceptualised a floating roof, strategically positioned to capture the evening light and cast dramatic shadows—a personalised spectacle for the owners to come home to.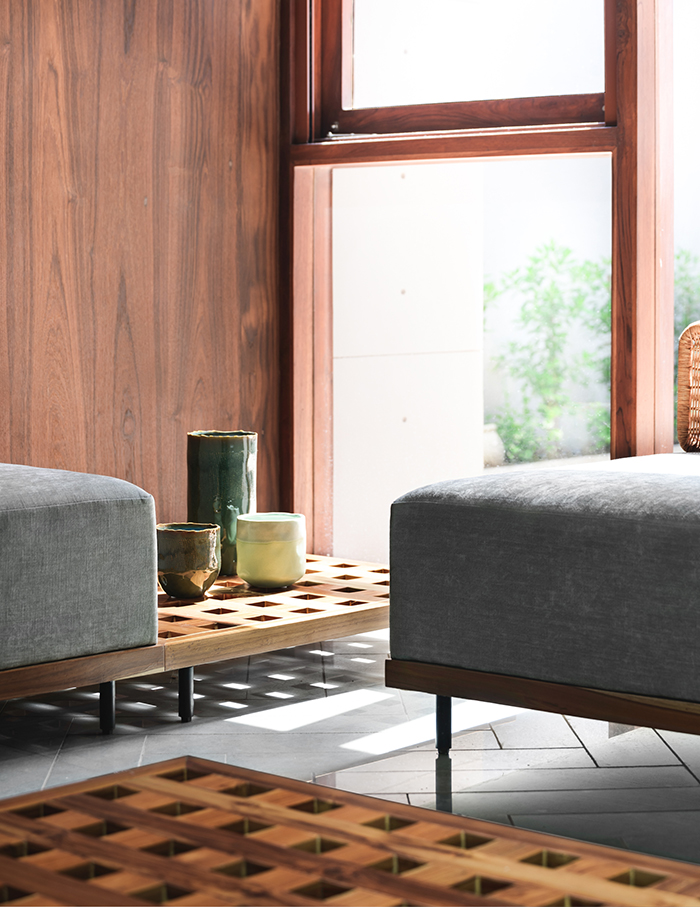 Inside, the main entrance leads to a vestibule and a formal living area. Another passage ends in the informal living area (which overlooks the courtyard) and continues down to the kitchen and dining area. A garden, housing a gym and spa deck in opposite corners of its periphery, occupies the northern front of the home. On this level, a solitary bedroom is positioned such that it looks out to the verdant greens of this garden.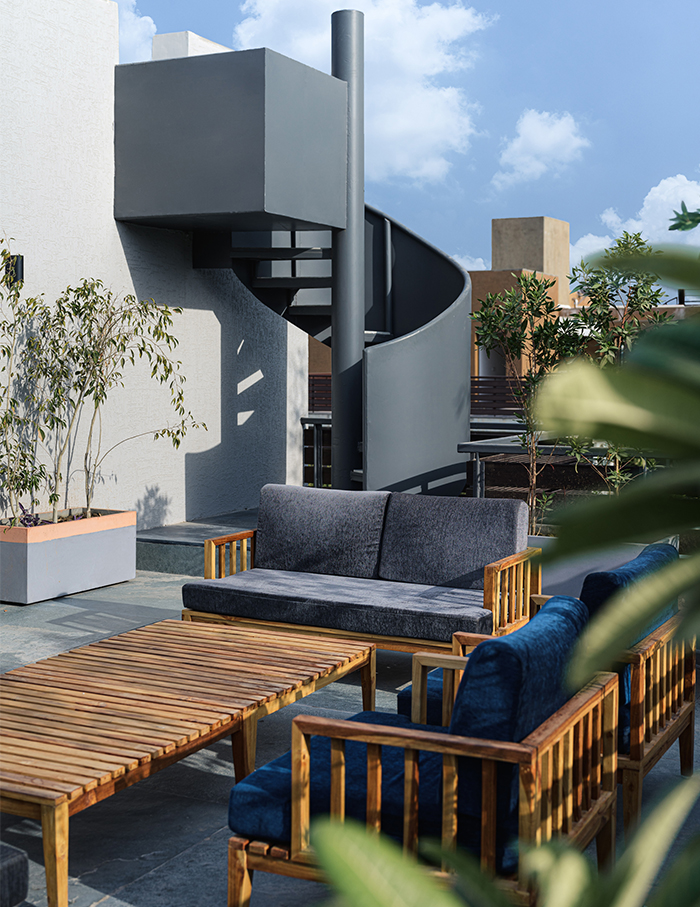 The remaining two bedrooms are located upstairs, along with a study—a private, wood clad jewel which was formerly a service terrace and a lounge. The guest bedroom lies on the opposite end of the master suite and offers views of a neighbouring farm. Additionally, this level also has an open sit-out area, accessible from the master bedroom, where one can enjoy wholesome views of the entire residence.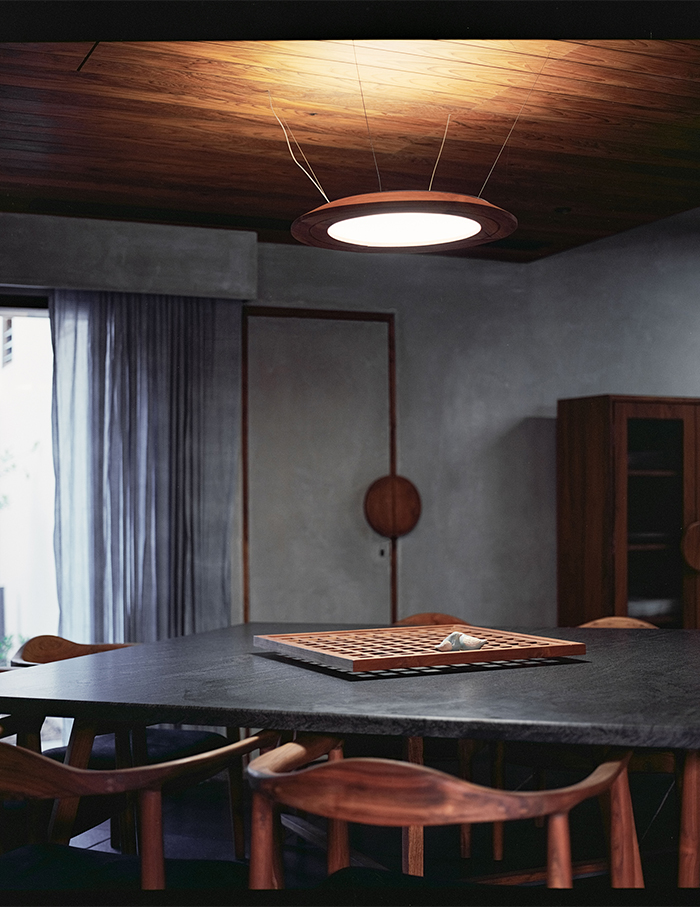 After years of living on this plot of land, the clients wished for an updated structure to accommodate a lounge, study, gym and spa deck. Shah and Joshi were able to make this wish come true in their design, especially since the abode stood on a corner plot and came with a greater dispensable area.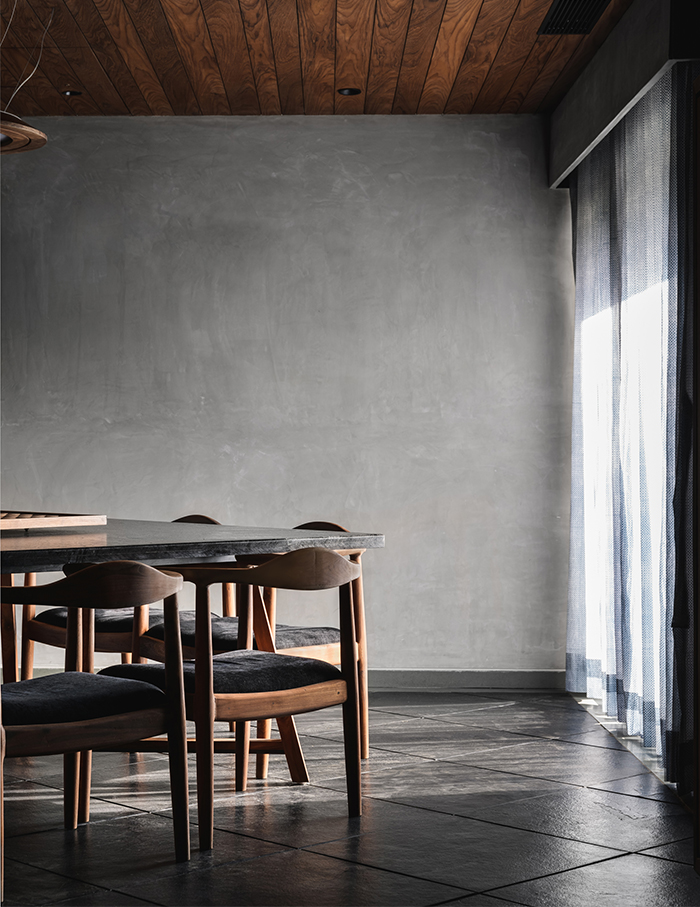 "Our attempt with this project was to create a simple yet effective set of spaces, which act as a stage for a play of light and shadow, while also allowing the materials and finishes to be the protagonists. We achieved this look by using a controlled set of materials and textures, along with the duality in tones of grey and wood and an Indian style," concludes Doshi.
Scroll below to see more images of this elegant Ahmedabad abode by Studio Saransh…