Homes
Studio Only Design fashions an artistic lair in Slovenia that's an architectural oxymoron
SEP 9, 2020
| By Sakshi Rai
Studio Only Design's creative leads Olga Sedova and Prohor Mashukov's portfolio of interior works often stands out for the distinct character and personality each project imbibes. With this project too, the duo have transformed an aged residence, built in 1887, into one that's an ironic and complex play of colours, textures and artefacts.
Located over a hilly terrain in the Slovenian village of Lubno, the property was conceptualised as a home for an artist couple—Nikolay Mashukov and his wife Maria Bersan-Mashuk. It seemed only fitting then for the design practice to derive its central inspiration and style from one of the owner's art series.
Titled Black and White, the collection of artworks explored the principles of binarity. But rather than just layering dark and light references, Sedova and Mashukov chose to effuse the entire residence with interactive and intertwining contrasts of both these tones.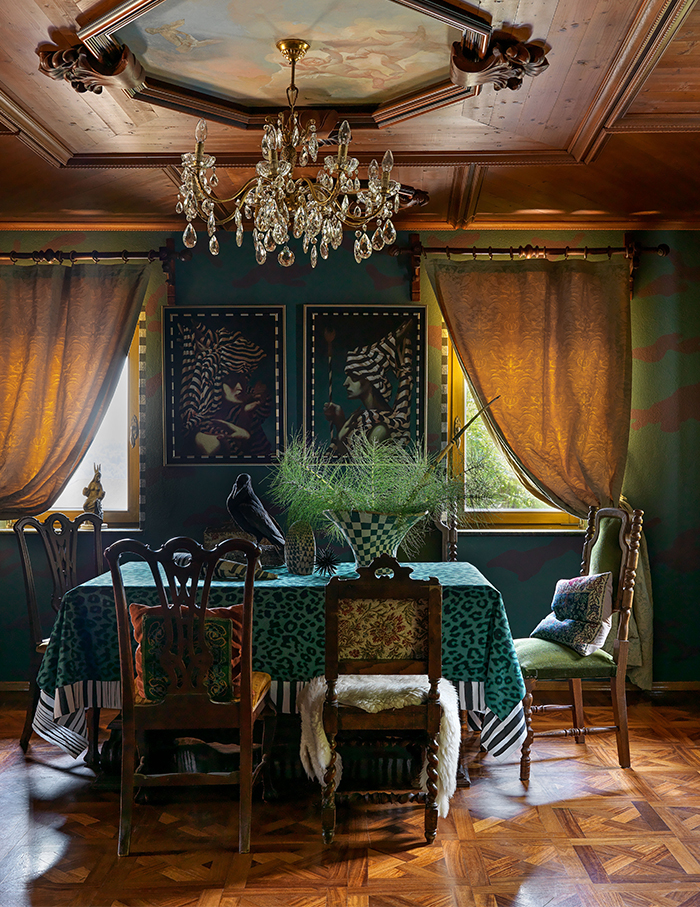 "Indeed, the comparison of these two shades is present in all details, ranging from striped colours of ceramic sculptures and ending with the division of the house into two conventional zones—a dark bottom and a light top," shares Sedova.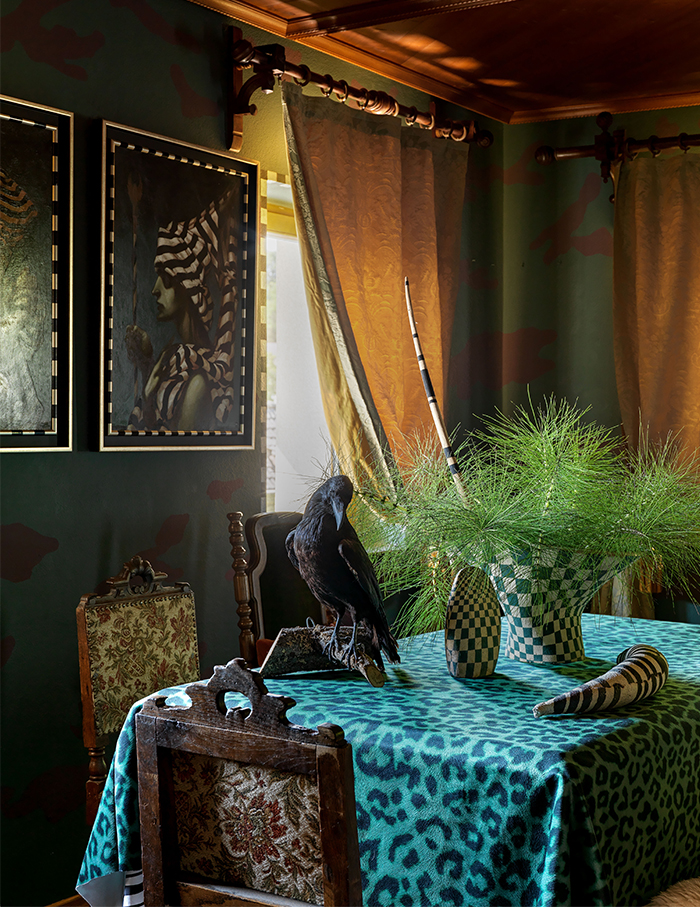 Styled by Natalia Onufreichuk, the home is a curated composition of statement artefacts, crafts and sculptural pieces created by the owners. These include a porcelain mirror frame, paintings, a pedestal and even the kitchen tiles. "The clients are old souls at heart and love all things vintage and valuable. Therefore, we carefully sourced bespoke pieces from antique stores or flea markets," explains Mashukov.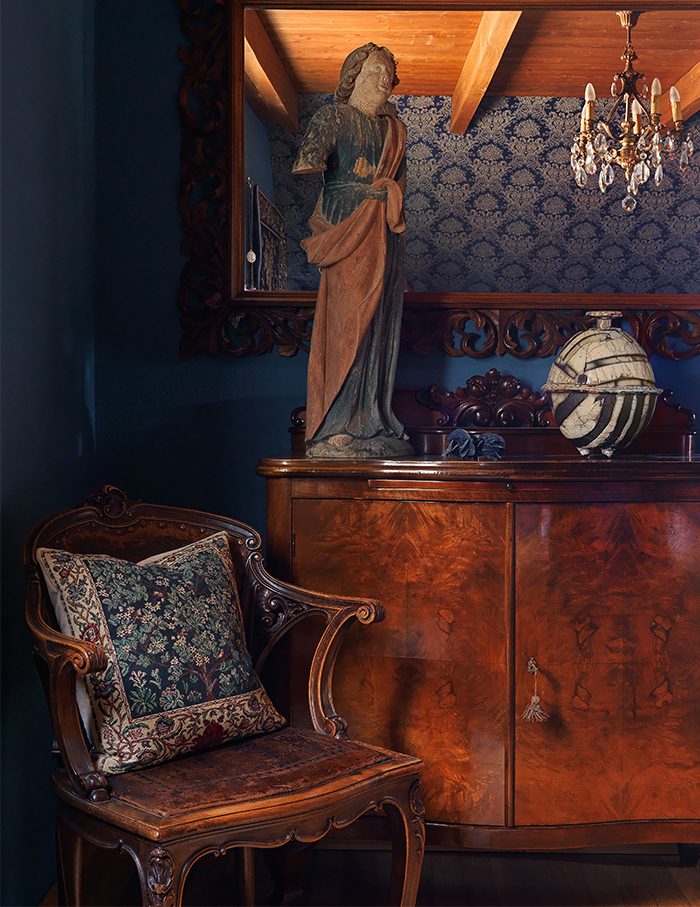 It isn't only the furniture that adds to the grandeur of this space, it's also exquisite details. Take, for example, the intricately carved ceiling by Viktor Logvinov, paintings by Maria Bersan-Mashuk, natural stone and ceramic surfaces, and African iroko wood floors.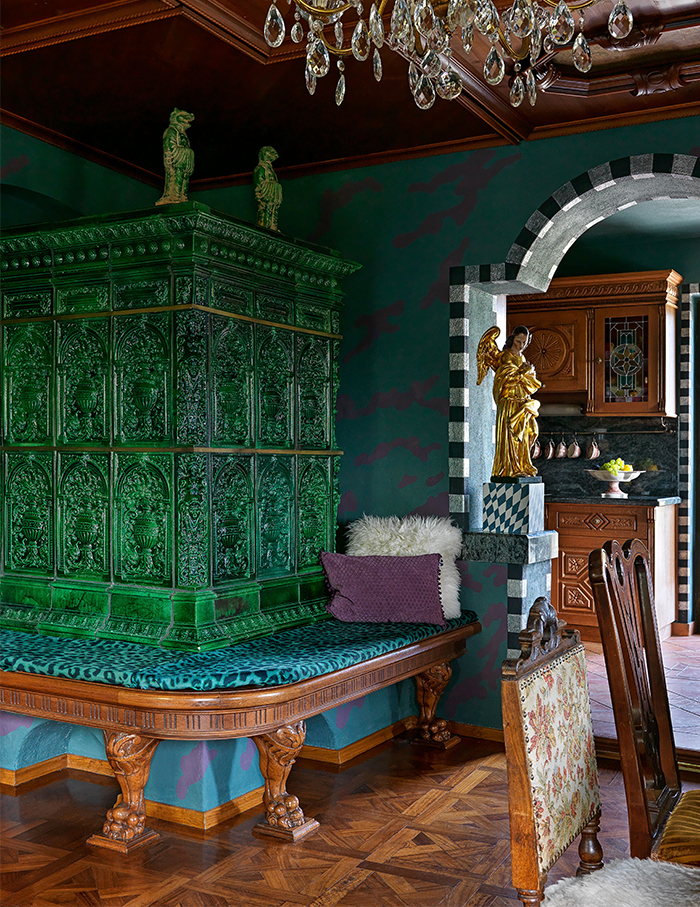 The lower level preserves its heritage, including its small windows and low ceilings. It houses a canteen, kitchen and a bedroom. This dense and decadent allure of this floor is further amplified by the designer duo with the help of a deep green hue painted on the walls. Overhead, perched on the carved ceiling by Viktor Logvinov, are paintings of angels by Maria Bersan-Mashuk that appear to guide the way—symbolic perhaps of the bright haven that awaits upstairs.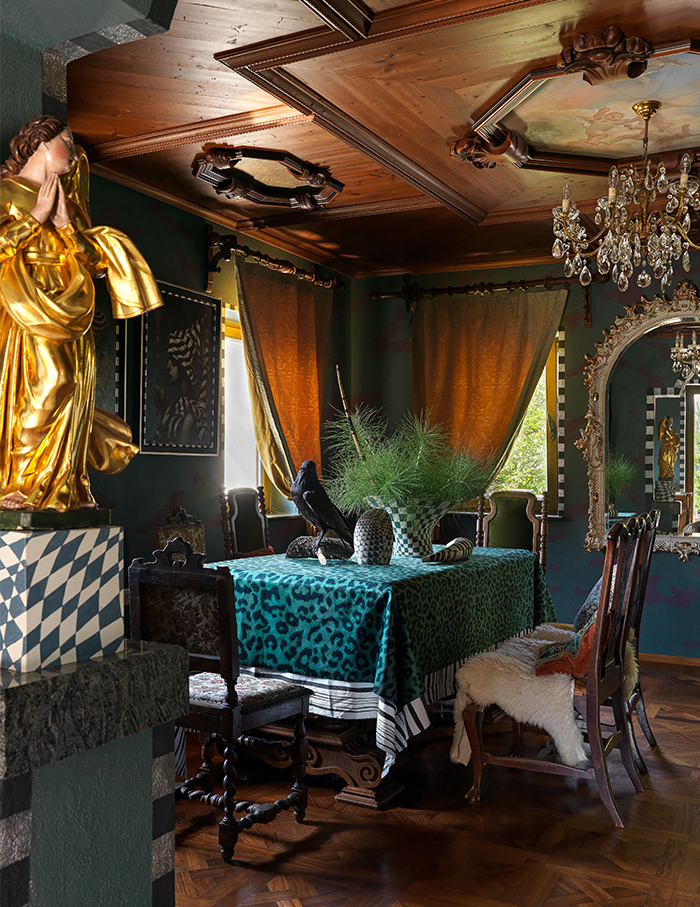 Staying true to the underlying theme of the home, the attic-turned-upper unit is bathed in sunlight. It is refurbished as a workshop and gallery space with large windows and a merged layout to house more spacious rooms. The walls here were kept white to keep the attention on the art featured on this level. Overall, we feel the setting illustrates a laconic representation of paradise.
Scroll below to see more images of Studio Only Design's artistic Slovenian apartment…