Homes
Pravir Sethi and Jaymin Tanna of Studio Hinge narrate a tale of lineage through this Pune abode with a global design
MAR 24, 2020
| By Vedika Nair
Situated in the bustle of Koregaon Park in Pune is 601 Westview—a 5,000 sq ft home designed by former EDIDA India winner Pravir Sethi along with Jaymin Tanna of Mumbai based Studio Hinge. A lineage that traces back to Jaipur and the homeowners' globetrotting lifestyle led to the creation of this story—a balance between divergent influences from distant locales.
Rugged turrets stand as pod-like vestibules around the entrance against a backdrop of rough sandstone walls, thereby restricting direct views of the bedrooms, kitchen and powder room. At a functional level, the layout of this apartment increases connectivity between the public areas whilst maximising privacy when needed.
A folding glass and timber doors bridge the study and reception area, while a freestanding divider partitions the dining and family space. Staying true to the homeowner's roots, the home contemporise Rajasthani elements with a traditional brass urli—a decorative piece, at the entrance in the centre of nine squares of inlay on the tiles that take cues from Jaipur's city plan.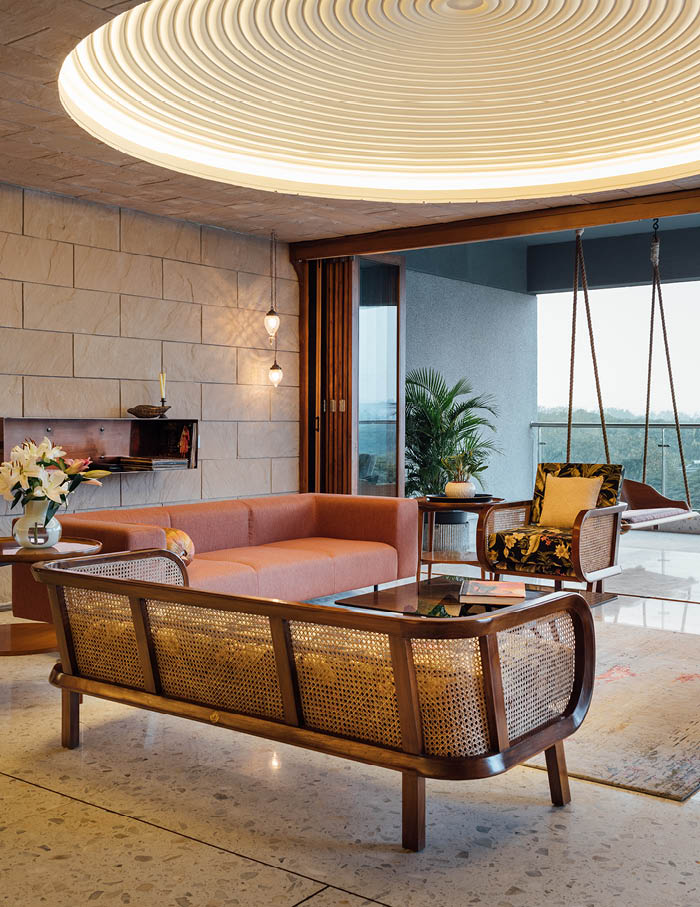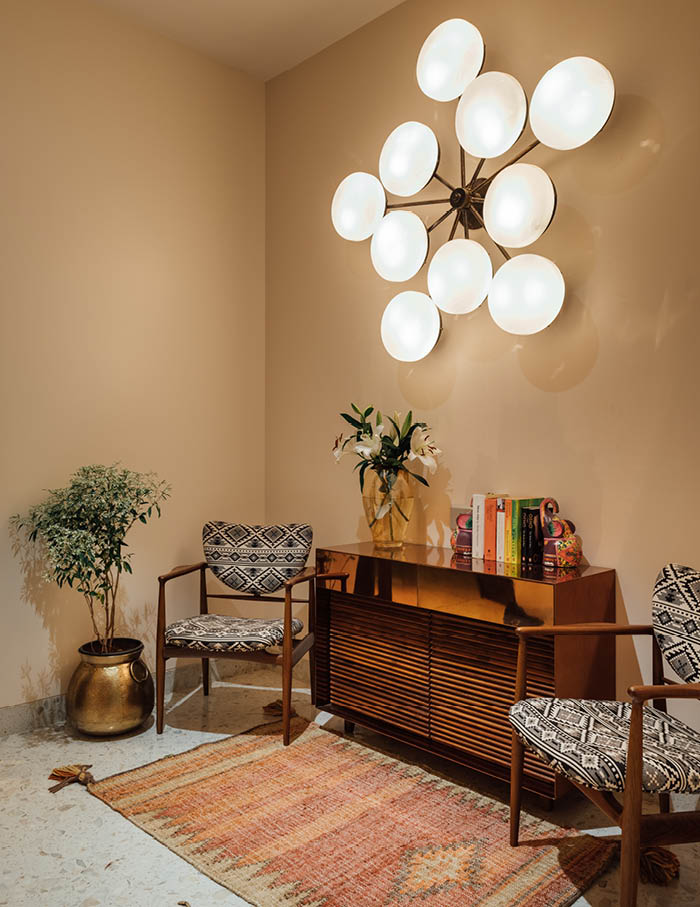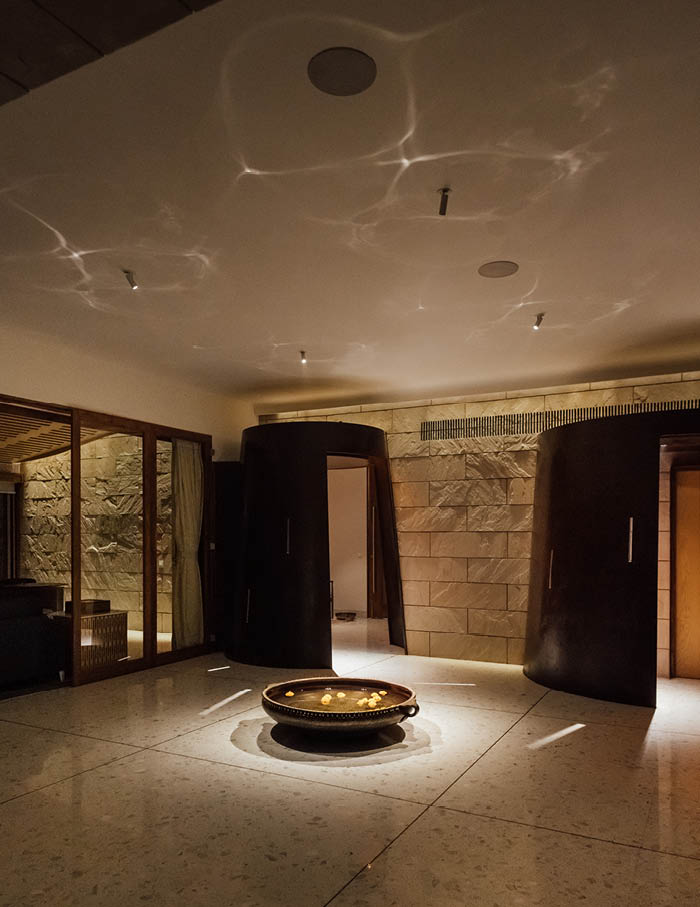 An inlay of copper strips into precast terrazzo flooring that forms patterns of Mughal charbagh gardens is seen in the family area. The spaces are accentuated with midcentury modern furniture while lighting options from Studio Trace like oxidised metal lanterns add old-world charm. Discrete directional spotlights focus on the water in the urli to create shimmering patterns on the ceiling, like some ethereal artwork.
A large window between the kitchen and dining room is connected by a louvred shutter swing, while the entire kitchen counter doubles up as a bar table. Bifolding and sliding doors open to the bedrooms and their bathrooms. "We went through several iterations for ideas on how to maintain the distinct uses between the family and dining areas while allowing the entire space to be read as one. The new partition also houses the family's deity and references elements of design, culture and even landscape familiar to anyone from Rajasthan," says Sethi.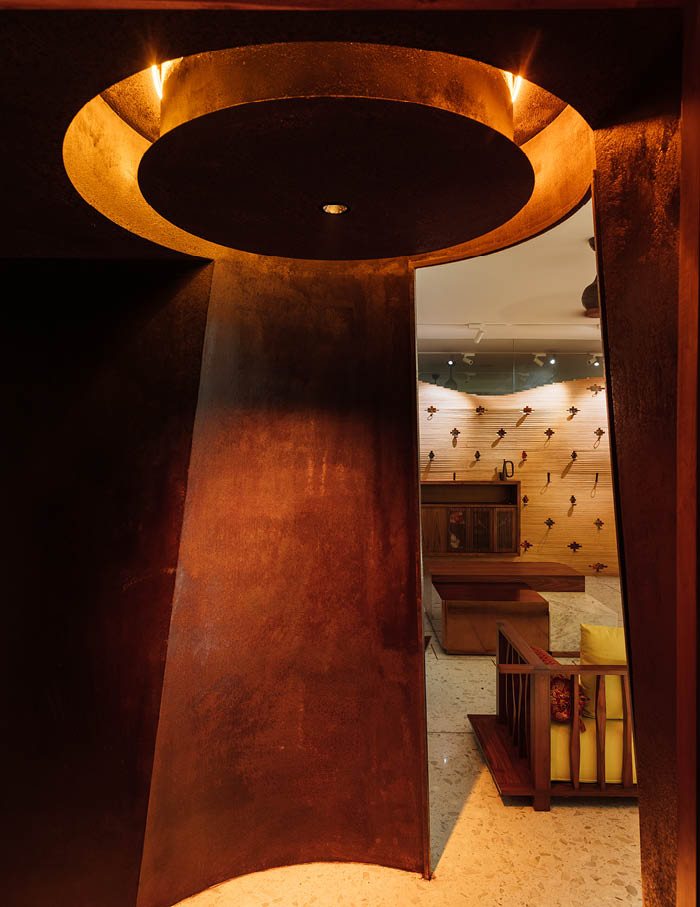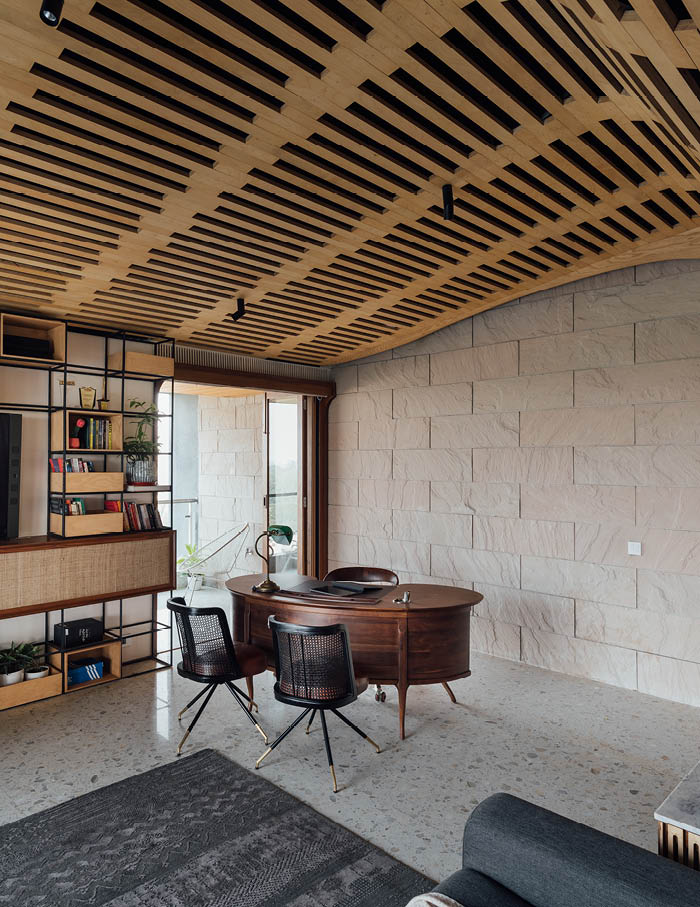 Geometric cutouts integrated into a pattern of a 30'' thick partition, where resin blocks are inserted. The designers worked with an artist to create different hues and cast them into fragments, to display photographs, letters, notes and objects like leaves, flowers and scraps of fabric. An oxidised steel bracket is fixed onto each opening and projects to hold a traditional diya or tea light, which also makes it a deeepstambh—a pillar of light.
"I had the best time crafting The Wall of Family History! We usually weave in an installation designed by us into our projects in some way but this is the first time we did something that resonates so deeply with the users on so many levels. It has also been super rewarding as we ended up forming a strong bond with the clients and it has been intriguing to see their usage of the house, which has often deviated from the prescribed way," concludes Sethi.