Homes
Studio GSA designs the spacious and contemporary Villa 135 in Bengaluru's Prestige Golfshire
JAN 30, 2020
| By Aneesha Bhadri
Located at the base of the picturesque Nandi hills, Prestige Golfshire is a mixed development that has a bit of everything for a relaxed, laidback life—right from mansions with manicured lawns to a golf course and lake. In the midst of this lies Villa 135, surrounded by landscaped gardens on all sides and a sparkling blue pool that overlooks the lofty peaks of the Nandi hills. With a layout planned by Studio GSA to do justice to the location, floor-to-ceiling windows cover the spacious abode, presenting gorgeous vistas of the verdant outdoors.
Drawing inspiration from nature, the interiors feature natural patterns such as the floral wall motifs in the dining area. The colour blue has been employed by the studio in all its variations from the foyer to the bedrooms, punctuated by gold accents and finishes on the furniture.
Just beyond the main door lies the living room, with cosy seating units, tiled flooring and contemporary accents. Upholstered in neutral shades, the sofa and armchairs hold vibrant cushions that lend a pop of colour. The dining area houses metallic shelving systems near the custom made dining table that add a hint of glamour.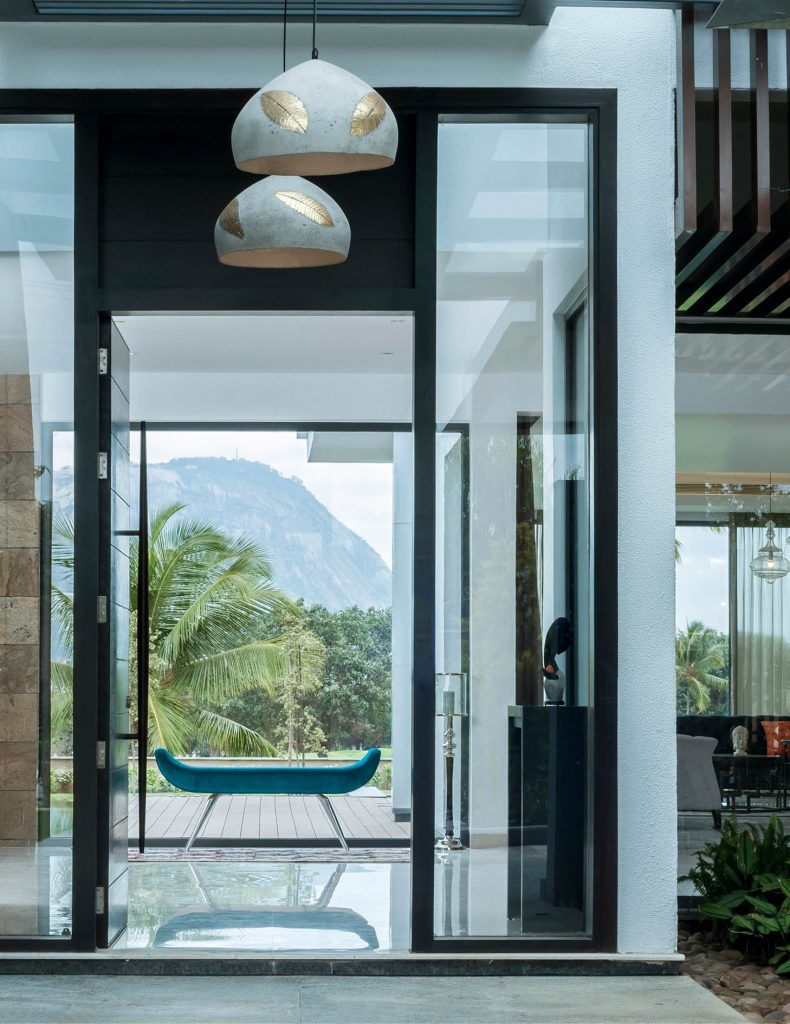 A few quirky accessories are placed in discreet spots around the lounge such as a white and gold dog and a bright cerulean hat stand. The landing of the upper floor is sparsely furnished with decorative round mirrors, warm pendant lights, a plush sofa and multicoloured rug, accentuating the wide expanse of the wooden floor.
Here, the bedrooms are more subdued and minimal. Inlaid lighting effuses the space with a golden glow, lending a touch of drama, while pendant lights in different shapes and sizes add character.