Homes
Episodes of sea and psyche play a visual rhythm inside a Mumbai cove imagined by Atelier Varun Goyal
OCT 16, 2023
| By Pratishtha Rana
A gentle wrestle to establish a multifarious ground of minimalism, practicality and a palpable sense of zen was what first propelled Varun Goyal of Atelier Varun Goyal to craft and fine-tune the design vocabulary of a sea-facing home in Mumbai. Surprisingly defying and redefining the notion of 'zen' living, a quick but rested glance through the space reveals a rather restrained yet rousing character of the home.
Envisioned for a young couple, Varun reveals the goal for the home was to be, "contemporary, clean and beautiful minimal canvas with ample storage spaces and the flexibility to accommodate future needs as the couple grows their family." Playing with instincts and intelligent design manoeuvres, the creative thus focused on materialising the evident connection between the elements of nature, sea view, the indoors, and of course, the dwellers.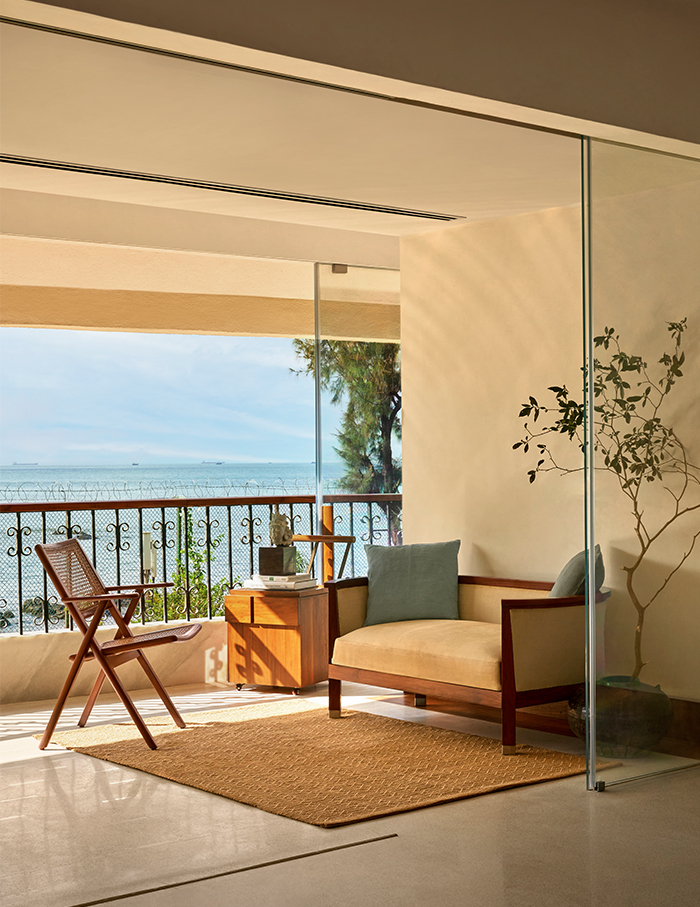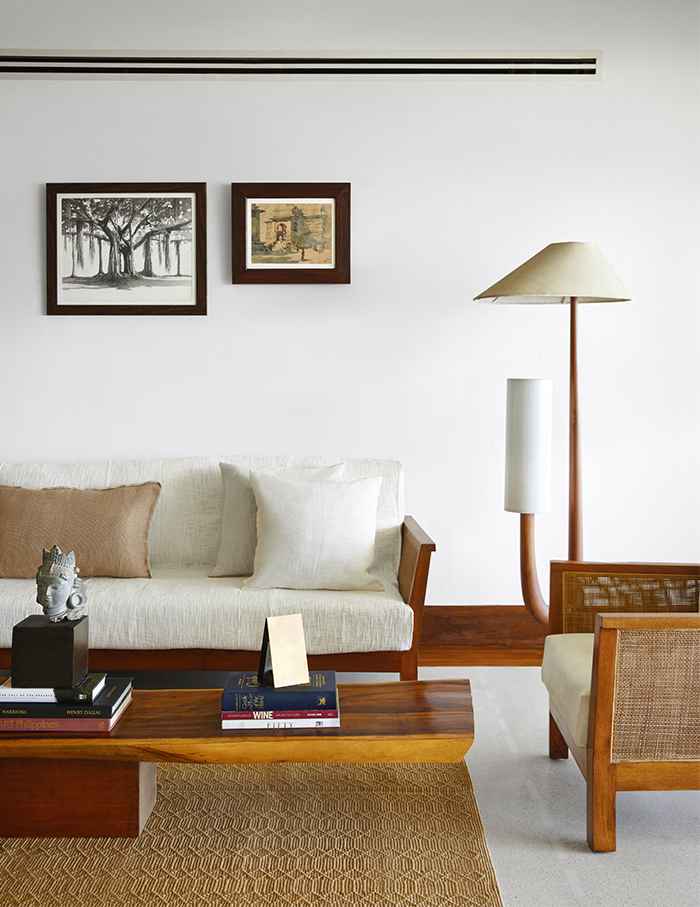 Mapping minimalism in detail
Enveloped like a piece of minimalistic puzzle inside an art deco building in the serene South Mumbai locale of Colaba, the home sprawls 2,500 sq ft with a few structural changes done such as remodelling the internal walls and partitions to bring in a distinct demarcation to the rooms. Through all this, however, the quintessential design cue is the storage nooks, hidden shelves and wardrobes, lending practicality to aesthetics.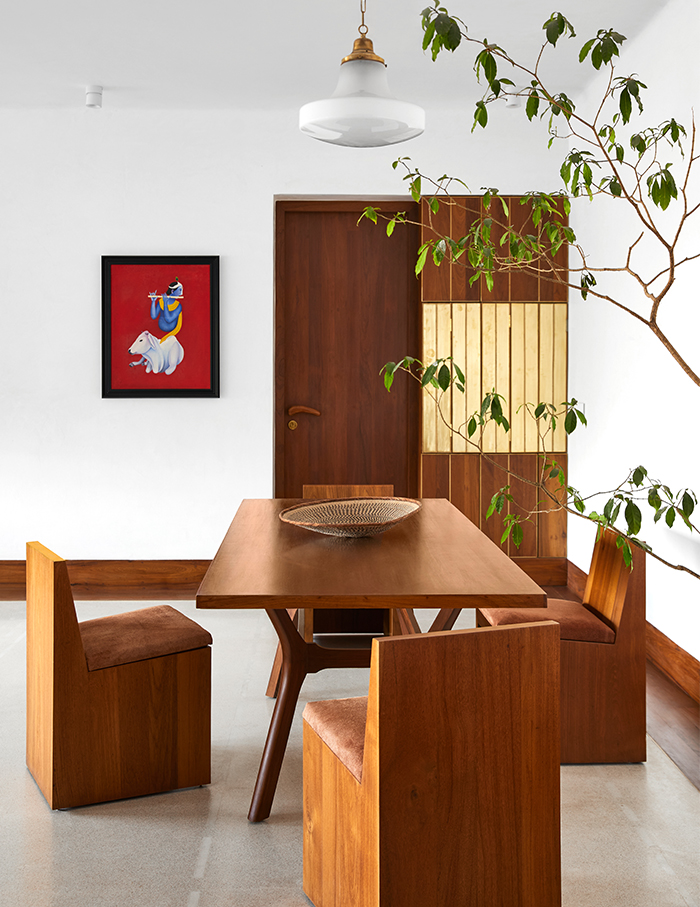 A linear-patterned door with geometric, wood and brass details stands guard as the first point of navigation into the cove. On the right, the living area sits poised connected with a balcony screened with a clear-glass collapsible door. "The living room layout features a versatile seating arrangement and a flexible dining table that can be easily changed as needed to suit different usages and moods," explains Varun.
While on the left, a hidden pantry behind a patterned wooden slider door inspired by Japanese sliding screens stands linked to the kitchen-utility area.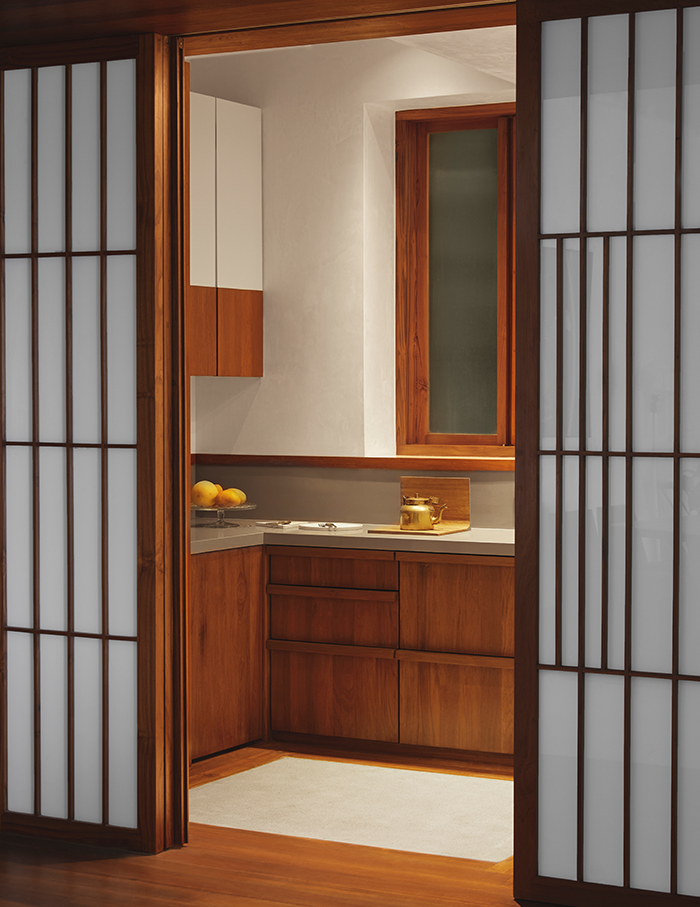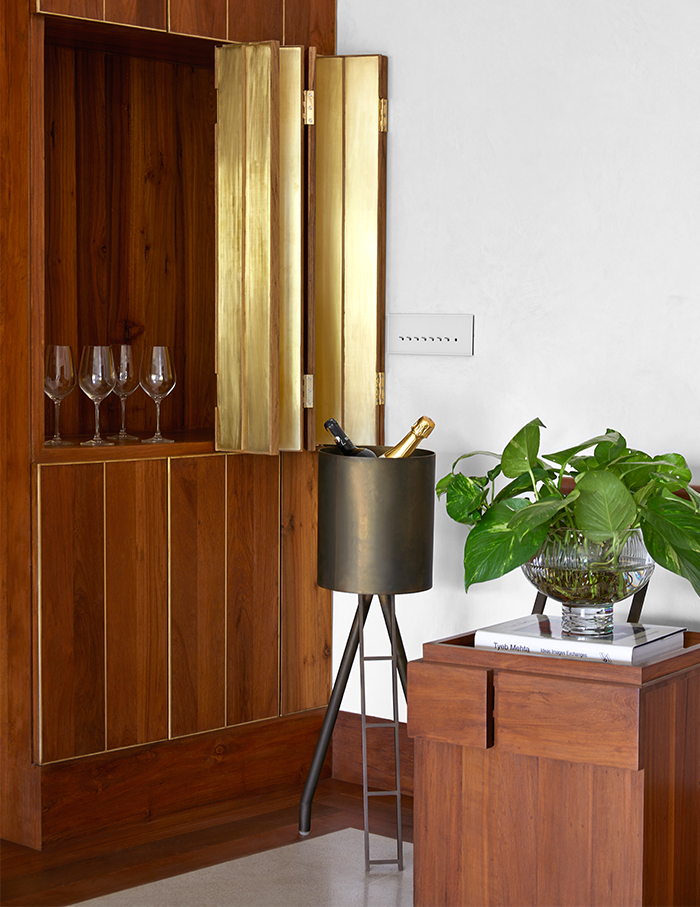 A close and keen observation throughout the home also spells the comprehensive character of the many furniture and decor pieces used indoors; with its sleek, slender and angular shapes and forms, it stands out as a beautiful lesson in mindful assembling and layering of spaces. 
Vicarious views and design experiments
As you amble in further, the blues of the sky and the sea, and its brisky-breezy appearance caress one's sight all throughout, including the primary bedroom that opens to these vistas right from the outset. But that's not all that this room cradles in it — going beyond aesthetics, it is arranged with an elaborate dresser and a bathroom with separate cubicles for the WC and shower, laced with Indian marble.
Adjacent to the entryway of the primary bedroom is a rapturing home bar, embellished subtly with wooden collapsible doors, brass cladding set against a pristine white background.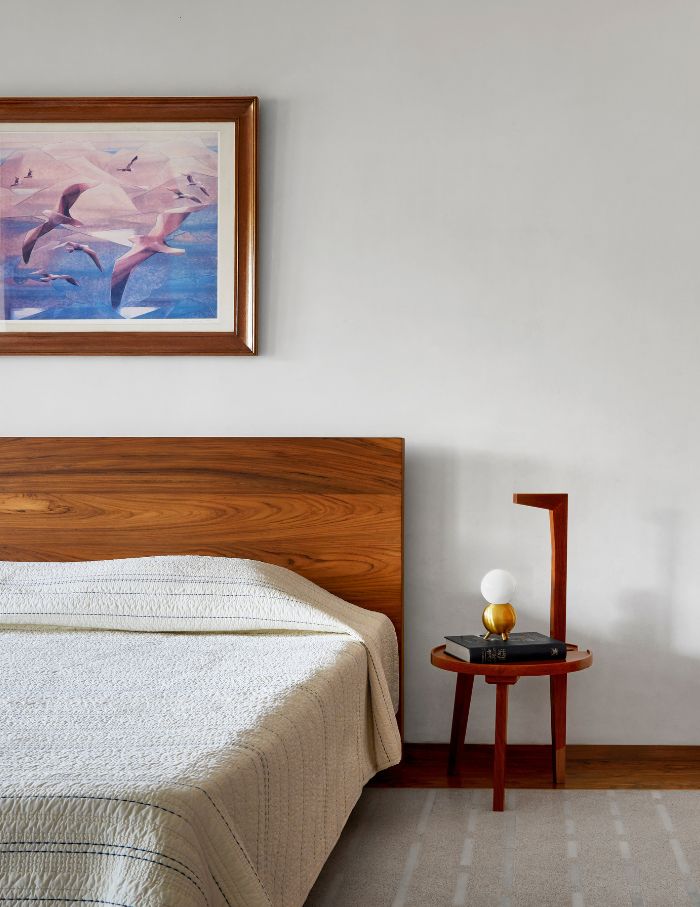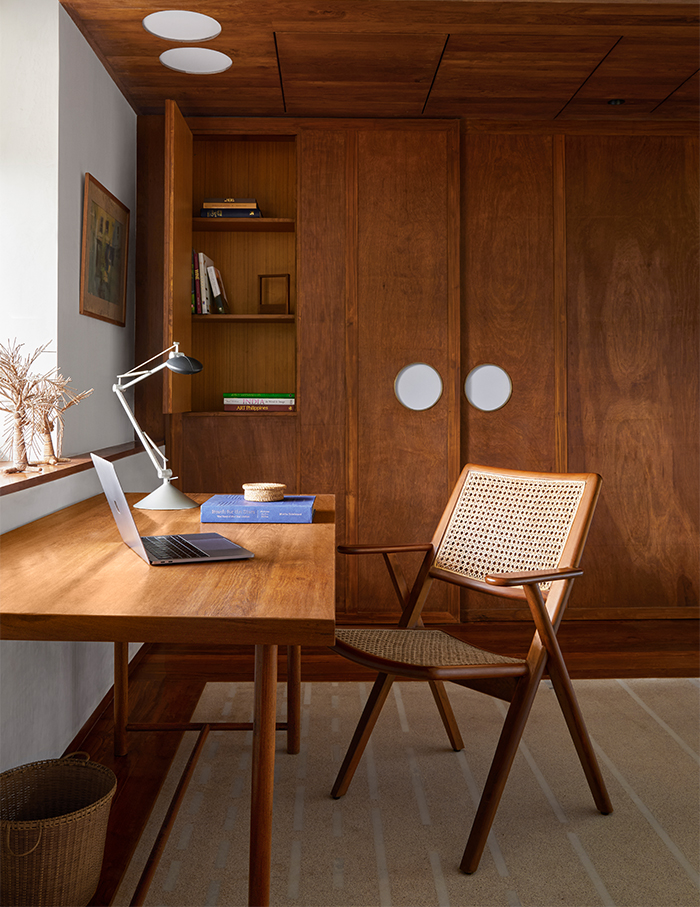 Continuing his exquisite experiments with the functionality and appearance of the bathroom spaces, Varun shares, "I found immense joy in designing the toilets and dressers, where I could explore simple yet experimental storage features. The challenge arose when incorporating the composition of Indian marble to accommodate a marble bathtub, ensuring both functionality and aesthetic finesse." The marble bathtub indeed sits as a modern, minimal and carefully unlayered pièce de résistance, elevating the new possibilities of designing city abodes.
The guest room also doubles up as a study area, trickled profusely with daylight and outdoor views, beset with an encompassing wooden wardrobe and just the elemental decor and curios needed to set it up perfectly.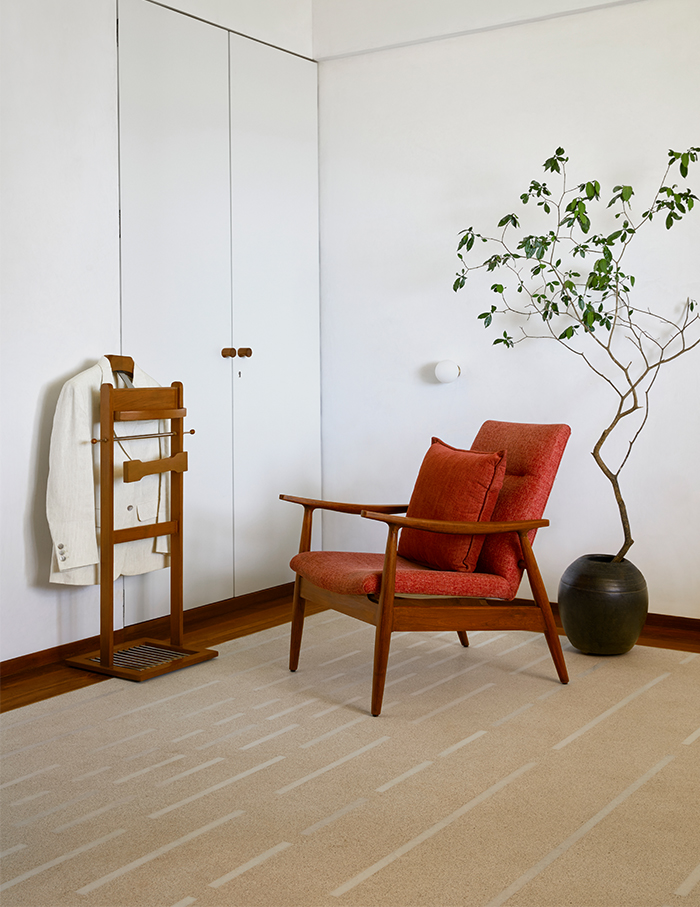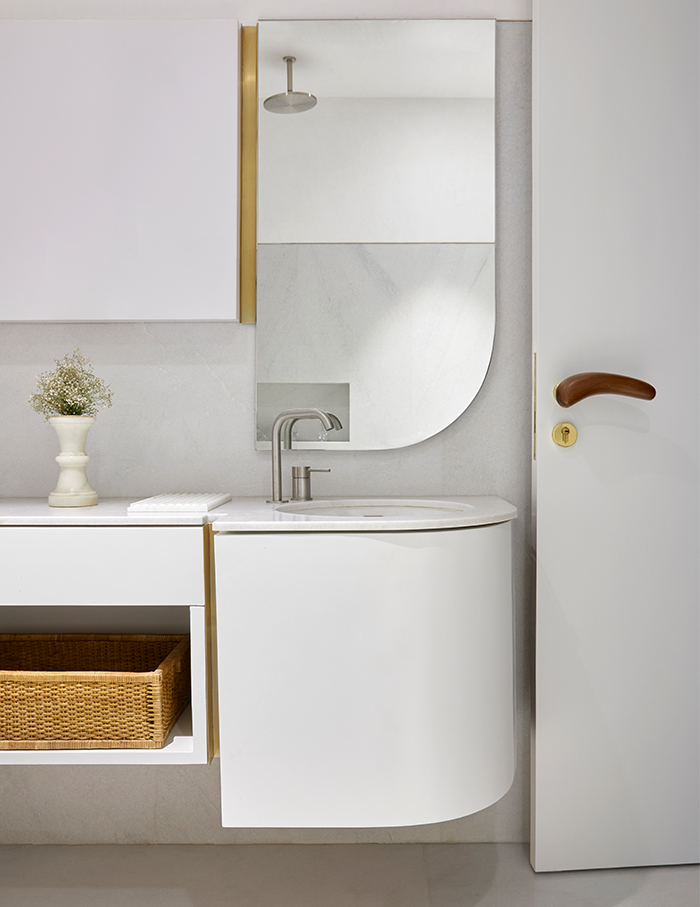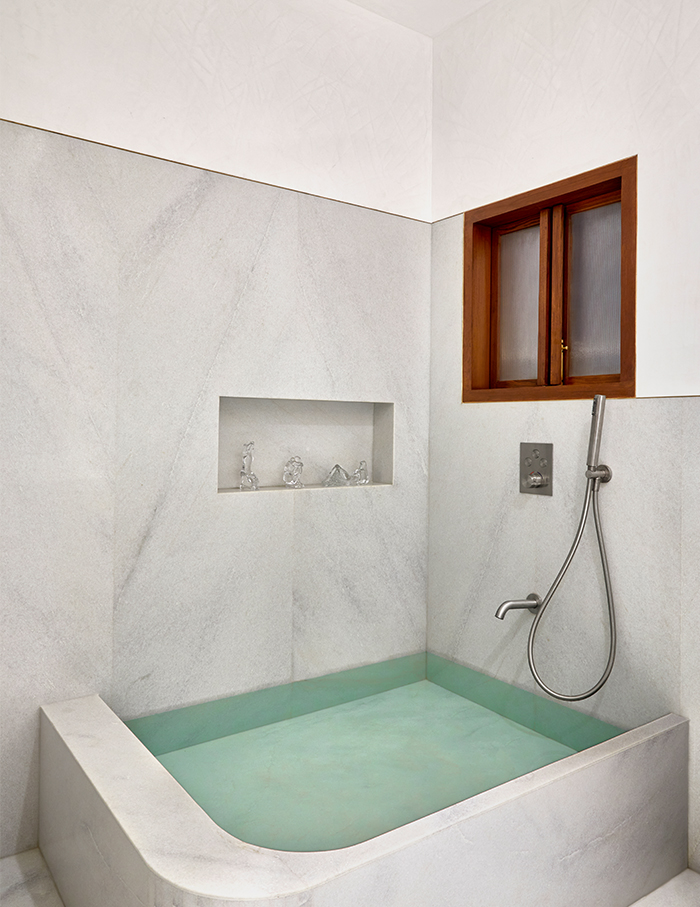 As Varun divulges on his signature style of infusing spaces with design directions, "The flooring design in this home features cast-in-situ terrazzo inside a wooden frame and inlays of white marble strips resembling slow water waves, creating a serene and harmonious ambience."
"The home embraces sustainable living with creative features like maximising daylight, cross ventilation for cool sea breeze, and the use of natural materials — Indian marbles, terrazzo floors (made from marble waste), reclaimed teak wood, and lime-washed walls for a pleasant temperature," he signs off.