Lifestyle
Revel in crystal-clear sound wherever you are—Sonos Move is the ultimate smart speaker for outdoor and indoor listening
OCT 30, 2021
| By Anushua Aich
The new Move speaker by Sonos is here to fine tune your listening experience, delivering supreme entertainment and rich bass that consists of a wide soundstage, and automatic Trueplay™ tuning, which constantly adapts to your surroundings, wherever you are and whatever you are listening to.
Being a portable, battery-powered smart speaker, its design has been conceptualised in such a manner that it stays true to the grab-and-go quality that all of us seek in our day to day routine. One might as well forget about time-consuming setups, as setting up Sonos Move takes only a few minutes with effortless operations.
To ensure that the speaker doesn't run out of battery soon, Sonos has powered Move with an exceptional feature that allows 11-hours of continuous play time and uninterrupted flow of crystal-clear, rich sound. And if it does lose charge, the speaker is packed with an indoor charging base that enables quick power boost, getting it back to producing booming sound quality. To back it up, a compatible USB-C charger can also be used to recharge the speaker.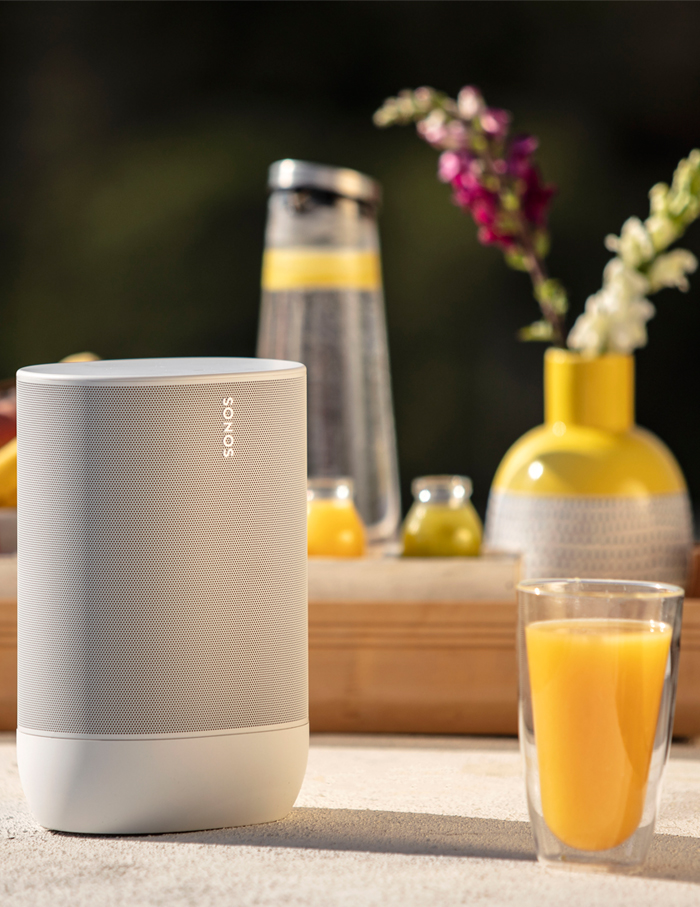 Further, the in-built controls in the speaker cater to the user's convenience and comfort. The voice controlling assistants (*subject to the regional availability) like Google and Amazon Alexa are built right in for the user to stream their favourite music, podcasts and audiobooks, check news, set alarms and get any question answered over WiFi, completely hands-free and hassle-free. What's more? Move is also super compatible with Sonos App and Apple AirPlay 2. When offline or stepping out of your home, the user can seamlessly power up Move with bluetooth.
Besides being versatile and smart, this speaker is weather-resistant and drop-resistant. This essentially means that the speaker's sound quality remains protected against harsh weather conditions like heat and rain and in case you drop the speaker accidentally, its shock-resistant hard wearing case will protect Move's components from damage.
To make your experience even simpler, the top panel of the Move speaker includes signs and symbols that are easy to read and understand. The capacitive touch controls for volume up/down, previous/next track, play/pause, microphone mute, offers the ultimate user-friendly exposure. Additionally, the speaker is equipped with LED, indicating active status, mute status, and voice feedback.
The Move speakers come in colours like Shadow Black and Lunar White, providing you two excellent choices for a style-forward listening experience. Priced at ₹43,999, the Move speaker by Sonos is worth buying for various reasons, but the one that tops the chart is that it promises brilliant outdoor and indoor listening experience that one would want to get back to every day!
Click here to explore the powerful portable Move speaker by Sonos