People
Shimona Bhansali, Interior Designer, Space Stylist & Founder of Design Hex gives us an exclusive tour of her studio!
MAY 12, 2021
| By Shimona Bhansali
Realised as the creative headquarters of Design Hex, the practice's studio resonates with our vision to craft a functional as well as an eclectic space that encourages the team to turn their imagination into reality thereby expressing ideas with liberty. 
Our firm Design Hex entails a reputation for experimenting with materials, textural finishes, furniture and colours. As a cohesive unit, we're always looking for newer challenges that offer a scope of designing, beyond just the basic surfaces of a space. 
Settled in Navi Mumbai, the studio spans 1,600 sq ft catering to the spatial needs of the firm. A clutter-free and seamless layout makes way for the constantly buzzing movement of the young designers.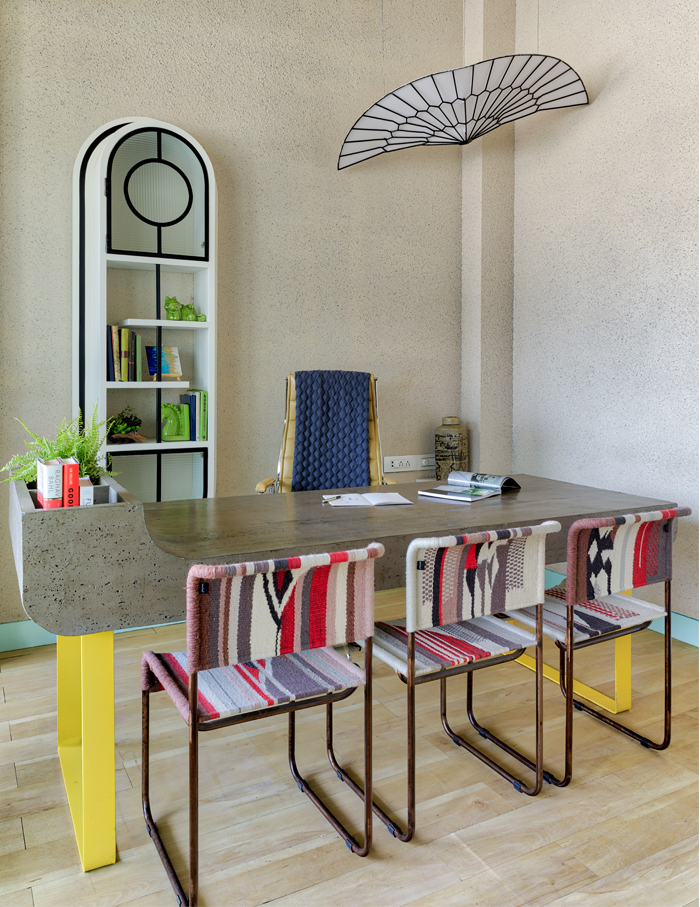 An expansive glass facade gently wraps the studio with its curves and beckons you to come in and drench in the firm's creative soul. Upon entering, you'll be perplexed to witness an artist's dream materialise before your eyes! The 14 feet high ceilings are adorned with a black wallpaper, peppered with miniature dancing lines beaming down, like a starry night in the Memphis world.  
A solid pinewood reception table—stacked like a game of Jenga—welcomes you at the entrance, behind which a glass wall features the simple geometricity of a Memphis screen. The workspace is split into creative zones. While in most parts the high ceilings explore grandeur, in some spaces, the team incorporated two mezzanine floors to maximise the seating and storage areas.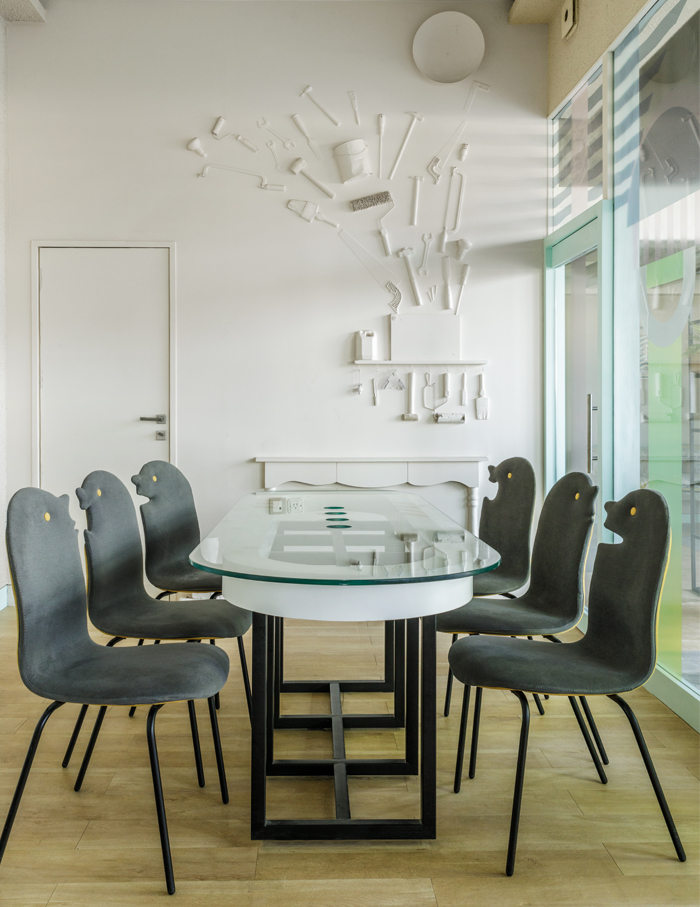 An oblong conference table is centrally located and paired with the whimsy gossip chairs whose backs are carved in the silhouette of faces, bent in excited whispers. They are ideal for a space that thrives on discussions, brainstorming sessions and constructive debates! The walls offer a sense of playfulness, coupled with a fanfare of geometric cabinets, artworks and prints. 
The studio also houses an interesting mood boarding room that is a physical manifestation of a 3D Pinterest board. With an assortment of white paint, bricks and boards—it acts as a canvas for the team to pin, paste, sketch and stick inspirations and concepts.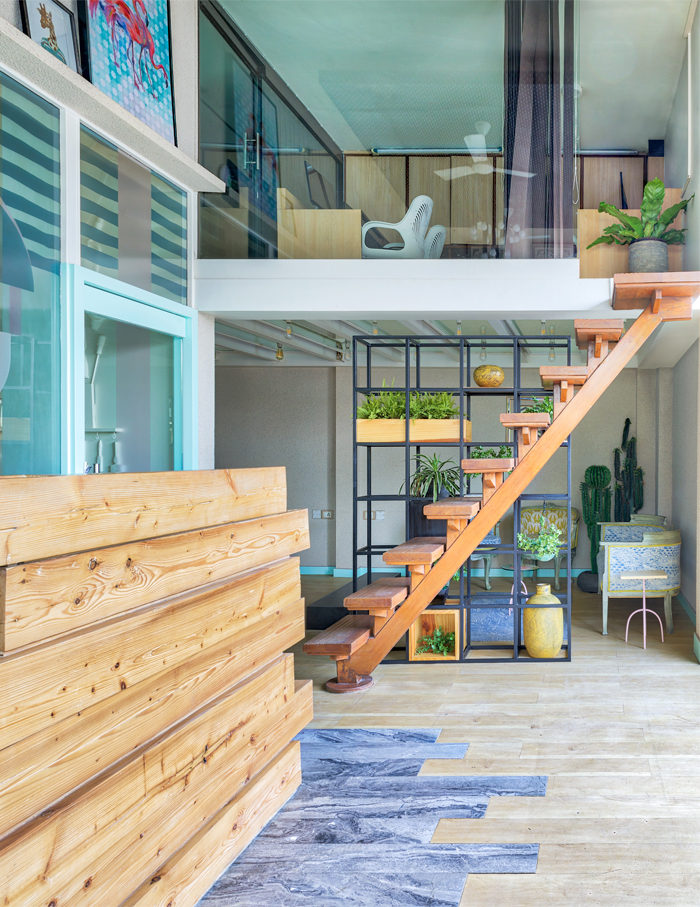 Coming to my ingenious cabin, an eight feet-long curved table gives an impression like it's cast-in-concrete but is actually made in wood and cladded with clay panels. Gleaming profusely above it, is a proud prototype of the Loco Bird Light. This contemporary piece mimics the silhouette of a bird's wings, suspended from the ceiling by metal wires thereby creating an illusion of a levitating orb. 
The capsule-shaped cabinet is another nod to the Memphis style and gives the perfect backdrop to the table. With its crisp black outline against the wall, it includes a mix of open and closed shelving, making way for an interesting visual of asymmetry within symmetry. The backdrop of the space is maintained by a clean and muted canvas, which is supported by the tan chair.
The studio exudes an open work environment, challenging to build when a glass pane facade spills abundant daylight within. All cabins and areas have been divided with clear glass, allowing natural light to reach everywhere so the workspace feels open and collaborative. The privacy was attained by using glass films with Memphis patterns and spirited hues to block partial vision at just the right spots, with frosted films.
I wanted every designer to visit the studio and answer their calling: to create. Hence the space is strongly architectural, softened by the imperfect grace of Wabi-Sabi elements with the wall finishes of white stone textures, Art Deco and Memphis, adding just the right amount of art, history, and character to the space.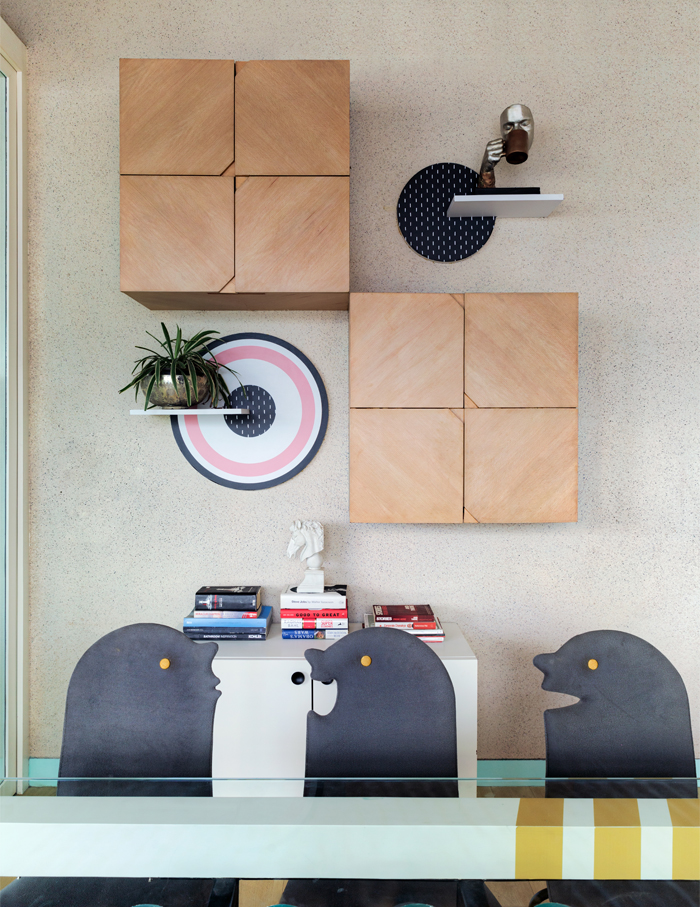 A feature that distinctly stands out is a white wall that seems as though it's frozen in time, in a magical moment and trapped in a layer of POP. A dancing toolbox rests on a workshop table, like a gateway from an elvish tool factory through which an explosion of tools scattered across the wall. It's the toy story of the design world, coming to life when everyone has left from a long day's work. The wall is a constant reminder to us that the impossible is never too far to reach.

The walls seem to curve and merge, seemingly of their own accord, clad head to toe in a crushed white marble—an elegant ode to sparkles and fairy dust. The space is highlighted by Design Hex's signature peaches, greens and blues and punctuated by solid wood furniture pieces.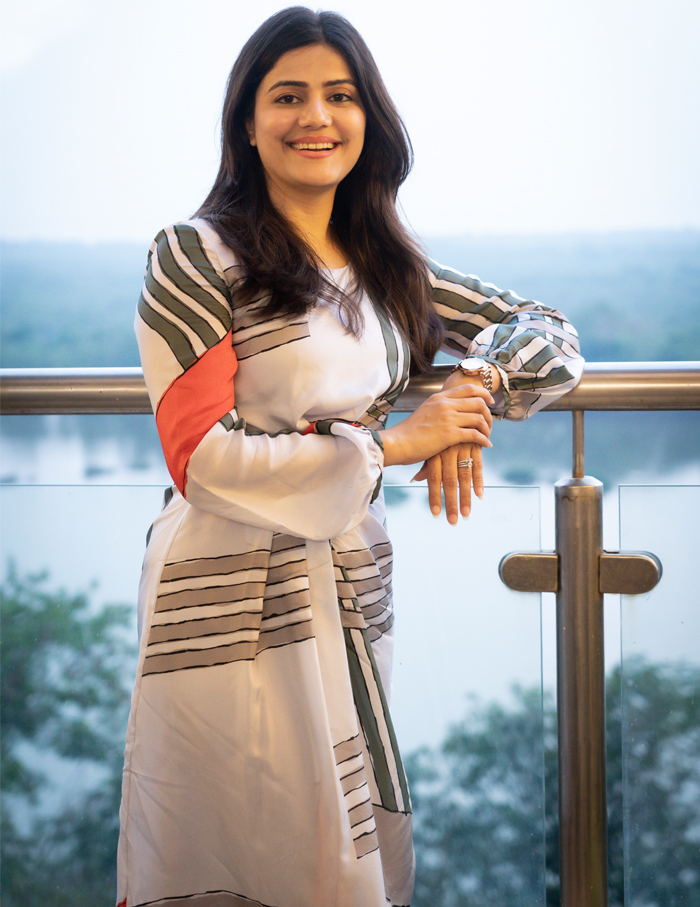 The design hub also houses collaborative areas where the team actively indulges in playing games to unwind and coming up with revolutionary ideas that surprise the world of interiors. The work area for designers has a continuity of the concrete feel on the workstations. 
The space also comprises green features such as unused and leftover wallpapers, fabrics, marbles and textures from previous projects that have been upcycled into offbeat art pieces, furniture and accessories, adding a blithe personality. The texture of the walls is made of actual stone granules, which keeps the temperature lower and the space cooler. Further, air conditioning has been optimized by creating better ventilation between partitions and cabins by using several exhaust fans to avoid wastage of energy.
The vision for the space was to be a visual mood board for any theme or colour inspiration as and when required. We wanted a space that inspires productivity and is a constant ode to our favourites in art and design. The spaces we create are architecturally raw, contradicted by the nuanced elegance of varied elements, collectively culminating into our individual style. The studio successfully infuses a character that is Design Hex personified.