Homes
Shaunali Nanda of Sloane Luxury Interiors elevates this ancestral Delhi home
AUG 5, 2020
| By Aneesha Bhadri
Inundated with references to Lutyen's Delhi as well as homes typical of England and Chelsea, this sprawling ancestral abode by Shaunali Nanda of Sloane Luxury Interiors dazzles with its sleek finish and glamour quotient. Sitting on a 10,800 sq ft plot, the simple and clean outdoor spaces belie the extravagant elegance waiting indoors.
A square lobby with a harlequin floor and grand stairs leading to the first powder room form the entrance. Bevelled guided wall scones stud the walls of the powder room, while a mirror is mounted above a glass vanity with gold lining and silver leaf. The harlequin floor continues into the main foyer, outlined with classical mouldings, housing a central hall table and twin consoles in high gloss black lacquer and brass mounts with ormolu flame oriented wall scones.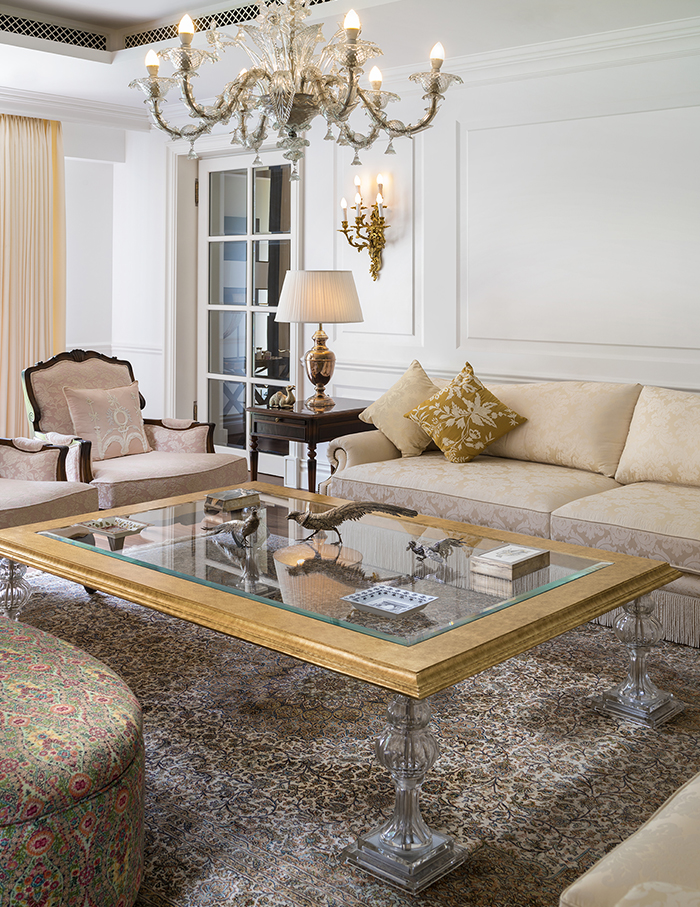 A pair of French doors open out to the main living room on the right and the dining area on the left. The living room is painted in hues of ivory and cream with touches of mint and pink. Here, the central seating revolves around a marble carved fireplace below a gilded mirror and two sofas scattered with floral embroidered cushions by Janavi India, along with a coffee table in mirror and gold leaf outline.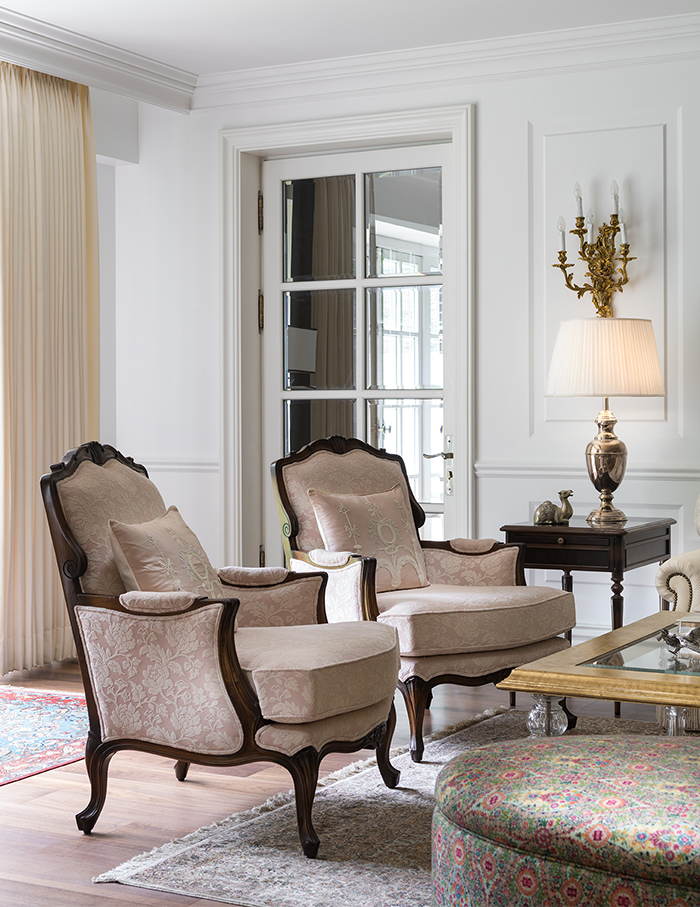 Beyond another set of French doors lies a study with mahogany crotch veneer panelling, navy blue sofas, zebra printed ottoman and polo printed lounge chairs. The dining room on the other side of the foyer is extravagantly furnished with twin mahogany crotch-cross banded, square dining tables with brass lion's paws and classic, regency style dining chairs, back embroidered with a Victorian floral bouquet.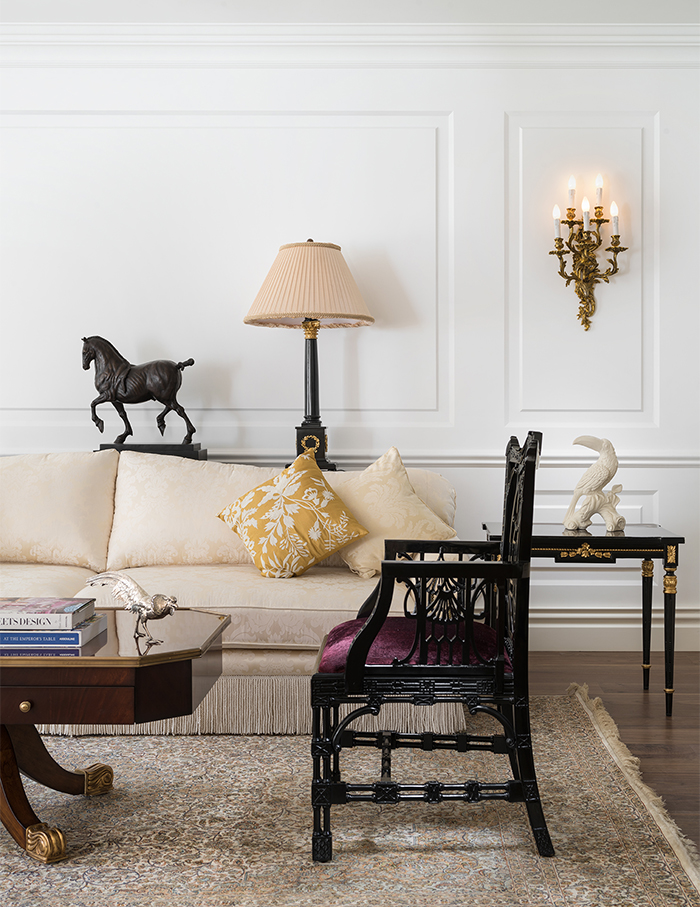 The adjoining pool room is covered in a tropical wallpaper with colourful parrots and palm prints. Sofas scattered with hand embroidered cushions and a mahogany veneered side table complete the look.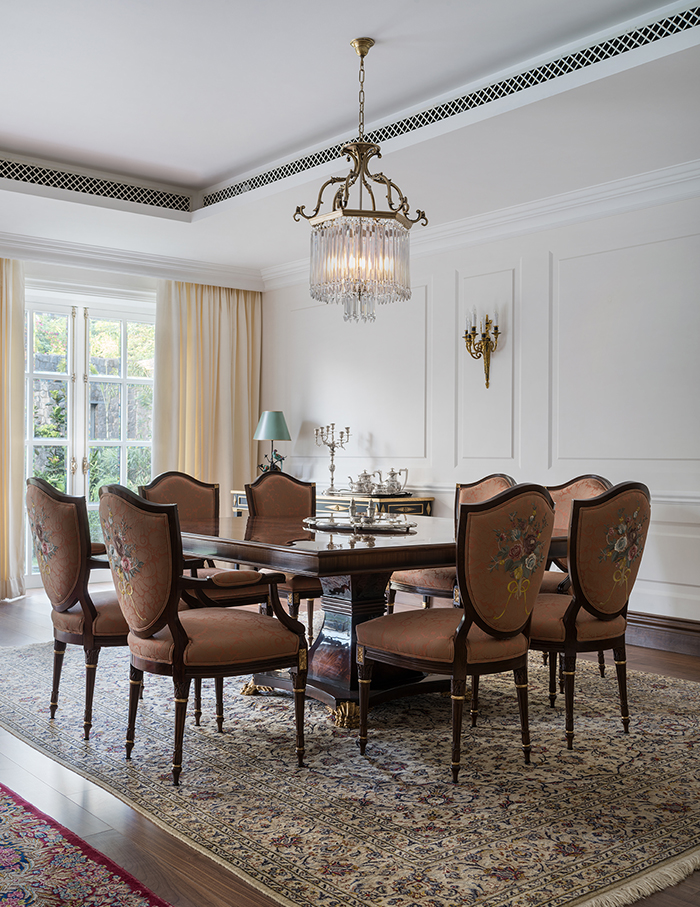 The first floor houses the family breakfast area done in a bright, blue and white chinoiserie theme with matching, upholstered chairs. Sheraton inspired black lacquer chinoiserie chairs and similarly dual toned porcelain and brass mounts accentuate the elegant theme.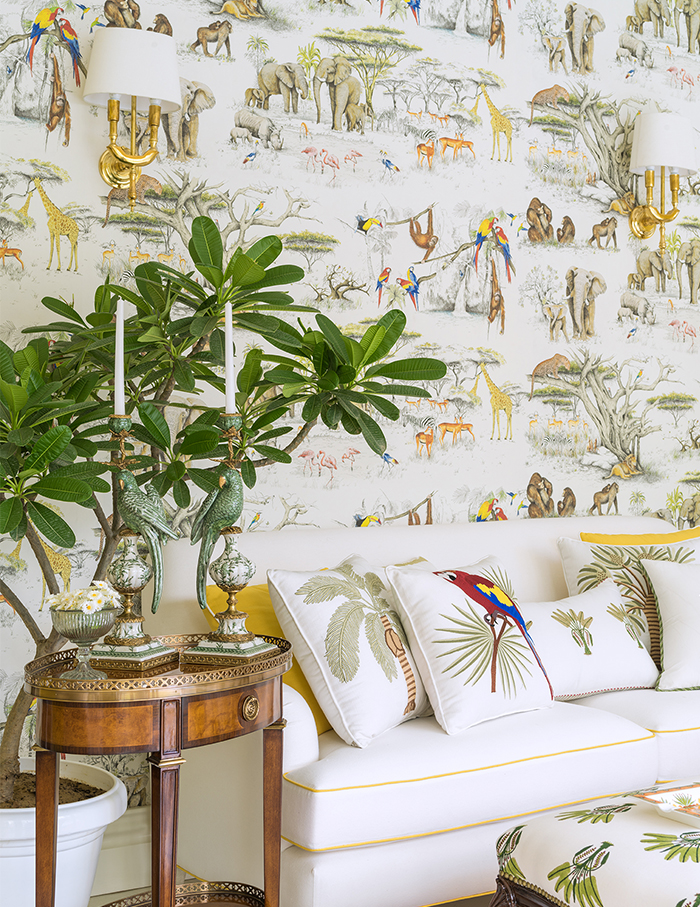 The family lounge is fully panelled with white duco and accessorised with books, curios, floral wallpaper, cushy seaters and Victorian teak chairs. Clothed in damask creams and ivory—with frills and soft fabrics delicately embroidered—and complemented by classical prints, all the elements in this house embody a sense of plush luxury.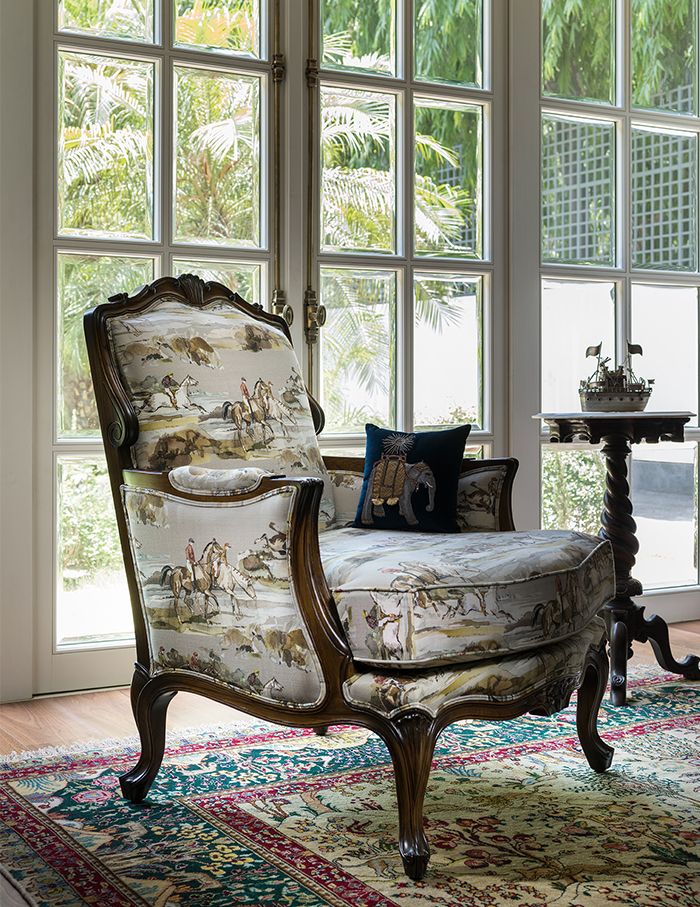 "I truly believe classical elements that have lived through time and even if repeated should not be feared but used…as they have proved to be everlasting. When juxtaposed with just enough glamour to be in tune with today's Delhi, we have uber chic and classy interiors, tempered with symmetry and harmony," says Nanda.
Scroll below for more images of this home by Shaunali Nanda…