Homes
SferaBlu Architects interlaces this Ahmedabad house with childlike ingenuity and ecological interventions
JUN 29, 2021
| By Kashish Kaushal
When kids Meethi and Mishti described their dream home to Naman Shah, Principal architect of SferaBlu Architects promised to build an earth-friendly house that aligned with their sensitivities and fancies. Aged 3 and 9 respectively, the girls were keen on building a house that did not harm nature. 
Aptly christened Meethi-Mishti nu Mati Ghar translating to Meethi-Mishti's earth house, the residence is constructed using ecological principles and exhibits attributes of curiosity, play and imagination. Spanning across  4,740 sq ft, the Ahmedabad home is built in rammed earth and upcycled wood. A childlike vivacity is captured in elements like a ladder being camouflaged within library shelves to a slide transpiring alongside the staircase.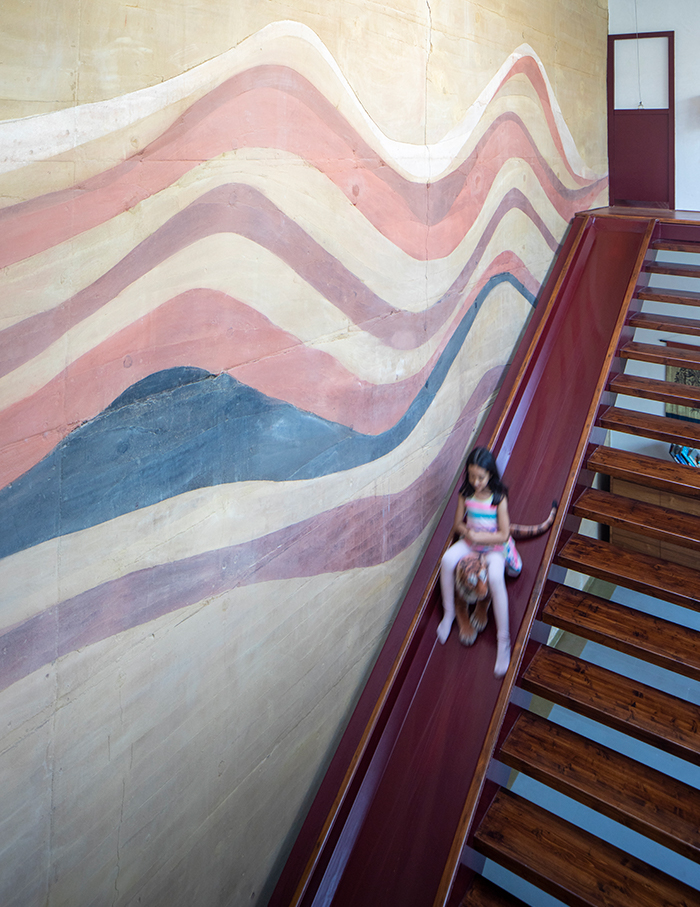 "To add a fun element akin to the patterns seen in layered sand art, different natural oxides were used to create layered fluid patterns in the large monolith", adds Shah. The girls' stone and shell collections, ones they had gathered over the years, were also added to the walls to preserve their fond memories.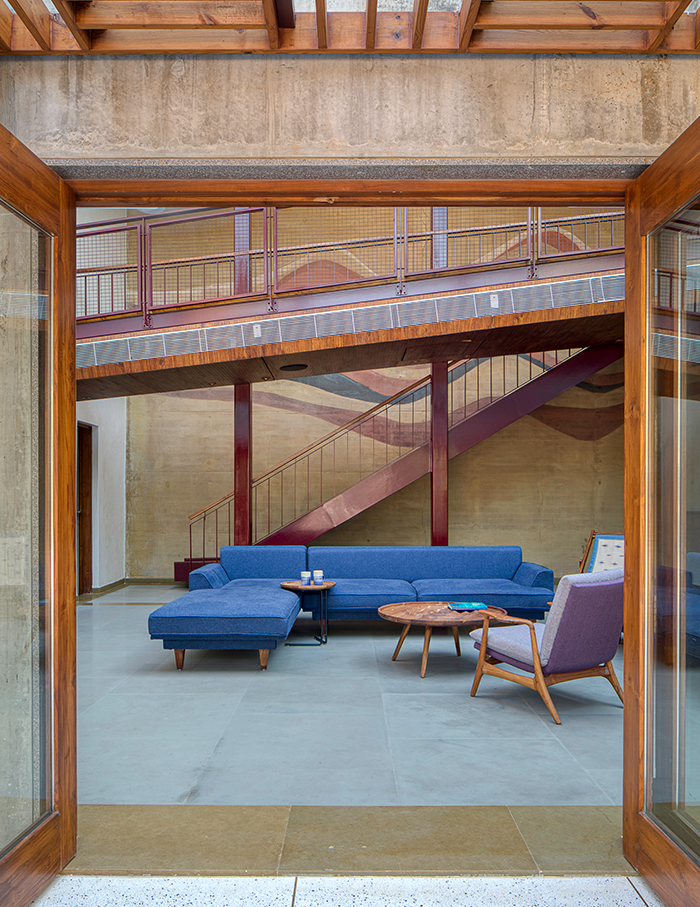 The living room with its double height ceiling encompasses an enormous volume. A sloping glass ceiling towards the north illuminates the house in diffused natural light. With a porch that opens onto the garden, the spatial planning efficiently integrates nature into the house with three bedrooms alongside the kitchen and dining.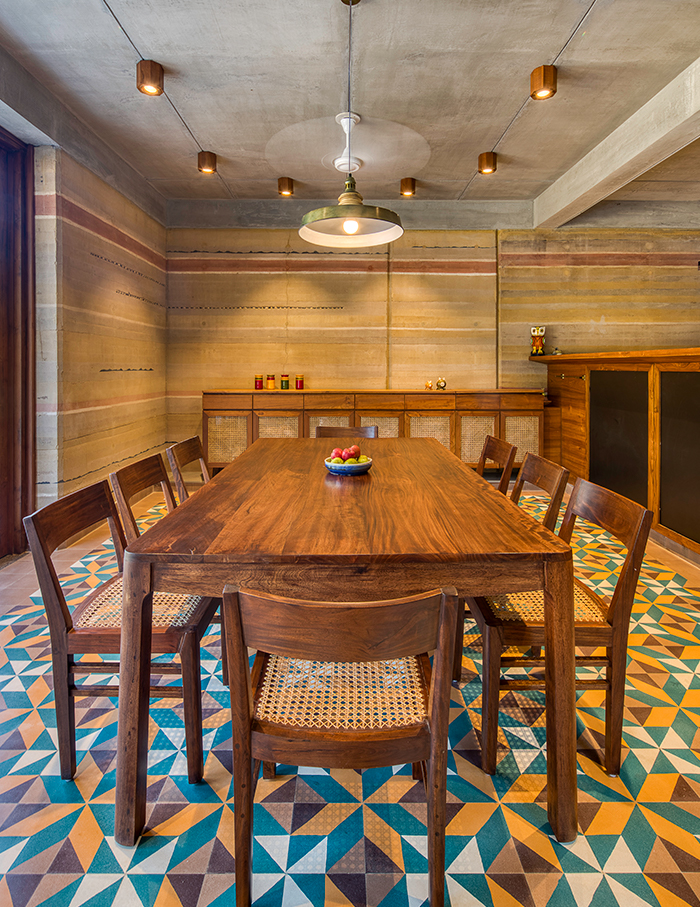 Lime plaster on the walls impart an earthy aesthetic as does the exposed finish on the ceiling. Wabi-sabi emerges as the theme of the house owing to the experimental nature of its design. Shah explains, "Due to research and development in real time, many products lack the finesse of readymade materials." However, it is the raw and tactile aesthetic that respects materials in their purest form. It endows a rich backdrop to offset the wooden textures and tiles by Bharat Floorings.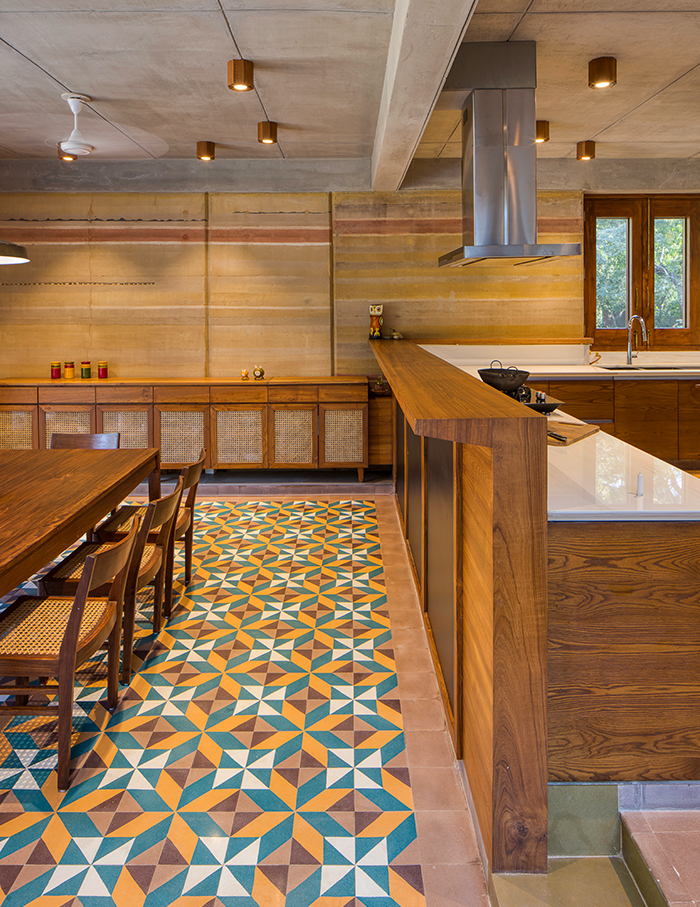 Upcycled wood from a building on the verge of being demolished is used for frames, doors and windows. The wood was treated and cut before being used in the project. Another eco-friendly intervention is the use of rammed earth that uses minimal cement. Further reducing cement is lime plaster that is used on walls, toilet floors and basin counters. As a result, the project uses less than 8% cement used in conventional construction. Executed by specialised craftsmen, lime plaster is also believed to filter toxins from air.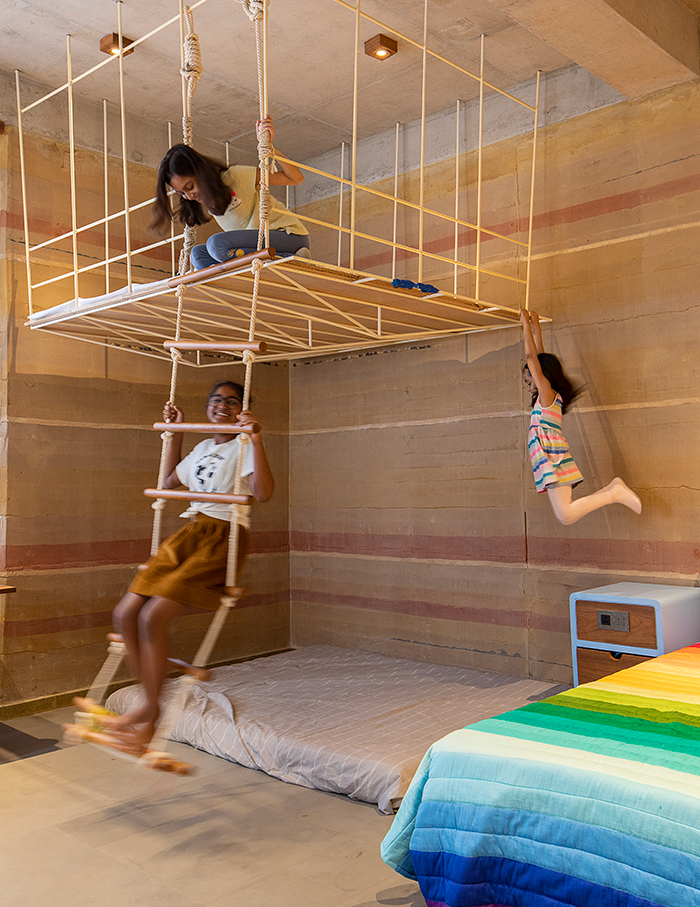 Beyond its sound architecture and spatial designs, the house transforms into a playground with features like an acrobatic bed suspended from the ceiling in the girls' bedroom. But underlining the shenanigans is a ladder camouflaged within the library shelves. It leads to a secret room with window grills in the shape of UFO sketches, fuelling creativity and imagination in the impressionable minds of the girls. 
Meethi Mishti nu Mati Ghar embodies qualities of the people who live in it. SferaBlu Architects have designed a sustainable house that is constantly shifting and shaping between nature and space, allowing it to blend seamlessly with its surroundings.