Homes
Sergey Makhno Architects fuse contemporary Ukrainian styles with organic materials for the design of this enchanting abode
SEP 22, 2020
| By Sakshi Rai
A home often functions as more than just a primary habitat or shelter. Instead, for most, it is considered as an extension of their personalities and characteristics—a place that they enjoy staying in and inviting others to as well.
The desire for a similar abode paved the way for Serhii Makhno and Oleksandr Makhno of Sergey Makhno Architects to bring to life a client's dream home, a place that the homeowner would be proud of. This simple sentiment stemmed the brief for a cosy city apartment draped in a contemporary Ukranian style brought about by minimalism, art and organic materials.
Since its origin in 2003, the architectural studio has been reputed for fusing their native traditions with global trends, natural influences and the Japanese philosophy of wabi sabi. "Whatever be the product or outcome, our primary focus is on design that is high on human comfort. We try to reveal the character of a person through the interiors we build. One that reflects their roots and culture, and forms a bridge between their past and future," shares Makhno, founder of the practice.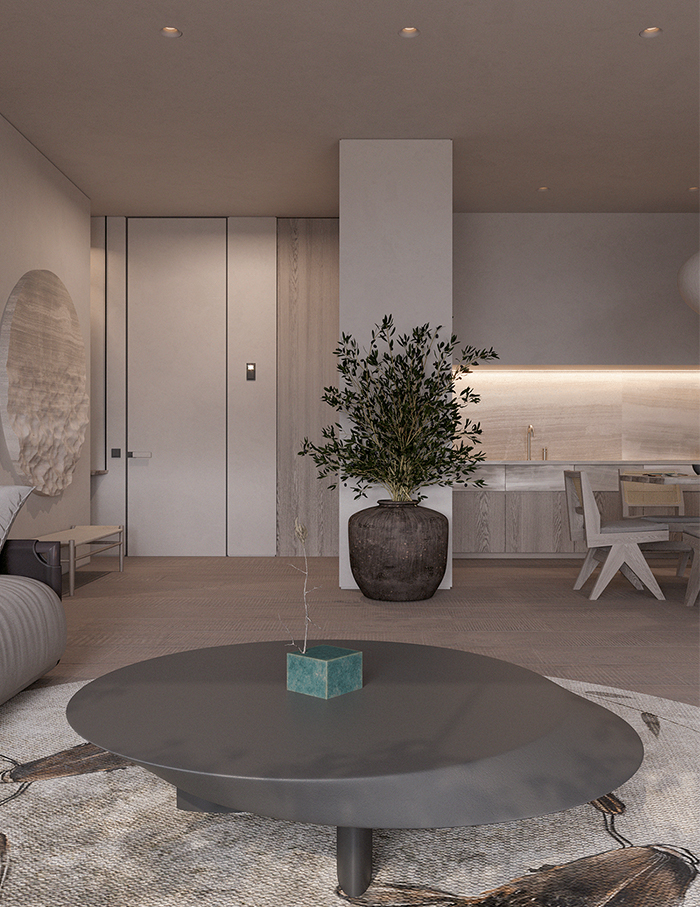 It was the quest for this distinct and signature design vocabulary that made the homeowner approach the Kyiv based practice. The 2,400 sq ft property is part of a premium residential complex, situated in the heart of the Ukrainian capital. It is set atop a hill, offering magnificent views of the city, and conceptualised as a protective fortress with a calm and serene core.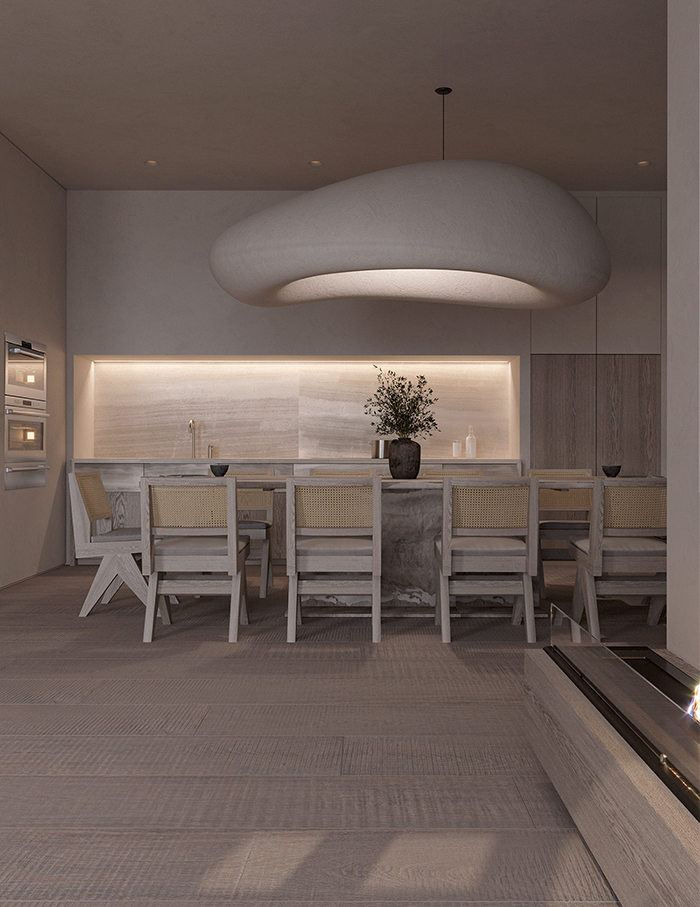 Keeping with the recent trend of decluttered and interconnected spaces, the creatives designed fluid interiors. From the entrance, one can view the living and dining areas as well as an open kitchen unit. Cappuccino-coloured walls encase these wood and ceramic cloaked spaces, bringing in a warm ambience. A large dining table makes room for memorable meals and conversations for the family.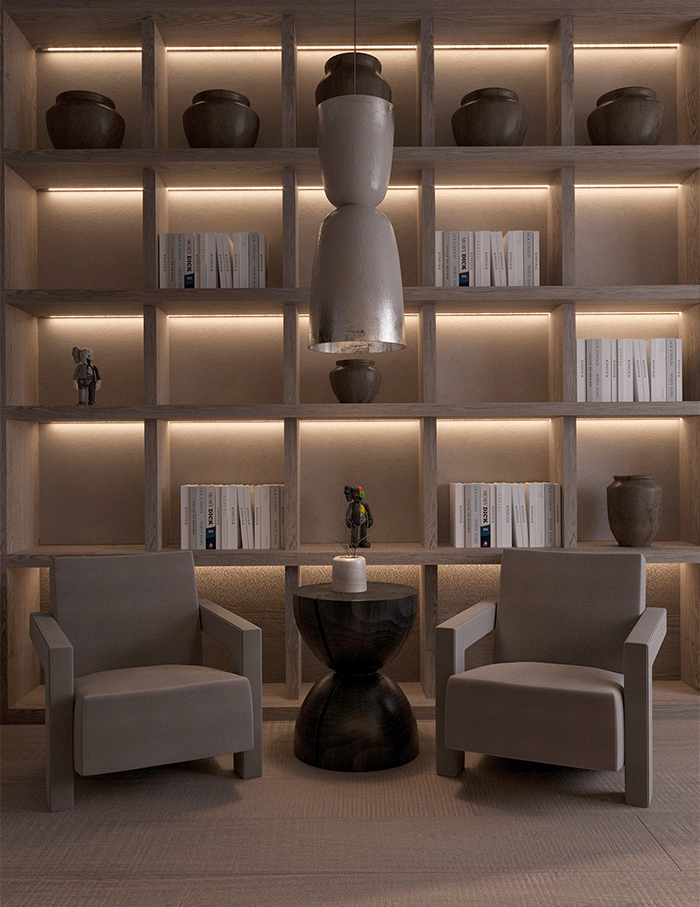 The children's room, inhabited by the homeowner's two sons, follows next. It houses an ensuite bathroom and balcony. Except for a bold outburst seen in a playful blue corner, this space is characterised with clear straight lines and dominant shades of grey. An additional bathroom and home office-cum-study occupy the other side of the apartment.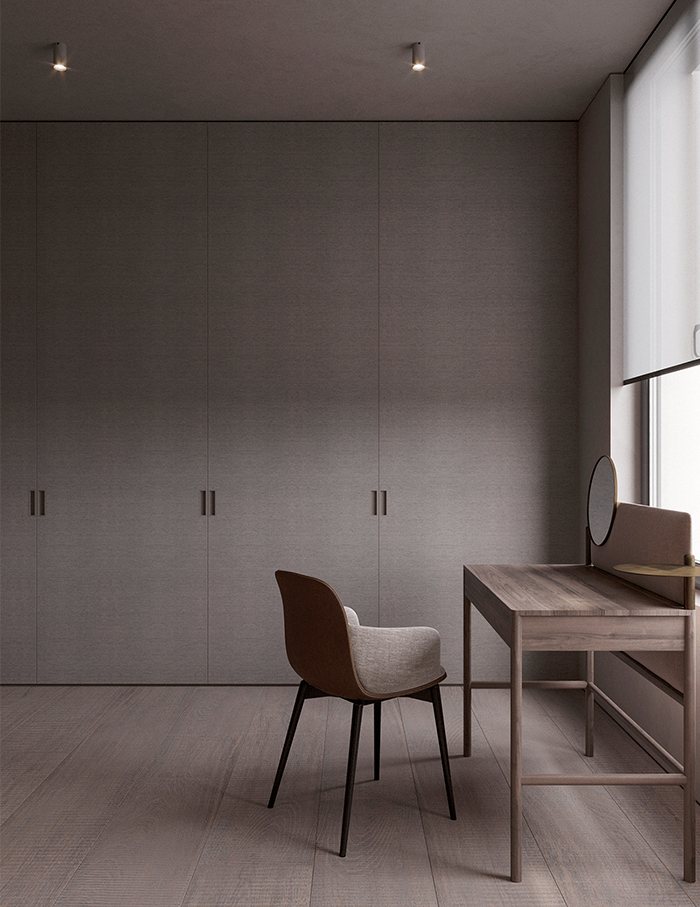 Tucked away—at the absolute end to offer privacy—are the guest and master bedrooms that use Makhno's award-winning Tetrapod tiles to frame an attractive accent wall. While the guest space has an attached balcony, the master suite is more spacious and features a capacious dressing area and bathroom.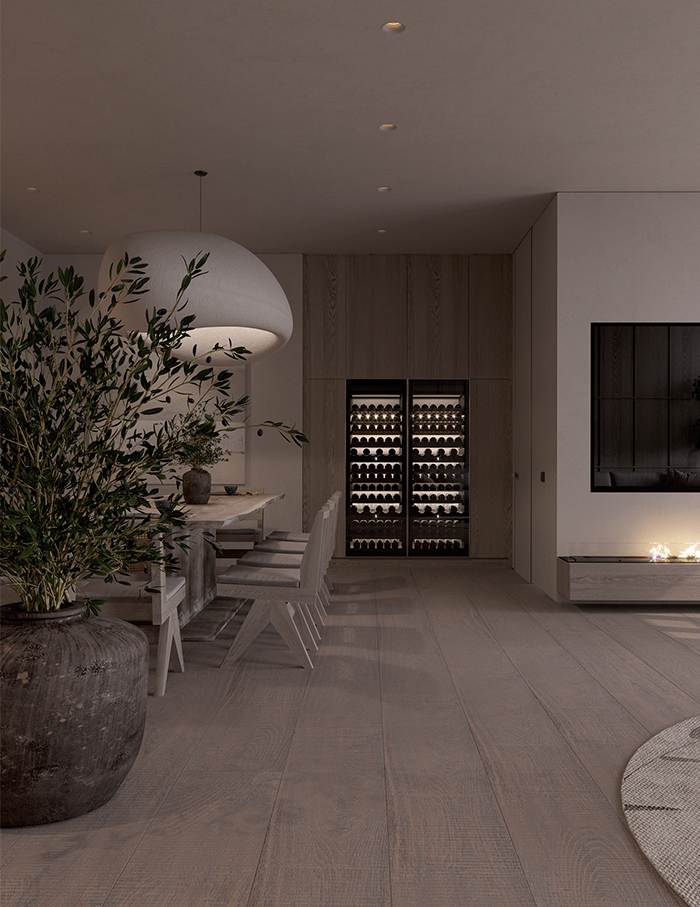 The decor of this residence employs muted and natural hues, along with exquisite textures and backdrops. Most of the stylish furniture and accessories are custom crafted by local Ukrainian contractors, with the exception of a few pieces including a striking Giorgetti sofa set. We absolutely love the bespoke array of lamps—in unusual yet organic forms and sizes—crafted by Sergey Makhno Architects that illuminate the home.
Scroll below to see more images of this decadent residence by Sergey Makhno Architects…