Design
Sameep Padora and Anushree Jindal of JSW Group conceive an eco sensitive place of worship
JUL 26, 2020
| By Aneesha Bhadri
A black limestone temple lies in the quaint village of Bilkalguduru in Andhra Pradesh. Its arresting facade giving the surreal impression of a contemporary streamlined composition with a sense of antiquity. Helmed by Anushree Jindal of JSW Group and lead architect Sameep Padora, the architecture of the place of worship is based on the 10th century temple of the same deity located at Tirupati.
The structure is designed as a self-supporting edifice made using indigenous black limestone slabs. Horizontal layers or corbels have been used as an abstract of Hindu temple architecture to achieve its verticality. Padora adopts select motifs of typical Hindu places of worship by reimagining them through their constituent parts, rather than simply reproducing them.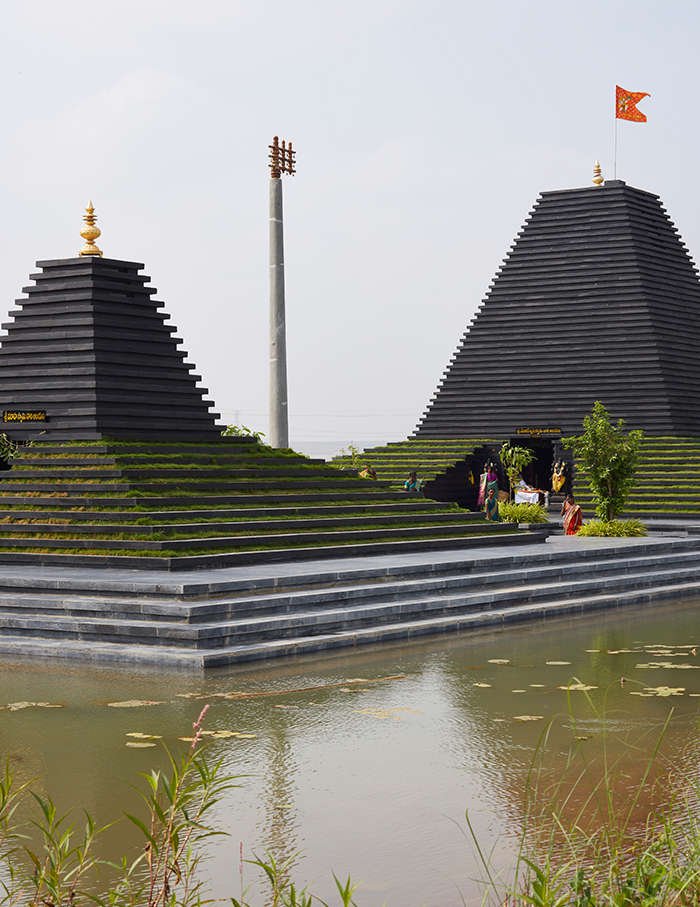 The banks of the adjacent waterbody can be used as a communal space for social gatherings. JSW Cement aspired to address the community's cultural expectations for a temple as well as revitalise the dormant water source. The neighbouring cotton and chilli farms made it all the more essential to renew the resource in order to help boost the agricultural economy of the region.
"This temple is designed to offer a peaceful, social space for the local community. The area has a natural canal that had gone completely dry. We were unequivocally committed to having this construction conceptualised such that it rendered the canal usable by the villagers," explains Jindal.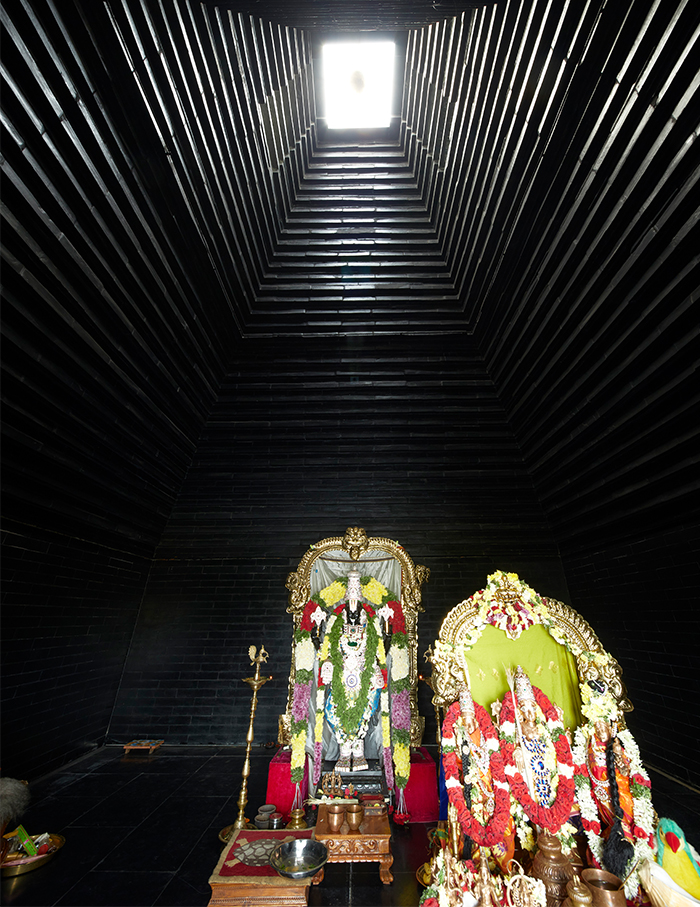 The ecological restoration began with the groundwater. "The core design idea was to address the sociocultural expectations of the villagers, while developing an environmental framework to revive the groundwater source," adds Padora. The dry low lying space in the vicinity was consolidated into a water retention pond by redirecting overflow from a nearby limestone quarry.
The banks of the pit of kund were reinvented as a social space in the form of a stepwell or ghat. This approach was also in line with the idea of a ghat symbolising the relationship of land with water—a significant part of the quintessential Indian spiritual experience, as is seen in the ancient city of Varanasi.