Lifestyle
Rwanda's luxury Bisate Lodge sits inside an eroded volcanic cone
AUG 13, 2019
| By Jeremy Callaghan
Only three hours from Rwanda's capital, a wild world of wonders exists near the northern city of Ruhengeri. The locally inspired Bisate Lodge is built with a vision that fuses vernacular architecture and culture with luxury. This quaint cocoon by Wilderness Safaris opens into the Volcanoes National Park—the mystical place where Dian Fossey founded her gorilla research centre in 1967.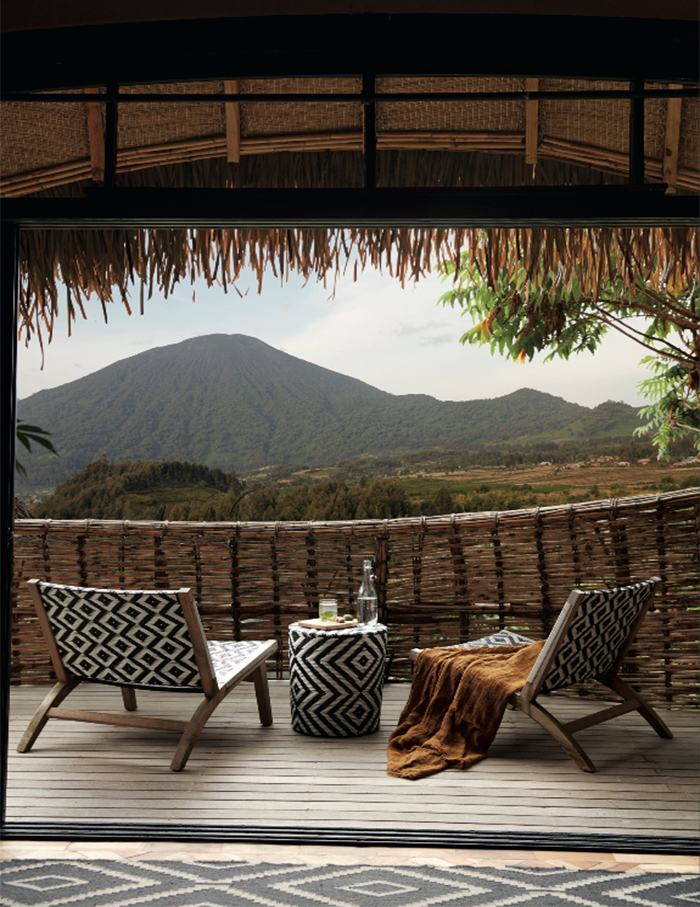 Influenced by the rolling hills and thatched design of the precolonial King's Palace in nearby Nyanza, the lodge comprises six individual, pod shaped shelters woven out of and into the verdant Rwandan hillside. The true luxury of this resort, which is spread across an expansive 42 hectares of former farm land, lies in its location and exclusivity. It is nestled in a vast, untamed landscape, rich with biodiversity.
Renowned South African architect Nick Plewman, who also designed the Sandibe Okavango Safari Lodge in Botswana, modelled a reception and restaurant near the entrance. From there, winding paths take visitors up the hill to the generously planned cottages. Each one, at 980 sq ft, has its own lounge built around a large central fireplace, made from locally available volcanic stone.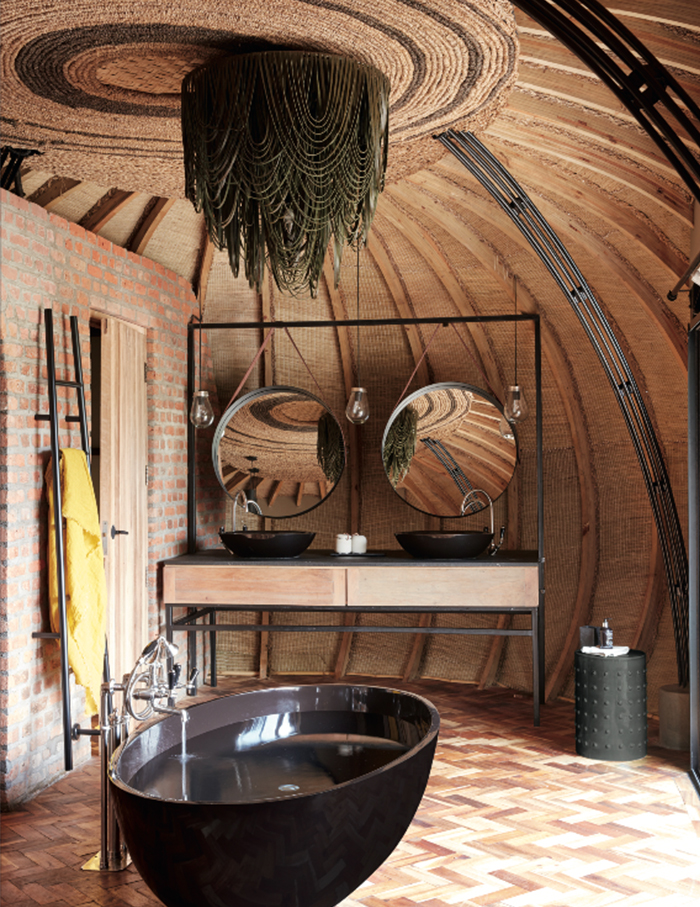 The expansive interiors by Cape Town-based designers Caline Williams-Wynn and Nilfah Adams of Artichoke Design are complete with a bedroom, an en-suite bathroom and a sweeping private deck with views of the Karisimbi, Bisoke, and Mikeno volcanoes. Teta Isibo of Rwandan design brand Inzuki, handpicked locally sourced textile crafts to accentuate the space.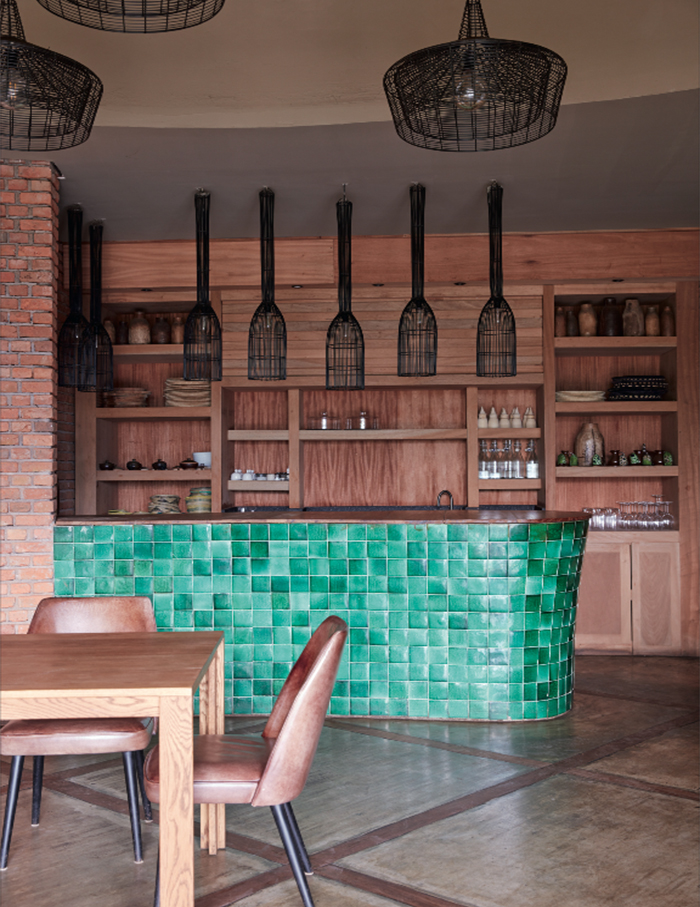 The lodge's USP can also be attributed to three other factors. Firstly, to encourage visitors to share experiences of their exploration, the common areas are devoid of Wi-Fi service. Plus the lodge gifts each visitor a native sapling, which is planted in the surrounding forests, thereby inviting them to become a part of the conservation efforts as well as giving them something more to come back for. Finally, its location provides the best logistics to one of the last few places in the world to chance a face-to-face encounter with the critically endangered silverback gorilla species.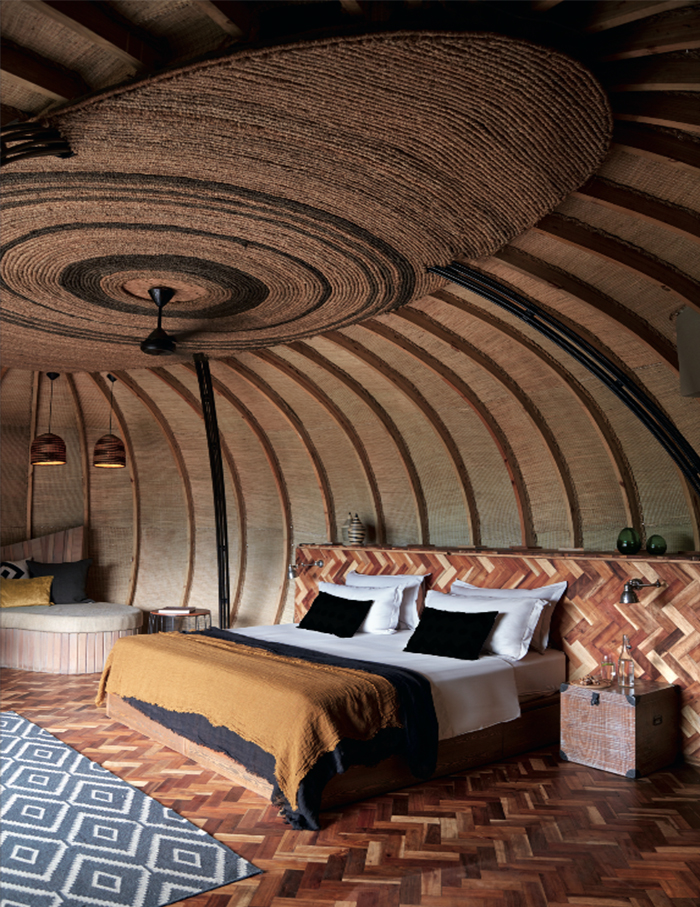 The lodge, however, doesn't lose sight of its principles—community remains a key pillar. Over 95 percent of the jobs at the lodge have been given to locals from nearby villages, who were also involved in the design, conceptualisation and making of the building. In fact, the creation of this property was best summarised by the late co-founder of Wilderness Safaris, Russel Friedman, who said, "When we invested in Rwanda, the last thing we intended to do was build a boutique lodge and sell gorilla treks. We wanted to make a real difference to both—rural Rwandan people and biodiversity conservation."