Design
Restaurant Rendezvous—ED's curated list of restaurants will have you planning lunches for no reason
DEC 6, 2021
| By Twinkle Tolani
As winter sets in, the warmth of good food and palpable chic interiors pulls us into restaurants for a tête-à-tête or a long-pending catch-up with friends. Restaurant interiors play a pivotal role in pulling customers, and if their photos come out 'Instagrammable', they are bound to come around again.
With this list of hand-picked restaurants, derive inspiration for a restaurant revamp or become the cool friend who knows about all the picturesque restaurants—the choice is yours…
Opa Kipos, Mumbai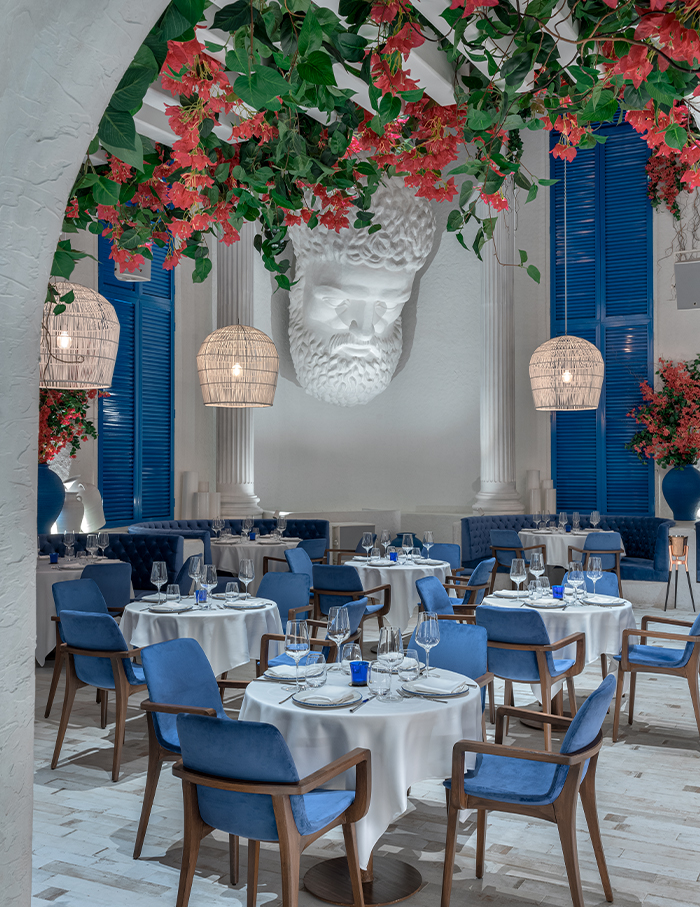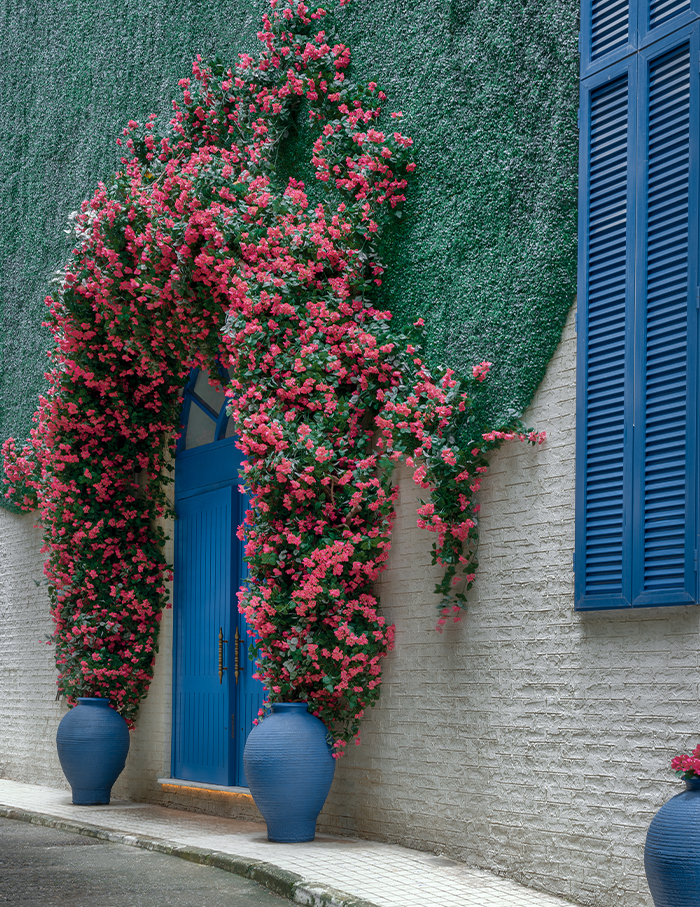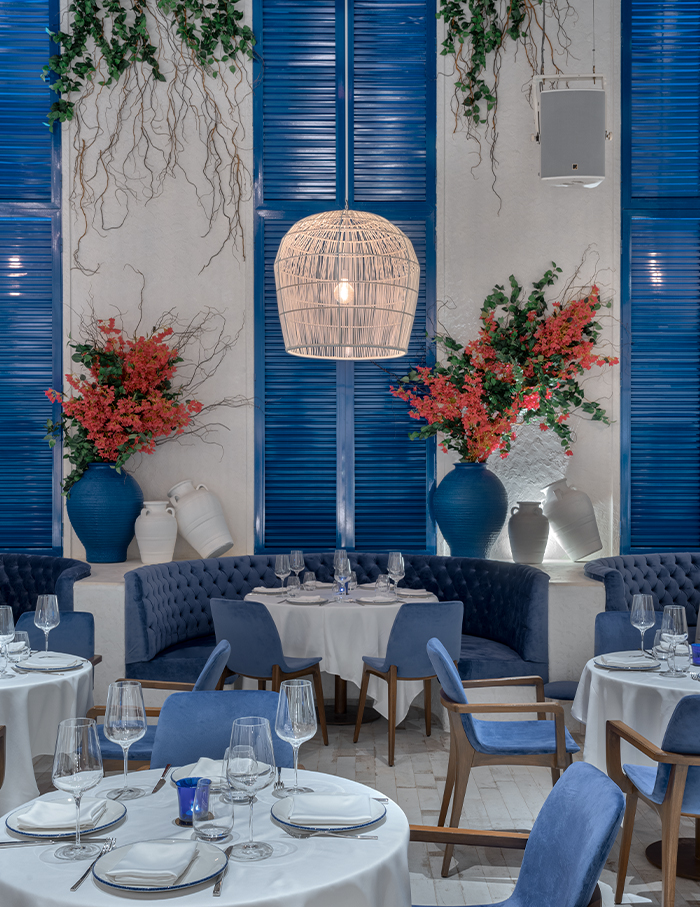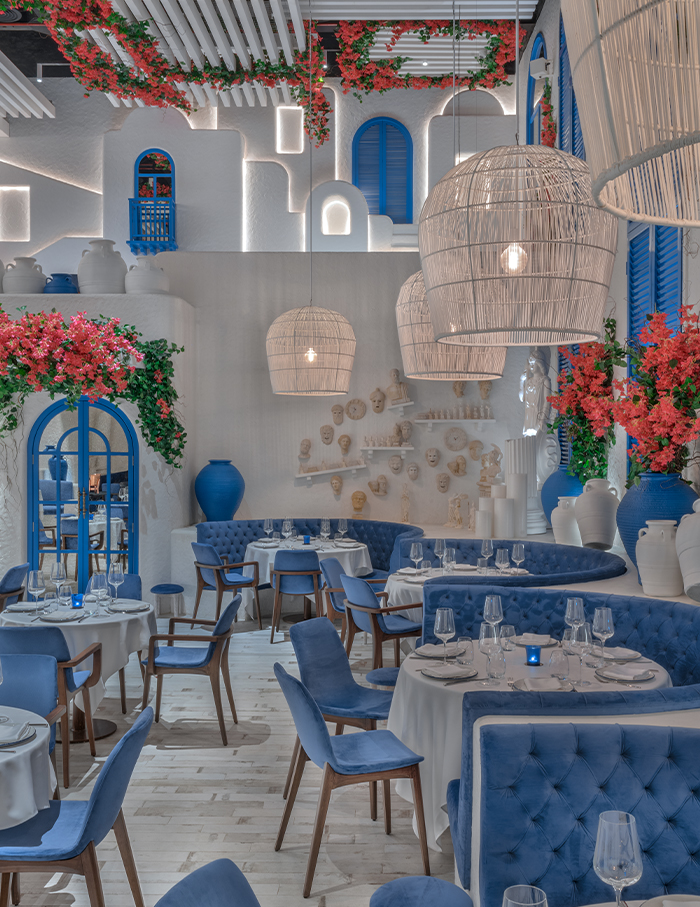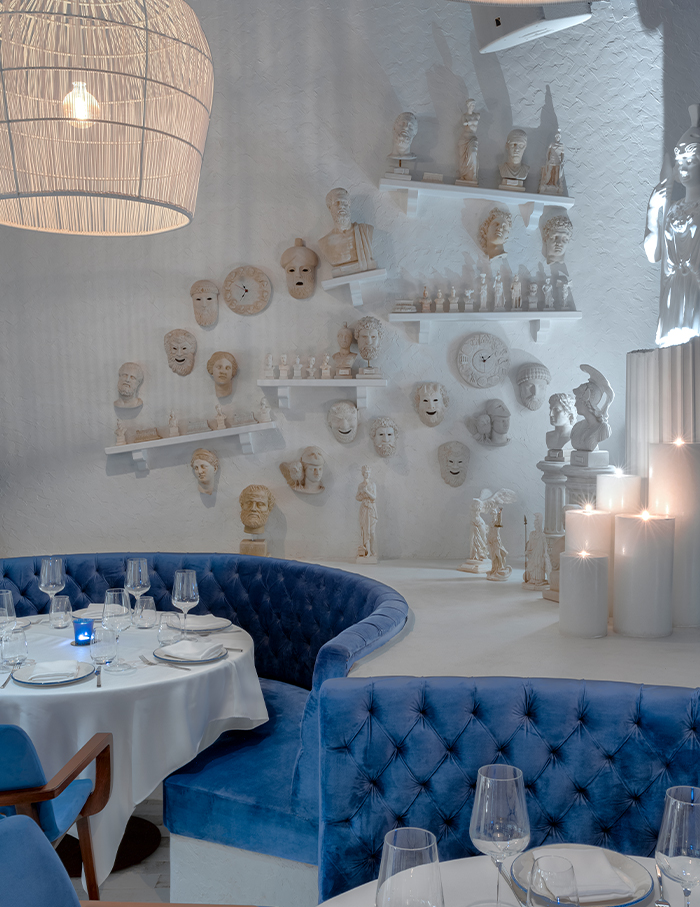 Experience Santorini in Mumbai with this restaurant flaunting authentic Greek interiors in a cosy whitewashed space, designed by the Creative Clinic, Dubai. Hitesh Keswani, Founder, Silver Beach Hospitality & Entertainment Pvt Ltd is the owner of this 7,500 sq.ft., 180 seater space.
Divided across two floors and three lounges, the ultra-spacious restaurant is a tribute to the splendour and size of Greek feasts.Bright blue accents and vibrant pink florals will have you forgetting all about winter chills. Starting from the garden into the reception area and finally to the main dining room, the restaurant reeks of Greek!
The Bar at 19th, Royal Calcutta Golf Club, Kolkata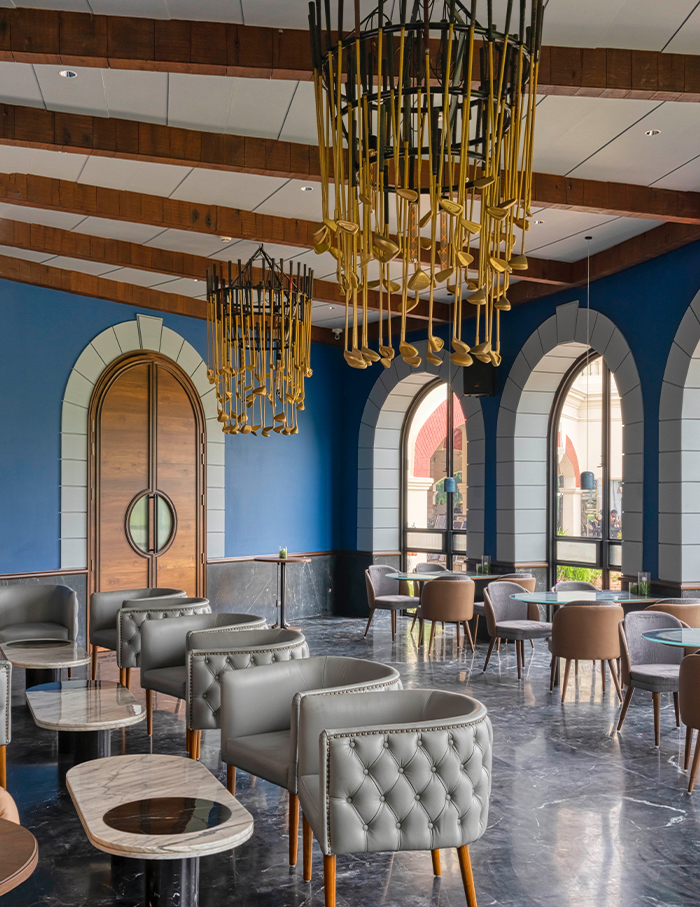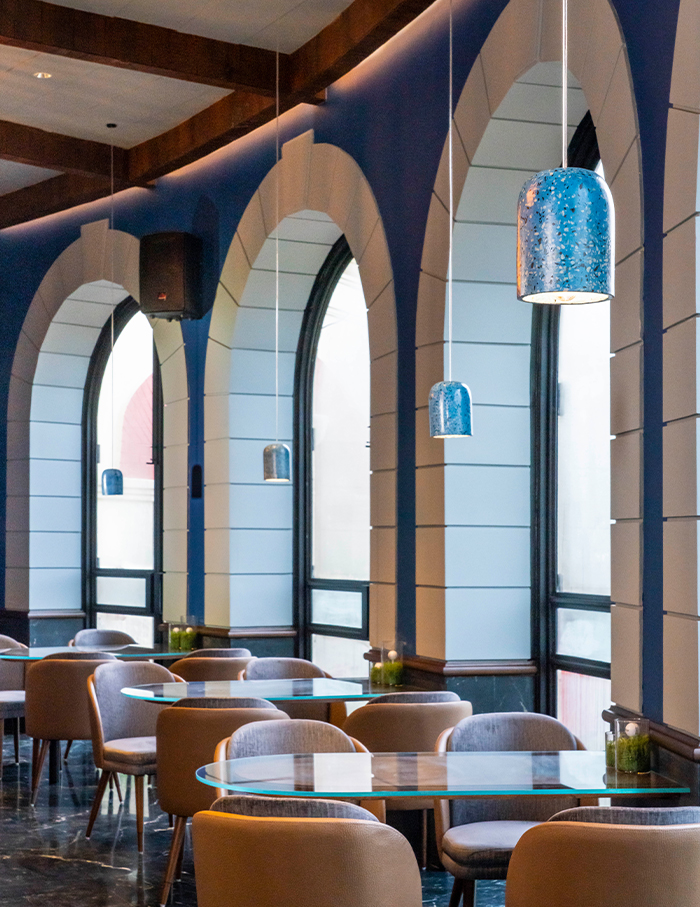 Royal, one of the finest golf courses in Asia, has a vintage yet modern bar where golfers take respite after their game of the 18 holes called "bar at 19th". Earlier an enclosed area, the bar now opens it to the golf greens through its five, 100-year-old, restored heritage arches. The walls are covered in the 2020 Pantone shade of the year, Classic Blue, that complements the view seamlessly.
"Everything about Golf was an inspiration including the right swing to a golfer, the golf clubs and the visual treat of golf greens with the blue sky. Restoring the building itself was a huge responsibility and an inspiration. Identifying the right proportion of the arches was a great experience and journey rather than a challenge" concludes Pooja Bihani, founder and principal architect of Spaces & Design.
The Tangra Project, DLF Avenue, Saket
"The Tangra Project" is the result of deliberate discussions between chef Vikramjit Roy, Vir Kotak, and the architects at Studio Pomegranate. There are entrances to the restaurant—through a street-side, where one is greeted by a door that references "moon doors" of southeast Asia, and a central aspect of the Chinese built environment. The latter is a threshold that sets the mood to a private dining space, and chef's table. 
The private dining room is covered in red wallpaper, a circular marble table, and a custom-built chandelier designed by Studio Pomegranate. The chandelier is made with the silhouettes of kitchen tools, that pop in and out of plane while bouncing light around playfully. The other entrance is reminiscent of Calcutta's booksellers. Once inside, the viewer is surrounded by several column-like structures built with marble and lit from within to glow like lanterns.
Wakai, Mumbai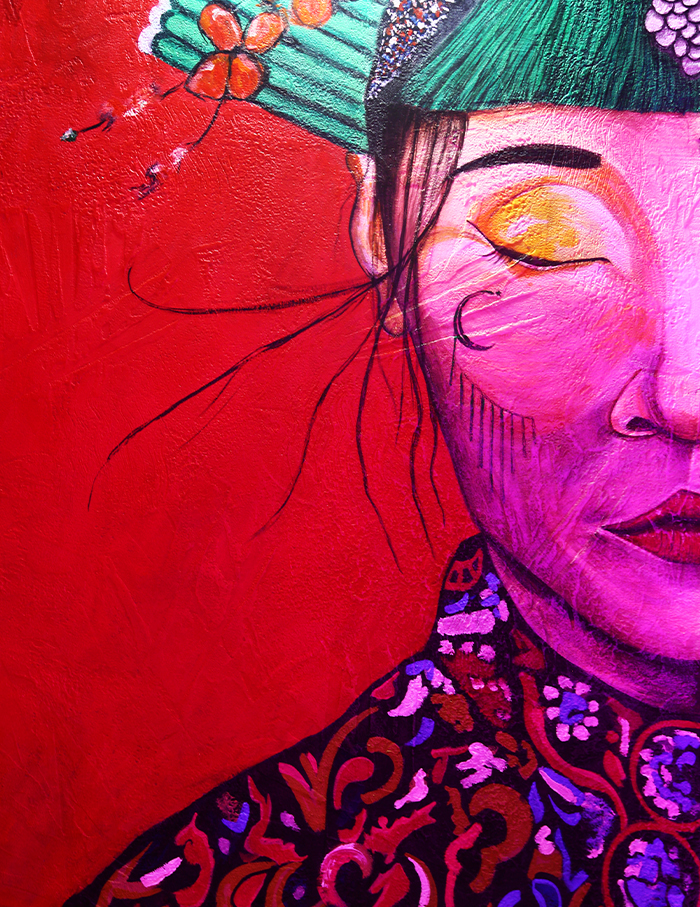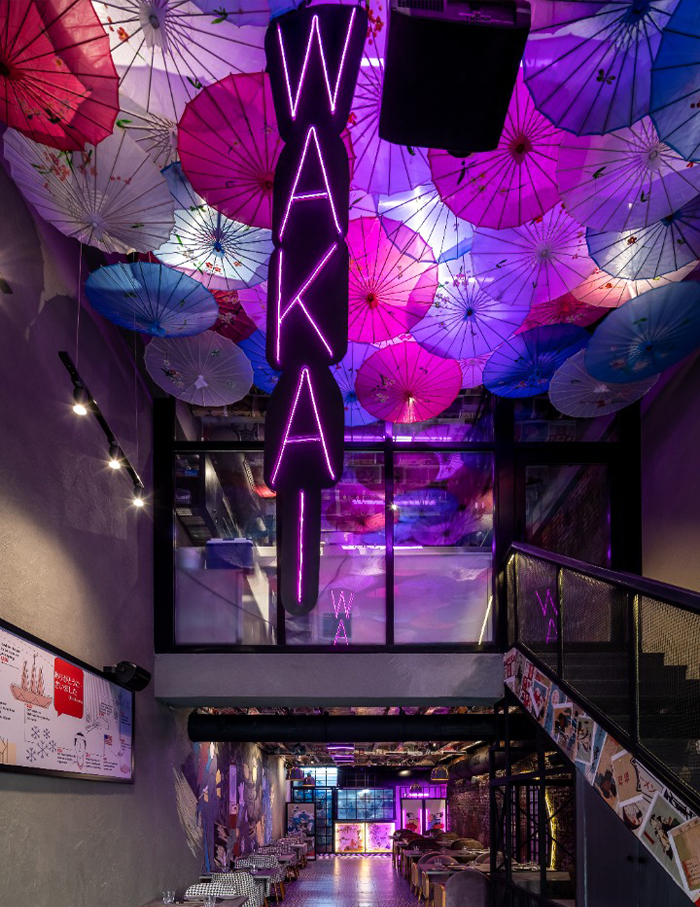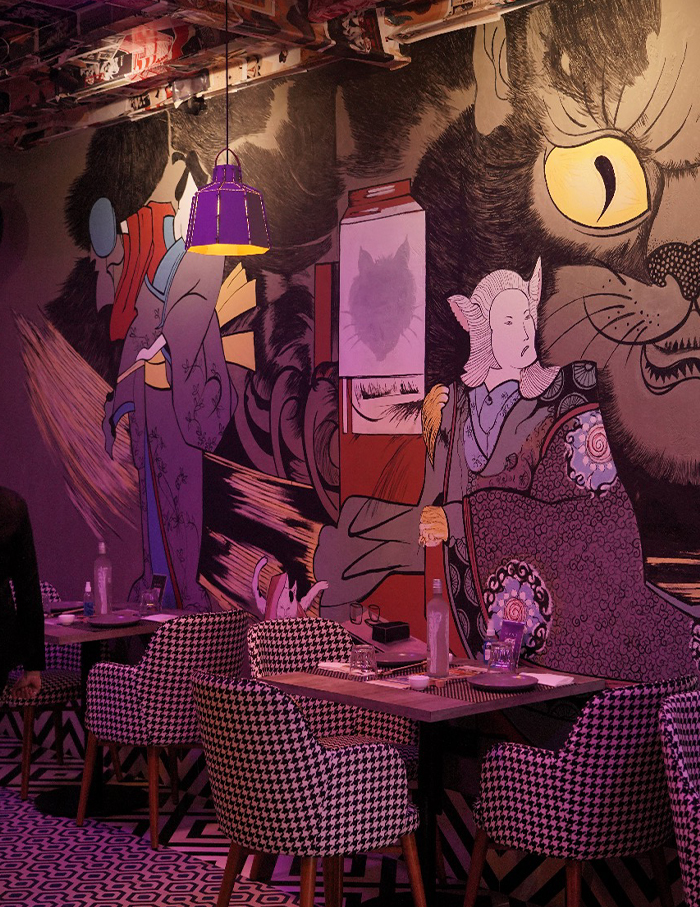 Founded by Shardul Singh Bayas, Sameer Tirani and Head Chef Parvez Khan, the premium restaurant applies the ancient, traditional techniques with the highest quality ingredients imported directly from Japan's Toyosu Market to curate their menu. Celebrity interior designer Rupin Suchak sprinkles cinematism to the venue.
Thoroughly understanding the dramatic quotient behind creating an experiential set, Suchak has successfully mimicked the streets of Japan, ramen shops, and back alleys of Tokyo. He was inspired by Chef Parvez Khan's vision to re-create a contemporary Japanese nook in the heart of Fort.
Zao Cha House, Bandra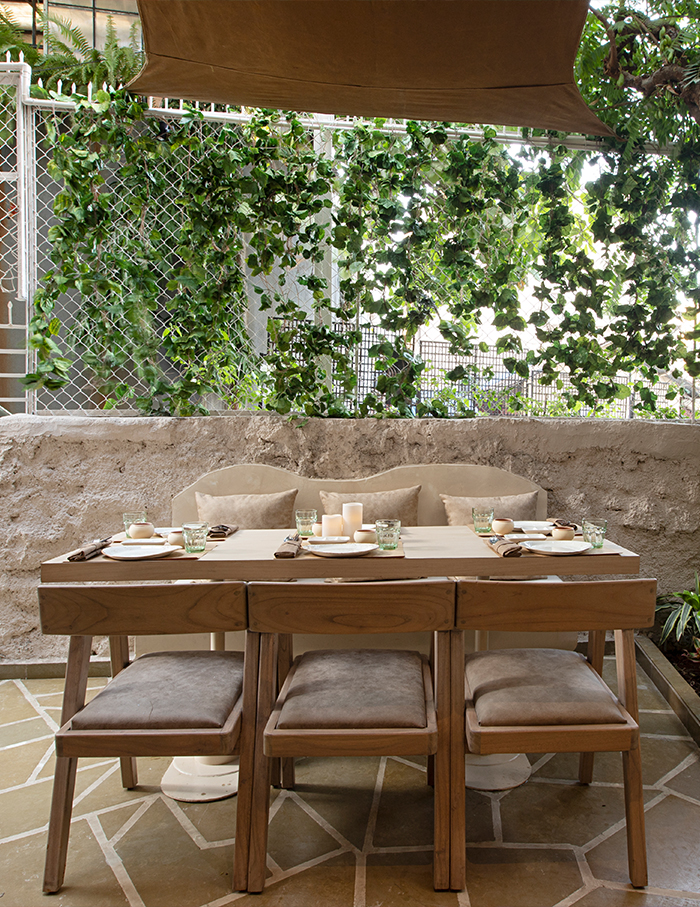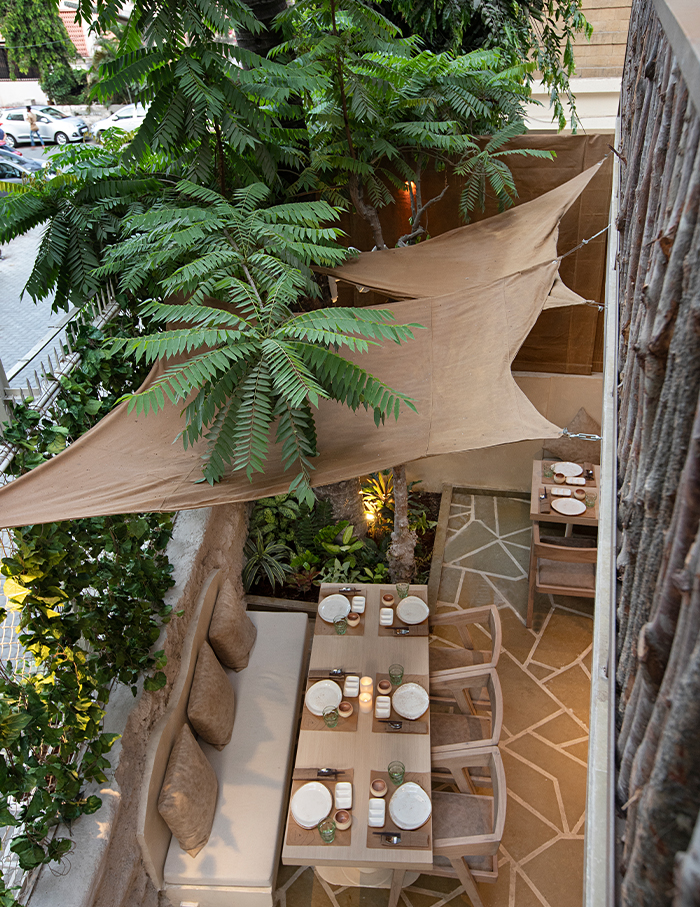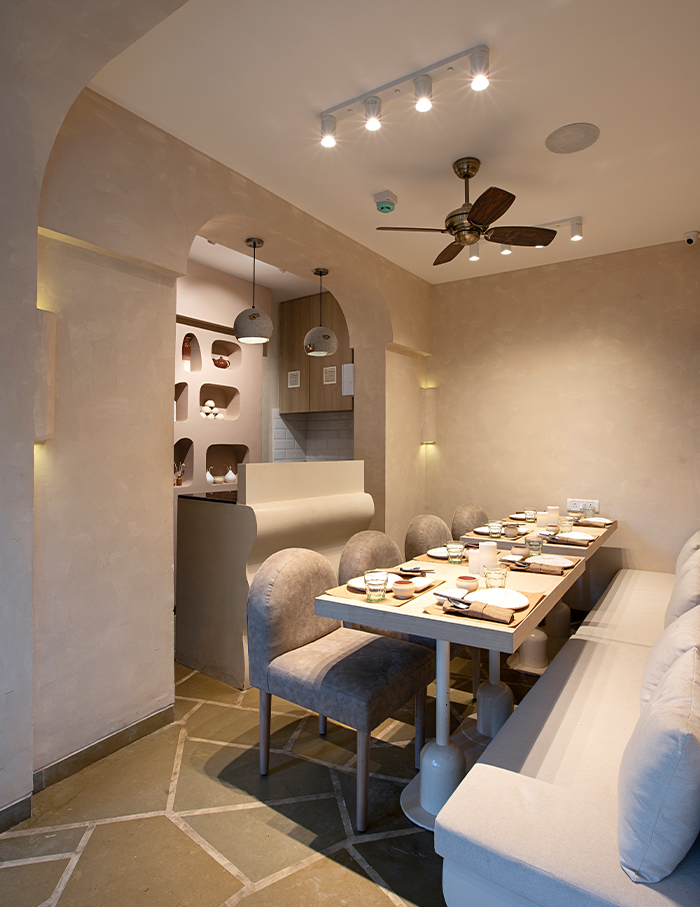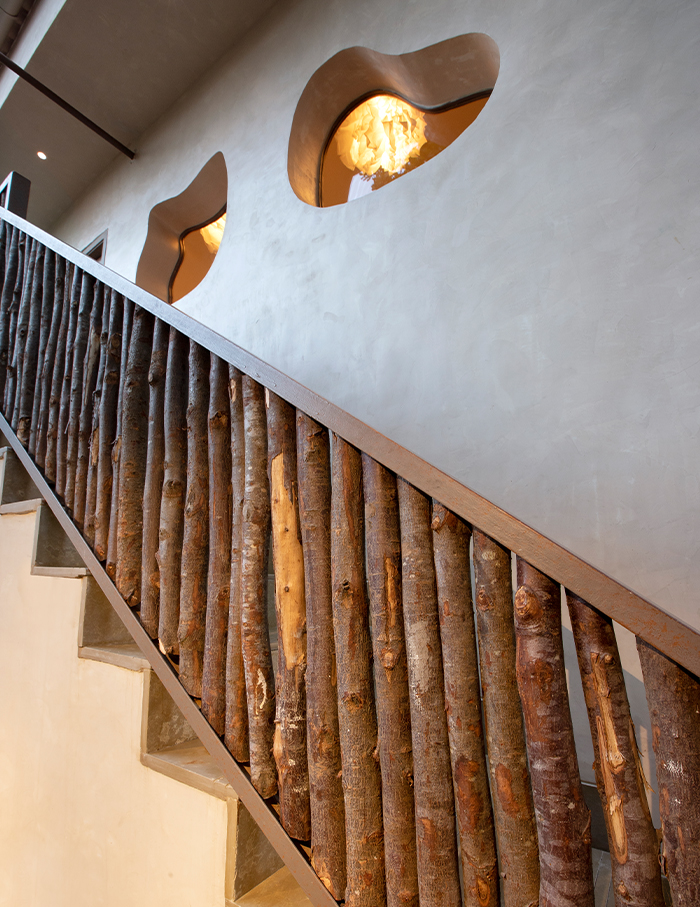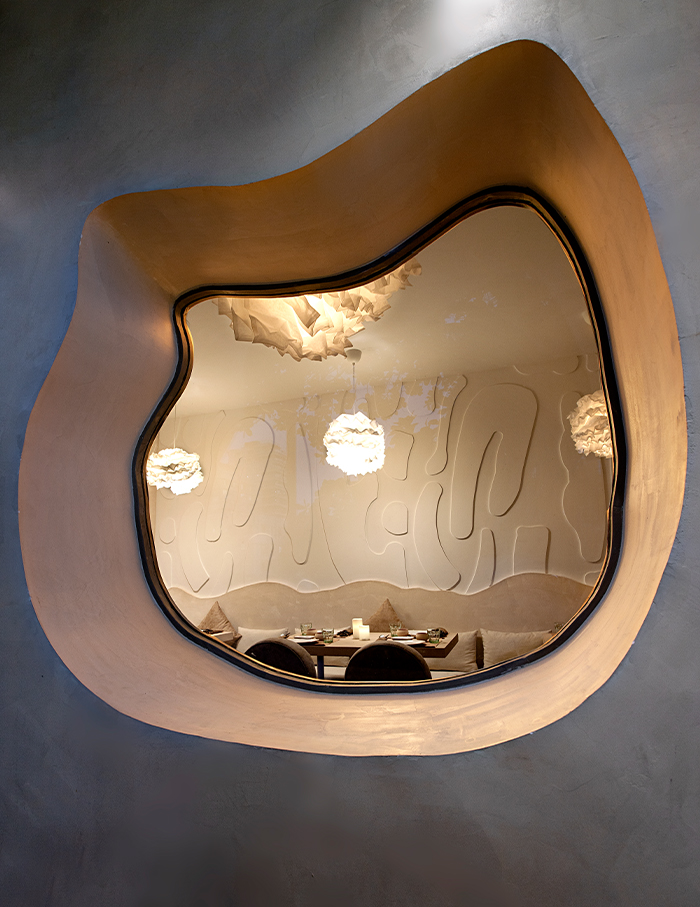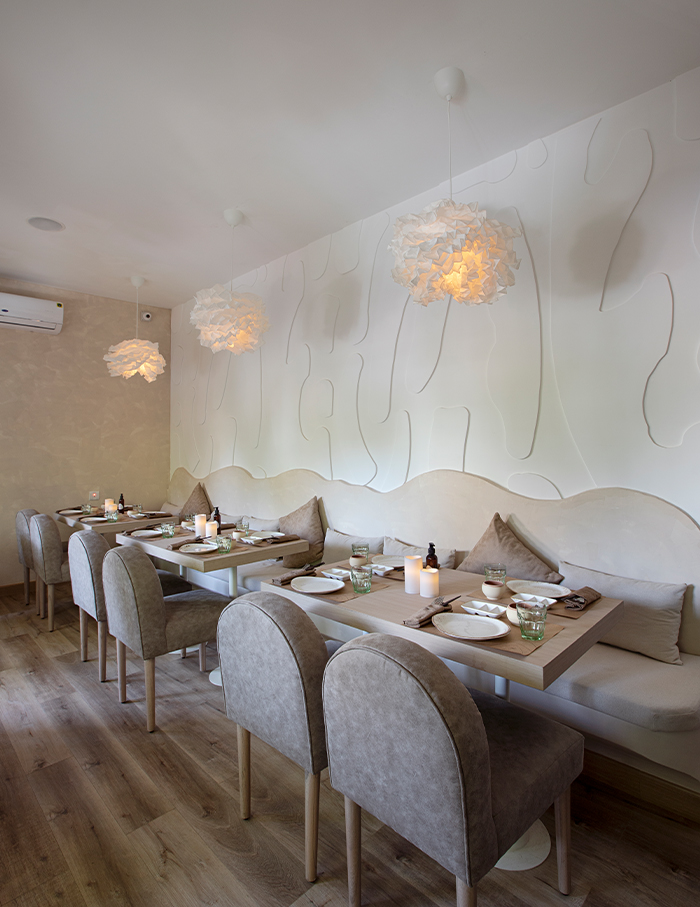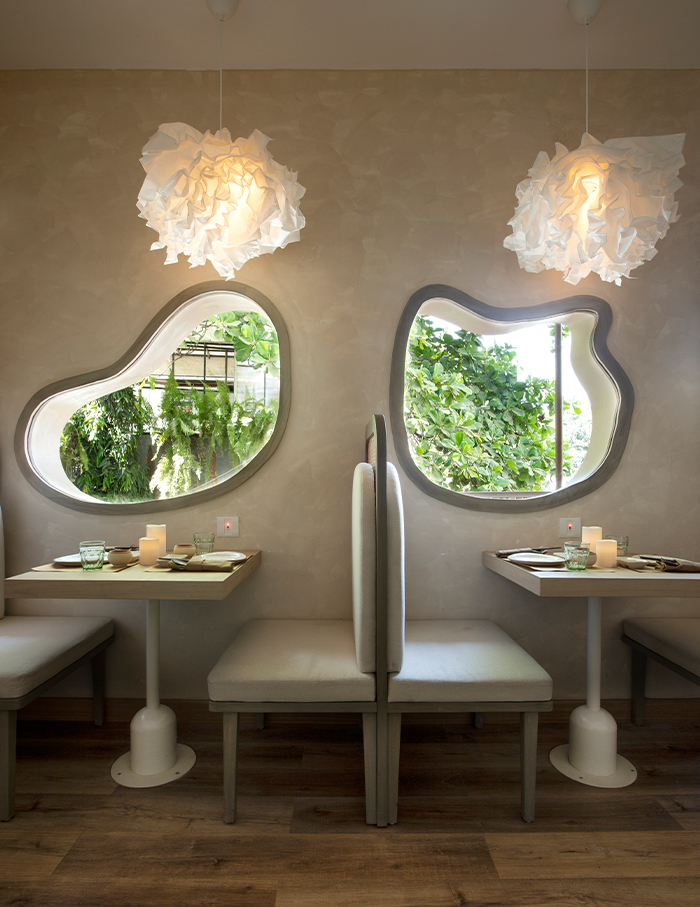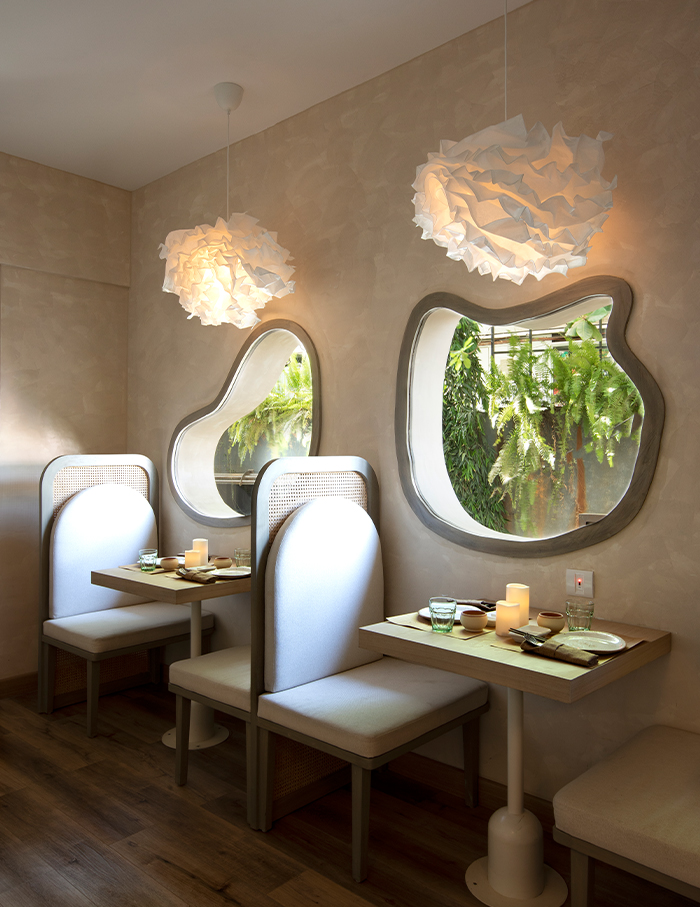 Tucked away in a quaint lane in Pali Village, Zao Cha House has a soothing indoor dining area beautifully in conjunction with an outdoor space sporting a canopy of trees. Termed "Eco-Chic", the minimal space is filled with repurposed furniture. Used natural materials such as bamboo, which is utilised for scaffolding, was employed as a rustic railing.
"Our concept was to have an alluring environment with organic shapes, gentle curves, muted earthy colours and warm cozy lighting. Designing Zao Cha House was a very hands-on approach, where every detail was mapped out, whether it was creating a unique light feature that blends seamlessly with the walls, to drawing the organically shaped windows, niches of the tea bar, and sofas, freehand on the bare surfaces of the site," said Zara Eisa & Rohan Poojara, lead designers of Eisa Associates.