Homes
Replus design bureau give us a tour of a restored slice of history styled with pops of artistic flair
OCT 8, 2020
| By Sakshi Rai
A refurbished apartment in a historical building in Lviv, constructed circa 1890, belongs to architects Khrystyna Badzyan and Dmytro Sorokevych of Ukranian creative practice Replus design bureau. The 800 sq ft residence is distinguished by its bold, outlandish transformation—a wild and expressive canvas for its inhabitants.
"A contemporary rendition of traditional Hutsulian ethnicity within a neo-Renaissance Austrian environment" is how the duo describe their home, which has an aged, lived-in appeal. But making such an old structure first livable and then personalised was nothing short of a Herculean task.
The creative pair chose to retain former elements as well as add new features fitting their present context, thereby creating a space that let's one traverse the corridors of time.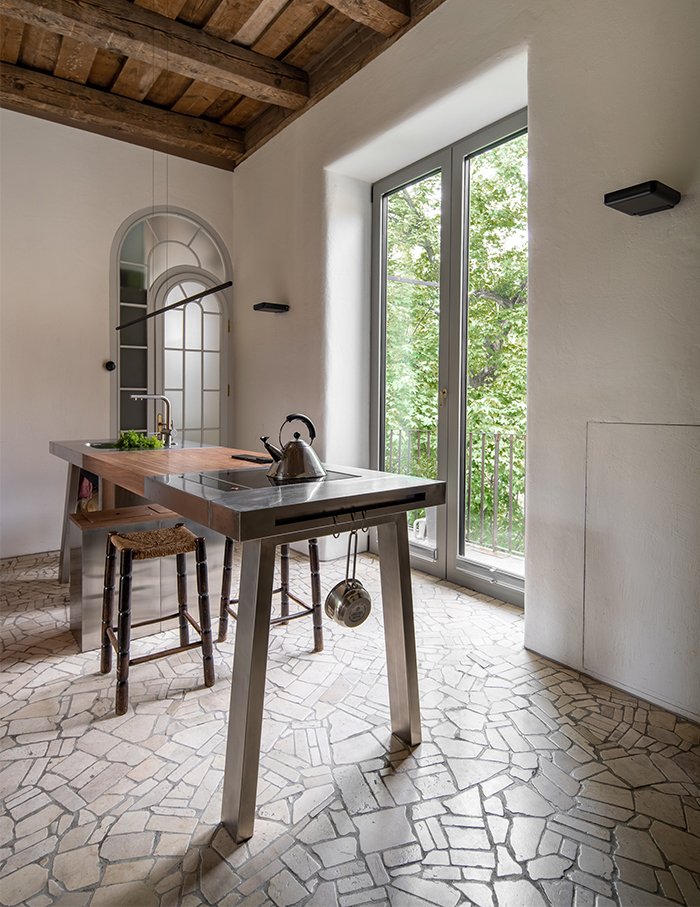 Authentic 19th century doors, which have been scraped and varnished, lead the way into each of the white-walled rooms within the abode christened Guculska. Cracked ceilings in the kitchen and living area were removed, while old wooden beams including some with engraved inscriptions from 1871 by Badzyan's grandfather were repurposed as part of the decor.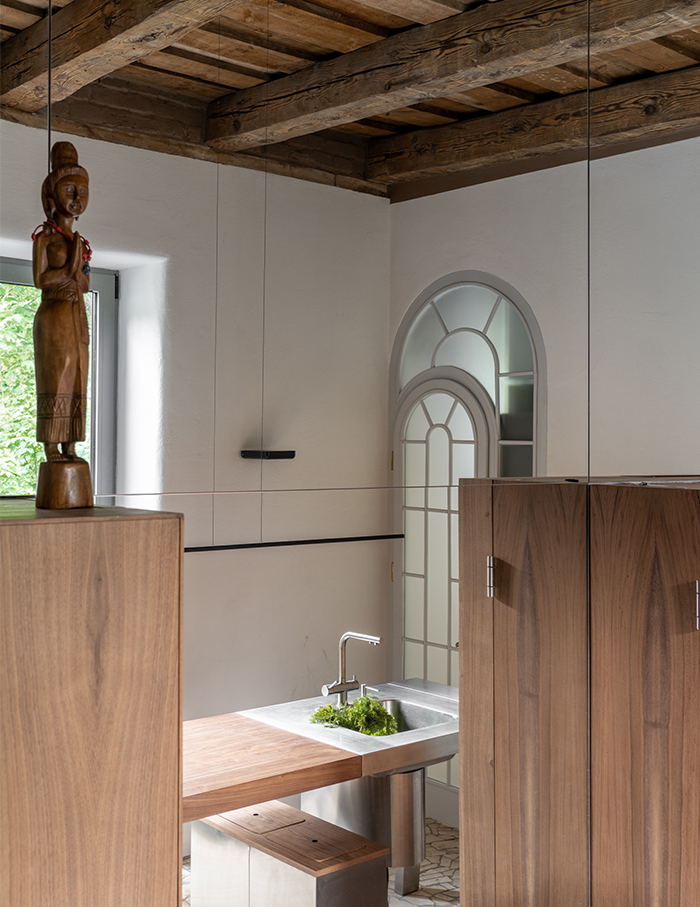 The creatives renovated the parquetry flooring throughout the apartment, except for the kitchen. This area is clad in natural marble tiles over the integrated heating. In the bedrooms too, small frescos that survived the test of time are illuminated by carefully installed wall sconces. Apart from these, other vintage keeps include a mid-19th century antique wardrobe and a historical stove from Levynskyi factory that was reincarnated into a big, open fireplace.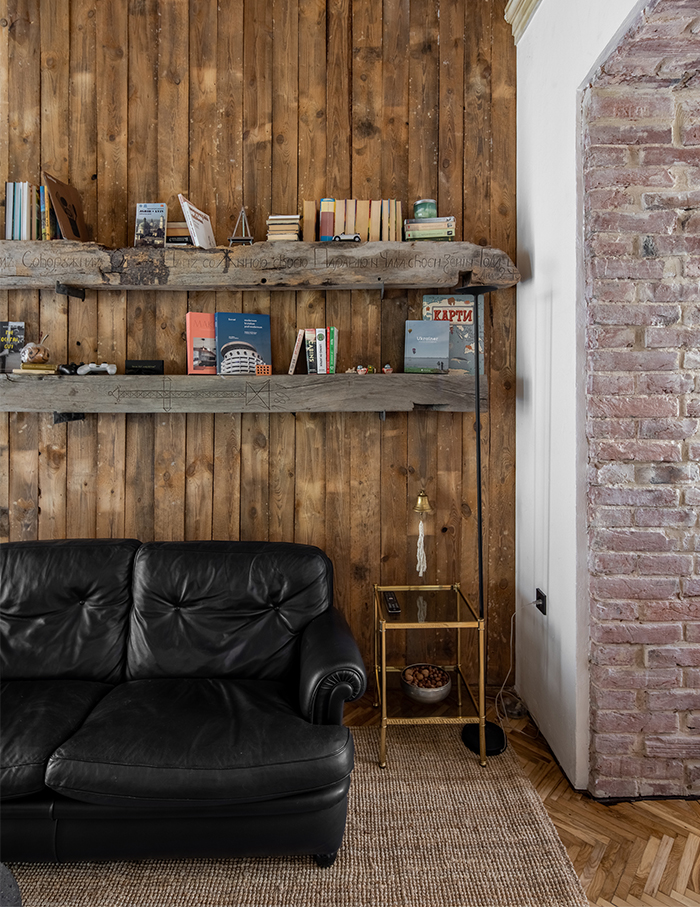 Another challenge that Badzyan and Sorokevych overcame during the redesigning of this apartment was its linear and congested layout that housed long and narrow rooms by using mirrors, giant windows and furniture with sleek silhouettes.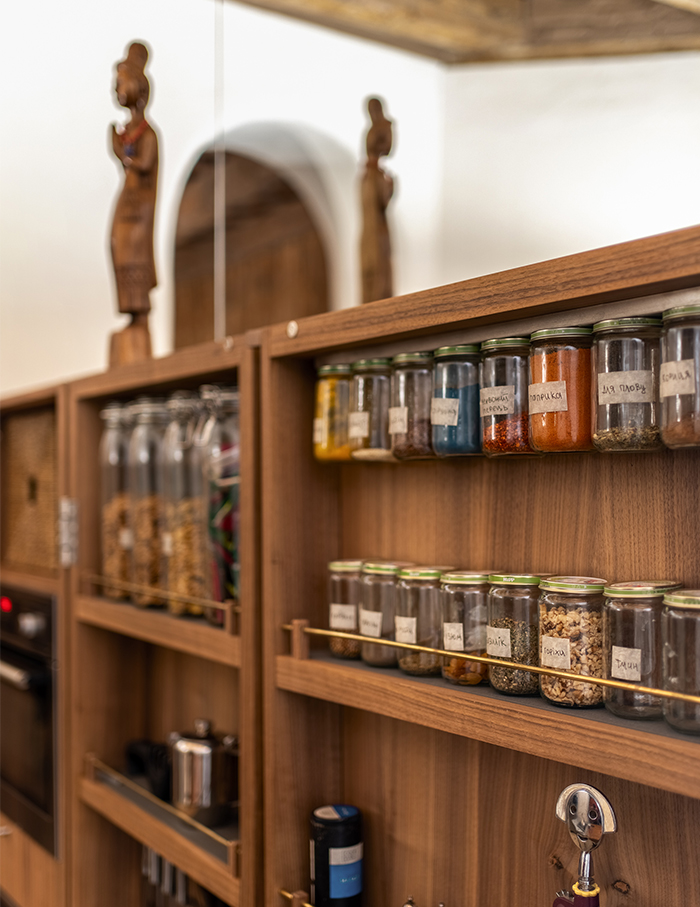 We love how self-sufficient the numerous and diversely styled windows are. They are everywhere—from the bathrooms where the day begins to the bedrooms. They even eliminate the need for ceiling lights in the kitchen and living room!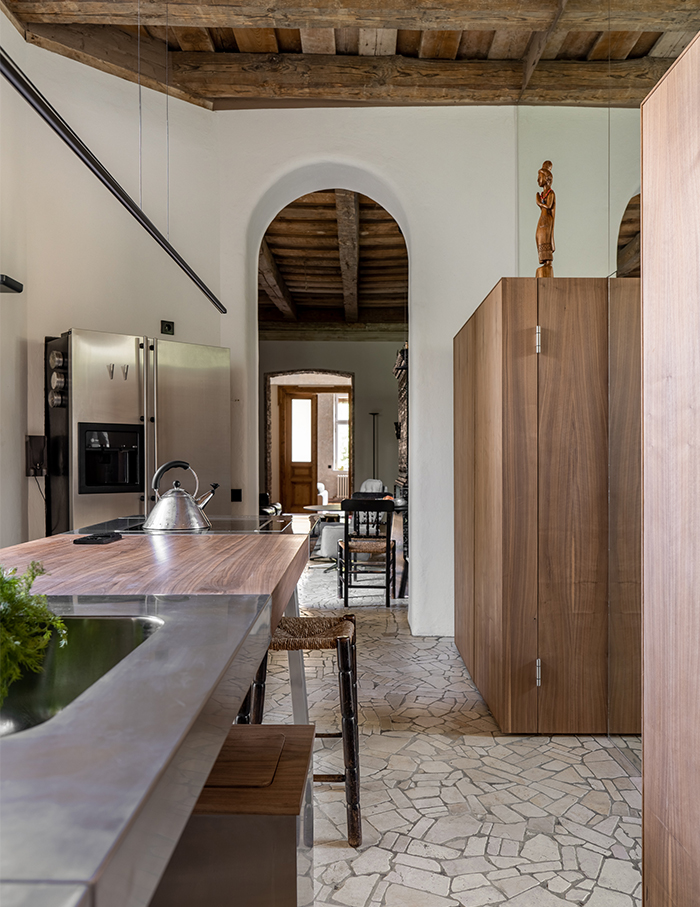 Refurbishing this residence allowed the creatives to revisit past architectural styles that celebrated a typically warm Ukrainian society, when neighbours communicated from their balconies. To facilitate this, former windows facing the courtyard were replaced by larger ones with aluminium frames, while those on the main facade were replicated in a traditional manner using wood and original fittings.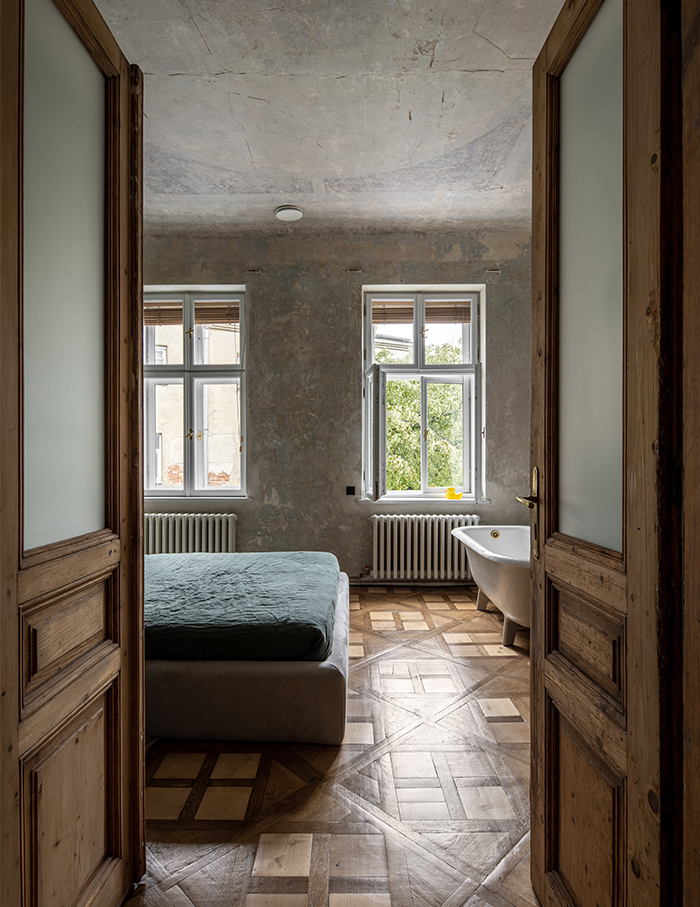 The entrance to the home is positioned between a balcony and living room, both bathed in abundant daylight. The latter also houses a dining area and a television lounge on either side of the ancient, majestic fireplace. An expansive kitchen is designed with a multifunctional counter and an inbuilt sink as well as open walnut cabinets—an exemplary display of functionality and organisation.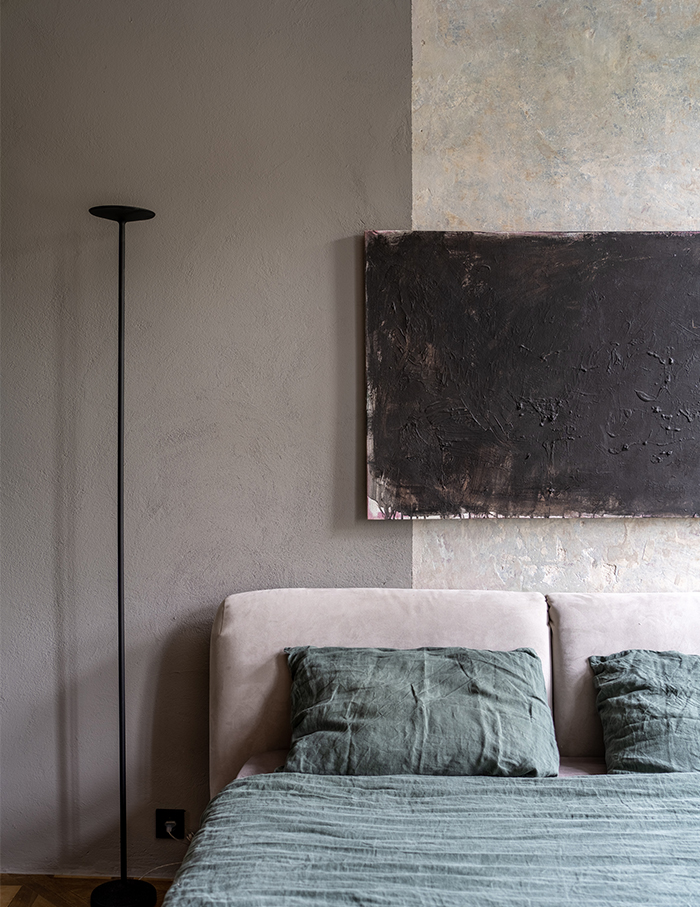 Beyond the living area, on the left two bedrooms reconfigured to isolate the children's room from the master suite. It is here that the engraved wooden beams from Badzyan's grandfather's former home are installed, acting as a deeply cherished memoir as well as a link between different generations in the family.
Scroll below to see more images of the Guculska apartment by Replus design bureau…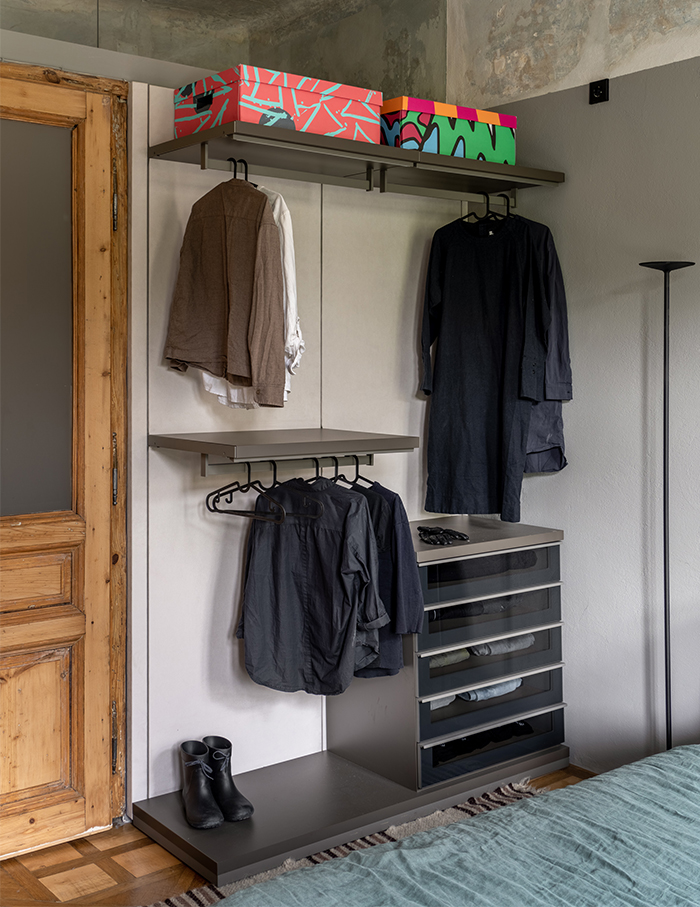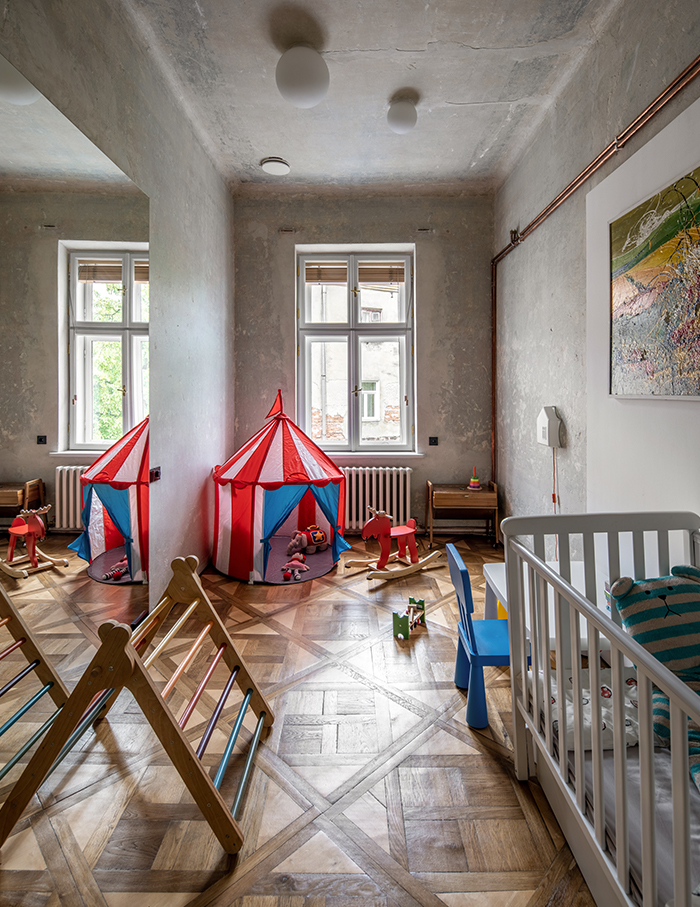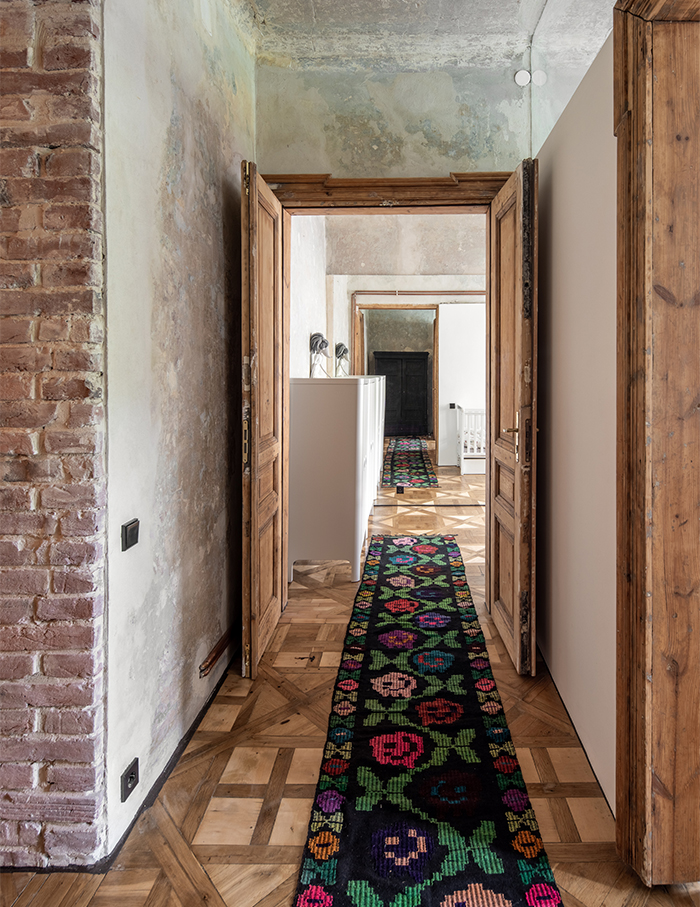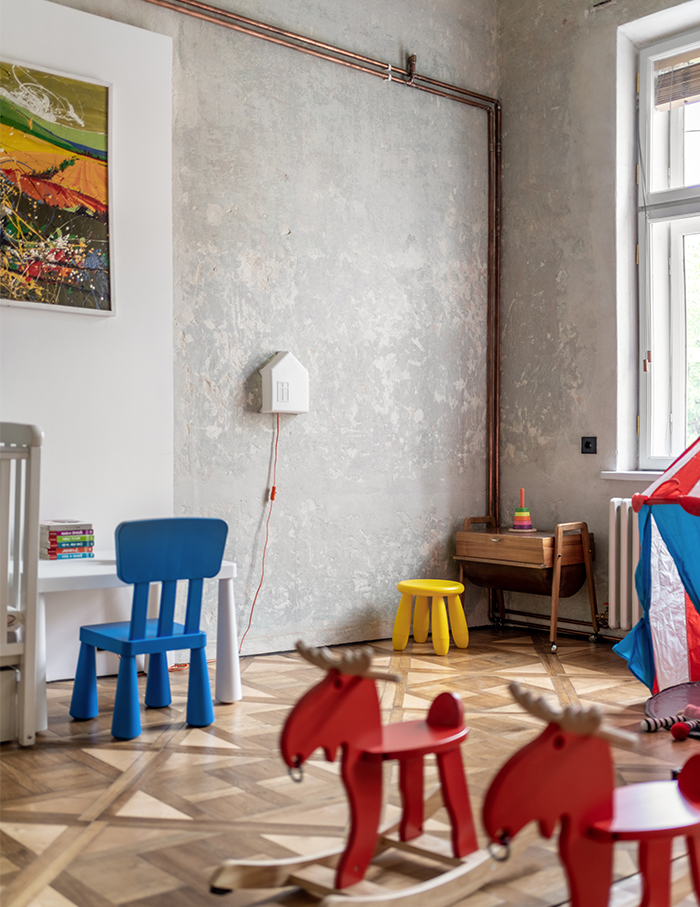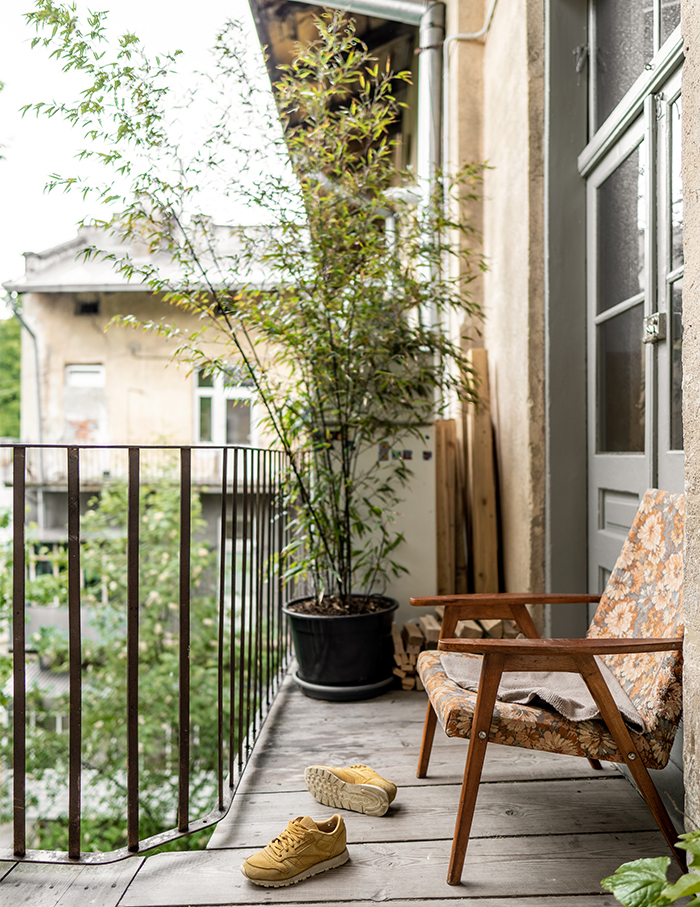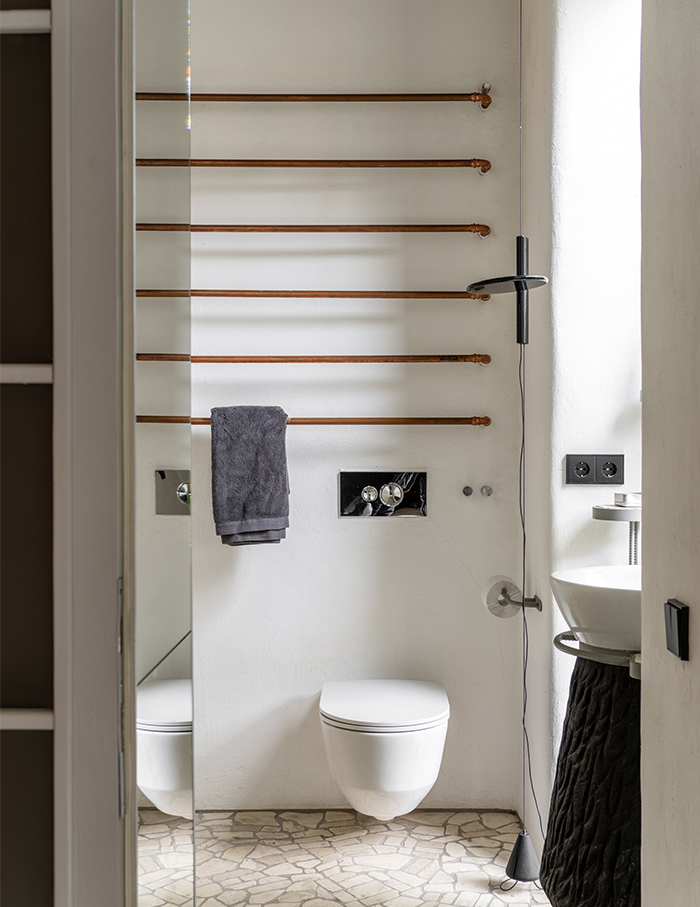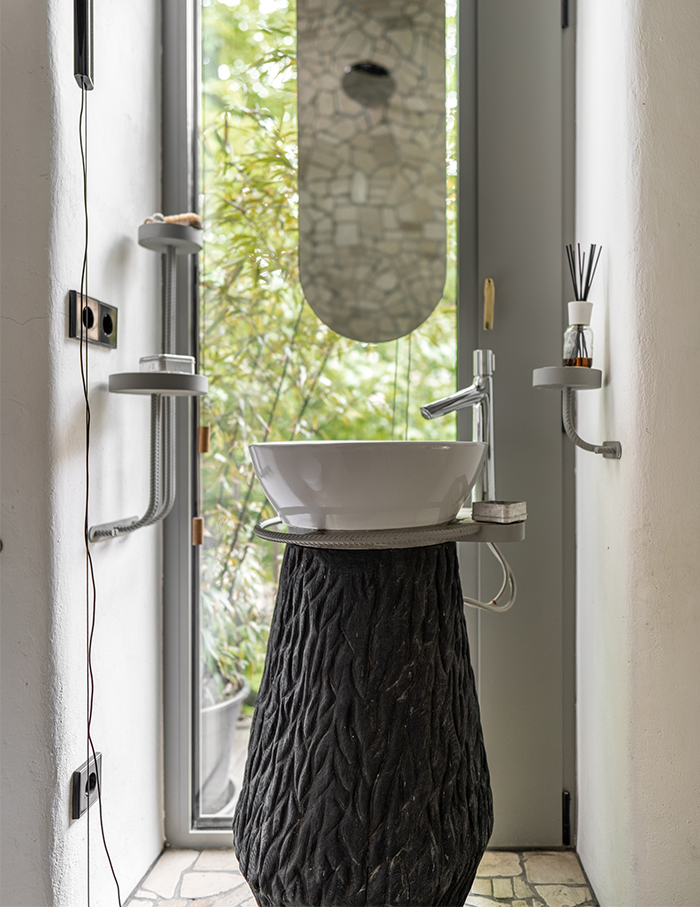 Our Aug-Sept issue is out now! Click here to read and download for free