Homes
Sanchit Arora of Renesa Architects designs Casa Forma—a minimalist hideaway in the foothills of Himalayas
MAY 10, 2019
| By Dhawal Bumb
The concept of minimalism has always been about bringing an idea or design to its bare essentials and invoke its real beauty. Set against the verdant hills of the Himalayas, Casa Forma designed by Renesa Architects thrives on keeping the design condensed to its simplest and truest form to reveal its true essence.
Taking inspiration from the hills for the inception of this design with minimalism as its core design concept, the residence with its open form promises top-notch views of the rolling hills. Constructed on a downward slope terrain, the play of the facade's horizontal lines emulates the vertical lines of the hills in the background. The rhythm of the overlapping hills culminated to the design of the facade.
While the floating front walls provide privacy and transparency to the main structure of the house, the contrast of plain white walls and textured grey concrete walls maintain the minimal aesthetics of the space. Sanchit Arora, head architect at the Renesa Architects says, "We believe in breaking architecture into a simple product that is loyal to the people and hence, we wanted our design to be simplistic yet grand."
The clients had given them a very brief requirement and wanted to keep the house limited to the first floor. Hence, they wanted the design to be in tune with the client's requirements without steering away from their own theory of a simple design. The plans of the lower and the upper level are very similar to the elevation. These levels are beautifully juxtaposed to create voids that enhance the design and also improve the ventilation and lighting of the building through the day.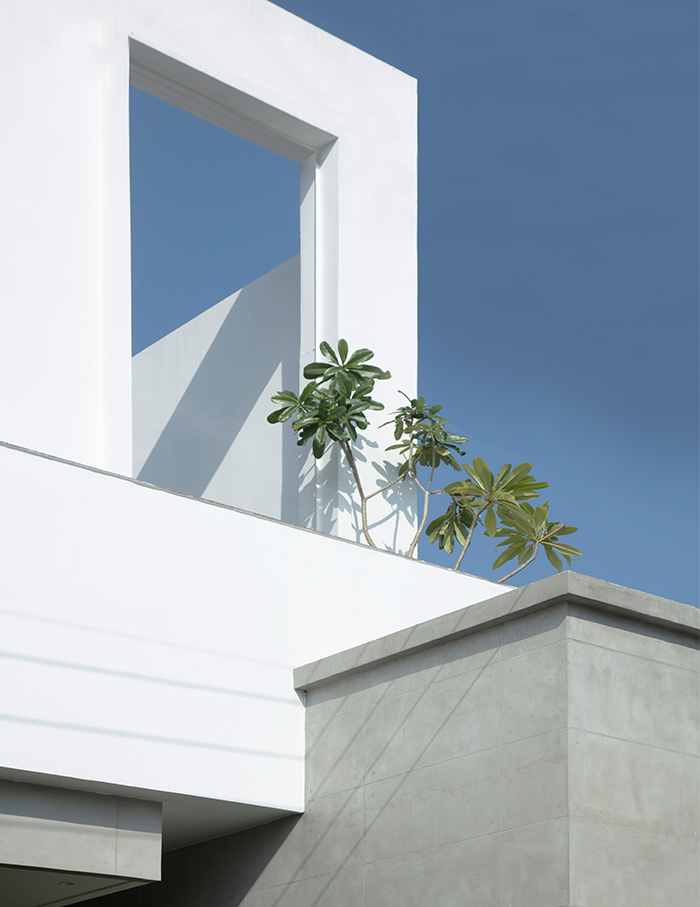 The lower level caters to the public interactions along with two room suite for the owners whereas the upper level hosts a gym, playrooms and two other rooms on the corners to provide for better natural light and air ventilation. This chemistry of void and mass creates spaces that frame the outside in picturesque scenes when looked from inside. These courtyards—trenched in green pockets of the house, make the most of the rich environment of the surroundings.
Apart from the challenges of building on a contoured site and getting the structural design of the heavy floating front walls right, the biggest challenge, according to Arora, was to design the house in such a way that the client's transition from their old smaller house to this bigger house is seamless and comfortable. Keeping the design simple, elegant and functional, they not only tackled those obstacles successfully but also ended up creating an architectural marvel of minimal design. Nature has always been a source of inspiration for mankind in almost every aspect of life. Casa Forma is nothing but one such example of nature's inspiration fused with the innovation of the human mind which has resulted in what Sanchit described as a "minimalistic monumentality."