Design
Quirk Studio designs a pair of significantly distinct zones for this Mumbai office using natural materials
OCT 18, 2019
| By Shivani Ajmera
Tweaking the famous adage to "a family that 'works' together, sticks together" is what sets this office apart. For the space, our client Rajeev Vyas' brief was one without any ambiguity—he wanted a contemporary and minimally designed luxurious space, which also housed a dedicated, relatively feminine section for his daughters' respective businesses. So, we approached the project as two separate offices, since both required different treatments, planning it such that the girls' section was clearly demarcated from the rest.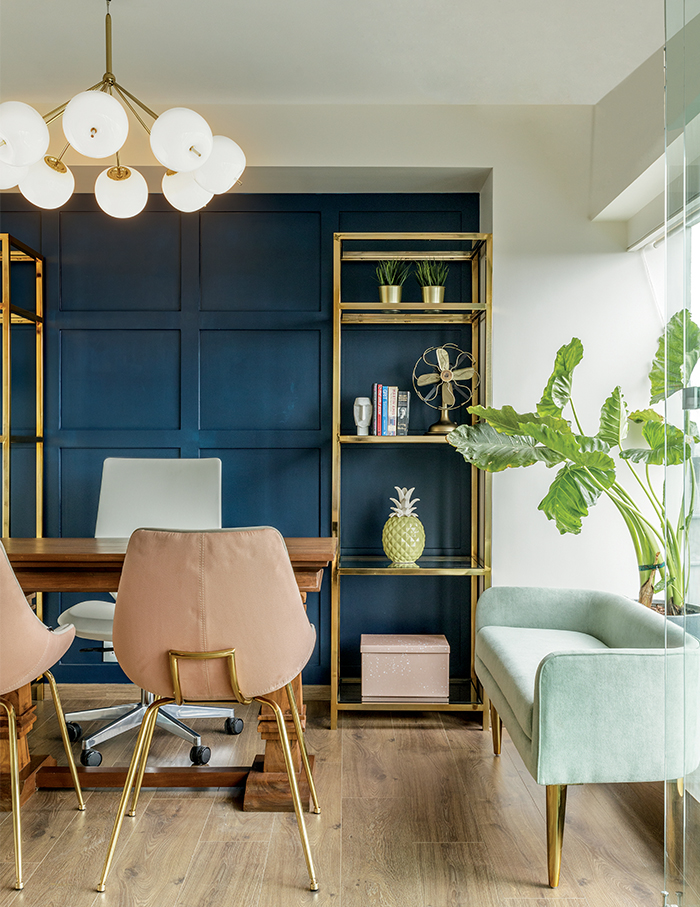 The first glimpse into the combined offices for Rajeev's Vinar Overseas, Kritika Vyas Purohit's Popinjay Events and Ruchika Vyas' House of Cookies is an imposing 200 kg, black gunmetal door. A fitting addition considering his steel business, the door acts as the main entryway into this 2,800 sq ft space. The reception is separated from the office by a custom planter wall made using metal and wooden boxes. With verdant plants and abundant natural light around, the de- sign conveys a sense of openness. To the left of the reception lies Kritika and Ruchika's cabin, which can be split into individual workspaces by closing a sliding glass shutter.The adjacent cafe is a bright area featuring an exposed brick wall finished in distressed white and a dark grey marble floor juxtaposed with handmade hexagonal cement tiles.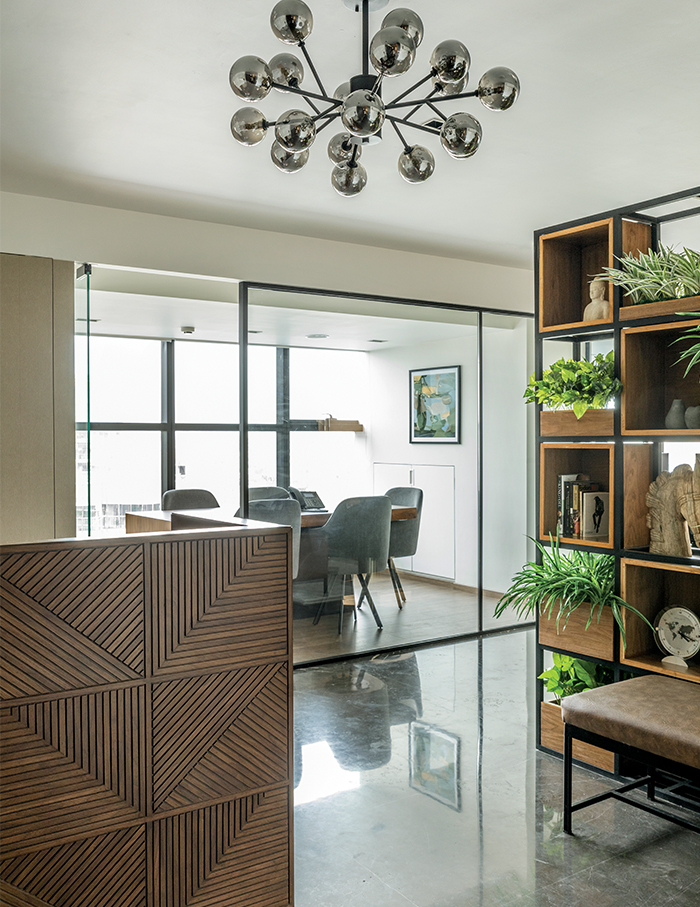 For Rajeev's office, we chose a deep and warm colour palette, owing to the large windows that envelope the space. Here, accents in black metal, walnut wood and brass, as well as indoor plants, add freshness. Wood is the dominant feature in this private workspace—from the flooring to the customised eight feet long, wood and metal desk. Furnishings such as the grey linen upholstered sofas and a beige rug contrast with the dark overtones of the desk, shelving unit and flooring. To the right of this cabin is the 12 seater conference room, where the white monotony is effectively broken by exaggerated bauble brass chandeliers. Contrary to what one may expect from a corporate office, visitors are met with a medley of contrasting colour palettes, bespoke furniture, greenery and ample sunlight making it appear plush and playful.
Scroll below for more images!