Homes
Puran Kumar of Studio PKA created 5 Element House for Rakeysh Omprakash Mehra
JUL 9, 2020
| By Anamika Butalia
The first site visit to this nine-acre plot took place almost 15 years ago, recalls Puran Kumar of Studio PKA. He says, "I remember we practically hiked up a dirt road and found ourselves on a hill overlooking Pavana Lake. It had—and still continues to have—an unobstructed view of the lake, the dam and the forts of Tungi and Tikona."
It was almost a decade later, post the monsoon of 2014, when work actually began for this holiday home—while it is filmmaker Rakeysh Omprakash Mehra's second home, it's perceived as a permanent residence for the future. "Yet the view remained unchanged and so we proceeded to create a private getaway."
The project was christened 5 Element House because the design adapts and responds to each of the elements of nature. Most importantly, Kumar says, "The idea was to create a space that allows seamless interaction between the indoors and outdoors spaces without hampering individual privacy."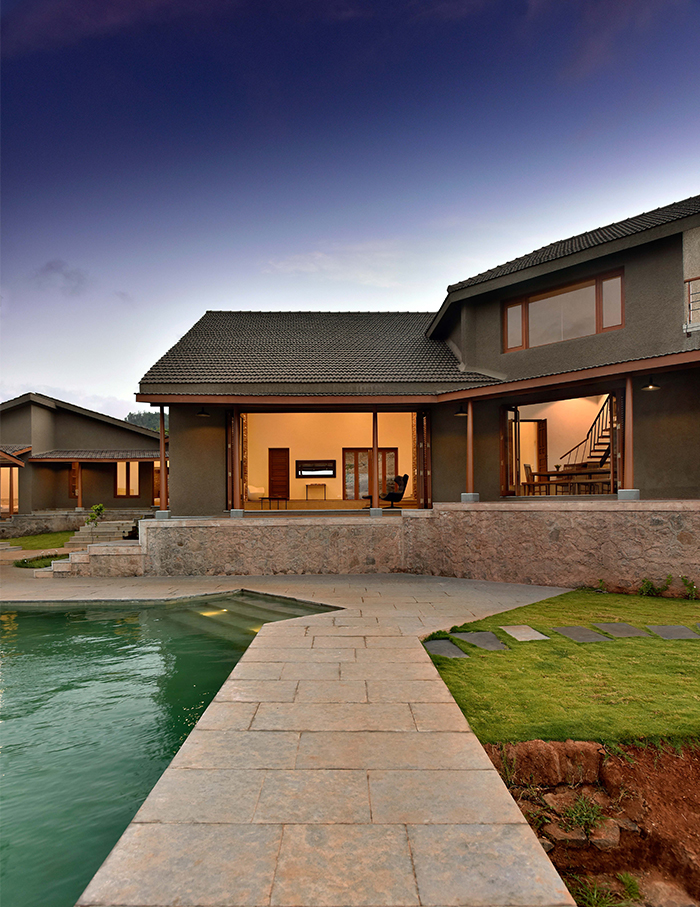 Kumar achieved this by using the natural, varying heights of the site (without levelling the area) to his advantage. Almost at the mouth of the nine-acre plot, he built a cul de sac to demarcate the point where pedestrian-only movement begins.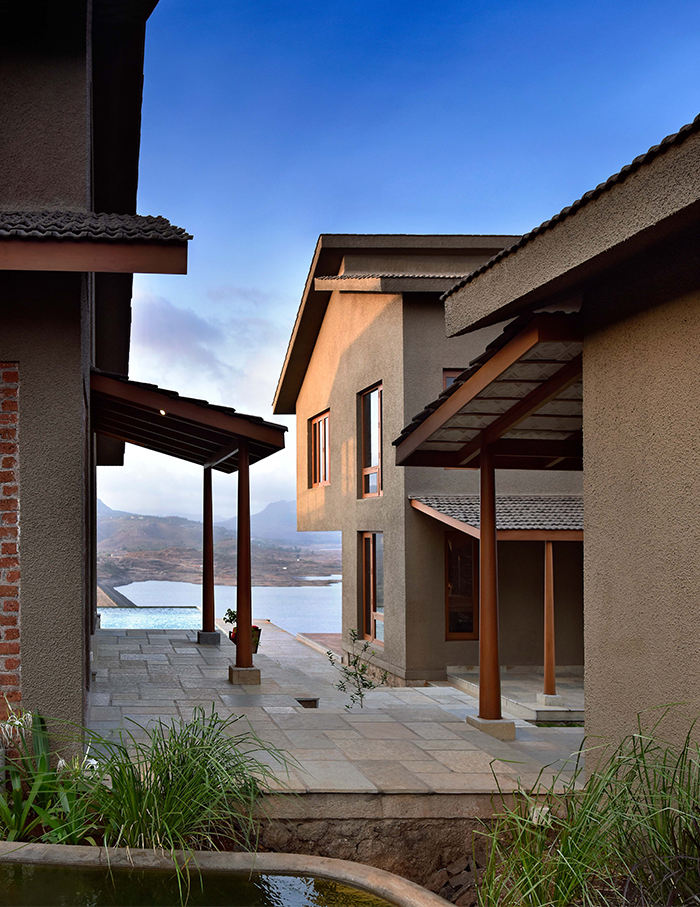 A stone-paved walk leads past a guest block with a detached bathroom towards the main block with the trellis and the main entrance. Between the guest and main blocks is a small path that turns left and offers the first view of the lake.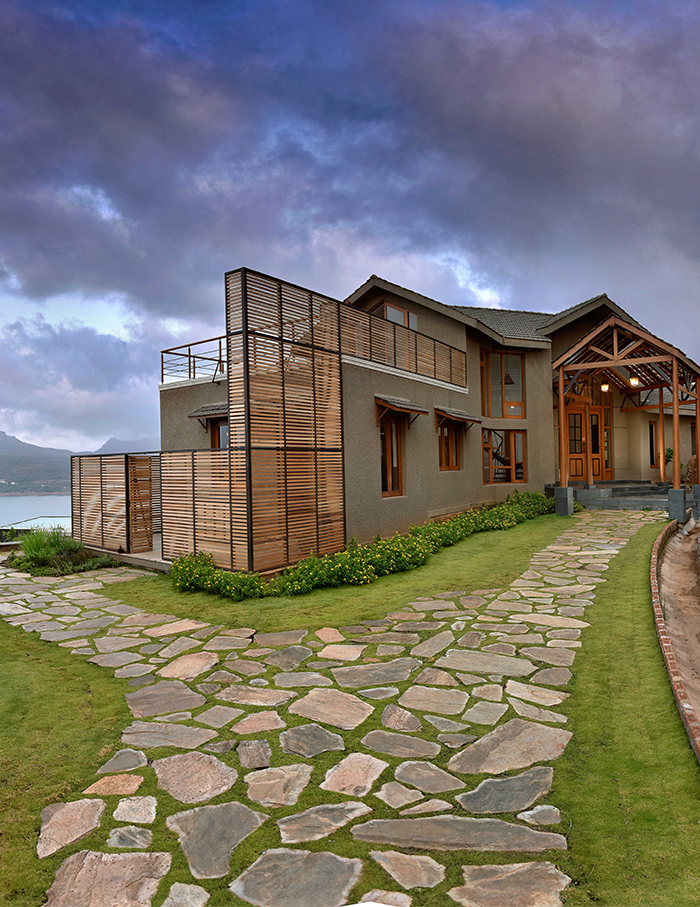 "The inspiration for this came from my visit to Pangong Tso in Ladakh. During the drive up to the lake, you pass several signboards announcing the next turn where one may catch a glimpse of the blue waters. And I wanted the views of Lake Pavana to unfold similarly. So I ensured that multiple vantage points could contribute towards the breathtaking views of the surroundings, making it easy to forget where the house ends and the outdoors begins," says Kumar. In fact, he adds, on a side note, that walkways have been created with landscaping to ensure that the homeowners can also enjoy "nature trails" around the property.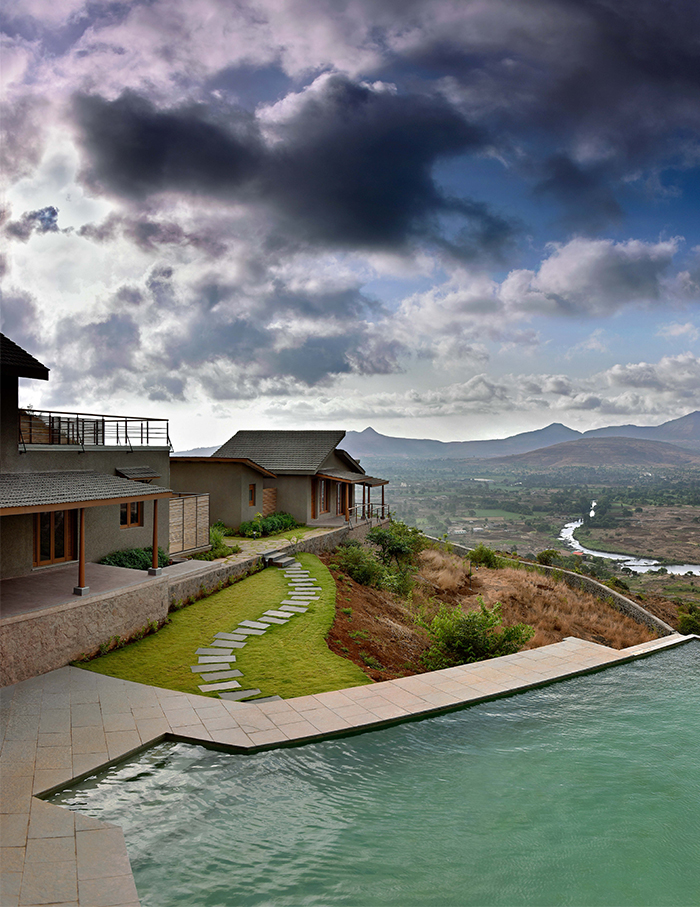 Aside from those two blocks, there's one that's dedicated to the children—now, young adults—and the other for the parents. The plot also houses a den, two dining zones (one indoor, one outdoor), a courtyard, an infinity pool, and several balconies and an open-to-sky terrace.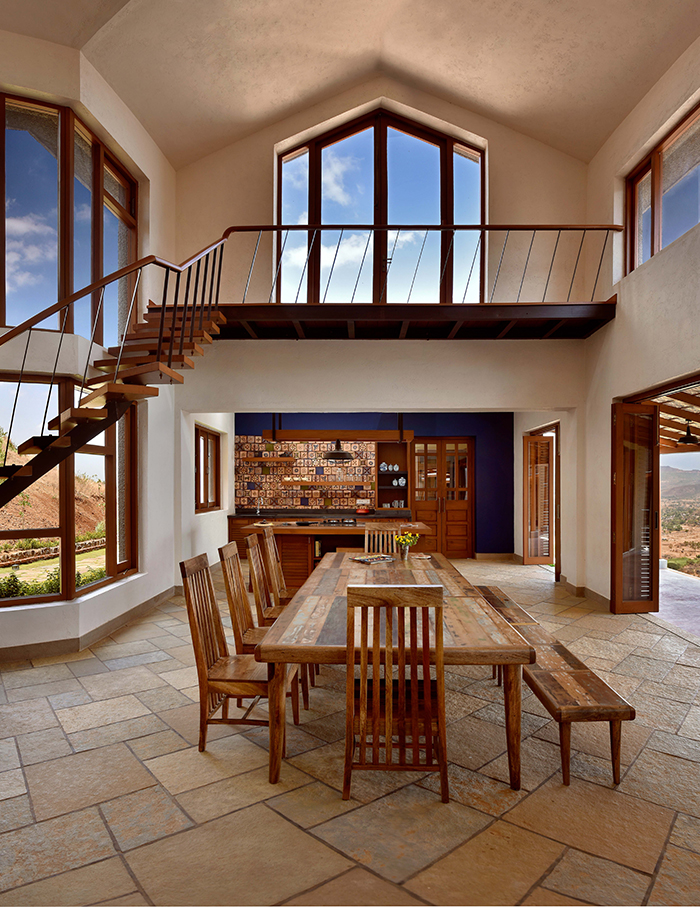 A view of the structure from a higher point on the hill also realises the kind of privacy that Kumar has designed to meet the family's desire for seclusion. "The way it has been built is that even if another home is built at a higher altitude behind this home, one would only be able to view the profiles of the roofs, which seem to blend with the surroundings. The entire aangan, poolside and deck are also designed to offer complete privacy." Indeed, in the summer, as the surrounding landscape dries out, the home seems to camouflage against it.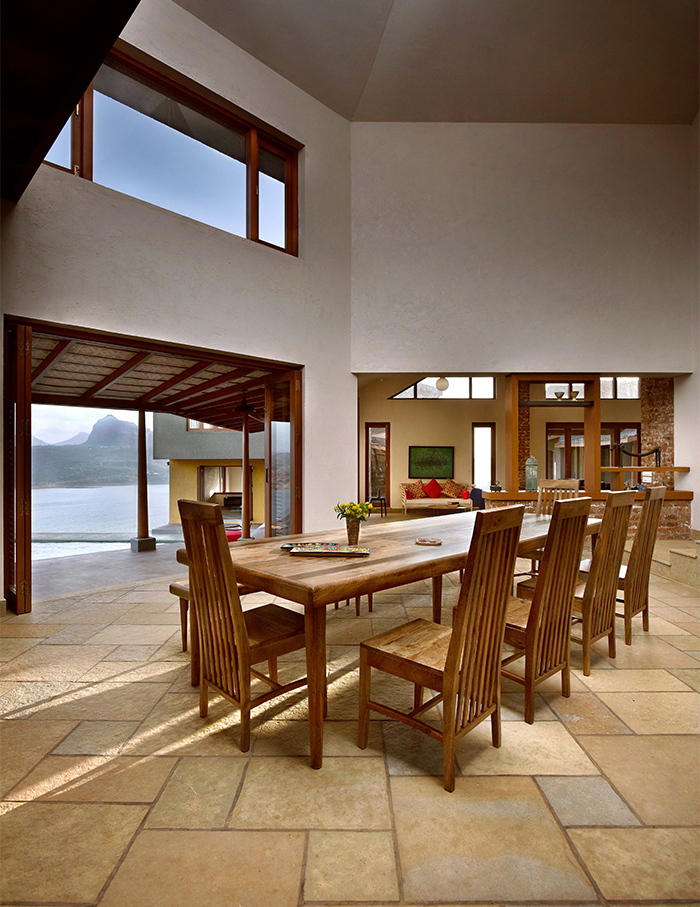 We absolutely love the sitting room in the main block. Here, brick walls jut out from the sides to frame the view of not just the minimally styled sitting area but also of the pool, the lake and Tungi Fort in the distance. "This area has been created such that the Fort is centred against the 30ft wide room, and that the view is layered with that of the indoor space, the outdoor deck, the pool, the dam and lake, and the hill in the distance. The abode exists in tandem with the elements around it—a subliminal nod to nature itself," concludes Kumar.
Scroll to see more images from this lovely home…