Design
A warp and weft of minimalism and drama: Project 810 crafts textile designer Vidhi Singhania's New Delhi store
AUG 1, 2023
| By Bhipasha Hinduja
A subtle-dramatic palette with layers of design clues, tones of off-whites, smooth curved walls filled with textured creams, and the highlight of brass ochre walls — all of this and more, shapes a visually enchanting boutique in New Delhi. This is textile designer Vidhi Singhania's store nestled in the Defence Colony neighbourhood like a vision in soft hues, envisioned to perfection by New Delhi-based Project 810, fronted by Vritima Wadhwa Singh. Here, moments of artistry and elegance shine through at every step of the way. 
Extending a 4,000 sq ft area, the palatial store portrays a classic Indian canvas of refined regality, while astonishingly advocating minimalism at the same time. The two-storey boutique reveals a refreshing interspersing of sober and spectacular interiors and home decor with a trove of Vidhi's signature, handcrafted ensembles and a magnolious range of trousseau.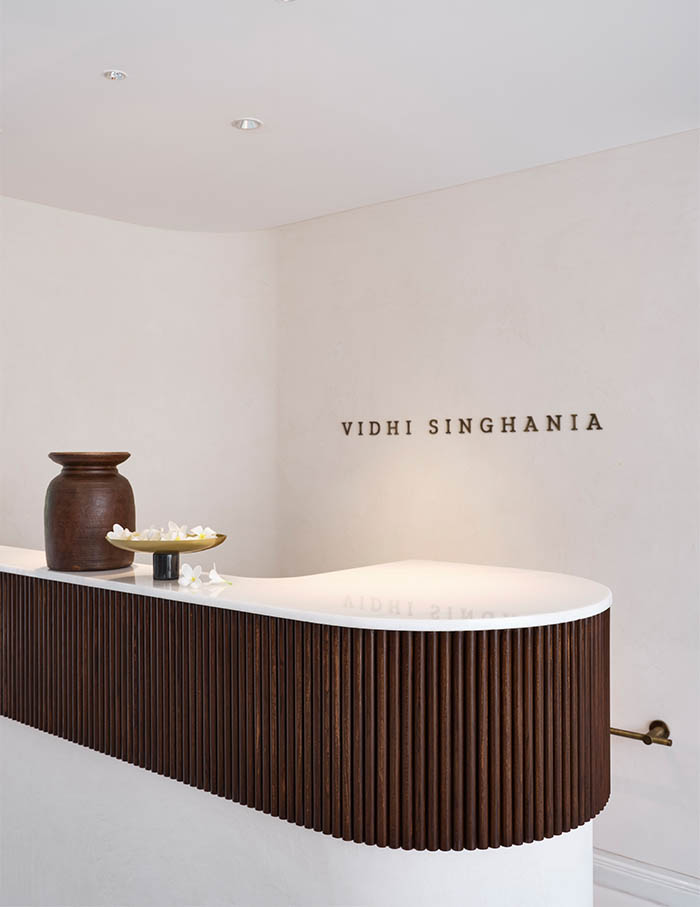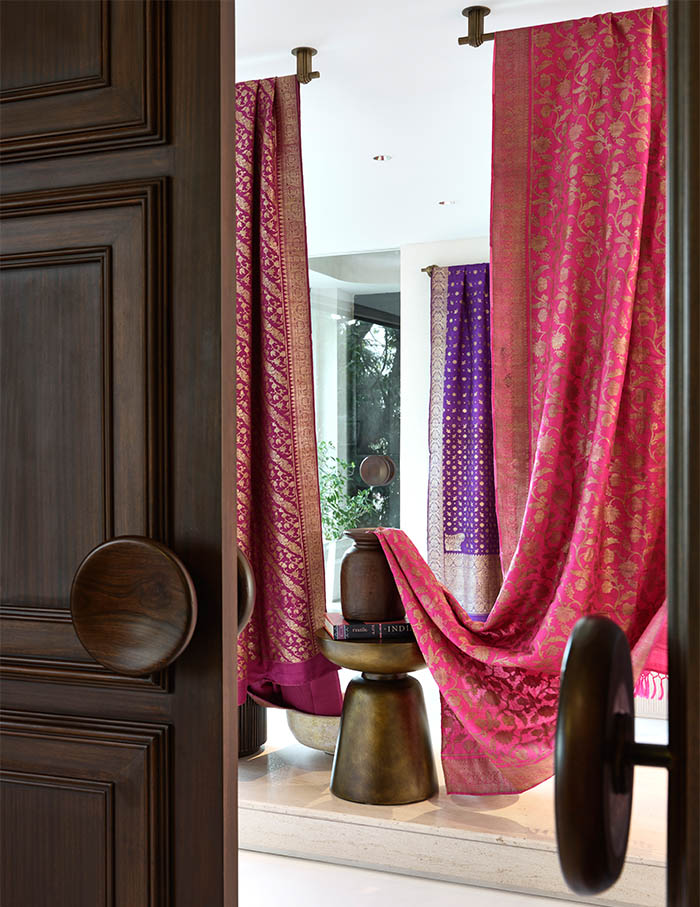 Retail meets regality
This resplendent expanse unfolds with a fusion of diverse realms, encompassing multiple display zones, a private office, and a stunning double-height space brought to life (making you stop, glance and glance back again!)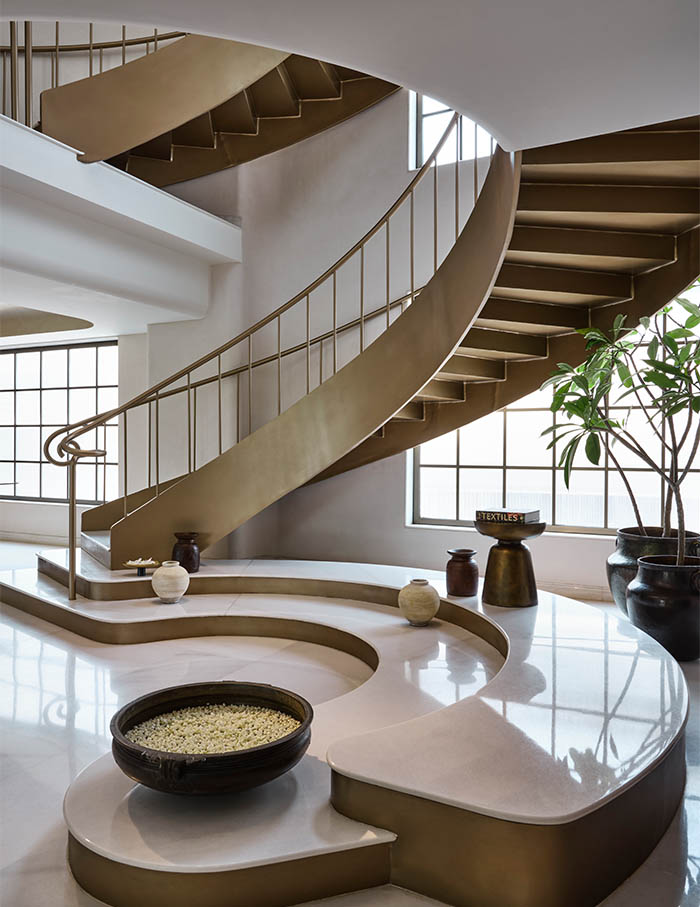 Vritima's creative vision was grounded with the aim of transpiring a seamless and uncluttered experience for the patrons. As one treads through the space, there is an allure of texture and tactile splendour at every glance. The lower level lays out a selection of daily-wear, table linens and home decor pieces, while the upper area is intimate and exclusively carved for bridal wear and jewellery. There are discreet check-out counters and trial rooms tucked into corners, designed as streamlined alcoves to explore.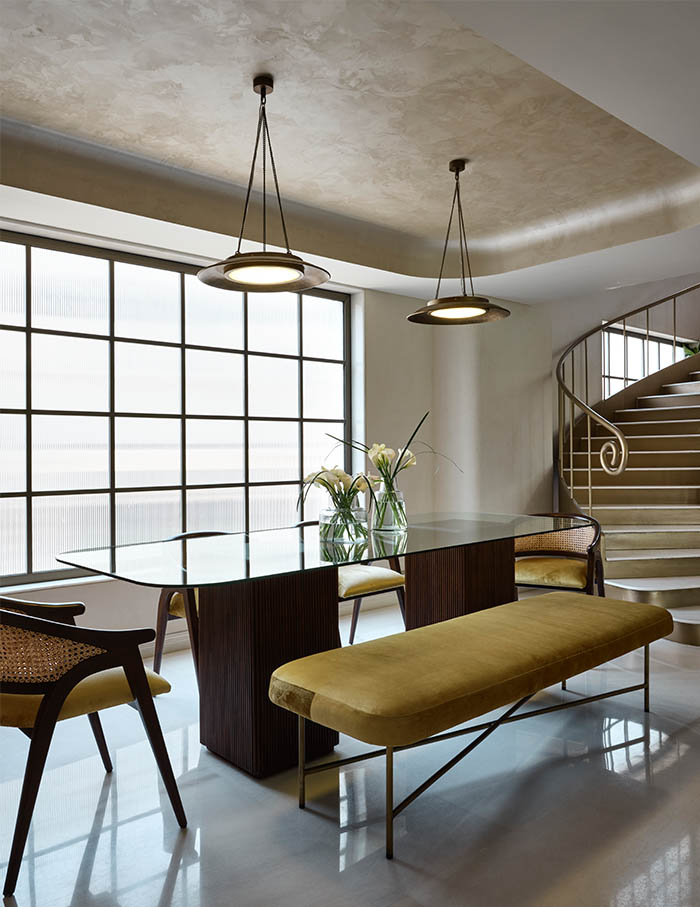 A thing of beauty
As one soaks in the mood of the space, the most beguiling element that rises through is the curved staircase gliding upwards, and gracefully so. "With each curve and tread, custom-designed and painstakingly assembled on site, the staircase rises from a row of low sculptural platforms into a crescendo of marble treads and gold risers. As an ode to the symphony of curves seen across the boutique, the brass balustrade curves gently and terminates in flourishes. The staircase becomes a display for mannequins and other works of art," divulges Vritima. 
Ambling further, the white marble flooring becomes a canvas for the neutral backdrop and complements the art accents and thoughtfully arranged displays that emphasise on the interplays of textures, handpicked rugs, Kashmiri carpets, while fluted tables and suchlike elements that not only lend depth but a warm flair to the space as well.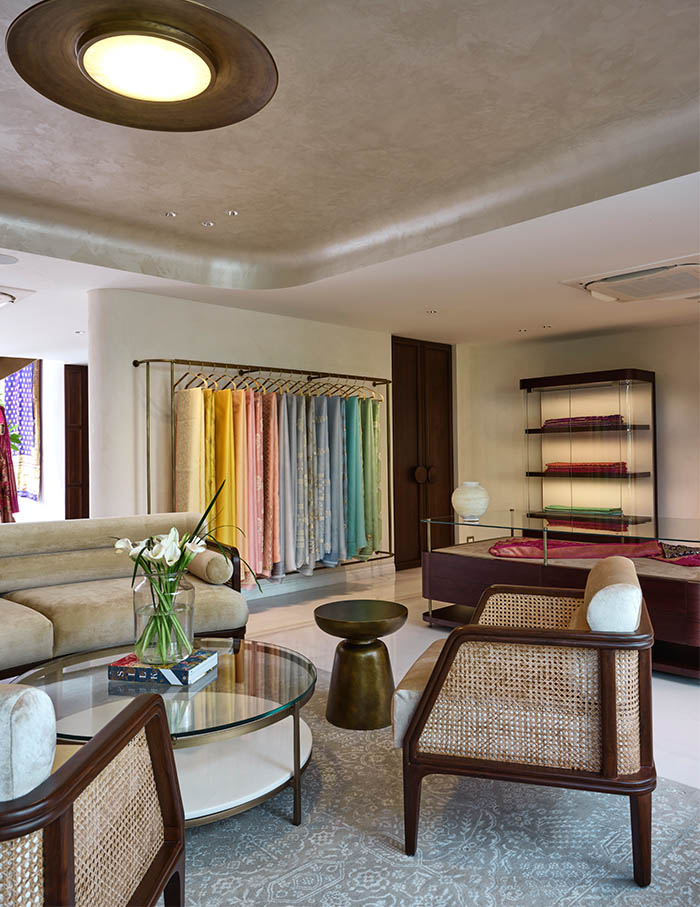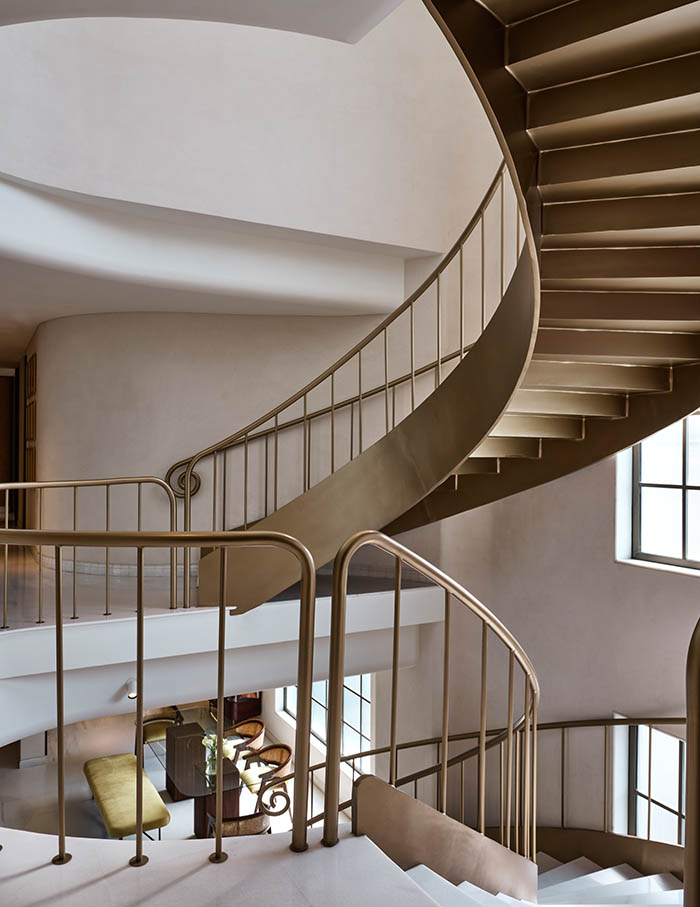 Of colours and heritage
The double-volume windows allow light to seep through every nook of the place while the warm-white lighting adds a tinge of glow to the rooms, directing one's attention onto the handcrafted clothes and decor. The traditional pichvais, custom-designed glass vitrines for sarees, and fabrics draped from brass rods add a touch of Indian heritage to the place. The fabrics and their colours aesthetically blend with the boutique and create an environment for an immersive shopping experience. Standing rather decorously, the curved wood and wicker sofas become a splendid spot to rewind and revel with the sculptural brass side table inviting one to peruse through coffee-table books on textiles.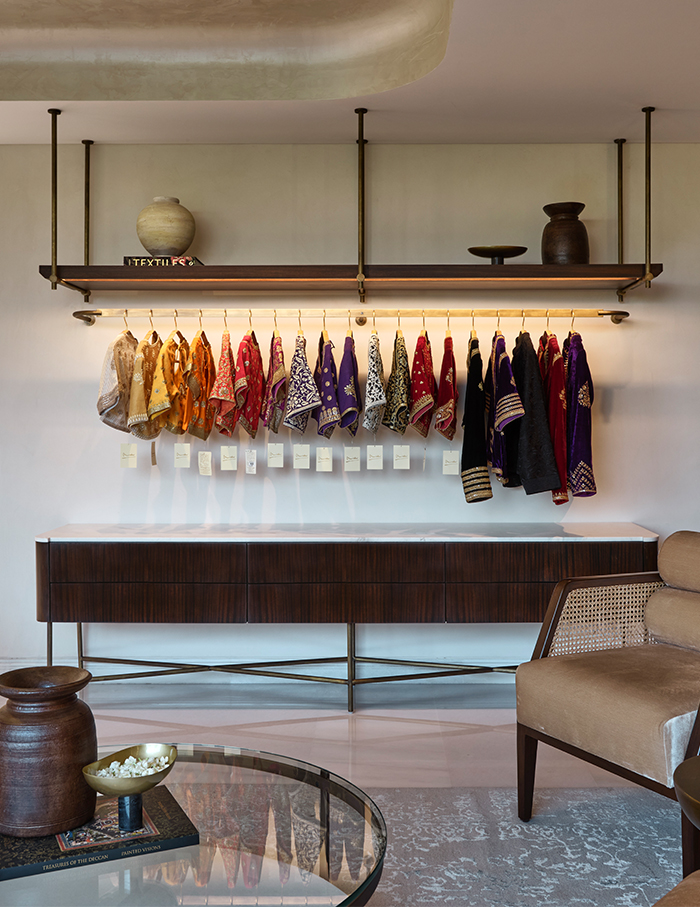 The boutique's quietude is interrupted by vivid colours and tones of the textiles and apparel which are displayed on racks and as showpieces. Each element is meticulously assembled in this store, from the curved staircase transforming into a standout entity, to the wooden chairs adding a personalised, local touch of artisanship.
You may like: SDS by Kushal Shah in Kala Ghoda, Mumbai is a fashion store where unfiltered, brutalist canvas meets couture