Design
PortsideCafé gives a glimpse into 7 iconic pieces from its collection that hearten any room in your house!
OCT 18, 2022
| By Team ELLE DECOR India
Furniture with character and exceptional craftsmanship is the ethos behind PortsideCafé's design style. A furniture studio crafting a bespoke experience for all those looking to elevate their home spaces with unique and well designed furniture pieces. Bobby Aggarwal lends his unique design sensibilities and penchant for storytelling through his furnishings. Each piece masterfully blends into any home, apartment and space adding to the overall ambience of any given room. Each design is fresh, engulfed in eclecticism coupled with a play on materials.
Leather, wood and metals come together seamlessly and transcend beyond a certain style or period in time, allowing him to create stunning and captivating pieces. He experiments with distressed, hand-finished vegetable-tanned leather in dark earthy tones. For him, touch is an integral part of the design process when working with leather as the texture and longevity contribute to the overall look of the finished product. Below are some hand-picked bar cabinets, chairs and desks from his various collections that are immersed in functionality and beauty.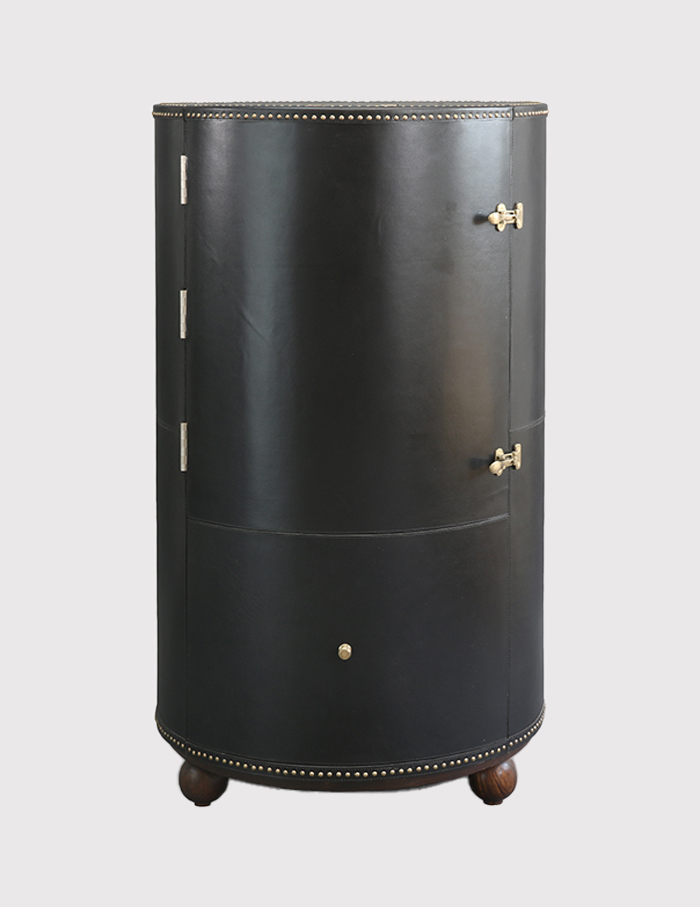 TANK-UP—CYLINDRICAL BAR CABINET
Cylindrical in shape and crafted with deep black leather and impeccable brass detailing is the 'Tank-Up' Bar Cabinet. A simple movement helps open the cabinet revealing the mirror-tiled and ultra-suede signature lining quilted interiors. The cabinet is held up with sphere shaped teak wood legs. Functional and timeless, the tank bar champions storage spaces for spirits and stemware and includes a pull-out drawer that always comes in handy. This makes for a great addition to an entertainment space, dining room or even a bedroom. 
Carrying forward mid-century aesthetics, the Forty Something Desk is a sleek piece that is classic, elegant and innovative. Gone are the days when your home office needed an oversized bulky desk. The wonderful combination of dark leather, teak wood and teak veneer used adds a modern and refined touch to the desk. The drawer shapes are quirky and open to reveal an ultra-suede lining. Pair it with the 'Forty Something' Desk Chair and you have the workstation of your dreams.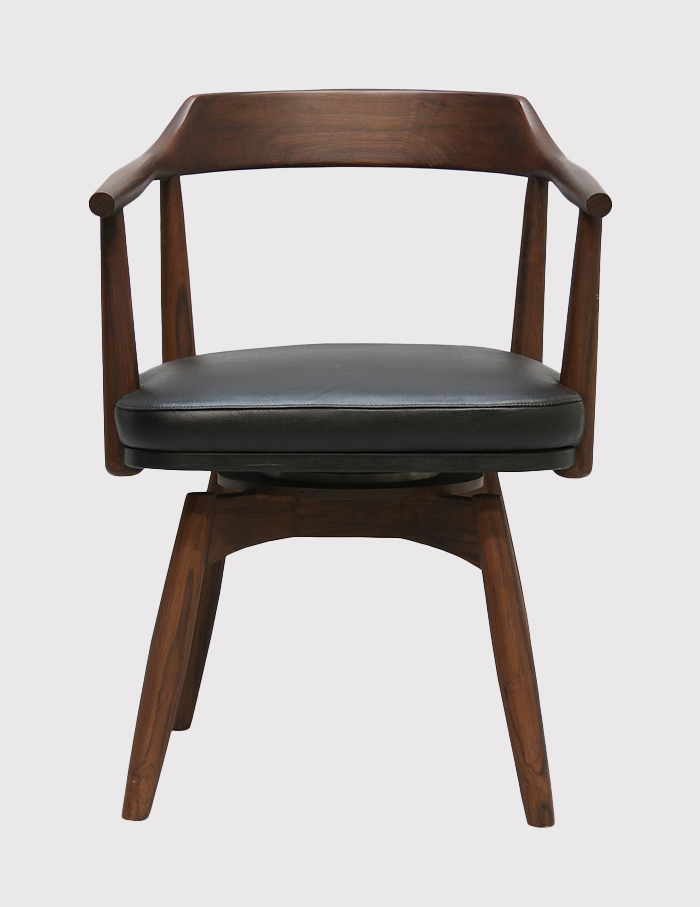 A classic chair that would work in most settings is both comfortable to relax in and supportive enough to work on.  The 'Forty Something' Chair is exactly that – fun and edgy yet seriously crafted. It is contemporary yet has an heirloom quality about it. The self-returning swivel is a sweet surprise that adds another layer to convenience the chair.  Shown in black and brown, the colour combination allows it to be easily included in any space around the house.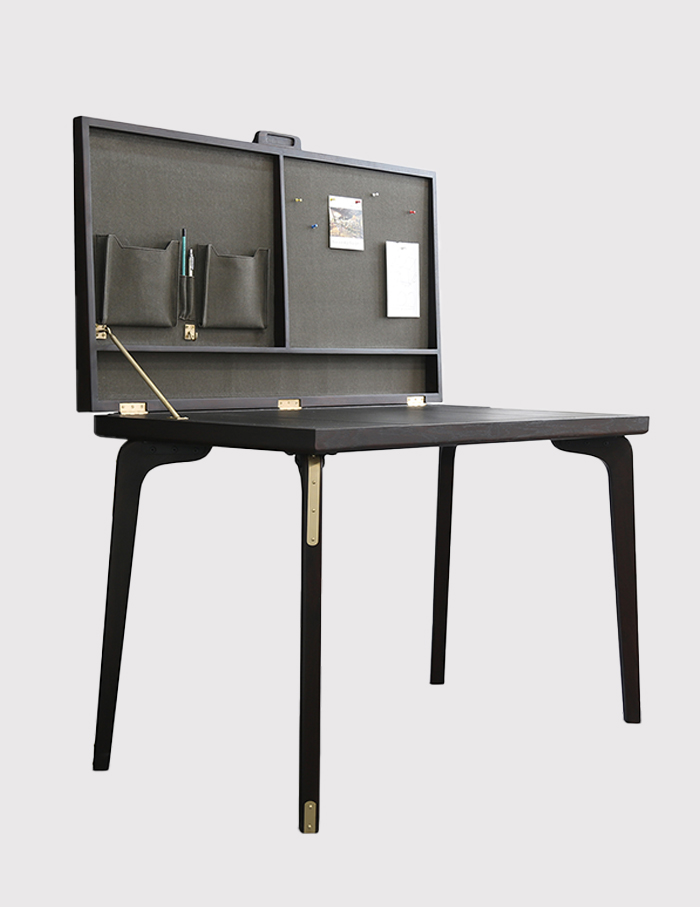 A desert romance! 'The Safari' Writing Desk, as the name suggests, has subtle nuances that are attributed to the majestic landscape of the Masai Mara. This piece has beautiful brass accents combined with hand-stained leather and is made with solid teak wood and teak veneer. The best part? When shut, the 'Safari' Writing Desk is a visual treat that can double up as an accent piece when it isn't being used for work.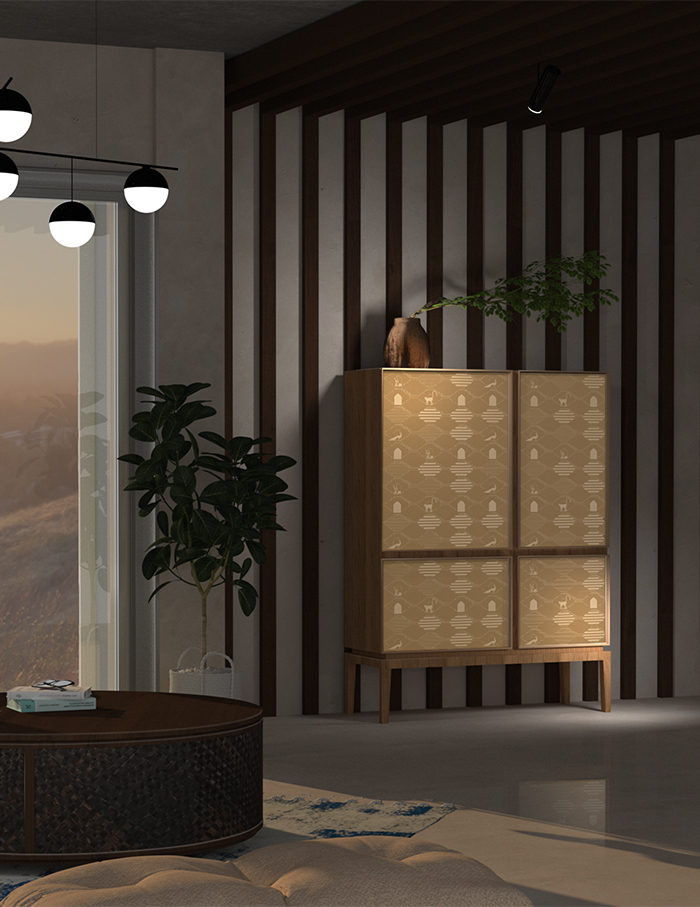 LINEAR STREET BAR CABINET 
The 'Linear Street' Bar Cabinet makes a statement with its exterior tone-on-tone beige printed leather facade. The Stepwell print is an ode to Toorji ka Jhalra, a three-hundred-year-old Stepwell in Jodhpur that captures the rose-red sandstone used in Rajput architecture. This unassuming bar is effortlessly stylish and only on closer look reveals the exquisite detailing that it embodies. The cabinet has a solid oak wood and wood veneer base with black polished tapered legs. The interiors of the cabinet have a mirrored-glass back and are fitted with racks and slots for spirits, bar accessories and stemware storage.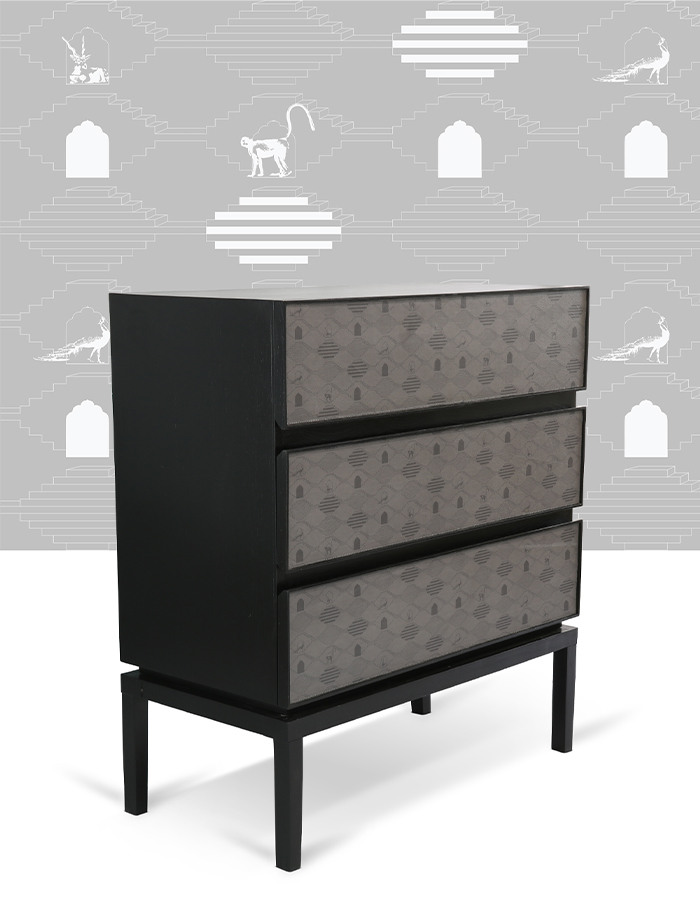 LINEAR STREET CHEST OF DRAWERS
Emitting a warm glow with its Stepwell printed leather facade, this chest of drawers is as subtle as it is stylish. The printed leather emerges from a backstory and fascination with Rajput architecture and Stepwells of Rajasthan. Crafted with solid oak wood with tapering legs, the drawers are a vision for modern living with tradition steeped into them. You will also appreciate the complete absence of hardware on the outside and the smooth self closing glides on the drawers that only add to the sophistication and elegance of the piece.