Design
Portraying a piquant picture of nostalgia is the red-hot reimagination of Karim's Jama Masjid in Bhubaneshwar by ma+rs
MAR 25, 2022
| By Rhea Sinha
Serving stories of nectorous nostalgia at this revamped restaurant in Bhubaneswar, principal designers Sabyasachi Routray and Anisha Menon of ma+rs craft the contemporary reincarnation of the ever classic institution Karim's Jama Masjid, New Delhi.
Established on a 2,000 sq space on the first floor of a commercial building in Patia, the eatery is enveloped by a county of institutes and offices, packing the area with a hub of hideaways. 
Illustrating imagery inspired by the locale of the original outlet, the Routray and Menon incorporate innuendos from the bewitching backdrop of the Jama Masjid in the striking space.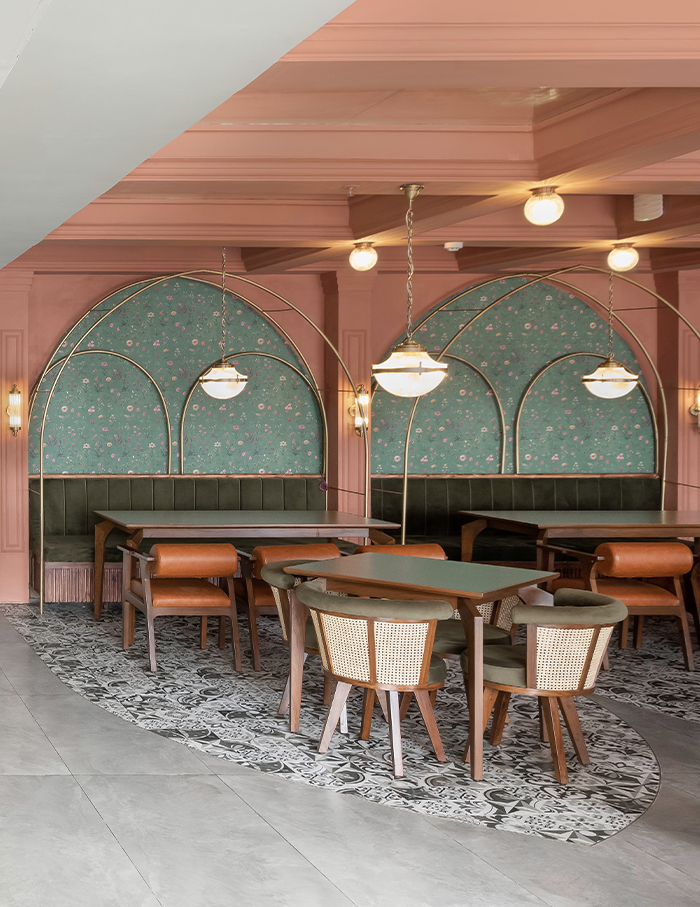 Embodying an enamoring mood board inspired by tints, textures and traces of Mughal and Islamic architecture, the dive is a reminiscent reflection of Old Delhi and the aura it invokes in its interior decor and design. 
Drawing inspiration from the divine red sandstone of imperial architectural marvel, the Jama Masjid, most of the walls at the dive are decked in a brick red colour. The designers at ma+rs strive to sketch an authentic space, which stays true to the context it originates from.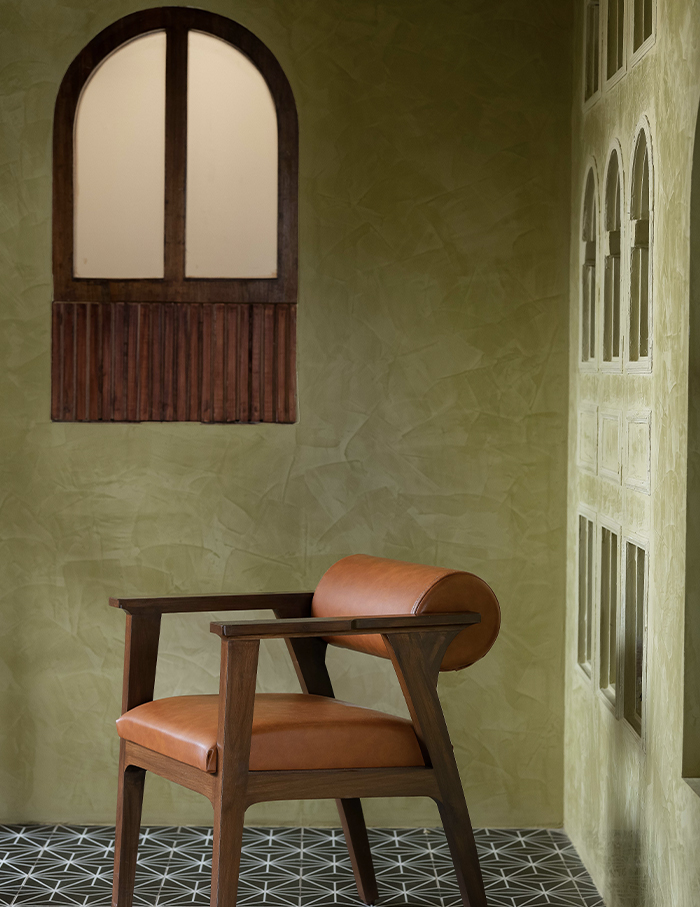 As you make your way into the stunning space through the majestic monumental arched entryway, a Green Beret toned wall with arched niches in a marble stucco finish and monochrome patterned tile flooring greets your step into the magical portal modelling a reimagined rendition of the old Delhi milieu. 
Arched niches exhibiting antique brass artefacts dating back to the Mughal era, offer ganders and glimpses of the decadent dining area. Accommodating a triad of distinct seating options, past the accent green wall are intimate booths overlooking the busy streets of Bhubaneshwar.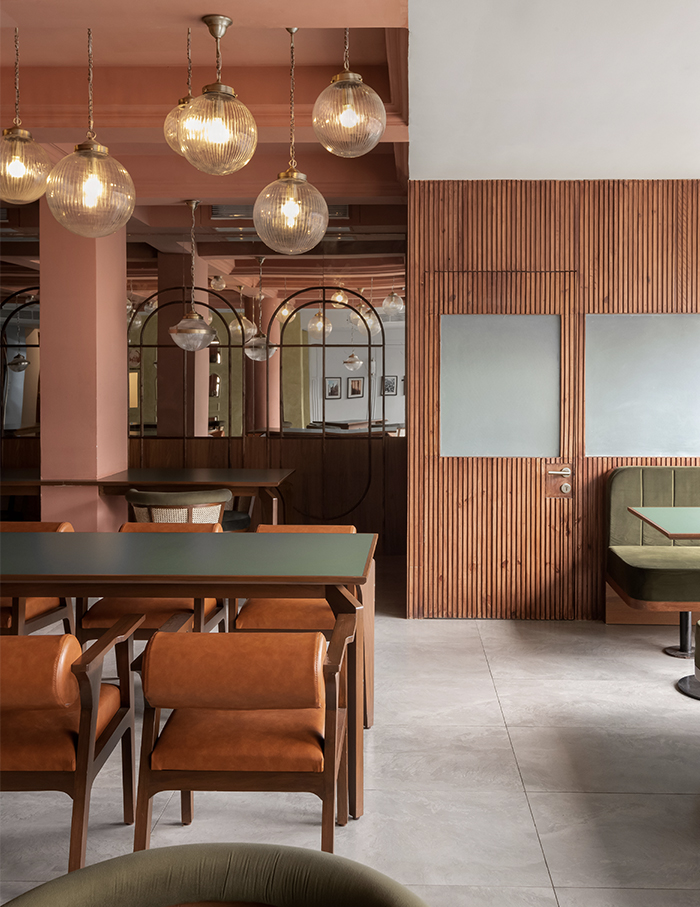 Front-lined in glass, silhouettes reminiscent of the Masjid's facade emanate a dappled light effect within the space. Upholstered in a royal green velveteen fabric, the seating manifests a touch of luxury, taking the diner back to the traditional era of the Mughals. 
Crafting a contemporary character in the central space comprising four and six seater tables with custom teak wood chairs, cladded in a contrasting combination of tan brown leather in its seating and royal green velvet  in its rattan backrest on the adjacent sofas.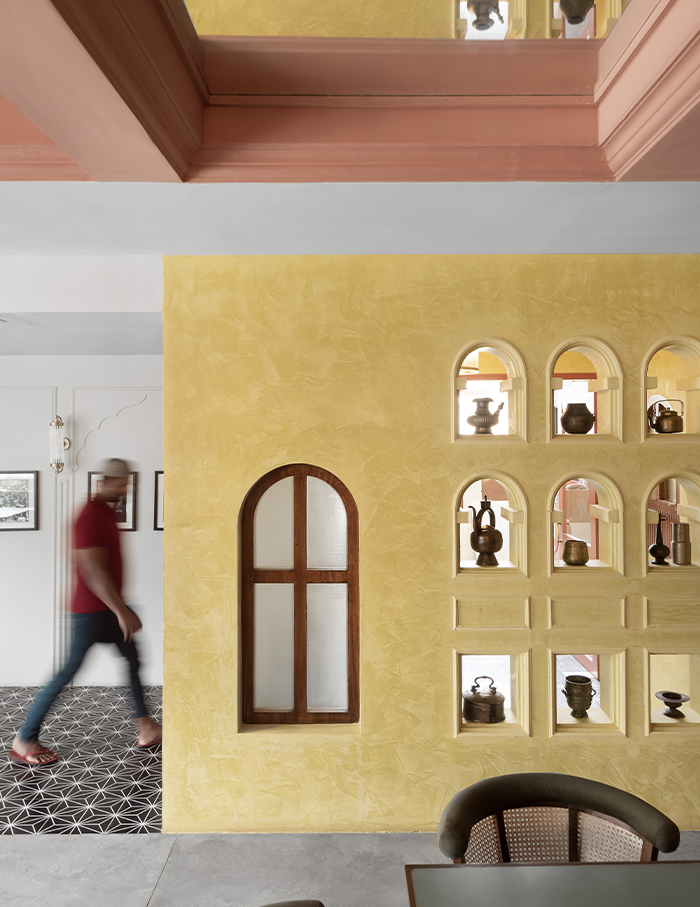 Lastly, outlining snug seating in the booth section with a background of floral patterned Patiala green wallpaper by Asian Paints's Nilaya Wallpaper range,  mirroring Mughal gardens is a long wall lined with minimal metal arches in gold evincing elements of exquisite elegance. 
Accomplishing the effect of an expansive voluminous space are strategically placed mirrors on the walls and ceiling panels in the remindful restaurant. 
Remaining cognizant to the culture and history of its brand, Karim's Bhubaneswar by ma+rs cooks up an Old Delhi Charm in not only its carte and cuisine but also reflects its roots in its revamped contemporary character.