Design
Perfect for a decelerated lifestyle, the new Qatego bathroom series of Duravit, designed by Studio F. A. Porsche offers a minimal and durable design language
MAY 25, 2023
| By ELLE DECOR India Team
A sanctuary of tranquillity, rebirth, and serenity—the bathroom offers solace and respite amidst the chaos and demands of our daily routine. Uniquely intimate and fundamentally indispensable, it represents an epitome of personal well-being, rejuvenation, and pure relaxation. Perfect for a decelerated lifestyle, the new Qatego bathroom series of Duravit, designed by Studio F. A. Porsche offers a design language that is not just minimalist and durable but at the same time relies on natural materials with tactile surfaces. Wood, ceramic, and natural stone, everything comes together to create a harmonious bathroom that is unmistakable homely with skilfully accentuated niches.
–Unwind in the bathroom with a simple and minimalist design language
-Two opposing design styles combine to produce a harmonious whole– straight-lined furniture and gently rounded sanitary objects
-Interplay of materials– ceramic sanitary objects enhanced with wood and natural stone, and bathtubs made from DuroCast Plus (mineral cast) and sanitary acrylic
-Extensive opportunities for individualisation thanks to a range of sizes, colours, shapes, and materials
-Anti-fingerprint coating (console panel and Super Matt surfaces) as well as tip-on function for straightforward opening and closing of the drawers and cabinet doors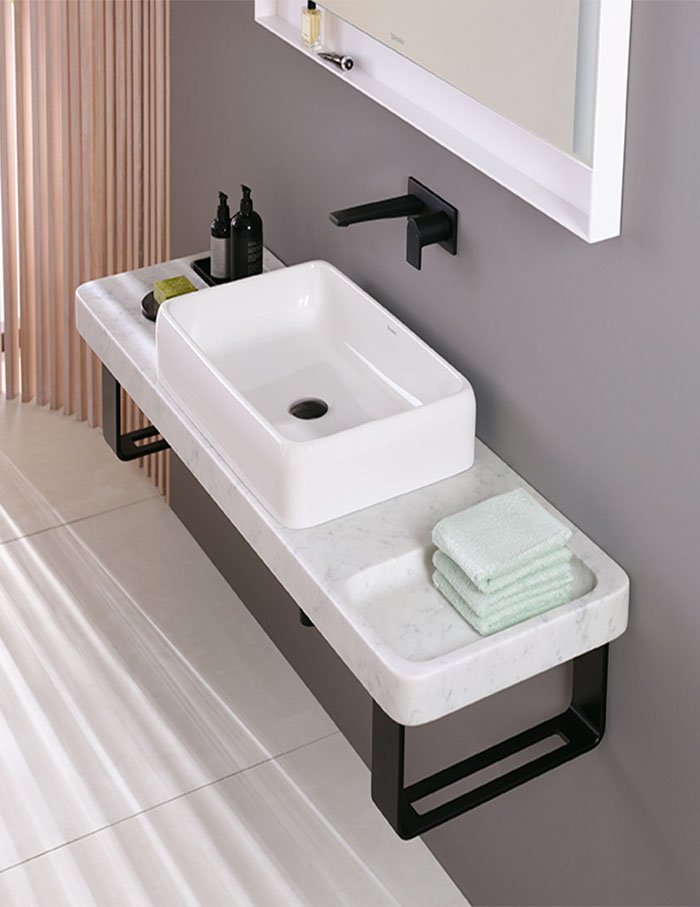 "With Qatego we took our lead from people's requirements in the familiar and intimate surroundings of the bathroom. That's why it was important for us to lend the objects a strong emotional quality that goes beyond mere functionality," said Henning Rieseler, Design Director at Studio F. A. Porsche describing the creative process. The rounded sanitary objects take the focal point against the linear and minimalistic design of the cabinets. "As a material, ceramic tends to have softer forms due to the working and the firing processes, while our perception of furniture is generally box-like," says the design studio.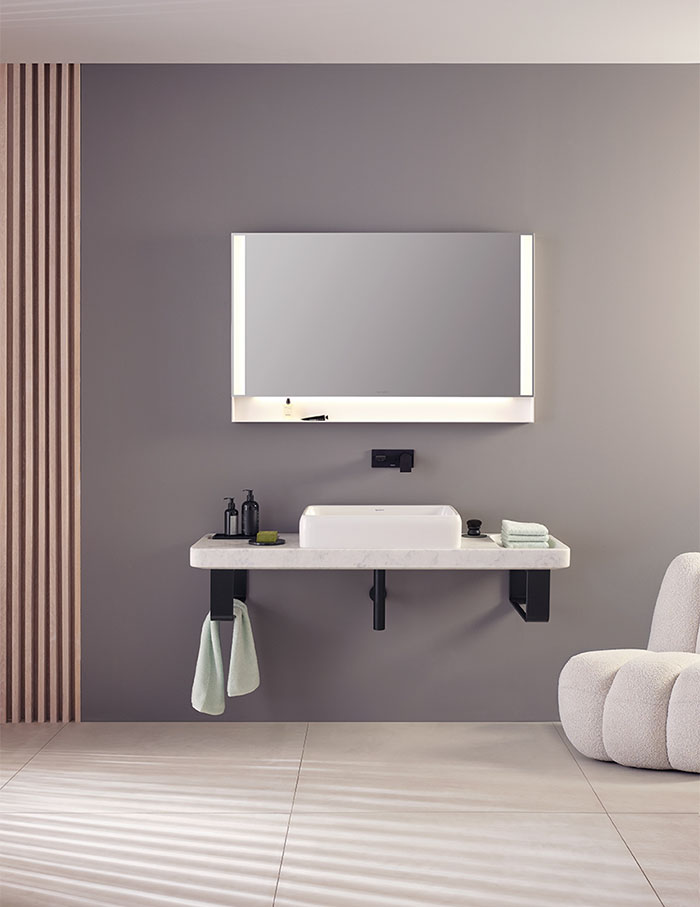 Unveiling strict geometries
The collection features a linear design language and comes in a range of variants- a console vanity unit with a drawer and an above-counter basin resting upon it, or a unit that merges seamlessly with a built-in washbasin. The panel of the console vanity unit is delicately worked and features a shadow gap that creates a floating imagery.
Running like a golden thread through all the design elements, including the tall cabinets with hinged doors, mirrors, and mirrored cabinets with an embedded storage shelf; the furniture offers a visual interplay of open and closed surfaces. The open shelves with optional lighting break the strict, geometric form of the furniture and introduce a homely atmosphere and transparency that is ideal for the effective presentation of perfume bottles, bowls, vases etc.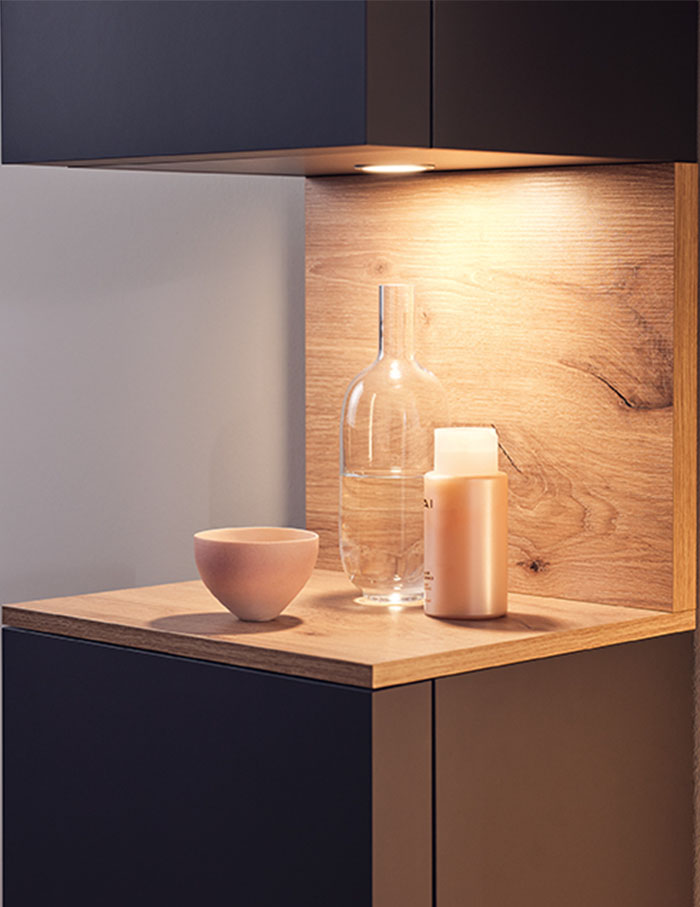 A visual play of colours & materials
The furniture from the Qatego bathroom range, made from sustainable PEFC*-certified wood. It is available in eight nature inspired colours ranging from High Gloss White, Taupe Matt, Basalt Matt, Graphite Matt, Marbled Oak, Black Oak, Terra Oak, and Natural Oak.
To give a different touch, these shades can be combined with solids and bi-colour variants. The natural stone introduced by Duravit for the first time, is similarly unique. Giving a further hint to nature, the design from Studio F. A. Porsche combines the ceramic above-counter basins with stone panels made from Carrara marble, Travertine, and Pietra Lavica.
One can pick from the range of customisation options: the solid stone panel in widths of 1000 mm or 1400 mm can be affixed directly to the wall and the above-counter basin placed directly upon it. The console supports made from anthracite-coloured metal simultaneously act as towel holders. Alternatively, the 1000 mm-wide stone panel can be placed on a wooden console, creating a harmonious symbiosis of two materials and textures. A further design highlight consists of the rounded edges and recesses in the high-quality stone panels to the left or right of the above-counter basin, offering space for accessories such as a brush or soap dispenser. Each of the natural stone panels used is a unique piece, which is expressed through the varied shimmering colours and veining. The protective impregnation on the stone surface makes for easy cleaning.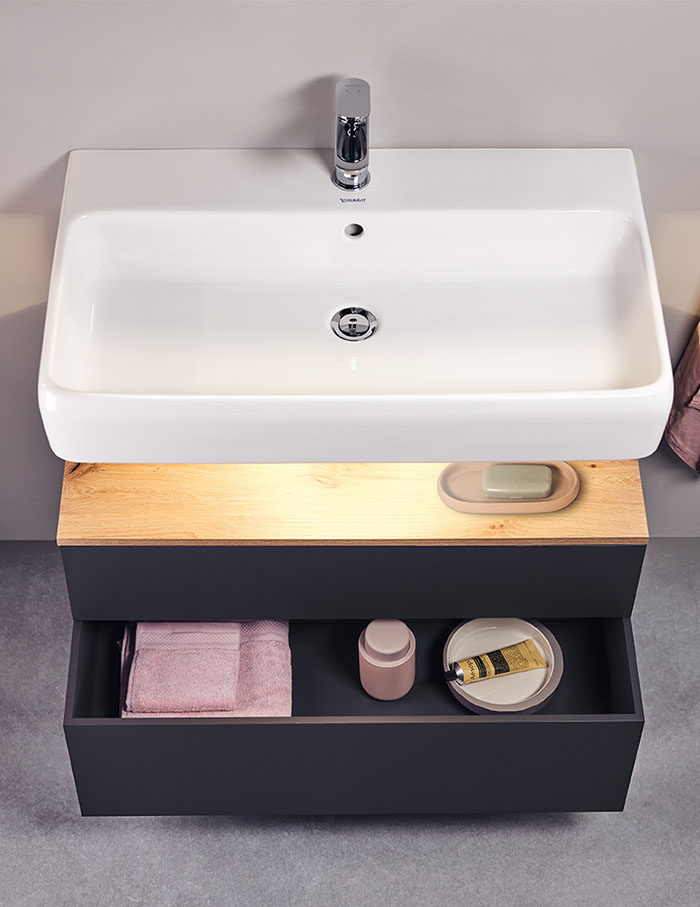 Curves of delight
Inspired by water-worn pebbles, the gently rounded design offers clean geometries which are delicately and precisely worked on. "At this point we took a path that is more unusual for Studio F. A. Porsche. The idea was to create something natural, almost soft, and consequently also to reinterpret the functional aspect of the design," explains Henning Rieseler. The rectangular wash basins are available in four variants– a wall mounted model, an above-counter basin with a tap platform that offers adequate storage space, a semi-recessed basin and a built-in basin with arched sides that is available with a matching, seamlessly integrated console vanity unit.
The design highlight of the series is the above-counter basin measuring 600 x 400 mm which is available in a variant with strongly arched sides. The freestanding bathtub is consistent with this above-counter basin in formal terms and it undoubtedly forms the centre of attention. It is made from DuroCast Plus mineral cast with moulded-in colour and a fine velvety surface. As with the acrylic built-in bathtub, an ergonomically shaped lumbar support holds up the lower back area and guarantees pleasant sitting comfort.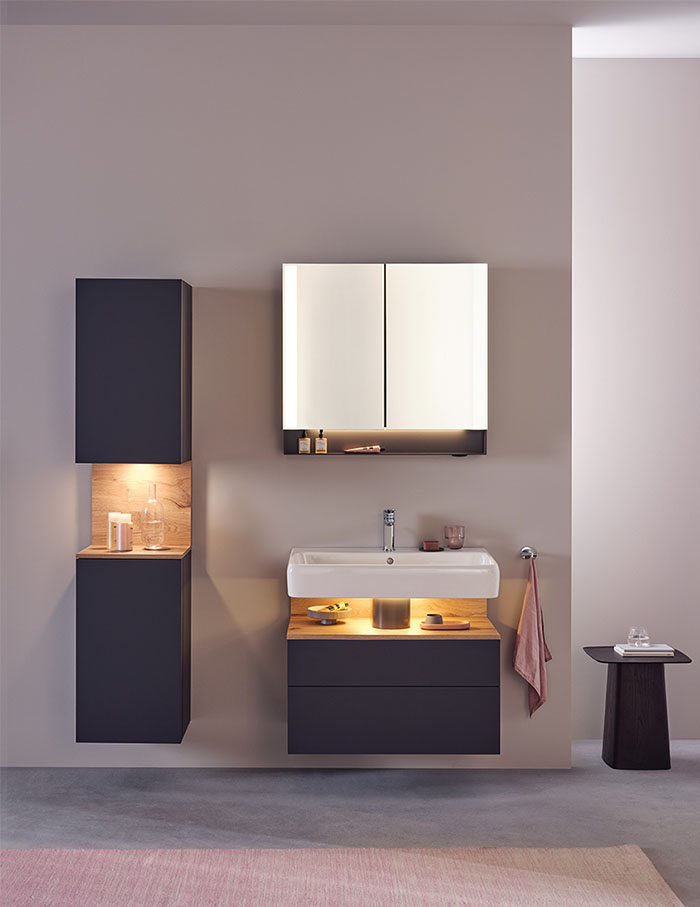 A wall-mounted and free-standing toilet along with a bidet that blends seamlessly into the overall concept rounds off the sanitary objects. Pre-fitted hinges enable the toilet seat to be quickly and easily installed. All ceramic elements are optionally available with the antibacterial ceramic HygieneGlaze, which achieves a previously unheard-of hygiene standard. After just six hours, approximately 90% of bacterias are eliminated while approximately 99.9% are eliminated after 24 hours. The Wave faucet series designed by Duravit is the ideal companion to the sanitary objects and completes the sophisticated design concept with five different finishes.