Design
Festive sparks ignite with Panasonic's Right Light collection
NOV 3, 2023
| By ELLE DECOR India Team
As the calendar turns to welcome the festive season, the very air in our homes seems to sparkle with joy and a sense of togetherness. Our living spaces become a canvas for reflecting the true essence of celebration. In this special year, let Panasonic LED's "Right Light" collection enthral your senses, turning the ordinary into something truly extraordinary.
In the last six decades, Anchor became a household name by pioneering top-tier electrical products when the switches and wiring devices market was unorganised. Conversely, Panasonic LED Lighting, with its history since 1918, prioritised safety and comfort. Their unwavering dedication to research and innovation established Panasonic Corporation as a global authority in Lighting, Energy and Indoor Air Quality. Both companies share a deep commitment to delivering innovative, dependable electrical solutions that enrich customers' lives worldwide.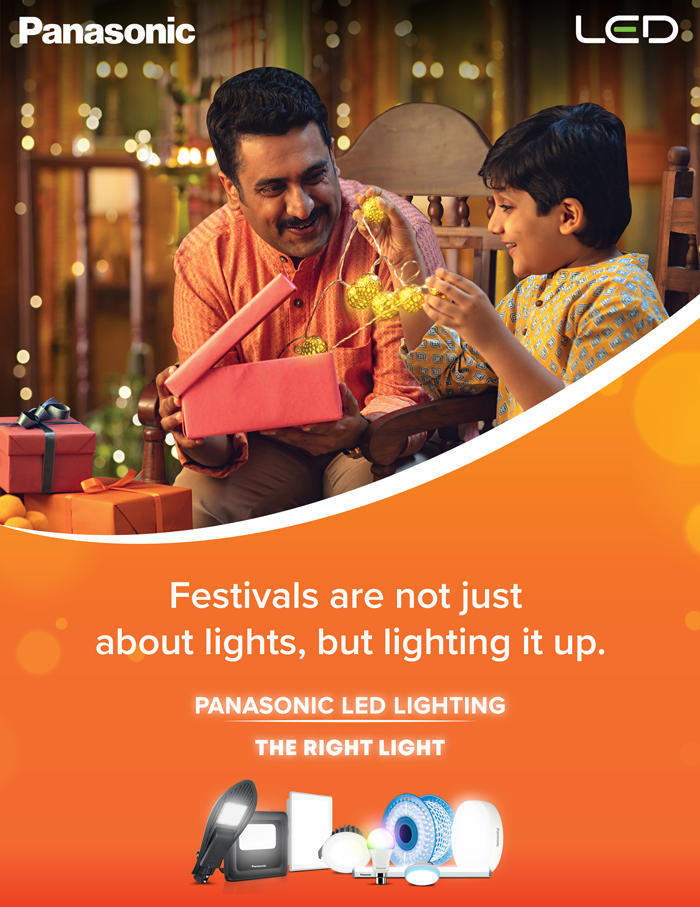 With unparalleled expertise in India's electrical market since 1963, Anchor shines as a domestic manufacturing leader. Their partnership with Panasonic in 2007 introduced cutting-edge solutions in electrical, lighting and ventilation, which consistently surpasses global benchmarks in energy generation, management and conservation.
Lighting transcends aesthetics, it wields the power to influence our moods and energise our spirits. Panasonic LED's diverse lighting range caters to various colour temperatures and aesthetics, offering the flexibility to create a refreshed and vibrant ambiance in any setting. Whether it's the living room with its Tri-cct lights to set different moods or the bedroom, where the soft, indirect glow of the LED strip light fosters a tranquil and comforting atmosphere, Panasonic LED's lighting solutions are exceptionally versatile and adaptable.
Outdoors, Panasonic LED's lighting products bring their radiance to the fore. These luminous features are versatile, catering to a range of needs during the festive occasions by crafting distinctive atmospheres. Additionally, they proudly embody the merits of being cost-effective, eco-conscious and photobiologicaly safe. This festive season, allow Panasonic LED's 'Right Light' collection to bathe your home in the brilliance of light, infuse it with the spirit of joy, and unite it with an atmosphere of togetherness.
'Kyunki Tyoharon Me Lights Sirf Jalni Nahin, Jagmagani Chahiye'