Design
Panasonic Life Solutions India reveals a classy range of products that bedeck the kitchen in rich elements
JUN 11, 2021
| By Saloni Rege
Spending more time at home has become a new normal! There's an inclination towards hassle-free, hygienic and flexible kitchen spaces. Owing to which, Panasonic Life Solutions India has come up with an exclusive range to shape up modern day kitchen aesthetics and function.
Extending their L Class Kitchen Range, the brand has unveiled modern L Class Shutters to complement their modular series. In 2021, the style relies on the constant clean lines and transitional kitchens, but with a twist of an appearance built on the warmth and textures of organic materials.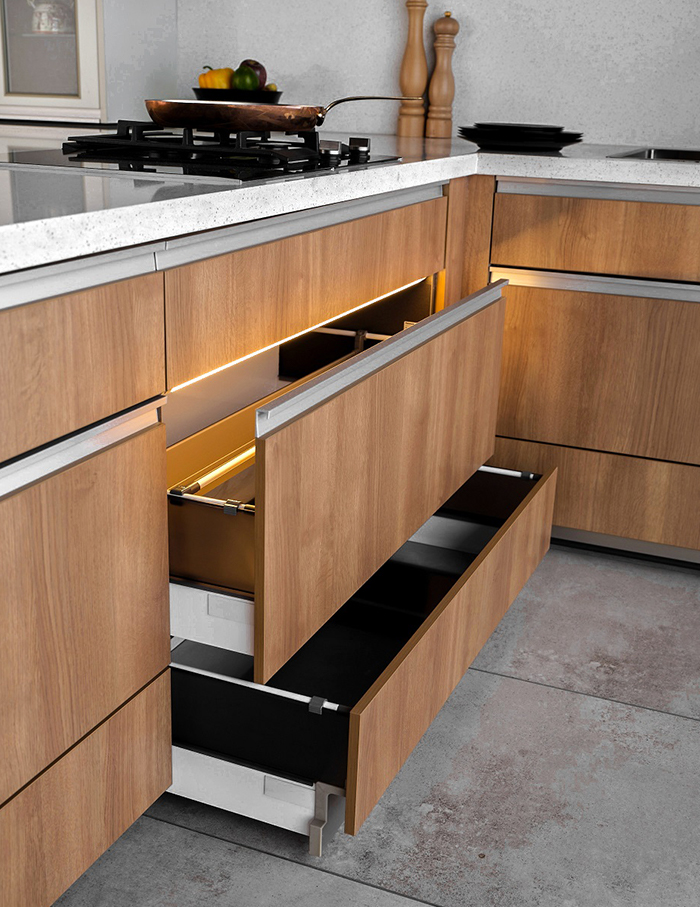 The L-Class High-End Modular Kitchen
Realised as a perfect upgrade that one would look for, it adds to the style quotient of the user's personality. The efficiently designed, intricate details make way for appealing spaces that render an easy-to-use comfort. The striking features of the doors and counters are paired with textures and impressions of the hues and light—resonating with the uniqueness of customised home interior.
L-Class Shutters
Presenting premium quality shutters that are laced with a contemporary tinge, the brand also dresses them in shades aligning with the Pantone Colour of the Year 2021—Ultimate Grey, alongside the many tones that the product has to offer. Homeowners these days prefer cabinets of superior standards. The new range of shutters feasibly blend in with all kinds of interior treatments. From warm and cosy neutrals to vibrant and bold, the cabinet shades can play a huge part in the aesthetics. Panasonic Life Solutions India introduces varied hues from cool blues to muted greys, which complement the well-textured cabinets!
Joint Free Sinks
Elevating the design of a kitchen space further, the brand has invented first of its kind, Joint Free Sinks that accentuate the functionality with a soft touch of elegance. With state-of-the-art technology, the sinks seamlessly fit into the countertops and ensure absence of leakage. Available in different sizes to suit the modern day requirements, they're also efficiently relevant to the Indian context of continual water usage. Sleek and chic, they are coupled with multiple accessories to create bespoke solutions.
Undoubtedly kitchens have been a central core of daily life—a passionate chef, an experienced host, an amateur cook or a foodie family—all revolve their activities around the culinary zone. Panasonic Life Solutions India offers its customers a space where sophistication meets function in equal proportion. Accessible amenities join hands with lively elements as the novel range upgrades humble abodes.