Design
Pallavi Dean's interior design studio Roar celebrates a hybrid of crafts and cultures in this office design
SEP 11, 2020
| By Sakshi Rai
The newest addition to One Central—Dubai's pioneering business district—is a novel workspace for Japanese pharmaceutical company Takeda. The office, crafted by Pallavi Dean's interior design studio Roar, was conceived with a design sensibility matching that of the brand's headquarters in Tokyo. 
Sprawled across 23,000 sq ft, the contemporary decor of this workplace stems from a serene blend of Japanese aesthetics and local references. The practice took inspiration from the brand's rich native heritage while aiming for a distinct global identity—both enhanced by, and with context to its location.
"When the worlds of art and science intersect, we get great design, and this office is a clear example of such an encounter. The space is designed around three themes: Japanese values, Emirati culture and data-driven design. The result is an intuitive yet reasoned project," divulges Dean, founder and creative director of Roar.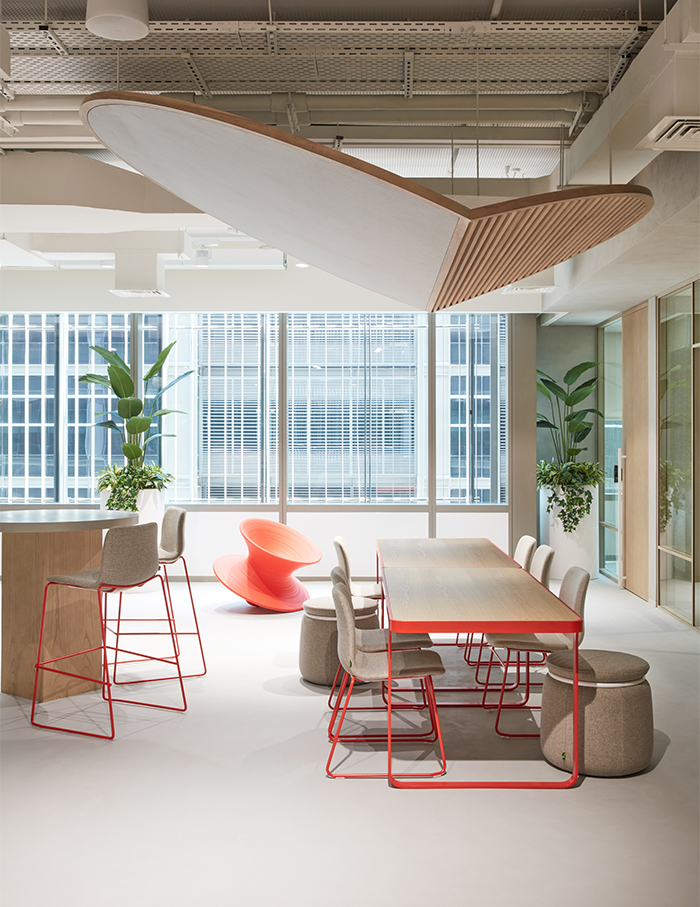 A vibrant red hue—in keeping with the company's primary colour—along with motif renditions of their logo make recurring appearances throughout the interiors. Also seen are various Arab, especially Emirati design elements, including a series of artworks by Dubai based creative Khalid Shafar. His pieces employ khoos, a local palm weaving technique that's traditionally applied to build house roofs and floor mats.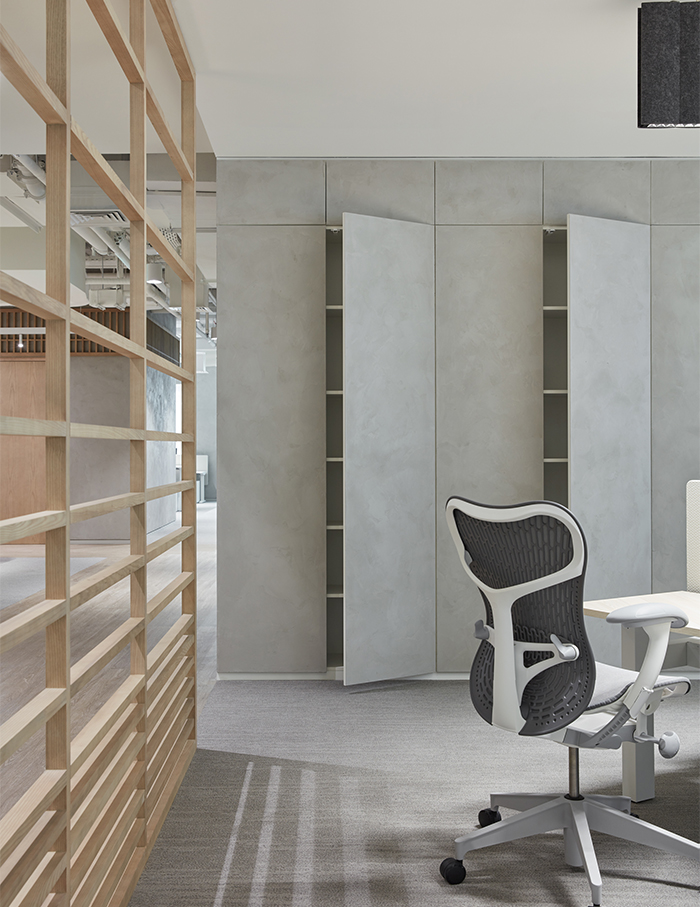 It is interesting to see how Roar has achieved a seamless confluence of diverse cultures through similar crafts and concepts. "For example, while the Japanese use rice straw to weave traditional tatami mats, the Emiratis use palm tree leaves. We like this underlying, subtle synergy in between," explains Dean.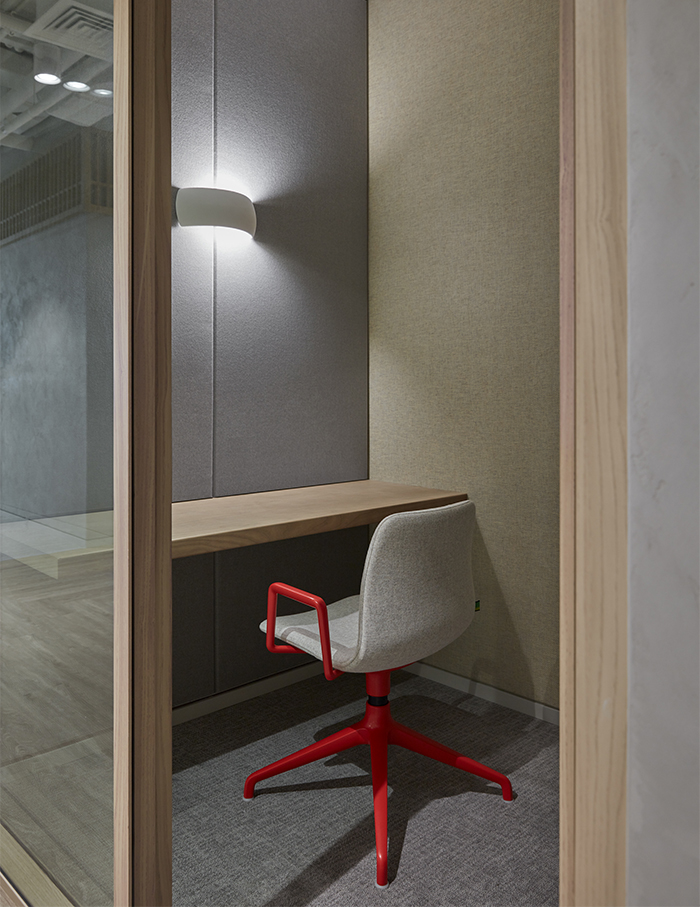 In order to maximise the utilisation of the floor plate, the practice collaborated with Herman Miller's workspace specialists for Space Allocation Modelling (aka Sam Analysis). As a result, 35 percent of the office is conceptualised as 'hive' zones for individual work, 29 percent is for meeting spaces, and breakout zones for informal social interactions comprise another 13 percent.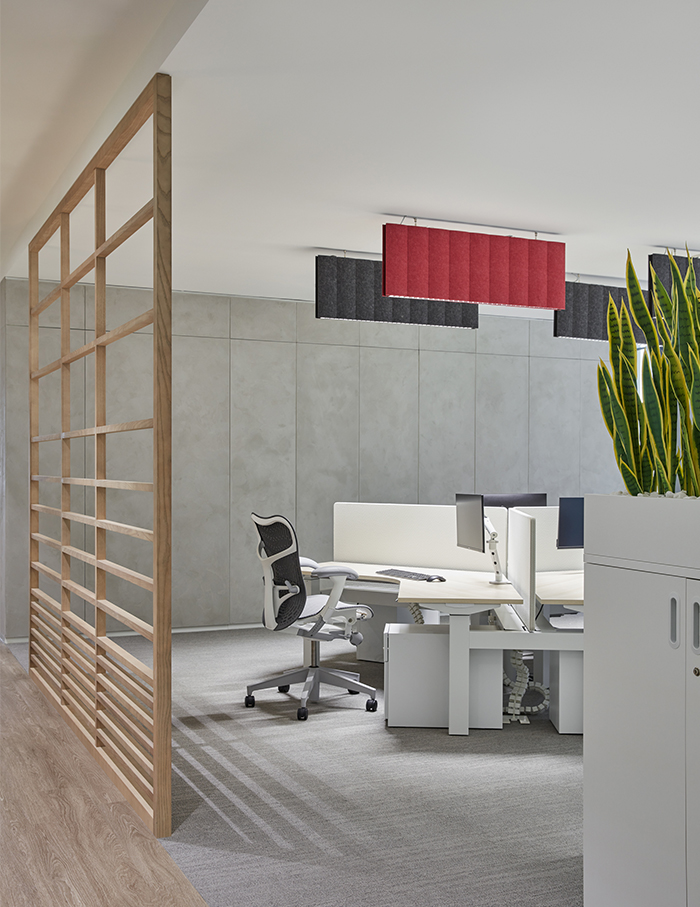 Apart from its global fusion style and understated yet intricate aesthetic, the construction also impresses with its sustainable built. The project is LEED silver certified, uses energy efficiently and has a layout that facilitates ample ventilation, thereby controlling pollutants and other contaminants.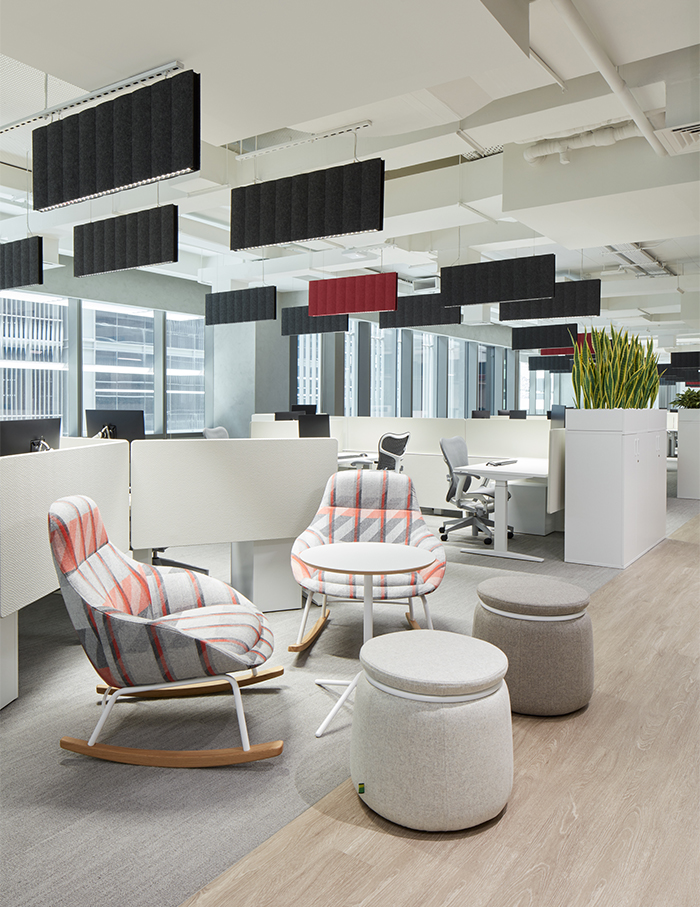 Borrowed from ancestral Japanese design philosophies, the architectural language is restrained and employs shoji screen geometry. Materials such as wood, raw concrete and paper textures offer organic overtones to the office and are also instrumental in illustrating Takeda's core values—integrity, fairness, honesty and perseverance.
Scroll below to see more images of Takeda's Dubai office by Roar…