Homes
In Surat, three coves become one in a palatial design endeavour by Neogenesis+Studi0261
SEP 8, 2023
| By Rajlakshmi Dastidar
Imagine this — three houses, all attached, like three chapters in a book, each narrating an individualistic yet cohesive story of design and everyday routine. Just open spaces to share, to be and to evolve with. Meticulously curated for a family of farmers, in the heart of Bhimrad, amid the embrace of Surat's landscape, the home assumes a pensive but palatial presence sculpted by Neogenesis+Studi0261. 
"By weaving these open spaces into the fabric of the dwelling, we have created an environment that resonates with the family's agricultural lifestyle while promoting a deep and constant bond with the surrounding nature," reveal architects Chinmay Laiwala, Jigar Asarawala, and Tarika Asarawala, who helmed the shaping up of the home.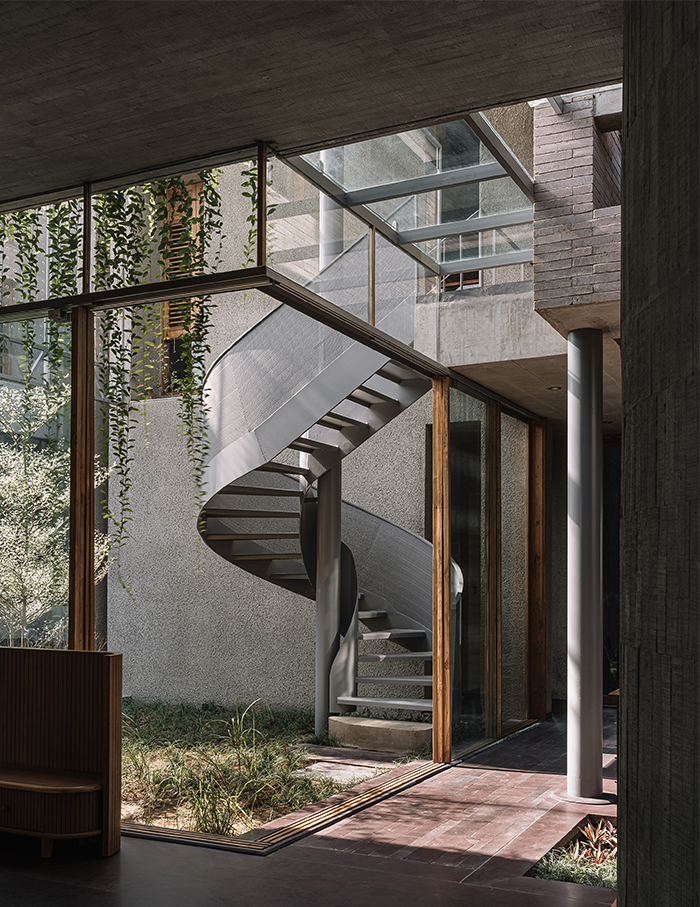 In nature's embrace
The palette embraces warm, earthy tones that dance alongside bespoke furnishings, exposed brick walls, Mandana floors, and concrete ceilings adorned with intricate patterns, resonating as an extension of their agrarian lifestyle — a bond with nature akin to an unyielding connection.
The courtyard is the beating heart of this creative tale, visually stitching the three units into one. Green is the keyword here. It's everywhere — outside, between the houses, inside, in a courtyard that possibly resembles a secret garden and on the terrace.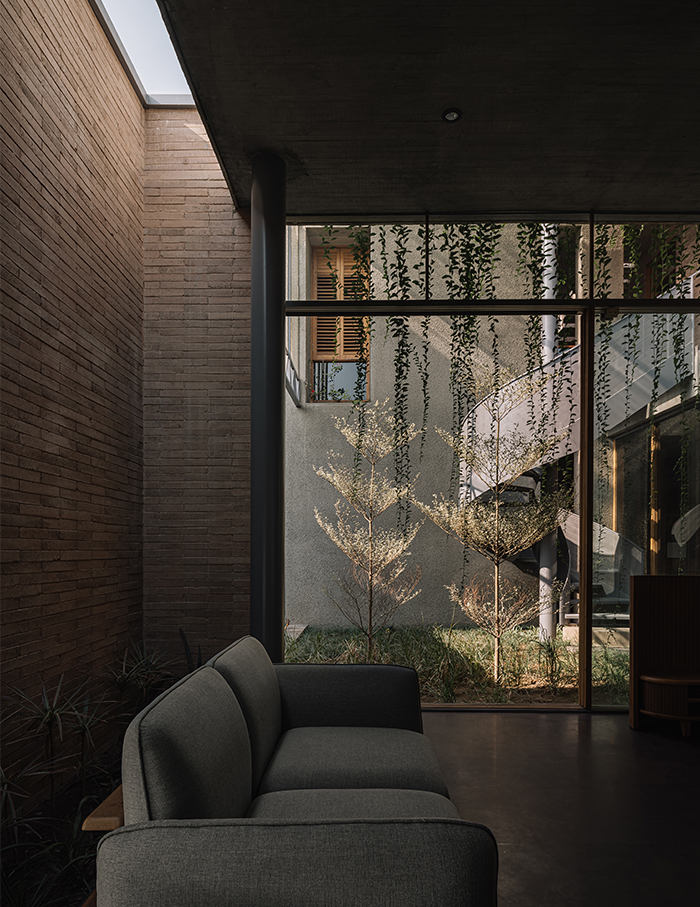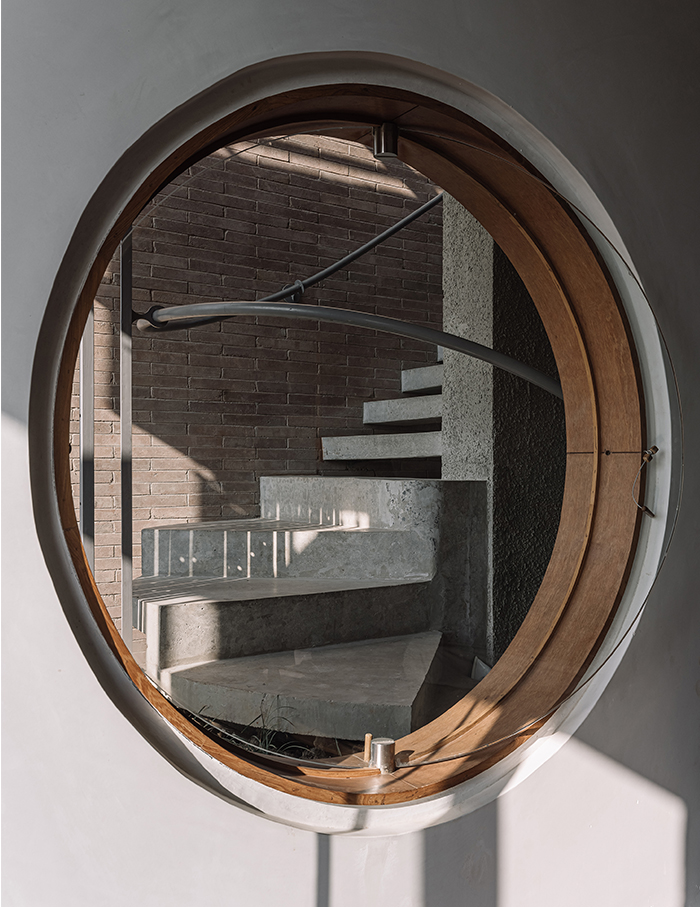 Leafing reality behind
Enveloped by a verdant canopy of trees, the panorama unfolds as a captivating visual ode. And at the entrance, a suspended RCC pooja wall, doubling as a divider, cradles into a sacred nook. Move forward and the living room, the kitchen, and the dining area are all wrapped around a central courtyard. 
A spiral staircase that transpires like a work of art, made from perforated metal sheets, leads you into the two bedrooms and an open terrace, offering views accompanied by a garden overlooking the fields. The upper level has another bedroom and terrace, which is the icing on the cake for this home.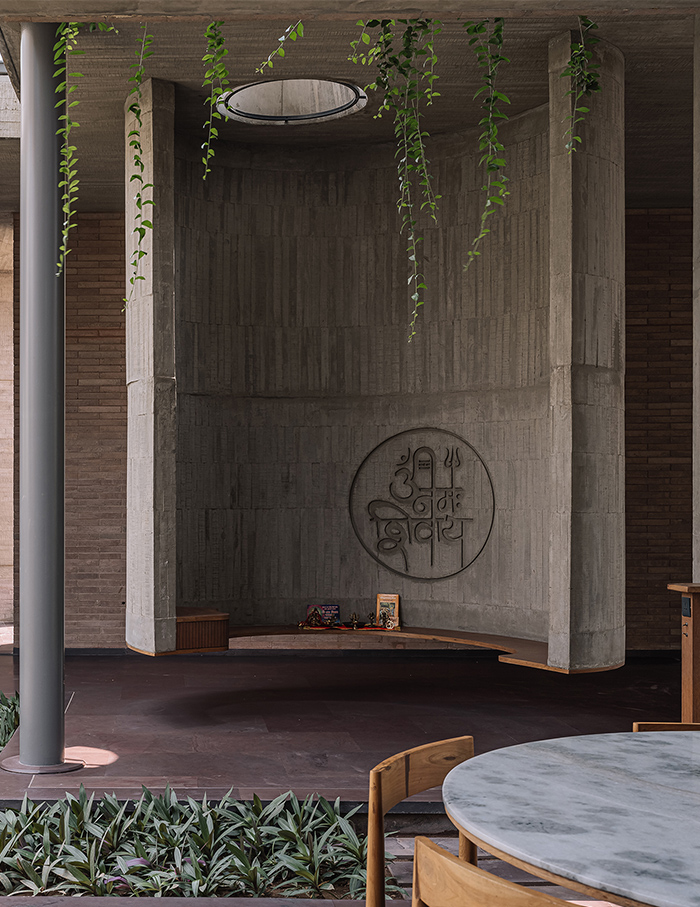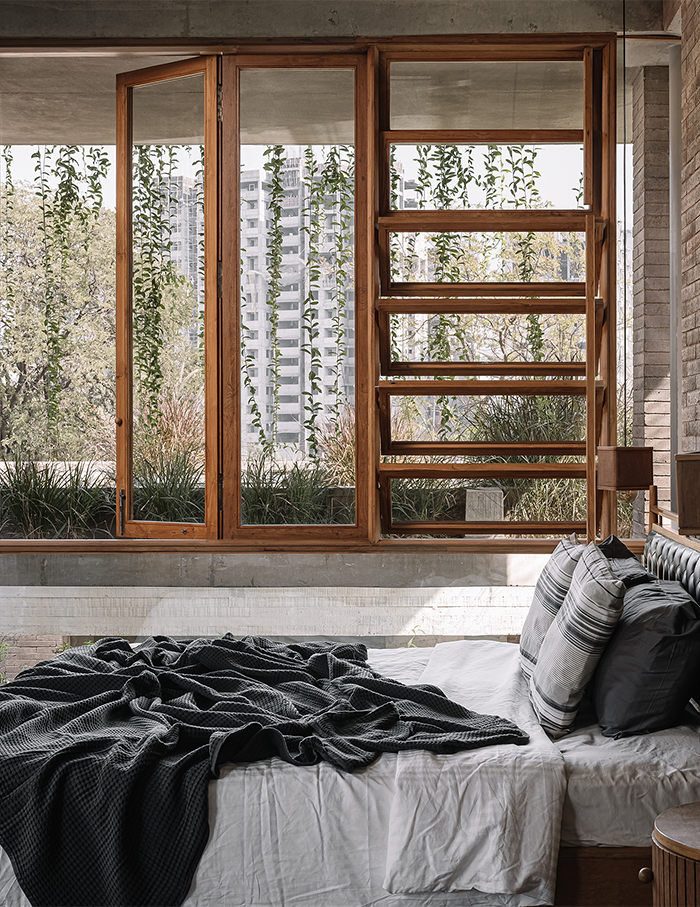 Earth bricks, exposed RCC, Mandana stone, reclaimed wood, metal and glass, all sing in harmony indoors. But the lime plaster on the walls emerges as the true luminary, weaving its enchantment and harmonising the entire spectrum of the home's colour narrative.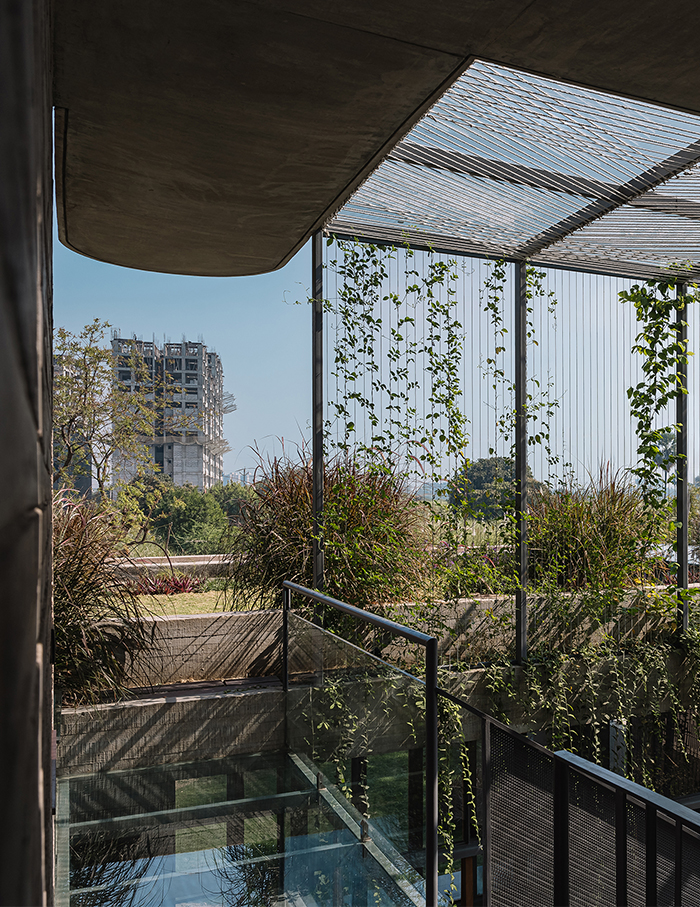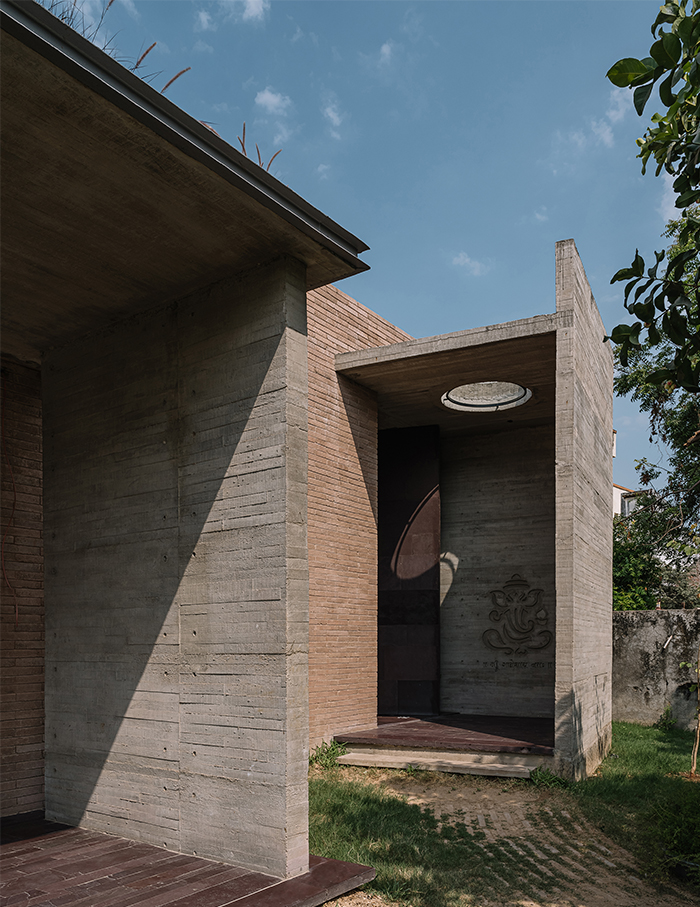 Using Mandana limestone for the floors to beat the Surat heat and crafting earth bricks from soil mixed with Mandana stone dust, then letting them bask in the sun, every detail is a story or a tribute to local craftsmanship. 
This entire home is like an ode to nature, where design and green join forces to make a sanctuary of design magic.
You may also like: A Chennai home reveals greens and grandiose concocted by Farah Ahmed and Dhaval Shellugar of FADD Studio