Design
Three different dining experiences, one address—these restaurants designed by P&S Associates give you a lesson in history
JAN 14, 2022
| By Kashish Kaushal
For all you people out there who love food but are too indecisive while choosing what to eat, we've got you covered! What if we tell you about a space that serves not one, not two, but three dining experiences spread in the midst of a massive 50,000 sq ft area. All thanks to the designer duo Palna and Sachi Shah of P&S Associates—Anahat, Vintage Vibes, Nosh And Drift are here to fulfil all your distinct food cravings. 
"The briefing given to us was to design a space that comprises two-three different dining experiences, an open to sky café and a banquet and lawns for gatherings. The discussions started with the capacity by laws and norms and it took a turn when we pitched in the functionality and space planning being of utmost importance. This being a public entertainment space we wanted it to have spaces of interest for all age groups and genres of people," elaborates Palna.
Located in Ahmedabad, the expansive property comprises three indoor restaurants, 2,500 sq ft each with a capacity to accommodate 100 people at a time. Vintage Vibes is a two-storeyed multi cuisine restaurant while Nosh is an international cuisine restaurant which is placed in a 16,000 sq ft builtup space that also consists of a parking space and a lawn designed to conduct events and gatherings. Anahat is a banquet hall located on level two and Drift is an open air cafe on level three, both spread across 3,500 sq ft.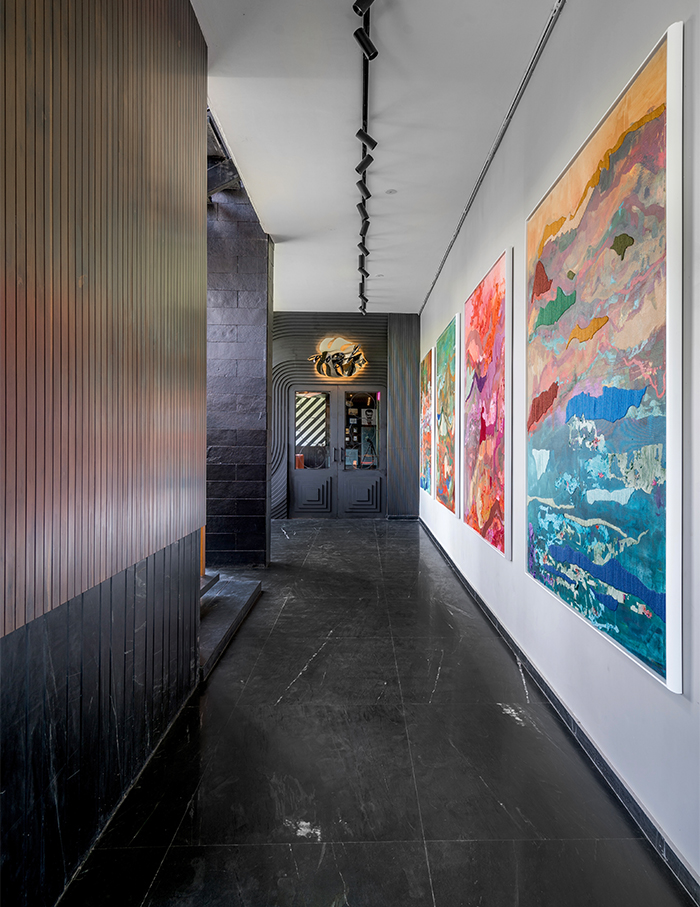 Designing such a large scale project comes with its own hardships. "The challenge was how to define the different spaces as different themes and entities and connect them as a transitional experience and as a part of the whole, both at the same time," divulges Sachi. 
A riveting experience awaits you the moment you enter the premises. From the driveways, to walkways to the ramps and landscaping, everything is designed with utmost detailing. The passage aligned with the lawns leads you to the first restaurant—Vintage Vibes. It is a mid-century modern aesthetics restaurant that defines an era of the period our country has lived through. Level one encompasses the British colonial era while level two is inspired by the Mughal era.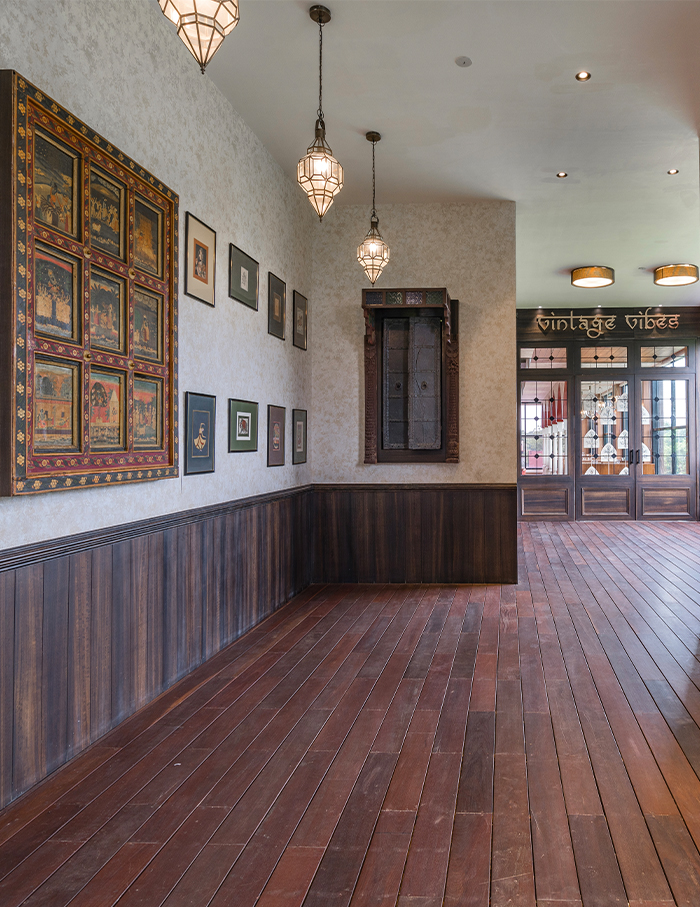 Fixed seatings, arched lightings, ample spaces between the seatings, all these intricacies point towards the colonial era. Just like the British played a significant role in bringing the railways to India, the alcoves are created as an inspiration from those posh train compartments, bringing out the original British feel. With elite lighting, cosy seatings and a luxe vibe throughout, the entire level reflects a classic colonial phase.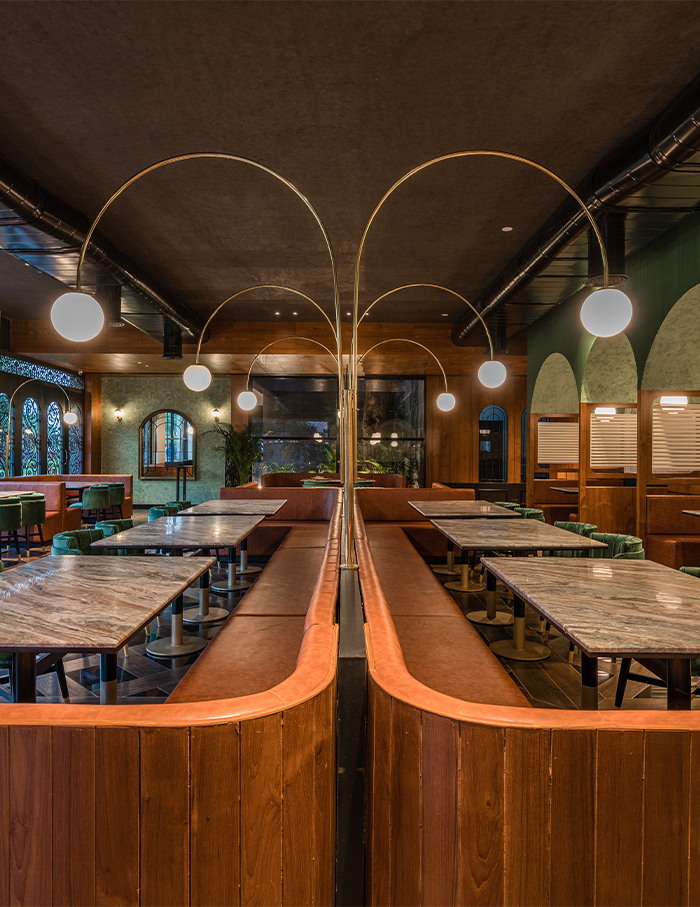 Moving forward, the landscape and courtyard pockets act as a good balance to these walkways and blend in to create a language of their own. "This space has a wall dedicated to our grandfather who was a pioneer in design and art in his time—C.Naren as we all know him" shares Palna. 
The second restaurant Nosh has an international cuisine and is designed in a way that the experience starts from the moment one enters. The umbrellas used as a source of lighting were inspired from the Asian culture while the black and white floors and walls create an illusion that gives it a young and chic vibe. 
From here, a well lit and airy stairway leads you to the first floor that is open from the sides and has the continued corten steel language of the facade. This stairway leads to the passage outside the Anahat Banquet. This passage wall is again displayed with antique Mughal and Rajasthani miniature paintings from the collection of C.Naren. This adds to the art collection of the space and enriches the experience.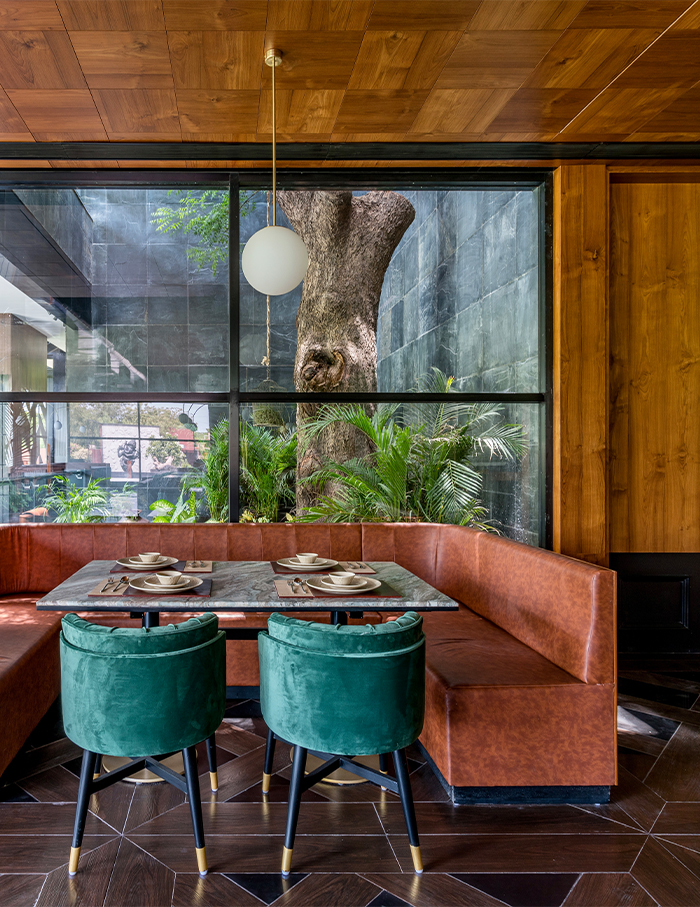 On the left is the Anahat Banquet which can accommodate 300-350 people. It is designed in a way that faces the lawns and the walls are inspired by the age-old techniques of acoustic design. The thing that sets apart this whole establishment is that all the elements in the entire premise—from the furniture pieces, the light fittings to the entire stone flooring and each smallest detail, are all a part of P&S Associate's agenda—Make In India.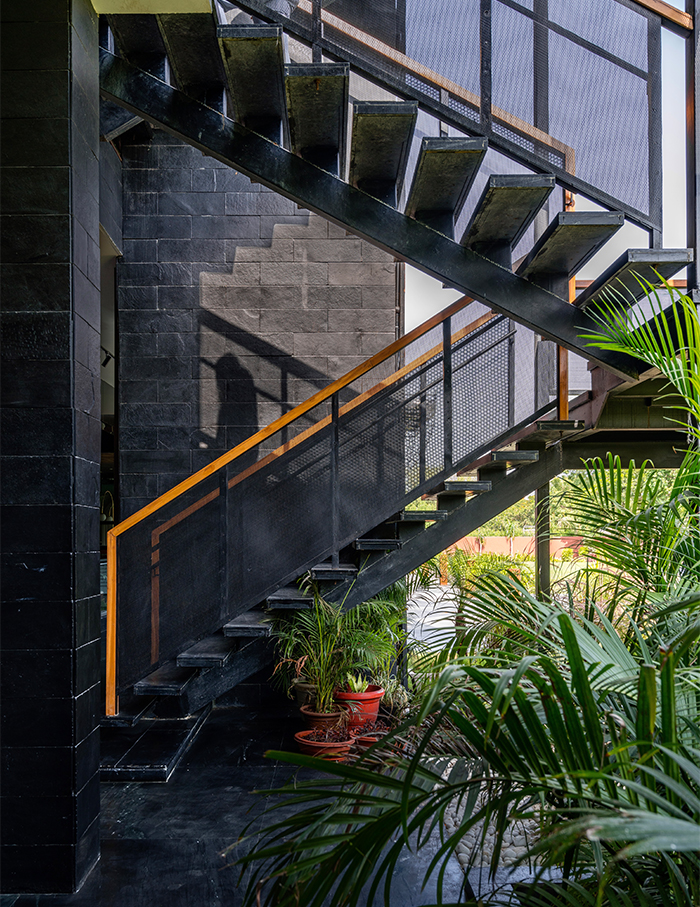 "We believe in encouraging and promoting our artisans and small-scale manufacturers. So we went ahead and made this whole structure a 'Make In India' campaign," states Sachi.
From the moment you step into Vintage Vibes, Nosh, Drift or Anahat, to the instant you step out, it is designed to encapsulate you in a time warp, where you are instantly taken to the India of yesteryears. The design is a true testimony to all things Indian and is a great reminder of our rich past!
If you liked these vintage vibes, you must check out OpaKipos that narrates tales of the Grecian land with its crisp white and blue mood board!