Design
OBEETEE's collaboration with Raghavendra Rathore celebrates the rich heritage of Rajasthan
AUG 11, 2020
| By Anamika Butalia & Sakshi Rai
OBEETEE is known to create masterpieces that are Persian in genesis, Indian in essence and international in their appeal. Excerpts—Raghavendra Rathore: Born and brought up in the Blue City, the creative founded his eponymous, luxury menswear label in 1994, inspired by the old world regalia of Rajasthan. His royal lineage, which can be traced back 1,200 years, became the foundation for his distinctive designs. Even now, his works imbibe a classic vintage elegance, privy to bygone eras but in a modern avatar.
The Beginning
Known for its traditional rug-making skills combined with modern techniques, OBEETEE creates masterpieces that are Persian in genesis, Indian in essence and international in their appeal. This collaboration is part of their third Proud to be Indian edition that exhibits textile and vernacular influences from across our country. "The series draws inspiration from Rajasthan, specifically areas with denser Marwar communities such as Jodhpur, where I hail from. I've explored motifs such as paisley, intricate embroideries and asymmetrical patterns that are deeply rooted in heritage but can be contemporised," says Rathore.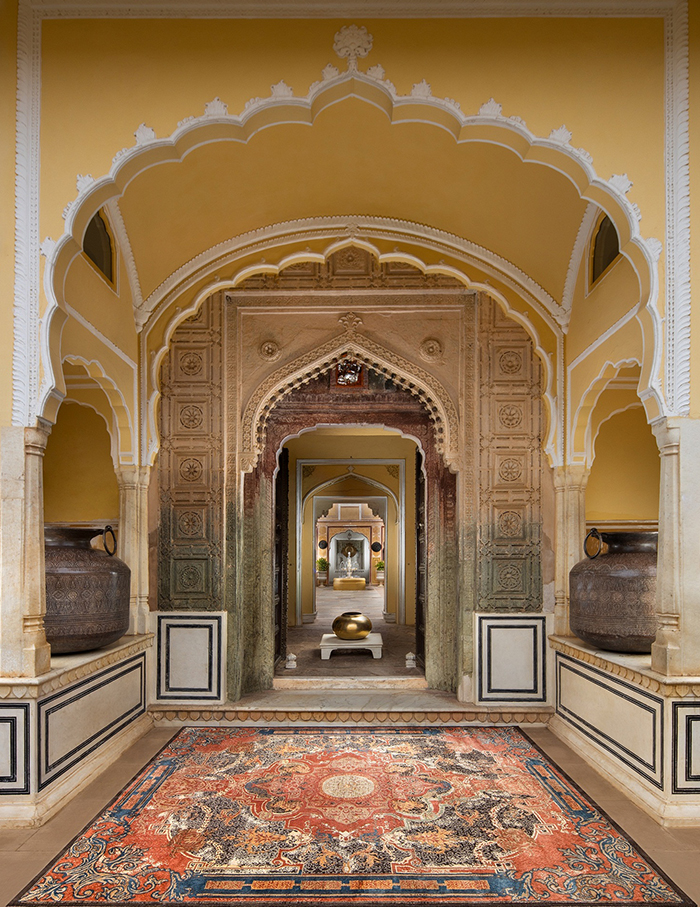 The Process
Rathore adds, "Mood and inspiration boards depicting royal courts and historic details paved the way for leitmotifs, doodles and sketches. The entire collection has been conceptualised after discussions with the brand's designers to imbibe its signature across the creations, and then realised by weavers in Mirzapur, Uttar Pradesh. It resulted in three rugs that use trending colour schemes, textures, surface treatments, washes, knotting techniques, and fabrics such as silk and cotton."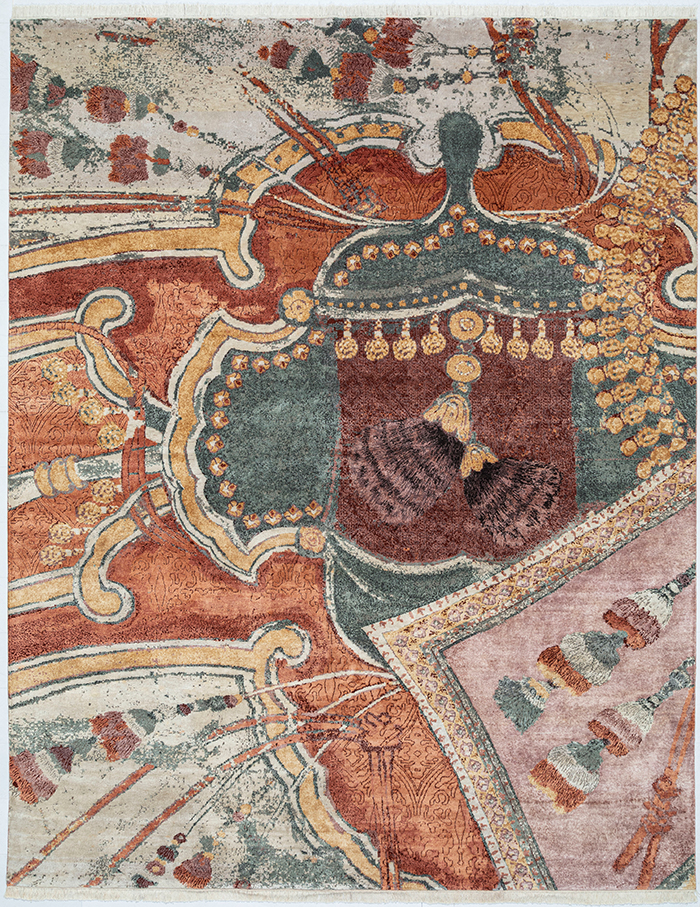 The Payoff
The collection stems from Rajasthan's local folklore and traditions. The Durbar Gaadi Masand, rendered with exquisite embroidery atop plush velvet, seeks inspiration from the textured royal settee commonly seen in durbars. Whereas the artwork in Rajasthan architecture borrows majestic arches and structural elements—including mirror work and vibrantly painted figurines—seen in Sheesh Mahal at Mehrangarh Fort. The third rug titled Coat of Arms is an offbeat showcase of logos, emblems, insignias and monograms of Rajput provinces and jagirs (feudal land grants in South Asia).
"Raghavendra's creations are renowned for adapting elements of history and heritage along with a traditional vocabulary of design and craft embedded in them," says Rudra Chatterjee, Chairman, OBEETEE.